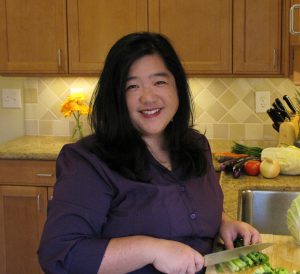 I am a mom trying to make life a little better and a litter safer for people affected by food allergies. I'm so grateful and honored to be interviewed and to share my experiences to help others. I appreciate the opportunity to talk about food allergies and anphylaxis to raise awareness about the issues in our community. Here are some of my interviews over the years.
2023
March 2023 – CJOB The Start, interview with Greg Mackling and Lauren McNabb
March 2023 – A skin patch to treat peanut allergies teaches the body to tolerate the nuts
2022
September 2022 – EAACI Knowledge Hub feature
March 2022 – FAACT's Roundtable, Ep. 107: Food Allergy Life with Chinese Instant Pot Cooking
March 2022 – Interview with Maria George, education expert, about What You Need to Know About Food Allergies, specifically for people studying to become preschool teachers
February 2022 – Cookbook author of Chinese Instant Pot Cookbook
February 2022 – The 15 Best Cookbooks of 2022 Will Have You Cheffing It Up In No Time
January 2022 – Facebook Live with Tamara Hubbard, we talked about how learning how to cook and trying new foods can empower people with food allergies
January 2022 – San Mateo blogger writes allergy-aware Asian cookbook
2021
June 2021 – Top Rated Food Allergy Bloggers by Spokin –
June 2021 – Featured on parenting website Red Tricycle, 40 Food Allergy Bloggers Worth Following
February 2021 – Shandeeland Podcast  – CertiStar CEO Shandee Chernow and talked about food alleriges and how to be more comfortable with exploring new cuisines from other cultures.
2020
July 2020 – Pandemic-inspired food labeling raises alarms for those with food allergies – Food allergy concerns regarding FDA labeling changes
April 2020 – Wonder Woman In Business, Sharon Wong with Freeman Means Business. Honored to be interviewed by Susan Freeman, a brilliant changemaker in our community.
February 2020– New success in treating allergies to peanuts and other foods
2019
November 2019 – The ITCH Podcast – I chatted with Dr. Payel Gupta and Kourtney Hing Kwong about food allergies, cultural identity and holidays.
May 2019 – 6 Allergy Mums Making a Difference – Featured by Emma Amoscato from Free From Farmhouse
2017
September 2017 – Member Spotlight on Food ASC –So honored to be interviewed by Dr. Donna DeCosta on her Member Spotlight page.
2016
May 2016 – Parents Worried About Kellogg's Adding Peanut Flour To Popular Cracker Brands – KPIX reporters had a very good article outlining why Kellogg's decided to add peanut flour to the ingredients of their cracker sandwich snacks.
May 2016 – Bay Area Family Kicked Off Plane for Child's Peanut Allergy
April 2016 – Peanut Patch: A groundbreaking treatment offers hope to people with peanut allergy – Our family's participation in DBVT's Viaskin Peanut OLFUS/VIPES was featured in an article in Gluten Free and More magazine.
April 2016 – Featured as an Inspiring Resource by Snack Safely
2015
May 2015 – Dangerous Bites: Cultural Implications of Food Allergies
Grace Hwang-Lynch (Happa Mama) interviewed me, Brian Hom, and other friends for this article which explored the topic of food allergies in the Asian American community. The article is published by Center for Asian American Media (www.caamedia.org) in conjunction of the release of "Off the Menu Asian America" a film by Grace Lee, co-produced by CAAM & KQED. I also was honored to be a contributor and shared a recipe. The story was also shared via Bay Area Bites, KQED's food related blog.
Link to the article: http://caamedia.org/offthemenu/2015/05/14/dangerous-bites-cultural-implications-of-food-allergies/
Link to the recipe: http://caamedia.org/offthemenu/2015/05/14/beef-yaki-udon/
Link to the article on Bay Area Bites: http://ww2.kqed.org/bayareabites/2015/05/15/dangerous-bites-cultural-implications-of-food-allergies/
2014
December 2014 – New State Law Reflects Growing Awareness of Deadly Food Allergies
This article about California schools that are required to implement SB 1266 by stocking epinephrine autoinjectors by January 1, 2015. I was interviewed and mentioned in this article. Link to article: http://www.mercurynews.com/my-town/ci_27206626/new-state-law-reflects-growing-awareness-deadly-food
I was featured in the Asian America section of NBC News. It's very exciting to be able to share my story and one of my favorite recipes, Broiled Chicken Teriyaki Thighs, with their readers. Link to article: http://www.nbcnews.com/news/asian-america/meet-mom-behind-nut-free-wok-recipes-n226746
September 22, 2014 – Student sees bill idea become law: San Mateo's B. Wong helps with epi-pen legislation
My son and I were interviewed regarding how we were inspired to advocate for stock epi legislation in California, which is a small piece of a much bigger picture. The story was published by our local newspaper shortly after SB 1266, the epipen bill was signed by California Governor Brown.
I spoke on behalf of California Advocates for Food Allergies when Phil Matier interviewed me in this KPIX news segment about SB 1266 and the opposition against this pending legislation to require California public and charter schools to stock epinephrine auto-injectors. As of the last hearing, two teachers' unions continue to oppose the bill "philosophically." Public outcry of support continues to be needed by Californians as the bill heads to the CA Assembly Appropriations Committee for a vote on August 14. Link to video: http://sanfrancisco.cbslocal.com/2014/04/28/bill-to-require-epipens-in-pubic-schools-faces-opposition-from-teachers-union/
I was honored to be interviewed by Jenny Chen in Washington D.C. based magazine, Asian Fortune News, about food allergies to raise awareness among the Asian American community. Link to article: http://www.asianfortunenews.com/2014/04/food-allergies-among-minority-children-often-go-undiagnosed/
2012
October 2012 – San Jose Family Wants Schools to Stock EpiPens Following Tragedy
Brian Hom, Dr. Kari Nadeau, and I were interviewed in this segment by KPIX reporter Sharon Chin about food allergies and to support H.R. 2094: School Access to Emergency Epinephrine Act, which was eventually signed into law by President Obama, who shared that one of his daughters also has a peanut allergy.
Thanks for reading, please help Nut Free Wok!
If you like this recipe, please be sure to give a 5 star rating, leave a comment, and share this post! Your support means a lot to me.
Subscribe to Nut Free Wok's email subscription (be sure to respond to the confirmation email). You will be notified by email next time I publish another post or recipe and I won't send you spam or share your email address with anyone.
Disclosure/Disclaimer:
I may mention the names of stores and/or brand names of products that I use because readers ask and I share products and sources which I use and think may be helpful to readers, all opinions are my own. Please note that manufacturing practices and ingredients can change at anytime without notice and readers are always responsible for assuring allergen safety before buying or consuming foods. NutFreeWok.com is a participant in the Amazon Services LLC Associates Program, an affiliate advertising program designed to provide a means for sites to earn advertising fees by advertising and linking to Amazon.com. Thank you for reading!