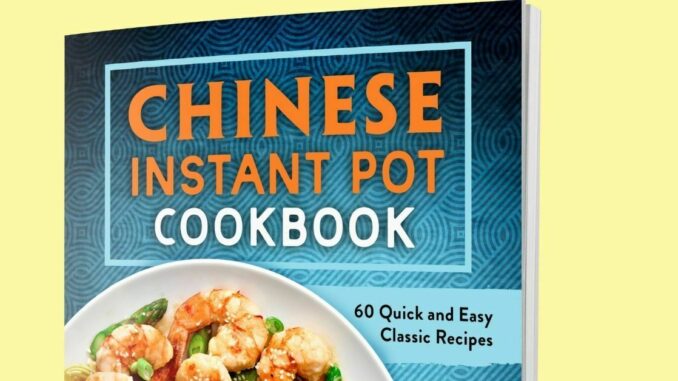 Disclaimer: Please check that all ingredients are suitable for your allergies and be sure to ask your medical care team regarding any allergy related questions (I do not share medical advice). As an Amazon Associate I earn from qualifying purchases.
I am thrilled to share with you my very first cookbook, Chinese Instant Pot Cookbook: 60 Quick and Easy Classic Recipes (affiliate link). I love cooking with an Instant Pot. Pressure cooking will save you time and energy and preserve the nutritional value of your food. I want to make easy and tasty food in the Instant Pot for my family. I hope you will like the recipes just as much as I do and find some new favorite recipes for your family!
I am here to share my nut free and allergy aware recipes and my allergy mom experiences as well. As a newly minted empty nester, I decided to take on this project to write a cookbook. I also want to share a cookbook that raises awareness about adapting Chinese recipes for food allergies. I am also very proud to have an opportunity to share recipes from my cultural heritage.
Chinese Instant Pot Cookbook (affiliate link) is available to order now on Amazon and other bookstores. The e-book version will be available on January 25, 2022. The book will be officially published on February 8, 2022! A few friends have asked me about autographed copies of the cookbook. A limited number of of signed cookbooks are available at Omnivore Books and at Reach and Teach so place your orders ASAP.
Please share the cookbook with friends. If you like the book, it would help so much if you could leave an Amazon review. In the next few weeks I will be sharing some of the recipes, such as soy-braised duck legs, Baby Bok Choy Instant Pot Recipe, Lu Rao Fan, Braised Pork and Egg Rice Bowl), a giveaway, and an online cooking demo (details TBD) to celebrate the book launch. Stay tuned!!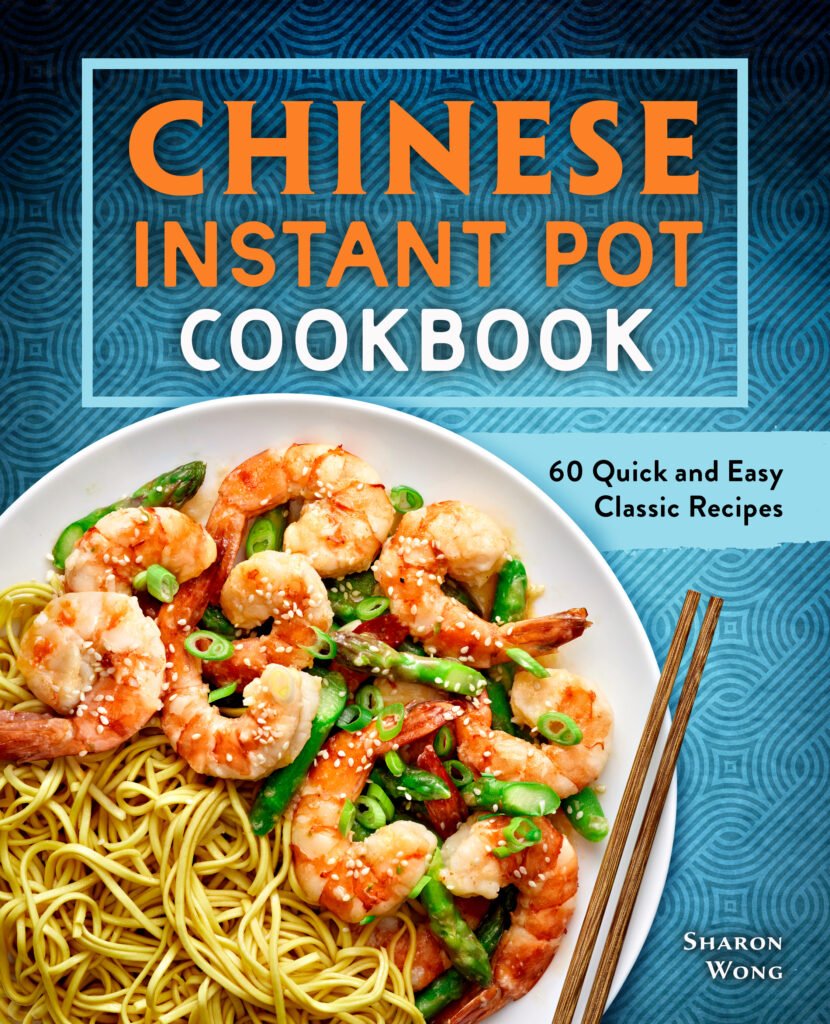 Easy & Food Allergy Friendly
I wanted to write a cookbook that is easy and accessible for everyone, including people who are new to cooking Chinese food or unfamiliar with using an Instant Pot. Most of the recipes use 12 ingredients or less. Most of the ingredients that I chose can be purchased at a conventional supermarket or can be ordered online. The recipe chapters include 1) appetizers, 2) stocks and soups, 3) beef, lamb, and pork, 4) poultry and seafood, and 5) vegetables and rice.
All the recipes are nut-free except for one recipe variation. Most of the recipes are also dairy-free except for one recipe which uses parmesan cheese (use a dairy-free equivalent or omit). I recommend egg-free variations when possible and that can be applied in other recipes. I had requests for vegetarian recipes which I included along with variations and tips to for simple modifications. Some recipes contain sesame, which can be omitted.
The cookbook features call-outs for when the recipes are gluten-free, soy-free, vegetarian, or super fast. Some of the recipe tips or variations can be applied to other recipes. Learning the little tips I share will open up more options for you.
I know my regular readers will refer to What's in Nut Free Wok's Cupboard? Allergy Aware Ingredients for my favorite brands and recommendations of nut-free products or brands that will provide allergy related information. People who are soy-free can refer to Soy Sauce and Food Allergies for a list of soy-free options as well as my Soy-Free Soy Sauce Recipe as an option. For readers who can't buy beef broth or beef bouillon to make the soy-free soy sauce recipe, I also have an Instant Pot soy-free master sauce recipe that you can make with cow tongue or beef shanks.
Let's Get Ready to Pressure Cook!
You will need to have the Chinese Instant Pot Cookbook, an Instant Pot, and perhaps some accessories. Thanks in advance for pre-ordering the cookbook now or you can wait until you are ready.
If you don't already have an Instant Pot, I recommend buying either the Instant Pot Duo (affiliate link) or the Instant Pot Pro (affiliate link). The Duo is perfectly adequate and affordable. There's also the Instant Pot Duo Plus (affiliate link) which is a more deluxe, updated version of the Duo. I love the Instant Pot Pro the most because of the improved features which I wrote about in my review, In Love With My New Instant Pot Pro – Review (2021).
6 quart vs. 8 quart size
Be mindful that the maximum fill capacity of the Instant Pot is 2/3 of the total pot otherwise the Instant Pot won't come to pressure. That means that you can fill a 6 quarts Instant Pot up to 4 quarts or the max fill line. If you have an 8 quart Instant Pot then the maximum capacity is about 5.3 quarts.
It's a personal preference whether you want to buy a 6 quart or 8 quart Instant Pot. All of the recipes in the Chinese Instant Pot Cookbook makes 4-6 servings and were tested in a 6 quart Instant Pot. If you want to make more, you can double or 1.5x the recipes you can but be aware of the maximum capacity. I recommend that you follow the recipe exactly as written the first time you make it and then see if you have room to double or 1.5x the recipe next time.
Readers who own a 3 quart Instant Pot and you might be interested in making smaller amounts of food. You can easily halve the recipes for 2-3 servings.
Air Fryer or No?
"Should I buy an Instant Pot with an air fryer lid?" is a frequently asked question. You won't need an air fryer lid to cook the recipes in the Chinese Instant Pot Cookbook. An air fryer lid allows you to broil, reheat, or dehydrate your food.
You have the following options:
Instant Pot Crisp + Air Fryer (affiliate link), which is a 6 quart Duo with an air fryer lid. It's also available as an 8 quart version (affiliate link).
Instant Pot Pro Crisp + Air Fryer (affiliate link), which is the Instant Pot Pro with an air fryer lid, and only available in an 8 quart size. This is a great option if you cook a lot.
Instant Pot Air Fryer Lid (affiliate link), which allows you to use your 6 quart Instant Pot as an air fryer. Be sure to double check that your specific Instant Pot is compatible with the air fryer lid accessory. This is a flexible option if you want to buy a Duo first and decide later to try the air fryer lid.
I personally do not have an air fryer because I have limited storage space in my kitchen and because my oven has a convection oven feature. I decided that if I needed an air fryer in the future, I would just buy a stand alone air fryer because my 6 quart Instant Pot Pro doesn't have an air fryer lid option.
3 Essential Instant Pot Accessories
There are many Instant Pot accessories out there to buy and try. I have picked the three most essential accessories that will help you make all of the recipes in the cookbook. Your Instant Pot will most likely include a steam trivet. The trivet allows the steam and heat to circulate around your food and the handles will make it easy to lift the food out of the pot. Some of the recipes will require a pressure-safe bowl, a tall steam trivet if you want to cook two dishes at the same time, and silicone gloves to protect your fingers.
Pressure-safe bowls
Any stainless steel bowl will be pressure-safe unless otherwise indicated by the manufacturer. I like stackable sets (affiliate link) because they're versatile and I use the different parts as needed.
Be aware that ceramic or glass bowls are not recommended for use in a pressure cooker unless a manufacturer specifically indicates that it's pressure-safe. I noticed on the Instant Home webpages that they had photos of using Pyrex bowls in the Instant Pot but the fine print said that the Pyrex bowls are not to be used in pressure cooker. I contacted them about the discrepancy and they have removed those images.
You might also see silicone bowls or other accessories for the Instant Pot. Silicone products are pressure-safe but be aware that they are more insulating and might affect the cooking time. I tested the recipes using stainless steel accessories.
Tall Steam Trivet
Your Instant Pot should come with a steam trivet which elevates your food about 1 inch high which allows the hot steam to circulate around your food or a pressure-safe dish.
A tall steam trivet comes in handy when you want to cook a recipe in the inner pot and a different recipe in a pressure safe bowl above it. Depending on the size of your pressure-safe bowls, you will need a tall steam trivet about 3 inches tall (affiliate link) so that you can accommodate the food in the inner pot and have enough clearance on top to close the lid.
Silicone Mini-Gloves
Silicone mini-gloves (affiliate link) are great for handling hot bowls and steamer trivets because they protect your fingers from the heat. They're small so you can slide your mini-gloved fingers into the pot to pull things out. They're also less bulky than conventional oven mitts and are easy to clean and then air dry. Use regular oven mitts for your oven though, the silicone mini-gloves aren't suitable replacements for oven mittens.
So Grateful
It's such a privilege to be a cookbook author and I realize that I have this opportunity because others have invested in me and believed in me. I'm so lucky that my parents took a lot of care to teach me how to cook when I was a child. My husband and sons were willing taste testers and I'm sure I also called upon different friends for their input as well.
And attending FABlogCon with the intention to just make some new friends was significant because that's where I received so much encouragement from friends to start a blog. I appreciate my blogger friends who have been an ongoing source of help and support. I'm grateful that Rockridge, my publisher, and their editors believed in me and gave me this opportunity.
And thank you for being my readers, especially those of you who take the time to email me or message me with stories about how my recipes are part of your lives. Your stories touch my heart and I will blog/write to help kids be able to enjoy Allergy Aware Asian Fare.
Thanks for reading, please help Nut Free Wok!
The best way to see every post or recipe is to subscribe to Nut Free Wok's email subscription (be sure to respond to the confirmation email). You will be notified by email next time I publish another post or recipe and I won't send you spam or share your email address with anyone.
If you enjoyed this post, please use the social media buttons below to share with others. I am on Facebook, Twitter, Pinterest, and Instagram as @nutfreewok and it's great to chat and interact on social media too.
Disclosure/Disclaimer:
I may mention the names of stores and/or brand names of products that I use because readers ask and I share products and sources which I use and think may be helpful to readers, all opinions are my own. Please note that manufacturing practices and ingredients can change at anytime without notice and readers are always responsible for assuring allergen safety before buying or consuming foods. NutFreeWok.com is a participant in the Amazon Services LLC Associates Program, an affiliate advertising program designed to provide a means for sites to earn advertising fees by advertising and linking to Amazon.com. Thank you for reading!