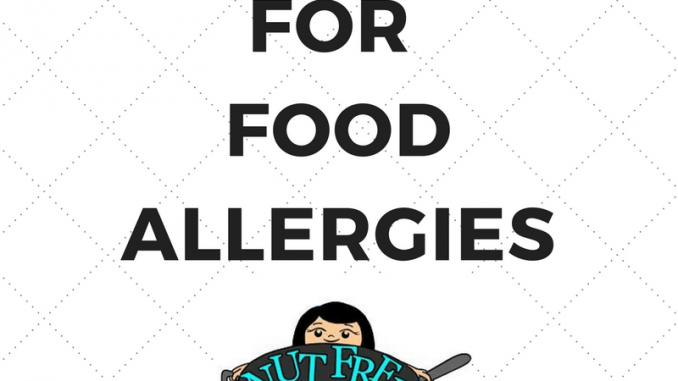 Ever since we had a friend with a wheat allergy come over for dinner, I've been thinking about how to prepare Asian foods without soy sauce or finding a nut-safe, wheat and gluten free soy sauce alternative. One of the first questions that popped up shortly after I published my first few recipes revolved around soy sauce: How to make Soy-Free Soy Sauce? This is a huge topic and I believe the humble soy sauce deserves its own post!
Updated: 8/30/2022 – minor updates to improve formatting and readability
Disclaimer: Please check that all ingredients are suitable for your allergies and be sure to ask your medical care team regarding any allergy related questions (I do not share medical advice). As an Amazon Associate I earn from qualifying purchases.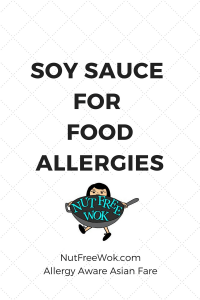 Shopping for Soy Sauce
Assuming that one does not have any wheat or soy allergies and could choose any brand of soy sauce, I suggest Kikkoman. It's the brand that you can find at almost any supermarket, tastes good, and has a product allergen chart available online. Lee Kum Kee is another common supermarket brand with some allergen information available online.
If you live in an area with Asian supermarkets, I recommend Koon Chun's soy sauce and other products. In addition to making soy based sauces, people with a shellfish allergy need to be aware that they also make oyster sauce. I love the taste and the fact that they do not use preservatives or food coloring in their products. They're one of Hong Kong's oldest brands even though they are now required to have a "made in China" label on their products.
Nut-Free, Soy-Free "Soy Sauce" Alternative Recipes
I have not tried these recipes yet but I'm compiling them here for future reference.
Cybele Pascal has shared a recipe online on how to make a top 8 allergen free soy sauce recipe using beef stock, seaweed, cider vinegar, garlic, ginger, and pepper. That sounds really good with a lot of umami flavor.
Nut Free Wok reader, Karen, shared another recipe that doesn't use seaweed and seems equally simple.
I created two alternative soy-free recipes.
This soy-free soy sauce recipe is quick and easy to make and and it tastes amazing!
I also developed an Instant Pot soy sauce recipe that is a by-product of cooking beef tongue, which is more delicious than it sounds. I understand how some people might not want to make beef tongue, you can also use beef shank or any other inexpensive or tough cut of beef as a substitute.
Nut-Free, Soy-Free Alternatives
I am looking forward to try these as the opportunity arises. Thanks to the fantastic response from readers and friends, I would narrow down the options to the following short list:
Bragg's Liquid Aminos Their webpage states that their equipment is free of peanut, tree nut, and wheat. However, I have an email response (Feb. 2013) disclosing that walnuts are the only nut present, processed, and/or stored in the facility with their liquid amino product. (After all these years, I still haven't tried Bragg's Liquid Aminos because of the potential walnut cross-contact!)
Coconut Secrets Coconut Aminos is soy-free, gluten free, dairy free, and vegan which is an option for someone who is certain they are not allergic to coconut. Quite a few trusted nut allergy mommy friends use this product. The manufacturer's website does disclose an allergen advisory as well as that they adhere to a strict allergen protocol. I find coconut aminos (affiliate link) a little bit on the sweet side which makes sense since it's made from the nectar of coconut flowers, I recommend reducing any sugar or sweetners in recipes where you wish to use coconut aminos.
Red Boat Fish Sauce (see Sarah's comments below, thank you!!!) is made from anchovies and sea salt and according to their FAQ, it is free of peanuts, shellfish, gluten, and soy (contains fish). This opens up some yummy options for some Vietnamese dishes, including pho! I usually buy Red Boat Fish Sauce at Trader Joe's when I see it (opportunity buy alert!) otherwise a small bottle from Whole Foods or Amazon (affiliate) is perfect for my needs.
Nut-Free, Gluten-Free Soy Sauce Alternatives (Contains Soy)
Kikkoman makes a gluten free soy sauce for those who avoid gluten but aren't allergic to soy. According to their allergen chart, no peanuts are in the facility thus unlikely to have any cross contact with peanuts. Kikkoman does make a few products containing tree nuts. However the "all-purpose Kikkoman Soy Sauce and the Kikkoman Less Sodium Soy Sauce are brewed at the Kikkoman Foods, Inc. plant in Walworth, WI where there are no peanuts or tree nuts ingredients. Please check the back of your label to see where the product was made." I recommend checking the label and calling them if you have further concerns.
San-J makes gluten free Tamari Soy Sauce as well as a variety of gluten-free Asian sauces, one of which contains peanuts. I emailed the company regarding their allergen policy and received the following response (pretty awesome, also note that I haven't reached out to them since this post was orginally published):
Thank you for contacting us. Yes, we take great care in ensuring our products are free of cross contamination. We follow and document specific cleaning procedures, then after the process has been completed, rinse water samples are brought to the lab. These are tested for peanuts, mustard, sesame, and any gluten including wheat to ensure the line has been cleaned appropriately. Tree nuts, dairy and egg ingredients are not processed in our plant. In addition, pre-operational and end of the day inspections are conducted. Employees conducting these inspections are trained to look for any possible allergen contamination. Our consumers' safety is important to us in creating a high-quality product.
What are your favorite soy sauce or soy sauce alternatives?
If any readers know of other nut-free, wheat and gluten free soy sauce alternative that I can purchase, please share in the comments. As always, I recommend reading the ingredient labels and calling the manufacturers personally as manufacturers can change their policies, ingredients, or labels at any time without warning.
If you like this post, you'll probably like to see what is in my cupboard as well.
Thanks for reading, please help Nut Free Wok!
The best way to see every post or recipe is to subscribe to Nut Free Wok's email subscription (be sure to respond to the confirmation email). You will be notified by email next time I publish another post or recipe and I won't send you spam or share your email address with anyone.
If you enjoyed this post, please use the social media buttons below to share with others. I am on Facebook, Twitter, Pinterest, and Instagram as @nutfreewok and it's great to chat and interact on social media too.
Disclosure/Disclaimer:
I may mention the names of stores and/or brand names of products that I use because readers ask and I share products and sources which I use and think may be helpful to readers, all opinions are my own. Please note that manufacturing practices and ingredients can change at anytime without notice and readers are always responsible for assuring allergen safety before buying or consuming foods. NutFreeWok.com is a participant in the Amazon Services LLC Associates Program, an affiliate advertising program designed to provide a means for sites to earn advertising fees by advertising and linking to Amazon.com. Thank you for reading!