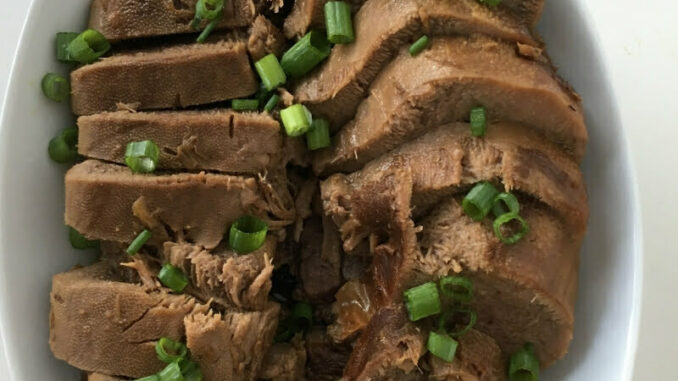 My Instant Pot Beef Tongue recipe makes a buttery soft beef tongue AND a top 9 allergen free sauce that you can use as a soy-free soy sauce substitute. Or you can scroll down to the end and read about how one can feel confused during a life threatening emergency and how that relates to anaphylaxis. This post was revised with minor edits on 4/12/2023.
Disclaimer: Please check that all ingredients are suitable for your allergies and be sure to ask your medical care team regarding any allergy related questions (I do not share medical advice). As an Amazon Associate I earn from qualifying purchases.
Jump to Recipe
Cow Tongue is a Delicious
I can imagine some people might be thinking, OMG, Sharon, beef tongue, SRSLY? I get it. The first time I made cow tongue for my family, one of my sons asked me "Can the cow taste me as I'm eating it?" Awww, so funny, but no. My other son loved it and asked for seconds.
Presentation matters. I remove all the "taste buds" before serving. I slice the finished cow tongue and arrange the pieces as nicely as I can before serving. You will be impressed by the buttery soft and fork tender pieces of cow tongue.
Beef tongue or cow tongue is considered a delicacy in some cultures. Beef tongue slices are wonderful fried until crispy, chopped, and served in tacos (tacos de lengua). I chop up beef tongue leftovers to make sandwiches, quesadillas or fried rice. I love beef tongue because it's a great source of dietary iron and zinc.
Make Soy-Free Soy Sauce
When I first started my blog I realized that a soy allergy is probably the biggest barrier to enjoying Asian foods since soy sauce is such a common ingredient in many recipes. I developed a tasty soy-free soy sauce recipe but I learned that some people needed to adapt the recipe because of allergies to celery or other ingredients in beef broth or beef bouillon. I started thinking about how to make a soy-free soy sauce 100% from scratch.
At the same time I was trying to make beef tongue the way my mom used to when I was a child. A traditional Chinese recipe involves simmering a beef tongue with soy sauce, herbs and spices for a few hours. Since not everyone has an Instant Pot, I've included stove top instructions in the recipe below.
Then I had the idea to make a soy-free soy sauce from scratch using a beef tongue for flavor instead of using beef broth and using the ingredeints for soy-free soy sauce instead of soy sauce to make beef tongue.
I tested my recipe for over a year and then I made beef tongue for my mom. When she didn't even notice that the beef tongue wasn't prepared with soy sauce I knew my recipe is Chinese Grandmother approved and that my beef tongue and soy-free soy sauce 2.0 recipe were ready for sharing.
An Alternative Cut of Beef
If you would really like to make your own soy-free soy sauce but cooking a beef tongue is a deal breaker, I would suggest using beef shank or a beef banana shank as a substitute instead. It's a tough cut of beef with a lot of tendon that requires a long time to cook but it's delicious when it's ready.
How to Buy a Beef Tongue
I usually buy beef tongue in a vacuum sealed package at an Asian or Hispanic markets. Some specialty supermarket with a full service meat department will have beef tongue but not on display, so you'll have to ask a butcher. The best part of the tongue is the tip, if your store carries beef tongue tips that's even better so buy about 3.5 pounds of beef tongue tips to make this recipe.
The back of the tongue is fine to eat but there's a muscle that is under the tongue and serves to attach the tongue to the mouth that is mostly fat and sinewy muscle that isn't as good as beef tongue. I usually trim that part off, pare off the fat, and cook it to flavor the sauce. It turns out that when I prepare it this way, that chewy piece of meat is delicious when chopped up and mixed into a simple fried rice. I look for a tongue that is the least bulky in the back.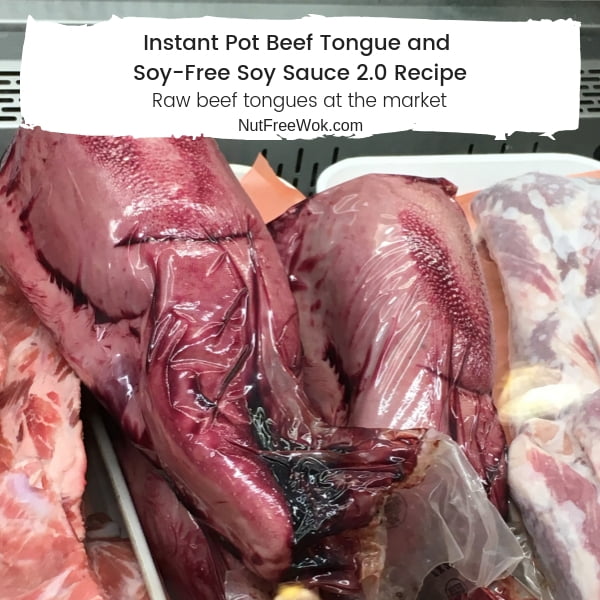 How to Prepare a Beef Tongue
Soak it: when you're ready to make some beef tongue, rinse it in cold water and then let it hang out in a large bowl of cool water for 10-30 minutes. If the water turns bloody after a few minutes, change the water and soak it some more. Look for blood clots and remove them.
Scrape it: use a large knife and scrape the tongue to clean it. I sharpen my cleaver or large chef knife and scrape to remove the skin with the taste buds. It's really difficult and takes me about 20 minutes to remove about 80% of it. It's also possible to cook the beef tongue and then remove the chewy skin layer which slips off easily.
Parboil (optional): Some recipes recommend boiling the tongue for 20 minutes, letting it cool in cold water, then peeling it, and cooking it in a fresh pot with the rest of the ingredients. I find that the beef tongue skin is still too tough to handle and I've tried parboiling up to 45 minutes with the same results. I don't like this step which is why I soak the tongue for 10-30 minutes to get rid of some of the blood and scrape as much of the skin off as I can.
Assemble all of the ingredients in the Instant Pot and cook! If you don't have an Instant Pot and prefer to cook it on a stove top, bring everything to a boil and lower the temperature to low-medium and simmer for approximately 3 hours until the tongue is soft and tender when you poke a fork or knife into it.
Serve the tongue: Take the tongue out and let it cool down for a few minutes. Remove any visible taste buds from the surface of the tongue and cut into 1/4 inch thick slices and add some sauce to the serving bowl.
Save the Sauce: Strain all the solids and remove the layer of fat. Then return to the Instant Pot/pot and simmer to reduce the sauce. Sprinkle some salt and store in a glass container for approximately a week.
Important Lesson About Going Into Shock
I made some beef tongue recently to help me recover from a medical emergency which cause me to lose a lot of blood (I will spare you the details but my medical emergency was not related to food allergies). It was a life threatening situation yet I just wanted to go home instead of calling 911.
Thank God I happened to text my friend Jenny (@FABlogCon) about what was going on and she very emphatically told me to call 911, go to the hospital, and call/text her later. Given what happened next in the ambulance and during my weeklong hospitalization, I probably was going into shock and confusion is one of the early symptoms. Thank you Jenny ♥.
Know the Signs and Symptoms of Anaphylaxis
What happened to me reminds me of stories of young adults who have a severe allergic reaction and then suffer medical complications or fatalities due to using an epi too late. Then we're left with questions: why did they try to go home or try to drive to the hospital, why didn't they use epi right away and call 911? They were probably feeling confused and didn't have someone like Jenny to take charge and to urge "Epi First, Epi Fast" or "Give and Go" during an allergic reaction.
We can all help save a life by knowing the symptoms of anaphylaxis and understanding that people experiencing an allergic reaction aren't always able to help themselves. One of my son's teachers asked me if my son could administer his epi in an emergency and my reply was, "Yes, he does know how to use his epi unless he's having a reaction and is confused. If he's confused, he wouldn't even be able to tell you he's confused, so I'll need you to help him."
If you are reading this because you know or love someone with food allergies, thank you. People with food allergies need your support and understanding from their family members, friends, and community to help them stay safe from food allergies and who can recognize anaphylaxis, learn to use epi, and call 911 for help.
If you personally have food allergies, please be proactive by carrying your epi and letting people you spend time with that you have food allergies and how they can help in an emergency. Please review your (or your loved one's) emergency care plan for anaphylaxis and practice using epi. If you have any questions, please discuss with your doctor.
This Instant Pot Beef Tongue Recipe is Top 8 Allergen Free As Written
If you're not allergic to soy, you can use soy sauce instead of water and adjust the amount of salt according to your dietary preference. Feel free to omit any ingredients that you're allergic to. In case you don't have an Instant Pot, I've also included stove top instructions in the recipe. If you need help finding ingredients, please check to see what's in my cupboard.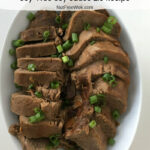 Instant Pot Beef Tongue and Soy-Free Soy Sauce 2.0
My Instant Pot Beef Tongue recipe makes a buttery soft beef tongue AND a top 8 allergen free sauce that you can use as a soy-free soy sauce substitute.
Cook Time
1
hour
15
minutes
Ingredients
1

beef tongue

approximately 3.5 pounds

2

teaspoon

olive oil

1

inch

fresh ginger

5

scallions

wash and trim

5-6

garlic cloves

1/2

onion

sweet or yellow

2

tablespoons

brown sugar

3

star anise

4

cloves

1

cup

water*

3

tablespoons

molasses*

1

tablespoon

salt*

2

cups

water

to cover the tongue

1/4

cup

rice wine
Instructions
Rinse the cow tongue and place it in a bowl of warm water for about 10 minutes, drain.

Use a sharp serrated knife, cleaver, or large Y peeler to clean and scrape the tongue and to remove the taste bud layer. This usually takes about 10-20 minutes depending on how strong you are, rinse and drain. Don't worry if you can't get it all off as the layer can be removed right before serving.

Peel and slice fresh ginger, wash and cut scallions in half.
Instant Pot Cooking Instructions
Set up the Instant Pot and turn on the "Saute" mode and when it's hot (1 minute), add 2 teaspoons oil and sauté garlic and ginger until fragrant (1 minute, don't let them burn), turn off the Instant Pot.

Add the remaining ingredients, cover the Instant Pot, lock the lid, turn the steam release valve to seal, and set the Instant Pot to "Meat" mode for 45 minutes (add an extra 5 minutes if the beef tongue is larger than 3.5 pounds or is very thick).

Natural release for 20 minutes, then turn the steam release valve to vent (or allow the Instant Pot to natural release until you're ready to serve and eat).
Stove Top Cooking Instructions
Preheat a large dutch oven or stock pot for a few minutes on medium heat, add oil, and saute garlic and ginger until fragrant. Add the remaining ingredients and bring to a boil on medium high heat. Cover the pot with a lid and turn down the heat to low or low-medium to a gentle simmer and cook for about 3 hours. The tongue is ready when it's easy to pierce through with a fork.
Soy Free Soy Sauce and Serving Instructions
Use large tongs to remove the beef tongue from the pot, allow the beef tongue to cool a few minutes.

In the meantime, place a large fine mesh strainer in a large bowl and pour the sauce in to strain the solids, then use a spoon to remove the layer of fat on top.

Return the sauce back to the Instant Pot and "saute" (or gentle boil on medium heat on the stove) for 3-5 minutes to reduce the sauce by 50%.

Use a teaspoon to peel off any remaining skin from the cooled beef tongue, slice the tongue into ¼ inch thickness, arrange the pieces in a serving bowl, and add some sauce.

Add a few sprinkles of salt to the remaining sauce and reserve for other dishes by refrigerating it in a glass container for 7 days.**
Recipe Notes
*If not allergic to soy, use 1 cup soy sauce instead of 1 cup water, molasses, and salt.
**Freeze some sauce in a freezer safe container for later use. If you don't finish the refrigerated portion within 7 days, boil the sauce again and store in a fresh clean container.  
Thanks for reading, please help Nut Free Wok!
The best way to see every post or recipe is to subscribe to Nut Free Wok's email subscription (be sure to respond to the confirmation email). You will to be notified by email next time I publish another post or recipe and I won't send you spam or share your email address with anyone.
If you enjoyed this post, please use the social media buttons below to share with others. I am on Facebook, Twitter, Pinterest, and Instagram as @nutfreewok and it's great to chat and interact on social media too.
Disclosure/Disclaimer:
I may mention the names of stores and/or brand names of products that I use because readers ask and I share products and sources which I use and think may be helpful to readers, all opinions are my own. Please note that manufacturing practices and ingredients can change at anytime without notice and readers are always responsible for assuring allergen safety before buying or consuming foods. NutFreeWok.com is a participant in the Amazon Services LLC Associates Program, an affiliate advertising program designed to provide a means for sites to earn advertising fees by advertising and linking to Amazon.com. Thank you for reading!