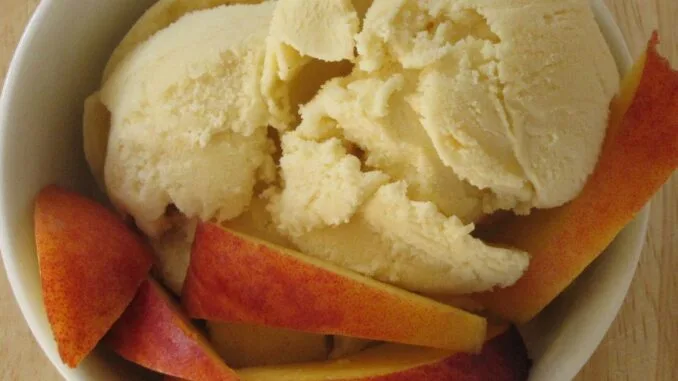 Learn how to make nut-free, egg-free Peaches & Cream Ice Cream and read about an ice cream recipe book that I enjoyed reading and reviewed. Many thanks to Storey Publishing and Nicole Weston for graciously sharing the Peaches and Cream recipe below. This post was updated with minor edits on June 19, 2023.
Disclaimer: Please check that all ingredients are suitable for your allergies and be sure to ask your medical care team regarding any allergy related questions (I do not share medical advice). As an Amazon Associate I earn from qualifying purchases.
Jump to Recipe
Ice Cream Shops and Food Allergy Risks
Ice cream is my absolute favorite dessert. Cold and refreshing any day of the year. Eat with a spoon or served on a sugar cone.
There's a well known ice cream parlor in the neighborhood where I grew up in San Francisco that has dozens of unique flavors. Behind the counter, there's a giant wheel on the wall with different ice cream flavors on them and a few spots marked "Free." Spin the wheel for a chance at a free cone or be willing to accept any flavor the wheel lands on.
However, this isn't an experience that I can share with my children due to food allergies. What if the wheel lands on a flavor containing their allergens? How about a little cross contact? I've maintained a national list of over 100 nut-free bakeries and restaurants and know that there are just a handful of ice cream shops that are nut-free and/or are willing to accommodate food allergies.
But buying peanut free, nut free, and egg free ice cream from a supermarket isn't any easier. Many manufacturers make ice creams on shared equipment with nuts, eggs, wheat, and other allergens. There's a risk of cross contact or even mislabeling, which is when an ice cream contains allergens not listed on the ingredients list.
Ice Cream Maker
I had heard of many moms in Facebook food allergy support groups loving their ice cream makers and one of our friends even lent us their ice cream maker to try. We were so happy when my brother in laws sent us an ice cream maker (affiliate link: Cuisinart ICE-30BC Pure Indulgence 2-Quart Automatic Frozen Yogurt, Sorbet, and Ice Cream Maker
) as a Christmas gift (thanks, Donny & Chris!).
My older son tried a few of the recipes in the manual and while the recipes were good, they weren't great because it seemed like too much ice cream base in the bowl. I didn't know how to troubleshoot what we were doing wrong. We needed some pro-tips and awesome recipes. I browsed through Net Galley and found an ebook copy of Nicole Weston's How to Make Ice Cream: 51 Recipes for Classic and Contemporary Flavors. A Storey BASICS® Title
(affiliate link) to review and share.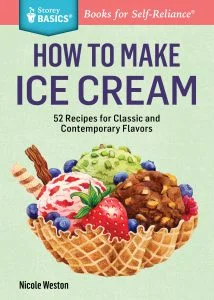 How to Make Ice Cream is organized into three parts.
Part 1 includes general information about ice cream, it's ingredients, how to make, serve, and store it.
Part 2 is all about the amazing ice cream recipes which include categories such as "Vanilla, Chocolate, and Coffee," "Fruits and Nuts" (yes, the cookbook does use nuts in some recipes, one can either ignore them or omit the nuts and make a nut free version), "Sugar and Spice," "Gourmet," and "Holiday." I want to try other recipes such as Chocolate Chip, Chocolate Chip Cookie Dough, Salted Caramel, Root Beer Float, Apple Pie a la Mode (ice cream that tastes like apple pie, how clever!!), Peppermint Mocha, just to name a few.
Part 3 is a collection of no churn recipes which one can make using simple ingredients such as sweetened condensed milk and whipped cream without an ice cream maker or if one didn't have an extra freezer bowl (affiliate link) but wants to make additional batches of ice cream at the same time.
Is the cookbook allergy friendly?
Some recipes also use egg, which is the French custard style and some recipes are egg free, which are the American or Philadelphia style. Altogether, I counted 26 different ice cream flavors that are peanut, tree nut, and egg free, 5 of which do not require an ice cream maker. Unfortunately for Nut Free Wok readers with milk allergies, most, if not all, of the recipes use milk ingredients. I suggest that people with milk allergies preview the book online or from a public library as there might be some helpful suggestions in Part 1 to help you adapt the recipes.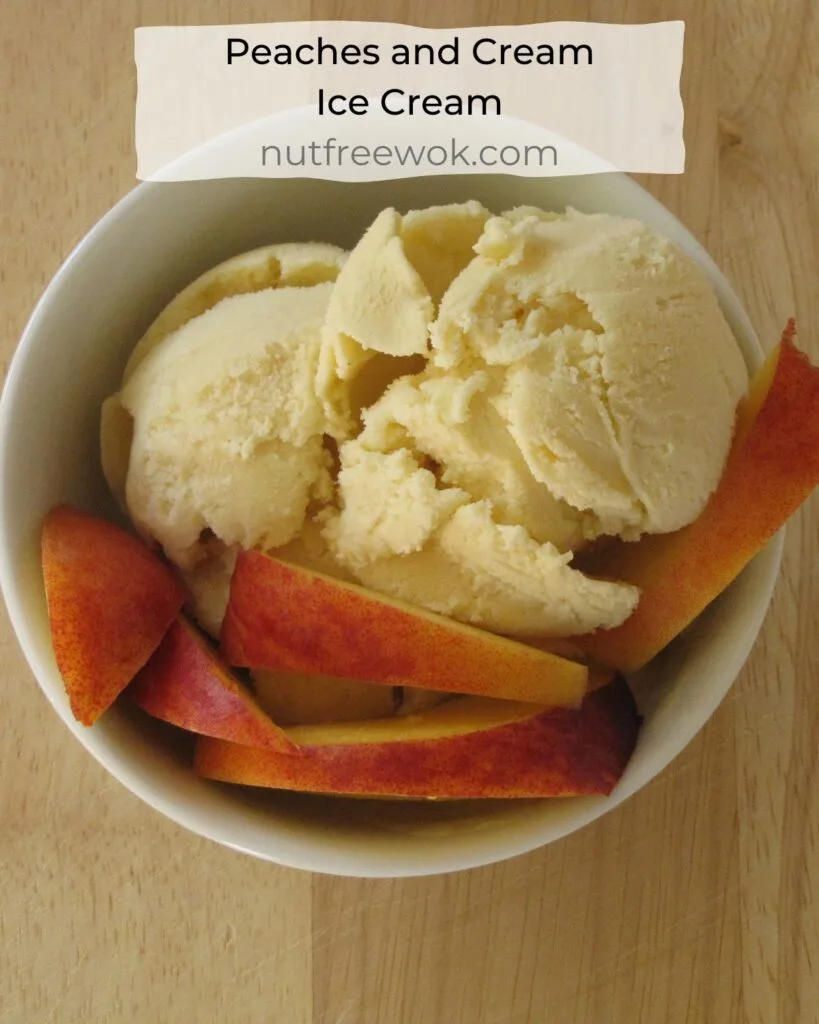 We made great ice cream!
We tried the American Style Vanilla Bean and Peaches and Cream recipes, both were outstanding and a huge improvement over the recipes provided in our Cuisinart's owner's manual. The explanations shared in Part 1 of the book helped me understand how to make ice cream in greater detail and helped me resist the urge to make ice cream "healthier" by using less sugar or non-fat milk instead of heavy cream.
Each recipe uses about 1 quart of ingredients, which seems to be the right amount for the freezer bowl. Even though the ice cream maker's capacity is 2 quarts, a one quart recipe is much easier to manage. Both of Weston's recipes that we tried tasted great, with just the right amount of sweetness and creaminess, and gave us hope that making our own delicious ice cream was within our abilities as novice ice cream makers.
In summary, even though this cookbook is not written with food allergies in mind, I think it is well written and informative enough to help readers with food allergies be able to modify recipes to suit their dietary restrictions. And there are quite a number of creative and unique peanut, tree nut, and egg free recipes that would be fun to make and taste.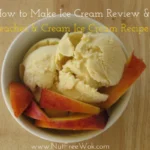 Peaches and Cream
Nicole Weston's recipe for Peaches and Cream is shared with permission from Storey Publishing. Peach ice cream is like summer in a cup. Not only does the ice cream have a honeyed sweetness from ripe peaches, but it also has a lovely yellow hue that makes the ice cream look very sunny and bright. Unlike berries, peaches need to be cooked slightly to tenderize them and enhance their sweetness before they can be puréed and incorporated into an ice cream base. If you are feeling adventurous, a mixture of half peaches and half apricots can make a wonderful variation.
Total Time
4
hours
30
minutes
Ingredients
16

ounces

peaches

peeled and pitted

¾

cup

sugar

2

cups

heavy cream

1

cup

whole milk

1

teaspoon

vanilla extract
Instructions
Slice peaches into eighths. Combine peaches and sugar in a medium saucepan and cook over medium heat, stirring to dissolve the sugar. Cook until peaches are tender, about 5 minutes. Remove from heat and allow peaches to cool.

Puree the cooled peaches in a food processor or blender until they are completely smooth. Stir in cream, milk, and vanilla.

Cover peach mixture and refrigerate until well chilled, 3 to 4 hours, or overnight.

Pour chilled mixture into an ice cream maker and freeze as directed.

Transfer ice cream to a freezer-safe container and place in the freezer. Allow it to firm up for 1 to 2 hours before serving.

Makes about 1 quart
What's your favorite frozen treat? Tell me in the comments.
Here are some of my other ice cream recipes that you might enjoy.
Thanks for reading, please help Nut Free Wok!
The best way to see every post or recipe is to subscribe to Nut Free Wok's email subscription (be sure to respond to the confirmation email). You will be notified by email next time I publish another post or recipe and I won't send you spam or share your email address with anyone.
If you enjoyed this post, please use the social media buttons below to share with others. I am on Facebook, Twitter, Pinterest, and Instagram as @nutfreewok and it's great to chat and interact on social media too.
Disclosure/Disclaimer:
I may mention the names of stores and/or brand names of products that I use because readers ask and I share products and sources which I use and think may be helpful to readers, all opinions are my own. Please note that manufacturing practices and ingredients can change at anytime without notice and readers are always responsible for assuring allergen safety before buying or consuming foods. NutFreeWok.com is a participant in the Amazon Services LLC Associates Program, an affiliate advertising program designed to provide a means for sites to earn advertising fees by advertising and linking to Amazon.com. Thank you for reading!