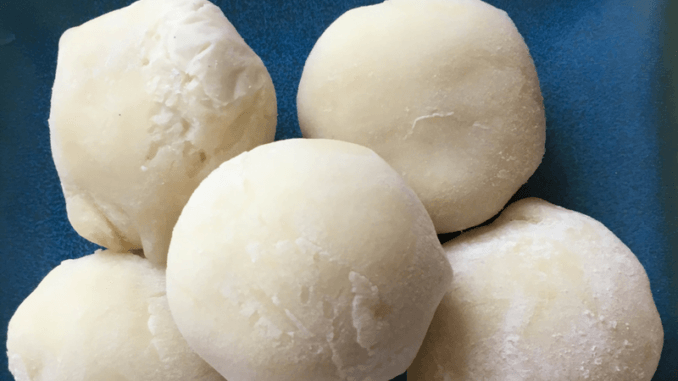 Mochi Ice Cream is a Japanese ice cream bon bon, that you eat with your fingers in a few bites. Learn how to wrap a creamy scoop of dairy free coconut milk "ice cream" with a delicious layer of mochi made from glutinous rice flour!
Disclosure: This recipe is my entry for Go Dairy Free's dairy-free recipe contest with So Delicious. So Delicious provided product coupons but all opinions are mine. Please check that all ingredients are suitable for your allergies and be sure to ask your medical care team regarding any allergy related questions (I do not share medical advice). As an Amazon Associate I earn from qualifying purchases.
A Delicious Japanese Ice Cream Dessert
Mochi ice cream is an amazing Japanese frozen dessert but the store bought treats often have an allergen advisory printed on the box regarding manufactured on shared equipment with nuts and other allergens and they're never dairy-free. I decided to learn how to make mochi ice cream when a batch was recently recalled due to undeclared peanut butter.
It's actually easier to make mochi ice cream than I expected. The basic steps are 1) scoop and freeze ping pong sized balls of ice cream and freeze them, 2) make and cut the mochi and chill them, 3) wrap the frozen ice cream balls with chilled mochi and freeze for 2 hours before serving. It a simple recipe and only patience is required to wait for the dessert to freeze.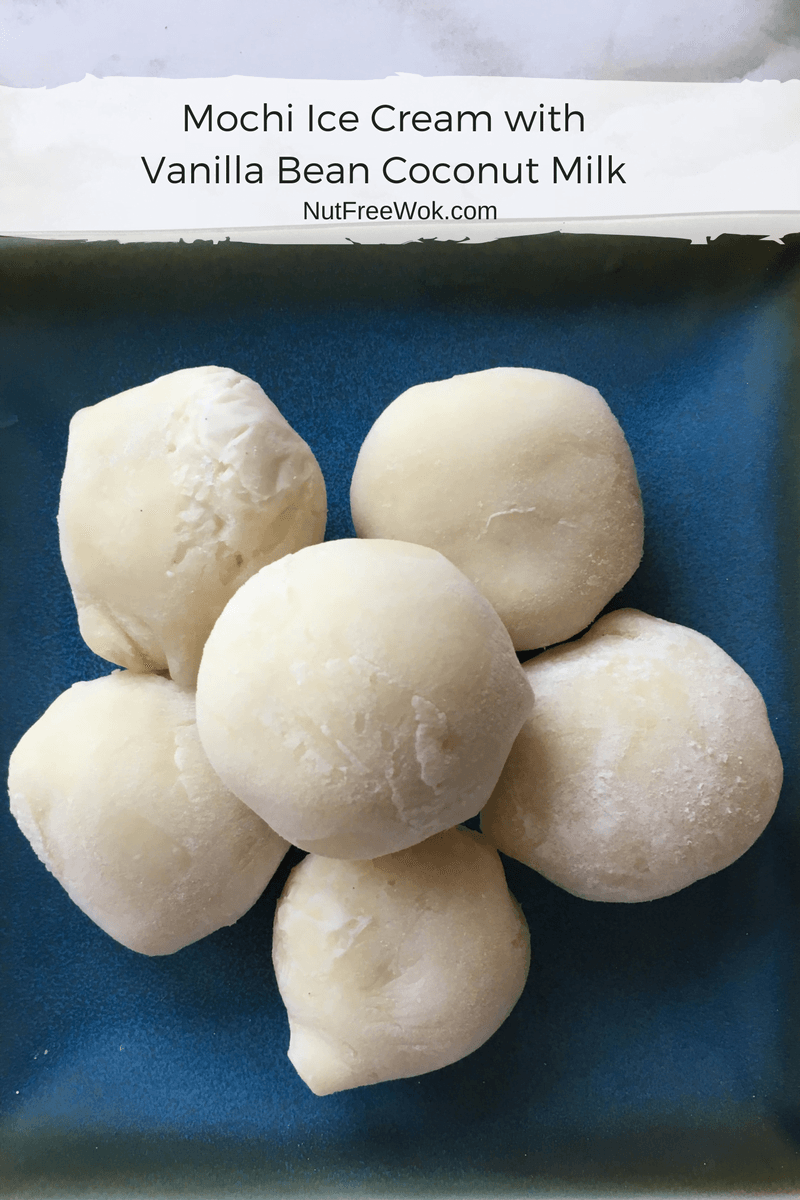 Allergy Aware Frozen Treats
I usually make my own vanilla ice cream that is nut free and egg free for my kids but due to my milk intolerance, I'm personally excited to use So Delicious's Vanilla Bean Coconutmilk Dairy-Free Frozen Dessert (affiliate link). So Delicious is a very allergy aware company, they have processes in place to prevent cross-contact and test for the presence of dairy, gluten, peanut, soy, and tree nut allergens. They also make frozen treats with cashew and almond milk so be sure to read the labels carefully, visit their website, or contact them if you have any questions.
Some people with tree nut allergies are concerned about eating coconut because the FDA categorizes coconut as a tree nut even though botanically it's a fruit. As an allergy mom, I checked with my doctor and then cautiously allowed my children to eat coconut until I felt certain that there is no issue. If you have any concerns about coconut, check with your doctor or substitute with a different product. So Delicious makes a frozen dessert with soy milk, my favorite flavor is chocolate.
According to ACAAI, "Coconut is not a botanical nut; it is classified as a fruit, even though the Food and Drug Administration recognizes coconut as a tree nut. While allergic reactions to coconut have been documented, most people who are allergic to tree nuts can safely eat coconut. If you are allergic to tree nuts, talk to your allergist before adding coconut to your diet."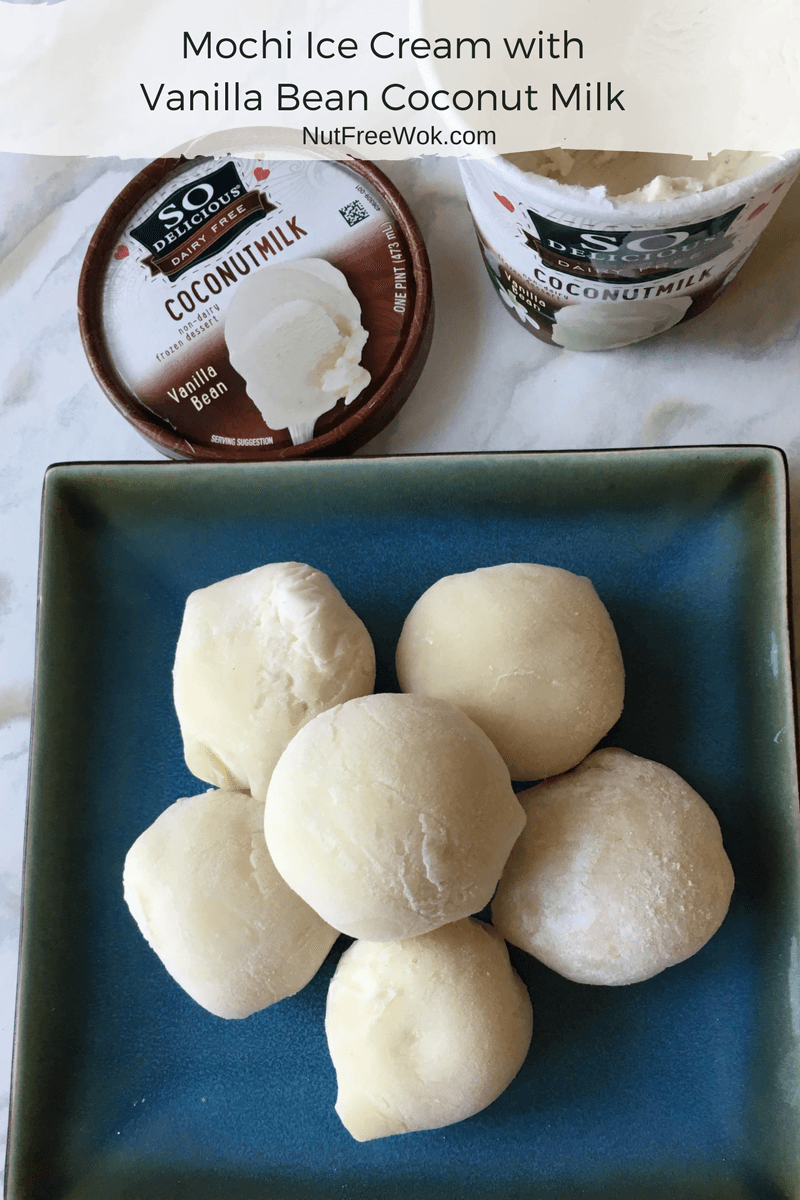 So Many Ways to Make Mochi
I had no idea how to make mochi so I looked through cookbooks and searched online. I was surprised by all the recipe variations which really means that you cannot mess up this recipe, everything will taste so delicious! I narrowed down the various recipes to a few key issues and adaptions:
What is the right ratio of sugar to rice flour?
Is it better to use mochiko or shiratamako sweet rice flour?
How can I avoid microwaving with plastic wrap?
Is it better to cut the mochi into squares or circles?
What's the best way to freeze the scoops?
Sugar: Some recipes use 1 tablespoon of sugar and some use 2 cups, which is quite a wide range! I always opt for a lower sugar option whenver possible but I read that the dough will taste too chewy once frozen if there isn't enough sugar. I made two batches of mochi, one with 1/4 cup of sugar and one with 1/2 cup. I was surprised that the batch with 1/4 cup sugar was very thick and pasty whereas the 1/2 cup sugar batch was runny like a batter, easier to handle, and tasted better when assembled in the mochi ice cream.
Rice flour: I recommend using Koda Farm's Mochiko Sweet Rice Flour (affiliate link), a glutinous rice flour because it's easier to find, affordable, simple to use, and easy to verify that it's free of the top 8 allergens and gluten free. I have written more about it in my recipe for Better for you Butter Mochi, a Hawaiian dessert and think it's more practical to find more uses with the staples we have rather than find a specialized product. Shiratamako does taste better but it's also more difficult to purchase and verify allergen safety.
Microwave: After mixing the batter, most recipes suggest either steaming the batter for 15 minutes or microwaving the batter in a bowl covered with plastic wrap for about 2.5 minutes. I don't microwave our food in any plastic bowls or covered in plastic wrap. Instead I opted to cover the bowl with a plate that is slightly larger than the bowl and that worked fine.
Shape: Since I made several batches of mochi, I tried cutting 4 inch circles with a bowl and was only able to make 3 circles and a lot of scraps! The circles were pretty but the edges were difficult to pinch together. In contrast, I was able to shape the dough into a 8×12 inch rectangle and easily cut 6 squares. The squares are a generous size which makes it easier to wrap, but there's some excess mochi that you need to cut off with scissors after you wrap the ice cream with the mochi. You can reserve the scraps as ice cream toppings or as a snack, so yum!
Freeze the scoops: Some recipes suggested using egg cartons lined with plastic wrap. That doesn't sound clean to me and the plastic wrap wouldn't stay put. It was much better to use a 12 cup cupcake tin (or 6 cup if that's what you have) and line them with parchment paper cups (affiliate link).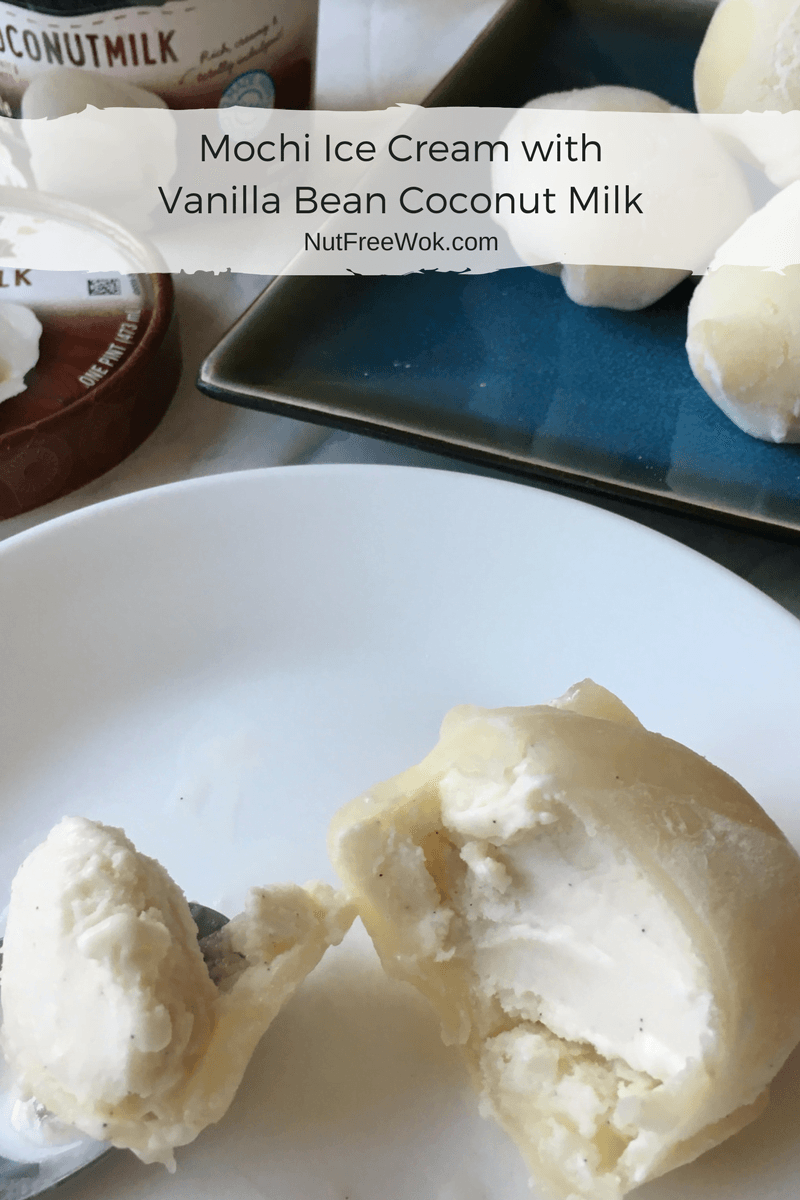 This Mochi Ice Cream recipe, as written, is free of the top 8 allergens (except coconut).
My family was eager and excited to try this nut free, egg free, gluten free, and dairy free dessert. The So Delicious Vanilla Bean Coconutmilk Frozen Dessert is delicious and these vanilla bean coconut milk mochi ice cream have a rich tropical taste. It was so fun to try something new and make something I know is allergy safe for the entire family to enjoy. The peace of mind is priceless.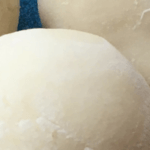 Mochi Ice Cream with So Delicious Vanilla Bean Coconut Milk
Total Time
4
hours
45
minutes
Ingredients
6

scoops

So Delicious Vanilla Bean Coconut Frozen Dessert

or ice cream of your choice

1/2

cup

mochiko sweet rice flour

1/2

cup

sugar

1/2

cup

water

2

tablespoons

of cornstarch

divided
Instructions
Freeze a 6 or 12 cup cupcake pan for at least 30 minutes.

Line the cupcake pan with 6 parchment paper cupcake liners and fill each liner with 1 small scoop of coconut milk frozen dessert, wrap the cupcake tin with plastic wrap and freeze for 2 hours.

About 1 hour later, combine the rice flour, sugar, and water in a small bowl (2-3 cup capacity), the batter will be runny but keep stirring until the batter is smooth.

Cover the bowl with a plate and microwave for 1.5 minutes.

Stir the dough with a spoon, cover the bowl again, and microwave for 30-60 seconds until the dough is shiny and translucent.

Allow the dough to cool down for a few minutes while you sprinkle 1 tablespoon of cornstarch on a large cutting board and rolling pin.

Transfer the mochi dough onto the cutting board and sprinkle 1 tablespoon of cornstarch on the dough.

Use your fingers to press the dough into a rectangle, shaping the edges, flip it over to coat both sides with cornstarch, and repeat.

Then use a rolling pin to shape the dough into a 8×12 inch rectangle, flip the dough or sprinkle more cornstarch as needed.

Use a knife or pizza cutter to cut the mochi dough into 4×4 inch squares, wrap with plastic, and refrigerate for 30 minutes.

When ready to assemble, dust off excess cornstarch from a mochi square, place a frozen ice cream ball in the center, gather the edges of the mochi wrapper and pinch, use clean kitchen scissors to cut off any excess wrapper, and wrap the mochi ice cream with a piece of plastic wrap to help the mochi ice cream keep its shape.

Work quickly until all 6 mochi ice creams are assembled, place them back into the cupcake pan, and freeze for 2 more hours.

When ready to serve, unwrap the mochi and enjoy as finger food or serve in a dessert dish with a spoon.
Recipe Notes
It is possible to double this recipe but be mindful to work quickly during the final assembly step.
Calorie amount is an estimate, actual calories may vary.
Eat Dairy Free Frozen Desserts, Vote, and Enter to Win! (completed)
Sounds great, right? Here are the details:
My friend Alisa from Go Dairy Free is hosting a dairy free, vegan frozen dessert recipe contest among 31 of fabulous food bloggers. Visit her website to see the recipes and voting begins on August 6th until August 12th.
I love recipe contests and I need your votes (yes, a shameless plug!) between August 6th and August 12th for my mochi ice cream recipe or my second frozen dessert (a secret for now) recipe which I will publish next week (gave up because I wanted to hang out with my kids instead).
Readers who vote will be eligible to win prizes too. Does a freezer full of So Delicious products sound amazing?
Join the fun by sharing your favorite home-made or store bought dairy-free desserts by using the hashtags #FrozenFridays and #NothingCompares on social media platforms such as Facebook, Twitter, and Instagram.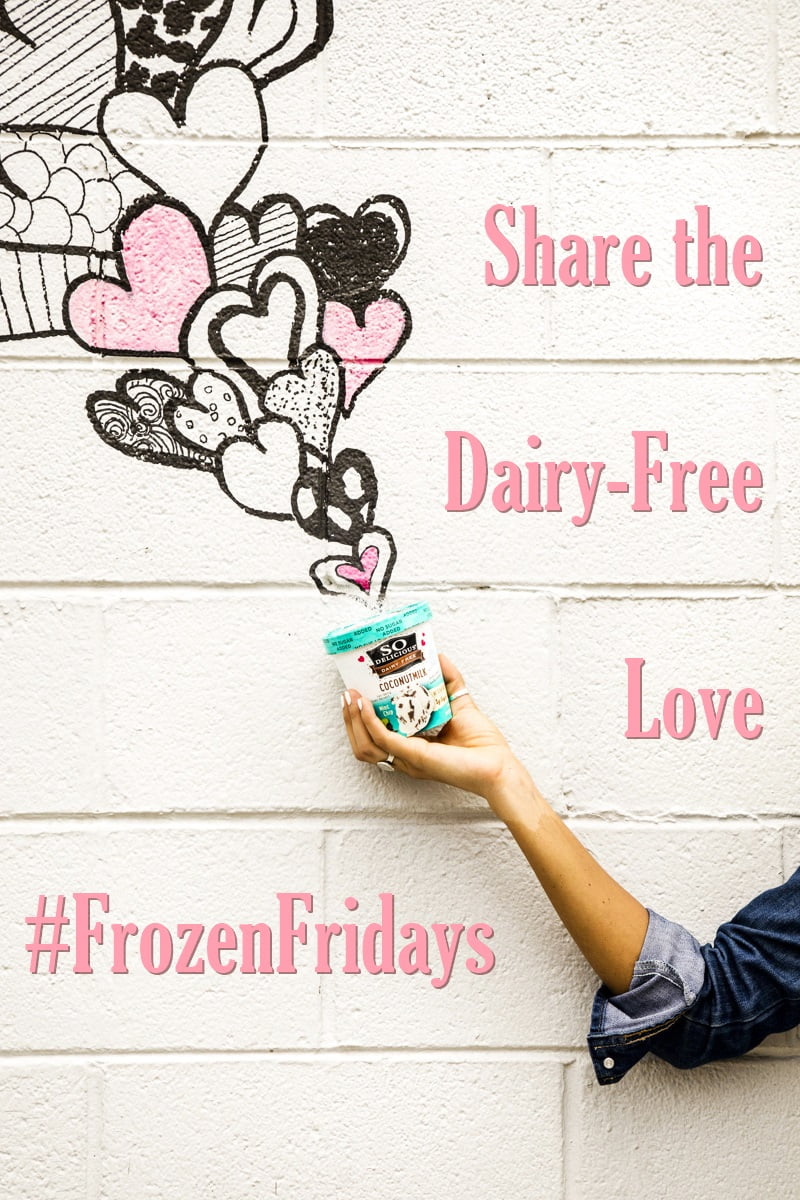 Thanks for reading, please help Nut Free Wok!
The best way to see every post or recipe is to subscribe to Nut Free Wok's email subscription (be sure to respond to the confirmation email). You will be notified by email next time I publish another post or recipe and I won't send you spam or share your email address with anyone.
If you enjoyed this post, please use the social media buttons below to share with others. I am on Facebook, Twitter, Pinterest, and Instagram as @nutfreewok and it's great to chat and interact on social media too.
Disclosure/Disclaimer:
I may mention the names of stores and/or brand names of products that I use because readers ask and I share products and sources which I use and think may be helpful to readers, all opinions are my own. Please note that manufacturing practices and ingredients can change at anytime without notice and readers are always responsible for assuring allergen safety before buying or consuming foods. NutFreeWok.com is a participant in the Amazon Services LLC Associates Program, an affiliate advertising program designed to provide a means for sites to earn advertising fees by advertising and linking to Amazon.com. Thank you for reading!