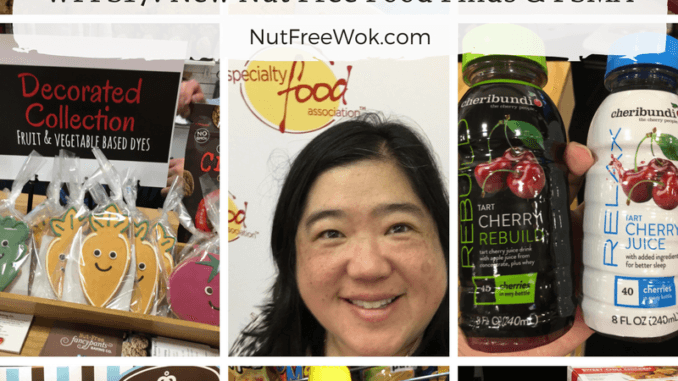 I attended the Winter Fancy Food Show (WFFS17) back in January 2017 and finally have time to share with you a few months later (better late than never)! I found a few more nut-free and/or allergen friendly brands as well as learn about Food Safety Modernization Act (FSMA). Scroll to the bottom to find links to my write ups about the WFFS up through 2020.
This post was updated on 8/17/2023 with minor edits. As of January 1, 2023, sesame has been added as a top 9 allergen and you will need to double check for sesame if that's an allergen for you.
Disclaimer: Please check that all ingredients are suitable for your allergies and be sure to ask your medical care team regarding any allergy related questions (I do not share medical advice). As an Amazon Associate I earn from qualifying purchases.
The Winter Fancy Food Show is a lot to Cover!
I attended the Winter Fancy Food Show (WFFS17) as a member of the press in January, 2017 which is a trade show that is for food industry people, not open to the public. It takes me about 50-60 hours of work before, during, and after to narrow down thousands of companies to about 3-4 dozen that might be nut free or allergy friendly. It's a very time consuming task, which is why it's taken me so long to get around to sharing with you but I do it to benefit our food allergy community and to support the companies who are interested in serving us.
How Do I Find Allergy-Friendly Brands?
Companies which catch my attention when they have an allergen statement on their website. I like them even more if they are responsive by phone or email regarding allergen questions. Sometimes I have a friend ("mystery allergy mom") call or email to check for consistent answers and the quality of customer service and report back to me. I shortened my WFFS17 list due to communication concerns.
After vetting the food for allergen safety and when I feel brave about trying new foods, I share the samples with my family for their opinions and to answer the question, "Do we like this product enough to buy it or recommend it?" The WFFS17 show had a restrictive rule about carrying samples in a tiny WFSS17 approved bag only, thus my list of new allergy aware companies is relatively short and dependent on companies sending samples (I disclose mailed samples and try my best not to be biased).
I share my WFFS17 allergy friendly food finds with a caveat that you must verify allergen safety for yourself. I highly encourage you to spend time to learn the nuances about reading food labels. When you call with your food allergy related questions, you are making a difference and building awareness about your concerns as a consumer. I would love for every company to embrace transparency in their food production and labeling, so let our little acts of contacting a food manufacturer result in greater transparency and disclosure.
Top 7 New Nut Free WFFS17 Food Finds
This is a shortened list of new WFFS17 allergen friendly food finds that I think are nut free and tasty. I originally had a longer list based on our in person conversations at WFFS17 but decided to omit some manufacturers because either they don't have allergen info on their website or they aren't responsive to inquiries. I feel very strongly about sharing companies which care about consumers who are living with food allergies. We only want to keep our loved ones healthy and safe and deserve answers to help us make informed decisions. As always, please be sure to double check for yourself before buying or consuming any new foods.
Walong Marketing – I've talked about Walong before, they're a Chinese food distributor that carry a variety of Asian brands. Not everything is nut-free however they're still worth mentioning because Diana, the lady who handles all the consumer emails and phone calls regarding allergens is so gracious and helpful about allergen related questions.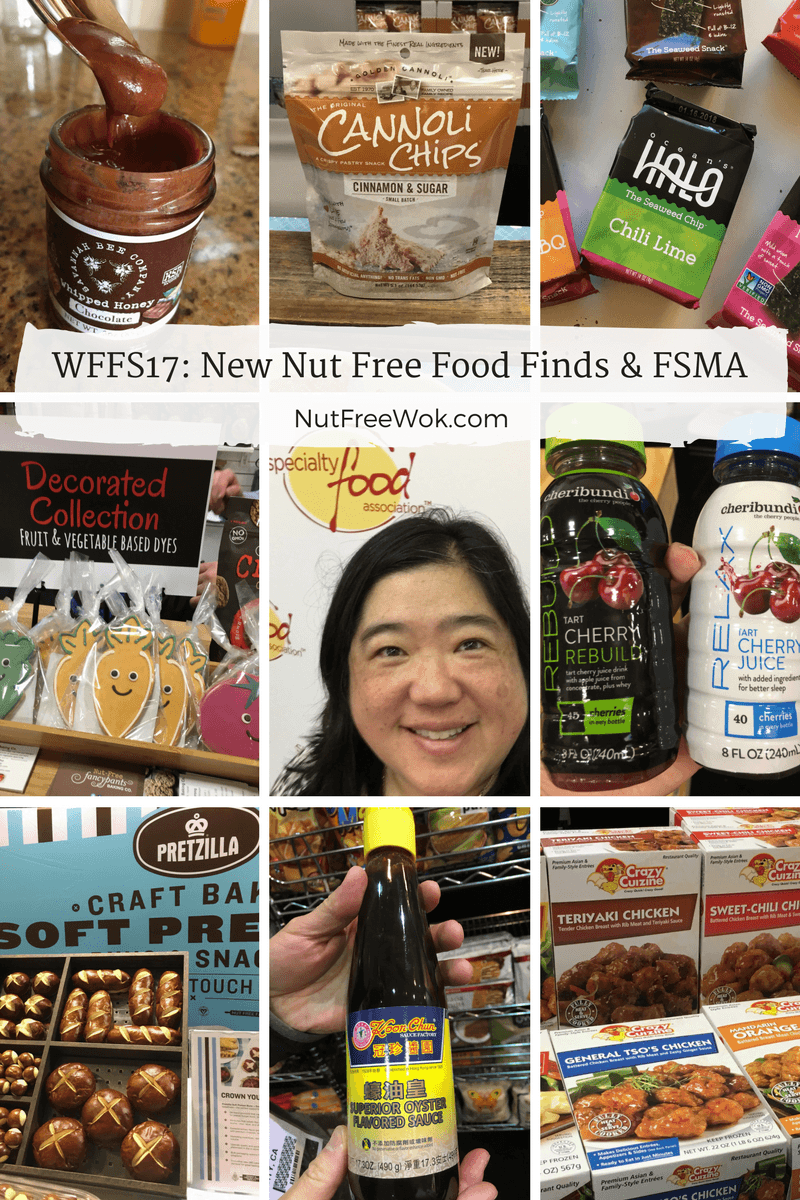 My Short List of Previous WFFS Favorites with Updates:
I stopped by some of the companies that I use to ask what's new. I found so many new products in 2015, I had to spread them out over several posts, but you can start with the first WFFS15 post and read more about why I like them. I wrote about all of my WFFS16 finds in one post.
Enjoy Life Foods – They showcased their Proburst, which are probiotic chocolate truffle like treats and new Plentil flavors that are Asian inspired, yum. They just announced that they will have mini-chocolates for Halloween, whoo-hoo!
California Lavash – They have some new flavors of naan, sooo good, so soft and fresh. I like using the lavash bread to make a pressed sandwich that is like a hybrid panini-quesadilla in my Foreman grill. AND they will be launching a new product soon (details are hush-hush for now) but when it's OK to share, I will let you know via social media!
Wild Planet – I eat canned sardines because they have high levels of calcium and healthy fish oils. And I buy Wild Planet canned sardines at Costco, they're so good but inexpensive. They have a new canned chicken product (haven't tried it).
Briannas – Creamy cilantro lime is their newest flavor, my favorite is rich poppy (with a peach on the bottle). Update 7/2023: They now make marinades!!!
Pitaya Plus – I love eating dragon fruit but I don't always have time to go to the local stores which carry them and then I enjoy to texture too much to make it into a smoothie. I love that I can enjoy dragon fruit in a smoothie anytime by using Pitaya Plus. They are also the pitaya suppliers for Jamba Juice's pitaya smoothies.
That's It – My kids love the variety of fruit flavors. I just discovered that it's less expensive to buy online for when one can plan ahead but they're also easy to find in stores, perfect for impulse, travel, or independent teens. Big news is that they just switched to an allergen free facility! That's It has a new veggie based bar which I haven't tried.
Zego – All of the Zego (affiliate link) bars are very yum and their new lemon-ginger bar is my new go-to favorite Zego product. My hubby likes the apple one (tastes like apple pie), one son likes the chocolate one, and the other son likes the new line of fruit bars.
Lotus Food – They added an allergen statement to their FAQ, all of their products are gluten and peanut free. Their bagged rice, 4 pack ramen, rice ramen soup, and rice delights (like a crispy rice treat, $2 each at my local store) are processed in a tree nut free facility. The arare crackers are made in the same facility with coconut and their rice bowls are made in the same facility as almond, cashews, walnuts, and pecans but in both instances the tree nuts are not included in the product or made on the same line. Their products are available on Amazon.
Popcorner – Same products, new brand "Our Little Rebellion."
Fancypants Baking – Their bags of nut free cookies are now available at Costco, Sam's Clubs, and BJ's in certain locations. I am looking forward to trying a care package, maybe it will have some seasonal flavors of cookies (Apple, Pumpkin, Cinnamon, and Peppermint) and/or some of their beautiful seasonally decorated cookies for the next few months. My kids think Fancypants Baking make the best cookies and I love that they are nut free, the dyes are vegetable based and not artificial.
Pretzilla – No news except that I am so happy my local store carries them!
Feel Good Foods – I had written about their delicious gluten free, nut free egg rolls in 2014 and then I was so bummed when they added an entree that contains peanuts. I talked with one of the owners about it at WFFS17 and he told me that they buy pre-packaged bags peanuts to place in the box with the entree. Since they do have little bags of peanuts in their facility, they aren't nut free but the risk of cross-contact might be lower than I had previously thought. Their egg rolls are the best frozen Asian appetizer. Their newest products are frozen empanadas and taquitos.
Dandies – They have pumpkin and peppermint flavored marshmallows, which means we can upgrade our crispy rice snacks with holiday flavors!
The Daily Crave – Their newest product is organic veggie straws, a crispy crunchy munchie, yum!
Food Safety Education at WFFS17
I want to give a big shout out to the WFFS17 organizers for including a session "FSMA Ready: How to Build Your 2017 Food Safety Plan" with Amanda Lathrop (Cal Poly San Luis Obispo) on their agenda. According to the FDA, "The FDA Food Safety Modernization Act (FSMA), the most sweeping reform of our food safety laws in more than 70 years, was signed into law by President Obama on January 4, 2011. It aims to ensure the U.S. food supply is safe by shifting the focus from responding to contamination to preventing it."
Why is FSMA significant? Most people have heard about some of the recalls over the last few years: companies had to recall millions of pounds of food because of peanuts in cumin seasoning, because of wheat flour with peanuts in them, or because bread crumbs had milk in them. An allergy friendly company had a recall due to bacterial contamination in their products because of unsanitary conditions at their co-packer's facility and the allergy friendly company went bankrupt as a result. It's important to note that co-packers are ultimately responsible for food safety in general but all parties in the food industry need to be responsible for following FSMA and sell products which are safe for all consumers. Compliance with FSMA will make our food supply safer from contaminates, pathogens, and allergens.
What can we expect? Allergy friendly companies who are intentionally free from certain allergens are the best. Otherwise it's a very time-consuming process to contact companies to determine whether we can trust their labels. We might have more options if companies could implement and disclose their food allergen preventative controls such as preventing allergen contact through equipment cleaning, scheduling, personnel practice, allergenic ingredient control and accurate allergen labeling. FSMA is long overdue and crucial for a safer food supply for all consumers, including those with food allergies. All companies need to comply with FSMA, which will require companies to undergo a hazard analysis with regards to process controls, supply chain program, allergen controls, sanitation control, and recall plan.
IRL Food Allergy Conversations: As I walk around the thousands of booths and talk with people about their products, some people give me "deer in headlights" looks (no clue, moving on!), some people tell me things that are false (ex. plain M&M's are nut free, nope, bye!), and some people give me pat answers by telling me what they think I want to hear, which is the worst answer to give because then I have to choose between passing up a potentially allergy friendly company or digging deeper to verify. Food allergen questions are a matter of life or death, one flip answer could result in an ER trip.
Feeling Hopeful Because of FSMA: Food allergy awareness is getting better due to food manufacturers' implementation of FSMA, each year I notice an improvement in the quality of our food allergen conversations. I love hearing about how companies prevent cross-contact of products with thorough cleaning protocols, pathogen and allergen testing of their equipment, scheduling production in order of least allergenic to most allergenic, showing me forms which they have their ingredient suppliers fill out about allergens, how they store the least allergenic ingredients on higher shelves or separate areas to prevent accidental cross contact, etc.. I'm not aware of an organization that does allergy related audits or certifications, some companies use third party organizations for transparency, which help us to make more informed choices. For more information read Specialty Food's article, "Primer: Third Party Audits and Certificates."
Make a Phone Call, Make a Difference
Please check the companies' website, call or email them to verify allergen safety for your family before buying or eating. When you call companies with your food allergy related questions, they learn about your concerns and are better able to understand how they can meet your needs. So please reach out to food manufacturers, the very best companies will stand out as allergy friendly stars.
Nut-Free and Allergy Friendly Foods from Other WFFS
Thanks for reading, please help Nut Free Wok!
The best way to see every post or recipe is to subscribe to Nut Free Wok's email subscription (be sure to respond to the confirmation email). You will be notified by email next time I publish another post or recipe and I won't send you spam or share your email address with anyone.
If you enjoyed this post, please use the social media buttons below to share with others. I am on Facebook, Twitter, Pinterest, and Instagram as @nutfreewok and it's great to chat and interact on social media too.
Disclosure/Disclaimer:
I may mention the names of stores and/or brand names of products that I use because readers ask and I share products and sources which I use and think may be helpful to readers, all opinions are my own. Please note that manufacturing practices and ingredients can change at anytime without notice and readers are always responsible for assuring allergen safety before buying or consuming foods. NutFreeWok.com is a participant in the Amazon Services LLC Associates Program, an affiliate advertising program designed to provide a means for sites to earn advertising fees by advertising and linking to Amazon.com. Thank you for reading!