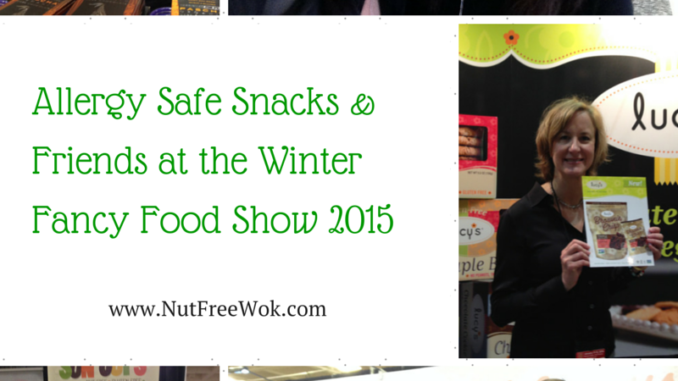 It was great to see so many allergy friendly products at the Winter Fancy Food Show 2015. Over 1,300 vendors were spread out in three exhibit halls at the San Francisco Moscone Convention Center and I was a food allergy mom on a mission to find delicious, healthy, and allergy friendly products. I updated this post 8/17/2023 with minor edits.
As of January 1, 2023, sesame has been added as a top 9 allergen and you will need to double check for sesame if that's an allergen for you.
Disclaimer: Please check that all ingredients are suitable for your allergies and be sure to ask your medical care team regarding any allergy related questions (I do not share medical advice). As an Amazon Associate I earn from qualifying purchases.
What is the Winter Fancy Food Show?
The Winter Fancy Food Show is a huge event with US and international companies proudly showcasing their latest products and sharing samples. It was wonderful to see so many products that were organic and/or non-GMO certified.
In Search Of Nut-Free Foods and Allergen Safety: Hit or Miss
While there plenty of foods that contained nuts, I looked for allergy friendly snacks, sweets, and well labeled Asian grocery items. I also made it a personal mission to find an allergy friendly ice cream.
It was eye-opening to talk with manufacturers about the issues that we care about: what allergens are present or excluded from their facilities, how do they limit cross contact of allergens, do they use allergen advisories, and what information is available on their websites. 
My big take home lesson from my experience at the Winter Fancy Food Show is that manufacturers want to make what people will buy and they are keen on food trends. What better way to influence change as consumers is there than to take the time to share thoughtful concerns and questions and to support those businesses who make it a priority to make their foods allergy safe, organic, non-GMO, healthy, or whatever criteria that you have for the food that you eat and share with loved ones.
Hit
Sometimes I could jump for joy when vendors were stellar. As one example, the folks at Divine Marinade were intrigued by my food allergy related questions and were interested in what they could do to better serve the needs of the food allergy community.
What makes a product allergy safe or not? What information do we look for in a label? Seriously, folks, how awesome is that? I loved talking with them. Sometimes I felt like a food allergy mom ambassador to share with some companies about the needs of the food allergy community.
Miss
At one point, I introduced myself as a food allergy blogger from Nut Free Wok and the representative offered me a sample of tea, which I found out later was mixed with almond milk. That definitely was an eye opening moment for me about the amount of vigilance a person with food allergy needs to stay safe.
There were some instances a representative would tell me that their product is nut free and not made in shared facilities with nuts, but upon closer review of their packaging or website, I discovered discrepancies so it's important to be vigilant.
Fact Check for Yourself
Readers are 100% responsible for for their own safety before buying or consuming any foods. Allergen advisories are voluntary, unregulated, and confusing and you can read more about some food allergy mom strategies to figure out if foods are allergy safe or not.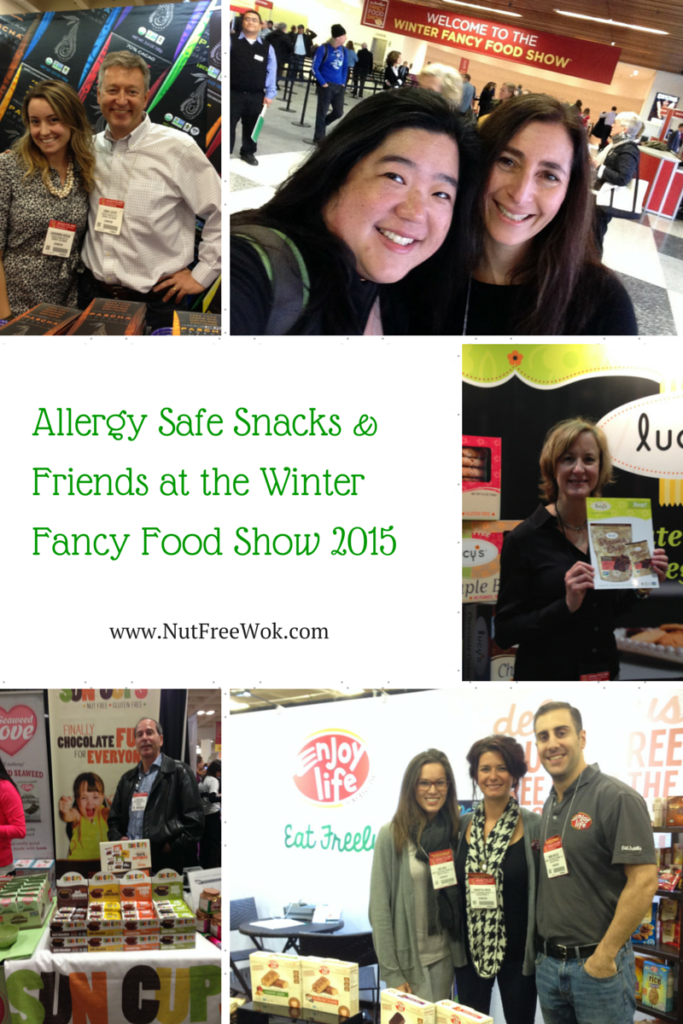 Allergy Friendly Favorites
These are the rock star brands of the food allergy community. They sponsor food allergy events, support research, and provide allergy friendly alternatives for many families. If you aren't familiar with them check out their websites. In addition to being portable for lunches or snacks away from home, it's good to know about these companies so that you can always go to a supermarket and buy something you know is safe when you are heading to a party, on vacation, suddenly need snacks for 30 people, etc.. These are well known brands in the food allergy community and I didn't follow up with emails or phone calls.
Enjoy Life Foods –

Free of the top 8 allergens

, gluten, casein, potato, sesame and sulfites. They have recently discontinued some of their products but we can still count on them for lentil chips, baking chocolate chips, and chocolate bars.
Sun Cups – Nut Free and gluten free chocolate cups in four flavors. Dark Chocolate Sun Cups are dabs of Sunbutter spread encased in crisp, delicious dark chocolate. Milk Chocolate Sun Cups is a softer and sweeter milk chocolate cup with a dab of Sunbutter inside. One has to be prepared to eat like a kid when eating the Dark Chocolate Mint Cups or the Milk Chocolate Caramel Cups, bite into the yummy chocolate and a bit of minty goodness or caramel oozes out, what an experience.
PASCHA – 

Top 9 allergen free

and more, non-GMO verified, organic dark chocolate that is free from peanuts, nuts, dairy, soy, egg, fish, wheat, and gluten and comes in a variety of flavors in the form of bars, chips, and (soon to hit the market) personal sizes. The flavors are excellent, slightly decadent, a touch exotic, and best of all safe for people with many kinds of allergies. My friend, Kristen O., shared that she buys PASCHA bars for her children's teachers during parent-teacher conferences. What a great idea to show a little allergy friendly love.
Lucy's – Gluten free, vegan, peanut and tree nut free cookies that are non-GMO and allergy safe (except soy). These crispy cookies are in many supermarkets and come in convenient packaging for portability. See what Dr. Lucy is holding in the photo for a hint of what's to come in the coming months!
Sunbutter – They make peanut and tree nut free sunflower seed spreads that can be used as a nut butter alternative for those who do not have a sunflower seed allergy. Top 9 allergen free.
More Winter Fancy Food Show Nut-Free Recommendations
Disclosure of Material Connection: I received one or more of the products or services mentioned above for free in the hope that I would mention it on my blog. Regardless, I only recommend products or services I would use personally and believe will be good for my readers. I am disclosing this in accordance with the Federal Trade Commission's 16 CFR, Part 255: "Guides Concerning the Use of Endorsements and Testimonials in Advertising."
Thanks for reading, please help Nut Free Wok!
The best way to see every post or recipe is to subscribe to Nut Free Wok's email subscription (be sure to respond to the confirmation email). You will be notified by email next time I publish another post or recipe and I won't send you spam or share your email address with anyone.
If you enjoyed this post, please use the social media buttons below to share with others. I am on Facebook, Twitter, Pinterest, and Instagram as @nutfreewok and it's great to chat and interact on social media too.
Disclosure/Disclaimer:
I may mention the names of stores and/or brand names of products that I use because readers ask and I share products and sources which I use and think may be helpful to readers, all opinions are my own. Please note that manufacturing practices and ingredients can change at anytime without notice and readers are always responsible for assuring allergen safety before buying or consuming foods. NutFreeWok.com is a participant in the Amazon Services LLC Associates Program, an affiliate advertising program designed to provide a means for sites to earn advertising fees by advertising and linking to Amazon.com. Thank you for reading!