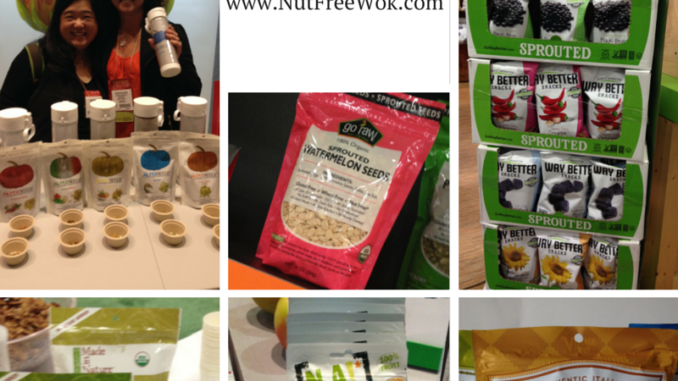 I looked for nut-free and allergy safe snacks at the Winter Fancy Food Show (WFFS) in January 2015. I found so many that things to share that I wrote about it over 5 posts. Scroll to the bottom to read about all of my WFFS food finds up through 2020.
This post was edited with minor updates 8/17/2023. As of January 1, 2023, sesame has been added as a top 9 allergen and you will need to double check for sesame if that's an allergen for you.
Disclaimer: Please check that all ingredients are suitable for your allergies and be sure to ask your medical care team regarding any allergy related questions (I do not share medical advice). As an Amazon Associate I earn from qualifying purchases.
Be Proactive to Check About Food Allergies
As of January 1, 2023, sesame has been added as a top 9 allergen and you will need to double check for sesame if that's an allergen for you.
Allergies to the top 9 allergens, peanut, tree nuts, egg, dairy, soy, wheat, shellfish, fish, and sesame account for 90% of all allergic reactions but people can be allergic to any food, including ingredients in foods that are considered allergy friendly. Since everyone has allergies to different foods and has different levels of severity, I cannot predict whether any or all of the following food finds would be appropriate for readers.
Use this resource as a guide to start your own research, I followed up with each manufacturer by phone or email (except where noted) and only included those which seem consumer friendly, responsive, or with some allergy aware wording on their website or packaging. Remember that precautionary allergen statements are voluntary, not regulated, and generally confusing.
Please take the time to visit the websites of the brands or products that interest you and consult with your medical care team if you have any questions.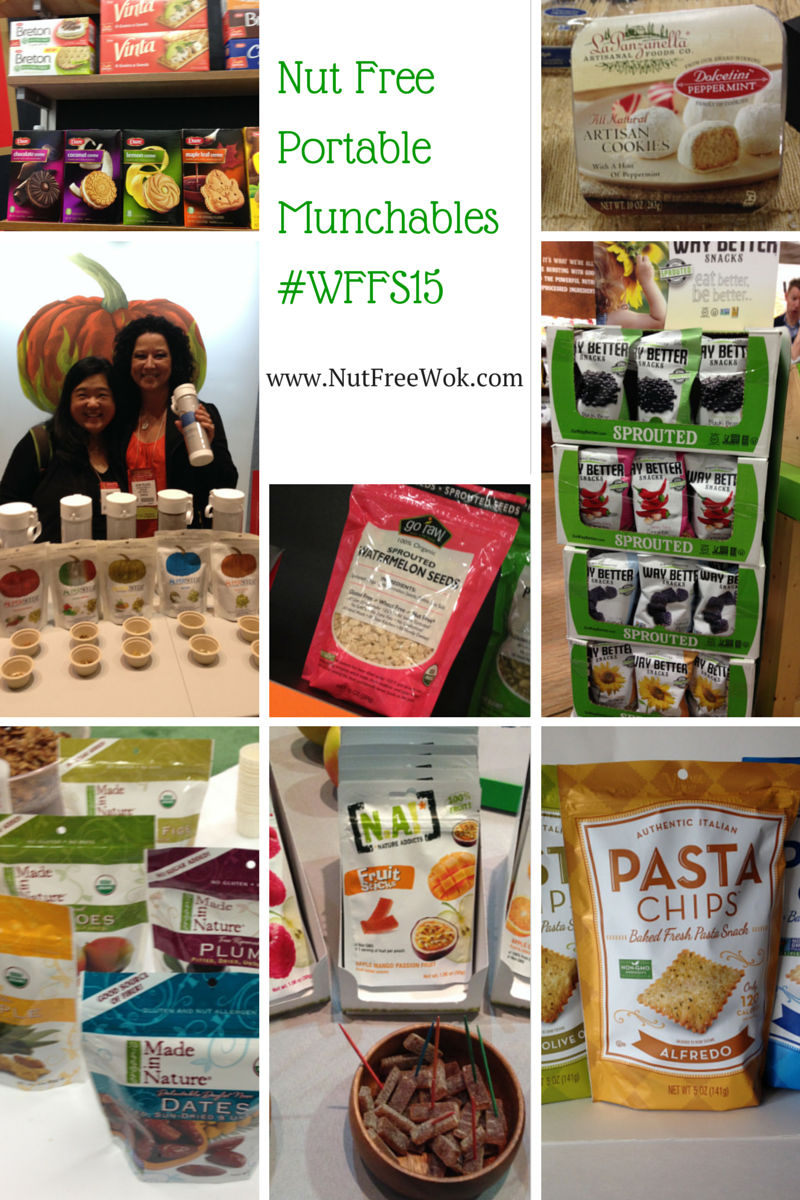 Portable Nut-Free Snacks
I was impressed with the selection of nut-free snacks that are great for school, travel, sharing with others, and emergency supplies.
Go Raw –

Top 8 allergen free

and non-GMO seeds and snacks. I almost skipped this booth because I've bought some products before but didn't like their pumpkin and sunflower seeds. I am so glad I stopped to taste their samples as I love and will buy their sprouted watermelon seeds (light, mild, nice crunch) and spirilina super chips (crispy, salty, flavorful) (discontinued as of 2023).
Superseedz –

Almost top 9 allergen free

flavored pumpkin seeds (the curry flavored seed contains soy sauce). Superseedz pumpkin seeds (affiliate) are pretty awesome but just a little bit of flavoring makes them over the top delicious for a nut free trail mix or salad topping. Free from Peanuts, Tree Nuts, Milk, Wheat (Gluten), Egg, Soy, Fish, Shellfish, and Sesame (confirmed 8/2023).
Made in Nature – This is their current allergen statement "Our facility processes peanuts, tree nuts, wheat, milk, egg and soy. We do not have dedicated allergen-free production lines. However, we have strict controls in place for receiving, separation, scheduling and cleaning." Their FAQ regarding allergens recommends checking the packaging for the most accurate allergen information. This is a great reminder that brands can change how they process their products and we need to double check from time to time.
Dare Foods – They make peanut-free cookies and crackers (except for Breton Popped Cracker Chips). Some of the creme sandwich cookies use coconut but they are otherwise free of tree nuts. They recently launched a new line of gluten free crackers using bean flours as a main ingredient.
Way Better Snacks – They are all peanut and tree nut free,

some products are top 8 allergen free

and some products contain sesame, milk, or mustard. They make healthier tortilla chips, pita chips, and crackers in exciting flavors that taste good. I'm so impressed with this company's allergy friendly products and attitude. I will be sharing more about them in a future post.
Pasta Chips – Non-GMO baked pasta chips that can be enjoyed as a snack, with soups and dips, or as the base of an appetizer. Confirmed via email that they are made in a peanut and tree nut free facility. They sent some samples and the Alfredo and Garlic flavors were well liked at our house.
Ozery Bakery – They make breads that are free of peanuts, tree nuts, egg, dairy, soy, shellfish, and fish. All products contain wheat and gluten and I wrote more about them in my product review. They are also sesame free as of 2023, but I recommend double checking periodically. I add my favorite snacking rounds (affiliate) to my Amazon/Whole Foods order.
Nature's Addict – Fruit snacks that taste wonderful, soft, and fruity. They've removed their allergen statement from their website and ask visitors to refer to the products but the product listings don't include a lot of information. I recommend contacting them directly before consuming.
Torie & Howard – They sell gluten-free, dairy-free, nut-free, egg-free, and soy-free organic, non-GMO hard candies that seem not to contain any top allergens in the ingredients. I tried these candies at a later time, I would say they're tiny but mighty (small pieces of candy with lots of flavor). If you can't find them in stores, you can order them online (affiliate). They were acquired in January 2021, I recommend contacting them via their website for an update.
Stoneridge Orchards (affiliate) – Another product that I am glad I happened to pick up an information packet and sample. They are an organic fruits only facility, free of preservatives (which is rare for dried fruits), and I was surprised that their dried cherries were soft, moist, and full of flavor.

Top 8 allergen free

Laiki Crackers – A rice based cracker that is light and crispy, similar to a woven wheat thin. It tastes light and crispy,

top 8 allergen free

, gluten free, and a great cracker alternative for someone with a lot of severe allergies. You might be able to find them at local stores but if not, they're available via Amazon.
La Panzanella – Their Crocantini is one of my son's favorite crackers (made of wheat). They do have sesame in their facility and allergen test for sesame after cleaning their equipment. I was super excited to see that they now make Dolcetini cookies at are peanut, tree nut, and egg free (shared equipment and/or contains milk, cocoa butter and soy lecithin), each flavor tasted wonderful but I am partial to lemon.
One Potato Snacks – Discontinued. However the same facility now makes Uglies sweet potato chips (affiliate). The only top 8 allergen in their facility is dairy. And they are peanut and tree nut free and use gluten free seasonings.
More Allergy Friendly Products at the Winter Fancy Food Show
Disclosure of Material Connection: I received one or more of the products or services mentioned above for free in the hope that I would mention it on my blog. Regardless, I only recommend products or services I would use personally and believe will be good for my readers. I am disclosing this in accordance with the Federal Trade Commission's 16 CFR, Part 255: "Guides Concerning the Use of Endorsements and Testimonials in Advertising."
Thanks for reading, please help Nut Free Wok!
The best way to see every post or recipe is to subscribe to Nut Free Wok's email subscription (be sure to respond to the confirmation email). You will be notified by email next time I publish another post or recipe and I won't send you spam or share your email address with anyone.
If you enjoyed this post, please use the social media buttons below to share with others. I am on Facebook, Twitter, Pinterest, and Instagram as @nutfreewok and it's great to chat and interact on social media too.
Disclosure/Disclaimer:
I may mention the names of stores and/or brand names of products that I use because readers ask and I share products and sources which I use and think may be helpful to readers, all opinions are my own. Please note that manufacturing practices and ingredients can change at anytime without notice and readers are always responsible for assuring allergen safety before buying or consuming foods. NutFreeWok.com is a participant in the Amazon Services LLC Associates Program, an affiliate advertising program designed to provide a means for sites to earn advertising fees by advertising and linking to Amazon.com. Thank you for reading!