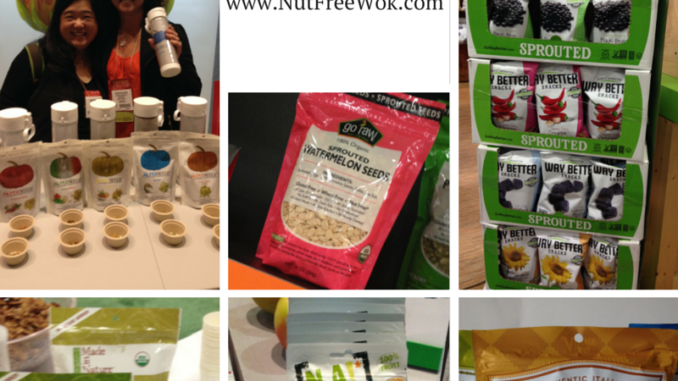 Part 2 of Allergy Friendly Products at the Winter Fancy Food Show 2015
More great allergy friendly food finds from the Winter Fancy Food Show 2015. As mentioned in my previous post,  readers are 100% responsible for for their own safety before buying or consuming any foods. My intention is to highlight products which are peanut and tree nut free but there might be details that slip past me, ingredients and manufacturing practices change without notice, and I have no control over the websites linked. Allergies to the top 8 allergens, peanut, tree nuts, egg, dairy, soy, wheat, shellfish, and fish account for 90% of all allergic reactions but people can be allergic to any food, including ingredients in foods that are considered allergy friendly. Since everyone has allergies to different foods and has different levels of severity, I cannot predict whether any or all of the following food finds would be appropriate for readers. Use this resource as a guide to start your own research, I followed up with each manufacturer by phone or email (except where noted) and only included those which seem consumer friendly, responsive, or with some allergy aware wording on their website or packaging. Please take the time to visit the websites of the brands or products that interest you and consult with your medical care team if you have any questions.
Portable Munchables – foods that are perfectly nut-free for school, snacks, travel, sharing with others, and emergency supplies 
Go Raw – Top 8 allergen free and non-GMO seeds and snacks. I almost skipped this booth because I've bought but didn't like their pumpkin and sunflower seeds. I am so glad I stopped to taste their samples as I love and will buy their sprouted watermelon seeds (light, mild, nice crunch) and spirilina super chips (crispy, salty, flavorful).
Superseedz – Almost top 8 allergen free flavored pumpkin seeds (the curry flavored seed contains soy sauce). Pumpkin seeds are pretty awesome but just a little bit of flavoring makes them over the top delicious for a nut free trail mix or salad topping. Confirmed via email that their spices and seasoning are gluten and nut free.
Made in Nature – Organic dried fruits and fruit and seed blends are peanut and tree nut free, kosher, and gluten free. "The facility that packages our dried fruit (with the exception of our Tropical Fusion, our Coconut chips and our Ancient Grains) is a completely nut free facility. The Tropical Fusion, the Coconut Chips and the Ancient Grains are all package in a facility that has exposure to nuts."
Dare Foods – They make peanut free cookies and crackers (except for Breton Popped Cracker Chips). Some of the creme sandwich cookies use coconut but they are otherwise free of tree nuts. They recently launched a new line of gluten free crackers using bean flours as a main ingredient.
Way Better Snacks – They are all peanut and tree nut free, some products are top 8 allergen free and some products contain sesame, milk, or mustard. They make healthier tortilla chips, pita chips, and crackers in exciting flavors that taste good. I'm so impressed with this company's allergy friendly products and attitude. I will be sharing more about them in a future post.
Pasta Chips – Non-GMO baked pasta chips that can be enjoyed as a snack, with soups and dips, or as the base of an appetizer. Confirmed via email that they are made in a peanut and tree nut free facility. They sent some samples and the Alfredo and Garlic  flavors were well liked at our house.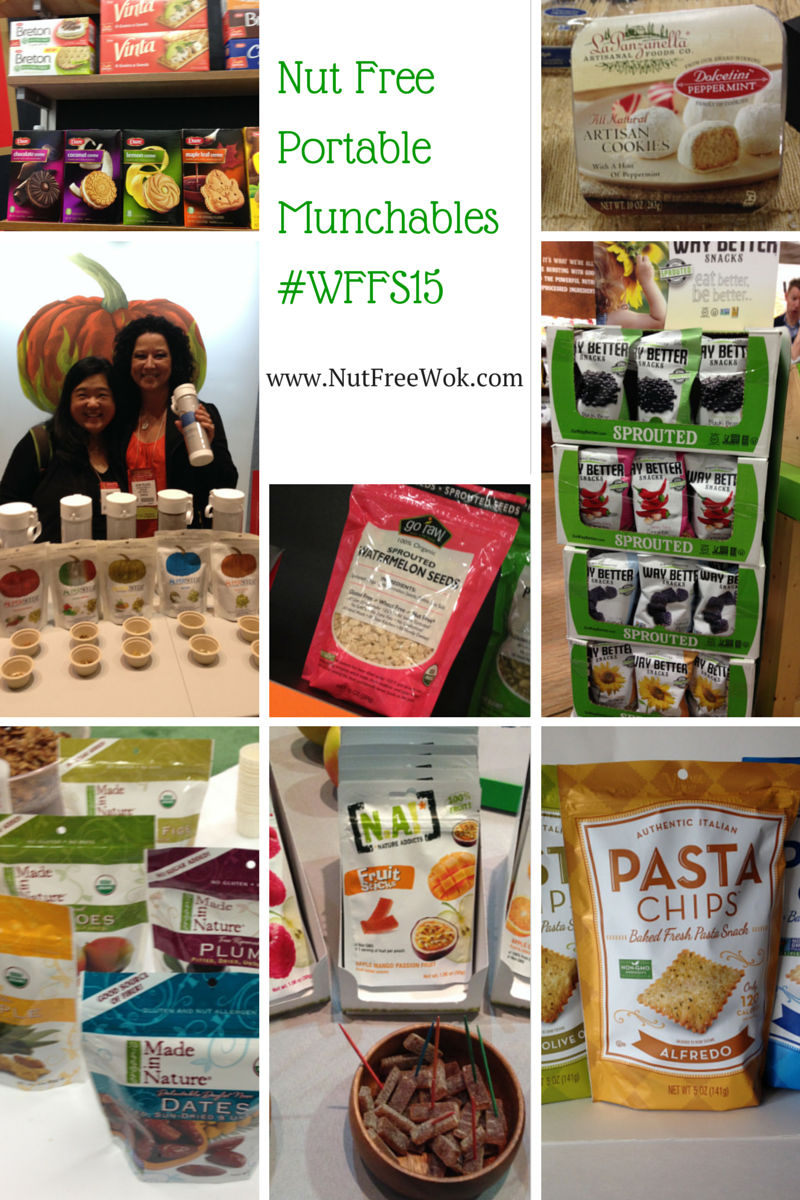 Ozery Bakery – They make breads that are free of peanuts, tree nuts, egg, dairy, soy, shellfish, and fish. All products contain wheat and gluten and I wrote more about them in my product review. 
Nature's Addict – Fruit snacks that taste wonderful, soft, and fruity. Top 8 allergen free fruit snacks, as long as one is not allergic to mango or raspberry. They also have a chocolate covered orange fruit snack (the chocolate might have traces of gluten and dairy).
Torie & Howard – They sell top 8 allergen free, organic, non-GMO hard candies. I completely missed their booth but am glad I picked up their information packet.
Stoneridge Orchards – Another product that I am glad I happened to pick up an information packet and sample. They are an organic fruits only facility, free of preservatives (which is rare for dried fruits), and I was surprised that their dried cherries were soft, moist, and full of flavor. Top 8 allergen free
Laiki Crackers – A rice based cracker that is light and crispy, similar to a woven wheat thin. It tastes light and crispy, top 8 allergen free, gluten free, and a great cracker alternative for someone with a lot of severe allergies.
La Panzanella – Their Crocantini is one of my son's favorite crackers (made of wheat). They do have sesame in their facility and allergen test for sesame after cleaning their equipment. I was super excited to see that they now make Dolcetini cookies at are peanut, tree nut, and egg free (shared equipment and/or contains milk, cocoa butter and soy lecithin), each flavor tasted wonderful but I am partial to lemon.
One Potato Snacks – I tried their sweet onion potato chips, so good. The only top 8 allergen in their facility is dairy. And they are peanut and tree nut free and use gluten free seasonings.
Disclosure of Material Connection: I received one or more of the products or services mentioned above for free in the hope that I would mention it on my blog. Regardless, I only recommend products or services I would use personally and believe will be good for my readers. I am disclosing this in accordance with the Federal Trade Commission's 16 CFR, Part 255: "Guides Concerning the Use of Endorsements and Testimonials in Advertising."
Love this post and want more?