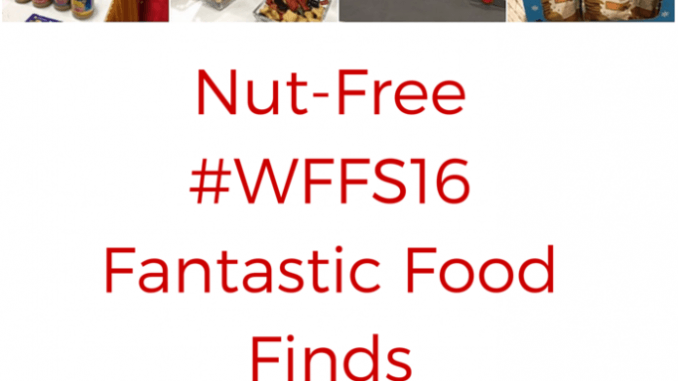 Read about the new nut free, allergy aware, and delicious foods I tried at the 2016 Winter Fancy Food Show. I simply can't hold back so this will be an exhaustive post with over 70 mini-reviews, so grab a cup of coffee or tea, and get ready to marvel as I did at the show and afterwards.
I also want to remind you that as of 1/1/2023 sesame is considered one of the top 9 allergens. I highly recommend that you double check for sesame if that's an allergen you avoid, including items you know were previously sesame-free. Update: This post was updated on 8/17/2023 with updates for readability.
Disclaimer: Please check that all ingredients are suitable for your allergies and be sure to ask your medical care team regarding any allergy related questions (I do not share medical advice). As an Amazon Associate I earn from qualifying purchases.
What am I doing at the Winter Fancy Food Show?
The Winter Fancy Food Show is food show and I was on an allergy mom mission to find some nut-free and/or allergy-safe foods. The theme was "Before she enjoys it here, you'll discover it here" which is so true as over 1500 companies showcased their latest products at the specialty foods trade show. It's not a food allergy related event so I scouted out about 100 companies that I wanted to meet over the course of two days. It's my privilege to find the latest and most delicious nut free treats for you.
What do I look for in allergy-friendly foods at WFFS16?
There were so many more companies this year with organic, non-GMO, or nut-free selections. Some companies have plans to remove allergens from their products. Many companies have allergen information on their websites, use allergen advisories on their packaging, or have added allergen testing to their allergen management plan. My WFFS recap will include mini-reviews of the nut-free snacks, cooking, and baking ingredients that I found at the show based on some of the following factors:
Must be nut-free. Sometimes representatives tell me that their products are "Nut-Free" and then I have to clarify whether they mean they didn't add any nuts intentionally or they are assuring me that there are no accidental traces of nuts. There must be some indication on their packaging, literature, or website that the products are nut-free. If not, then I check in person and/or confirm by email. I love companies that do not use nuts in the facility or on shared equipment. Some companies are nut free unless I've noted that they use coconut, which is botanically a fruit but classified as a tree nut by the FDA.
Must be allergy aware, I give extra consideration for companies which are very allergen aware. I love it when they can share some details about how they manage allergens and cross contact in order to make a safe product. It helps so much when food manufacturers use voluntary allergen disclosures so that we can read the label and decide on the spot rather than exhaustively search their website, send an email, or make a phone call and then wait for a response (or not). Some products might be also top 8 allergen free, egg-free, or other allergen free but no promises that I will be able to call them out exhaustively, which is why I highly encourage you to read the labels, check the websites, and contact them yourself.
Must be responsive about allergen inquiries. I mainly ask about peanuts and tree nuts but I know some of you have other allergies in addition to nuts. I want to know that you will receive a courteous and honest response if you reach out to them with your specific questions. One company had some very vague and confusing allergen free claims and when I reached out to them to clarify, they informed me that allergen advisories were voluntary. I consider that as a red flag warning that they would rather not disclose potential allergens for the sake of the consumer because the law allows them to do so rather than doing what's best for the consumer. I did find some very interesting products but if I can't have a brief talk or otherwise verify allergen safety, then I left them off of this list.
Must taste good at least to somebody! We all have personal preferences and tastes so even if I don't love something, I will include it in my list if I think someone will like it and I left out anything I felt was poor quality. I did find one company that has two different versions of their product, a nut-free but GMO containing version and a non-GMO but not nut-free version. I left out that brand because both versions tasted just "meh" but food allergy families shouldn't have to choose between nut-free or non-GMO. Why can't they make one product that is nut-free AND non-GMO?
Noodles:
Explore Cuisine (formerly Explore Asian) –

nut-free, gluten free, bean and/or soy based noodles

. I've tried a few different brands of bean pastas, these taste great, better than other brands of bean pastas, and are really easy to prepare. They have a lot of new shapes and flavors and appeal to those who need to eat gluten free or are looking for higher protein and higher fiber pastas. Check prices and selection on Amazon (affiliate link).
Miracle Noodles –

gluten free, nut-free (except coconut and peanut!) shiritake noodles

(made in a facility that also processes soy). They have some new heat and serve complete meal kits available, two spaghetti kits (Instant Spaghetti) and two coconut based kits (Japanese Curry Noodles, and Thai Tomyum). The coconut varieties are made in a separate facility from their other products to prevent cross contact. I recently noticed that they've added a peanut containing meal kit so I highly recommend contacting them before you buy or consume.
Crystal Noodles –

nut-free, gluten free, noodle soup in a bowl

that just requires hot water. I tried small samples at the show and since I can easily find them at a local store, I bought one to try. I also found a sampler pack (affiliate) on Amazon. They're simple to prepare and very flavorful and might need more water to adjust the flavors.
Baked Goods
California Lavash – nut-free, vegan flat breads such as lavash for wraps, naan, noor, sangak. Their products are vegan, non-GMO verified, and preservative free. Contains wheat and some contain sesame. Nut-free naan seems hard to find, so I'm excited to try their very soft and very fresh flat breads. The lavash is great for making wraps and as a base for personal pizzas. I had a lot of fun trying to make apple lavash roses, which my family enjoyed. I also made grilled cheese flatbread sandwiches with them, they're firmer than a quesadilla made with a tortillas and crispier/lighter than a sandwich made with bread.
Ozery Bakery – soy free, dairy free, peanut and nut-free (made in a peanut-free facility) pita inspired wheat products, vegan and non-GMO. I bcadlogged about Ozery last year and still enjoy their morning rounds, which keep very well in the freezer and toast up nicely in a toaster. My favorite item is the Cranberry Snacking Rounds (affiliate). They are one of the few bread brands that are sesame free and according to their latest allergen statement, free of "Peanuts, Tree nuts, Milk, Eggs, Sesame, Soy, Mustard, Fish, Crustacean Shellfish, Molluscs, and Sulfites."
Pretzilla – peanut free, tree nut free (including coconut free), and free of sesame, seafood, and shellfish soft pretzels made in a new nut-free facility. This is an incredibly allergy aware company, they even checked that the ingredients used are free of cross contact from peanuts and tree nuts when I asked. If you scroll to the bottom of their website, you will see a link to a very clear and thorough allergen statement. If that's not enough, their pretzels taste so fresh when toasted in an oven, they're soft and steamy on the inside and smooth and sweet on the outside. Some of the buns come with a small packet of coarse salt so you can have the fresh from the bakery experience at home, all you need to do is supply your own mustard. Their products are available to order from their website and I can find them at my local Whole Foods Market or order via Amazon (affiliate).
Canned Seafood
Safe Catch – nut-free, soy free, gluten free, low mercury tuna. When Safe Catch goes to buy their tuna, they test samples of tuna fish for mercury and they have first pick on which tuna to buy. Low mercury tuna is a great option for pregnant women, little kids, and anyone that is concerned about consuming mercury. Follow the instructions on the can and do not drain the liquid, or at least reserve the liquid in a bowl to add back to your tuna recipe as needed. Safe Catch tuna tastes great (affiliate), I love to add tuna to my salads or make it into a tuna salad.
Wild Planet – nut-free, allergen aware canned chicken and seafood. I've blogged about them before, their canned tuna (affiliate) and canned sardines are my favorite (available at Costco for huge savings), the tuna pouches are very portable and easy to use on the go. Now they've launched a new product, organic canned chicken made from roasted chicken breasts, top 8 free and with a pop top lid. Their chicken taste great for a canned chicken to add to a casserole, chicken salad sandwich, dip, etc..
Soup Ingredients
Savory Choice – gluten free, nut free chicken or beef concentrate (affiliate). Add one "stick" (looks like a big ketchup packet) of soup concentrate to 16 ounces of hot water to make a soup base. Their products do not use any of the top 8 allergens except for their "demi-glace" which contains butter (milk). I found that it makes for a great "chicken soup" when I'm sick, just add water.
Marukome – nut-free miso products. I was told at the show that the miso products are made in a soy only factory but I think it's possible that they might handle bonito fish in some products. They have many different products and some are organic or non-GMO. I am not a miso expert by any means, but it tasted great, not as salty as some other brands which I like.
Nona Lim – gluten free, dairy free, and nut-free (with the exception of coconut) Asian soups and noodles. I tried a couple of samples at the show and was impressed with how the soup and noodles taste just right. I had a long conversation with Nona and was impressed with how they plan out their production to limit cross contact. The use allergen tests to check for gluten, soy, and fish and only make one soup flavor per day.
Extract & Spices
Nielsen Massey Vanilla – top 8 allergen facility that makes a variety of vanilla extracts, vanilla products, as well as other extracts. Their latest product is a new alcohol-free vanilla which will be sold in stores later this year. I'm excited to try them when they're available. They attached a fresh vanilla bean to each press release and the press room smelled like a vanilla scented bakery. I used my vanilla bean to make the best vanilla ice cream ever and I can't wait to share the recipe with you. In the meantime, you can read what I wrote about them before and see my recipe for my award winning Egg Free Nut Free Banana Muffins with Chocolate Chips. Check prices on Amazon (affiliate link) and I've also seen them on sale at Williams-Sonoma during the holidays.
DennyMike's – gluten free, nut-free seasoning blends and BBQ sauce. I actually met Denny at the show last year but there were a series of recalls due to peanut tainted cumin early in 2015 and I expressed my concern regarding the potential for unknown peanut in their spices. Denny and his team tested their samples for the presence of peanut, which came back negative. I loved Denny's samples at the show last year but I really love their high level of awareness and concern for food allergies and being "junk free."
Noh's Foods – peanut and tree nut free (with the exception of coconut) Asian seasoning packets. They do have coconut, milk, sesame, soy, milk, and wheat on their product line.
Sauces & Condiments
Brianna's – nut-free salad dressings and marinades (new!) that do not use high fructose corn syrup and have zero trans-fat. My children like to eat their salads plain without dressing, but I like knowing that this option is available when we share meals with friends. Poppy seed (affiliate) is still my favorite salad dressing flavor.
Kewpie – nut free Japanese mayonaise* and salad dressings. This company makes salad dressings that are nut-free with the exception of coconut and sesame according the representative I spoke with at the show. (more info at www.kewpieusa.com) *Update: thanks to Gale, a Nut Free Wok reader, who helped me discover that the made in the US, nut-free mayo is only sold in 1 gallon jars for large volume buyers, such as restaurants.
Additional info from the manufacturer:
KEWPIE JAPAN: KEWPIE MAYONNAISE 500g Import: The mayonnaise production lines are dedicated solely for the purpose of making Kewpie Mayonnaise and do not have nut allergens introduced into the mayonnaise production system. However, within the same building complex, but in a separated room, there are dressings made that contain some peanut and other nut oils.
KEWPIE USA PRODUCTS: KEWPIE DRESSINGS and MAYONNAISE: We are a peanut free facility, but we cannot claim to be nut free. The Kewpie items are nut free, but there are some private label dressing items that we make which use nut oils (Hazelnut, Walnut, Coconut) in their production. There is a mayonnaise private label item that uses Coconut Oil. We are an allergen-certified plant (+ Organic, Non-GMO, etc.), keeping allergens separated and we do a complete sanitation of our production lines EVERY NIGHT. But, still, nut oils are used in some of the processes.
Wok Mei – gluten free and nut-free Asian style sauces, without MSG, preservatives, or modified starches. I tried their sauces at the show, it's hard to tell without cooking with it but tiny spoonful dips of their oyster sauce, plum sauce, and hoisin sauce tasted good. I have 3 emails from them confirming that they're nut free but no specific details. I think their products could help a lot of people but definitely verify for yourself before buying or consuming.
Traina Foods – top 8 allergen free sundried tomato ketchup (regular and sriracha). I think this ketchup tastes much better than conventional ketchup but it does contain corn syrup and sulfur dioxide.
Aloha Shoyu – nut-free Asian sauces and soy sauce with some gluten free options. I like the taste of their products and like knowing that their products are all nut free, confirmed via email. They have gluten free products available but I don't know how they limit gluten cross contact, so be sure to check before using (as mentioned in my blog post about what ingredients are in my cupboard). When we went to Maui this past summer, I wasn't familiar with many of the brands available at the supermarket in Lahaina but I was very happy to find Aloha Shoyu on their shelves, which I had already vetted and knew would be safe.
Fruity and Sweet Snacks:
Stoneridge Orchards – top 8 allergen free dried fruit. I tried their amazing dried cherries, which are unexpectedly moist for a dried fruit and totally kid approved at our house. They launched a new line of chocolate dipped dried fruits which are not nut free and made in a separate facility from the dried fruit.
Pitaya Plus – top 8 allergen free smoothie packs. Pitaya is a magenta colored dragon fruit, it has the texture of watermelon and is incredibly sweet and refreshing. I love pitaya but cannot buy this type of dragon fruit in the US other than when we went to Maui last summer. I've been longing and looking for Pitaya Plus smoothie packs at my local stores for an entire year and finally learned that my local Whole Foods Market carries it. Big news is that they've partnered with Jamba Juice, so awesome! (Update April 2020: they added a coconut product, please be careful if you have a coconut allergy.)
Kiddylicious – nut, egg, soy, and see free fruit and vegetable snacks for babies and toddlers. They have greatly expanded their product selection and are allergy consicous (please check for each product). Their snacks are delicious and suitable for toddlers to eat, our favorite was the banana bites.
Enjoy Life – top 8 allergen free and gluten free lentil chips, baking chocolate, and chocolate bars only. They've discontinued many of their products.
That's It Fruit– top 12 allergen aware fruit bars (except coconut). NASA sent them out to space as snacks for astronauts on the International Space Station, is that cool or what? That's It sent us a sampler and each bar we tried tasted exactly they way one would expect them to taste and look. Apple+Mango is a golden yellow bar with a mildly sweet flavor. Apple+Apricot has a tart dried apricot taste but the bar is dark brown, which is a sign that the apricots do not have sulfites or preservatives. Absolutely amazing product. My favorite bars are their probiotic bars (in a black plastic wrapper) and their chocolate covered fruit bites are awesome but those might have allergen advisories. I shared a cake recipe using their apple pear bars, it's such a yummy way to eat with cake.
Meat Sticks and Jerky Snacks
Vermont Smoke & Cure – nut free, gluten free, dairy free, egg free meat sticks and other meat products that are natural (no added hormones, antibiotics) with no added nitrates. I like that they try to source naturally and humanely raised meats and that they work with their small local farmers in their community. I am always on the lookout for relatively shelf stable portable proteins and they were so kind to send me samples of their meat sticks. The spicy flavors have a bit of a kick to them, but I think they're all good with a nice soft texture and lots of flavor. I liked the barbeque flavor best (contains tamarind). My husband's favorite is the honey mustard, both of my sons really like the rosemary chicken. Since the meat sticks do not have preservatives and a 9 month shelf-life, I suggest that you buy them from your local stores so you can check the expiration date or order directly from Vermont Smoke & Cure.
Perky Jerky – gluten free and nut-free (confirmed via email) beef and turkey jerky. They were a surprise find simply because a very tall man with samples of Perky Jerky attached to his outfit with velcro happened to be standing in the middle of the aisle and the Perky Jerky man boomed "Take a sample!" I later emailed them to check about allergens (thank you Dagny for your prompt answers) and was happy to discover that the the two samples I plucked off the Perky Jerky Man were nut free, tender, and delicious. Check prices on Amazon (affiliate link).
3 Jerks Jerky – nut-free, gluten free beef jerky made from filet mignon and free of MSG and nitrates (shared facilities with coconut). I had a tiny sample and was blown away by the delicious flavor and tender texture. It seems that I can only buy them at a spa 20 minutes from my house or order online.
"Bakkwa" Jerky by Red Dot Kitchen – gluten, dairy, and nut-free jerky with Asian inspired flavors (some flavors contain soy and/or fish) and they source for meats without added hormones or antibiotics. Definitely check the FAQ section of their website for more information.I did not get to try their jerky at the show because there was a long wait to talk with the owner, however she sent me some samples which are so fabulous. The pork and turkey bakkwa are their basic flavors that everyone would love, very moist and tender for jerky. They also have two spicy flavors, spicy chipotle beef which tastes plain at first but it's actually very spicy, so eat slowly. The other spicy flavor is uncured spicy candied bacon, I've never had bacon jerky before and the spiciness was quite appealing even for someone who generally avoids spicy flavors. The lemongrass beef bakkwa is my favorite, I enjoyed the fish sauce and fresh citrus taste from the lemongrass and lime.
Seed and Bean Snacks and Spreads
Sun Life Spreads – dairy free, gluten free, peanut free sunflower seed butter. I tried a tiny amount at the show and thought it was good, but I'm so glad they sent me some samples so that I could try it on bread and with celery. Sun Life Spreads is hands down the creamiest, smoothest, and best tasting sunflower seed butter I've tasted. Even though the spread hardens up a tiny bit after being refrigerated it still spreads easily. There are 4 flavors: original, honey, chocolate, and maple. We definitely liked honey and chocolate the best. Sun Life Spreads is a new product line by Nu Life LLC, which makes a variety of sorgham products and gluten free flours and can be ordered from their website.
Sunbutter – peanut, tree nut, gluten, dairy, and egg free sunflower seed spread. Sunbutter is a trusted allergy friendly brand. I love their latest product, their on the go dipping cups because they're portion controlled, are very spreadable at room temperature, and easy to pack as a snack (available at Target only). They recently announced that they will become soy-free as well. Check selection on Amazon (affilaite link).
Super Seedz: nut-free, almost top 8 allergen free pumpkin seeds (non-GMO soy is used for the curry flavored variety). I blogged about Kathy and Super Seedz in my write up about WFFS last year. Their big news is that their snack sized packs of pumpkin seeds are available at Starbucks. Kathy gave me a few packs at the show and when I brought them home, my younger son told me he loves pumpkin seeds. I had no idea so I bought a full sized bag from the supermarket and he's been snacking on them everyday after school. There's something utterly precious for a food allergy mom to watch a kid with lots of food allergy restrictions be able to enjoy and savor a delicious and healthy snack. My supermarket carries just one flavor but I like the selection and prices on Amazon (affiliate link).
Tiger Nuts by Organic Gemini: nut-free, gluten free, dairy free, organic Tiger Nuts products. Tiger Nuts are not made from nuts or tigers but they are dried tubers that are nutritious with high levels of iron and fiber and a slightly sweet taste. They're not like nuts at all, they're chewy but not crunchy. I saw a suggestion to soak the tiger nuts in water for 8-10 hours and surprisingly, I liked it a lot more after soaking them because it had a nice crunch and I could taste the tiger nut flavor better. My children weren't so impressed either way (dry or soaked). I also like their tiger nut milk horchata drink, which I enjoyed at the show. Available on Amazon (affiliate link).
The Good Bean: nut-free and gluten free, non-GMO chickpea snacks. I am so happy that The Good Bean now has their own dedicated facility for their crunchy chickpea snacks and bean chips. I did not sample their product this time around but just wanted to share that it's an option.
Nut-Free Breakfast and Snacks
Brazibites – nut-free, gluten free Brazilian cheese breads. Brazi Bites sent me samples of the original, asiago cheese, and jalapeno. It takes about 20 minutes to bake the frozen dough and they puff up into puffy cheese bread pieces. My children tried the original and asiago cheese flavors and liked it, my husband and I tried the jalapeno flavors and they have a little spicy kick to them, but it's not too spicy for someone like me. The outside of the cheese bread is crispy and the inside is soft, cheesy, and doughy. The cheese bread dough can be found in your supermarket's freezer section.
Zego Snacks – top 14 allergen free (except coconut), non-GMO. I wrote a little bit about Zego and Colleen in my FABlogCon write up previously. The key highlights about Zego is that they test finished products for allergens and pesticides and consumers are able to obtain the allergen test results via web, text, or scanning with a QR code. They've discontinued many of their products except for oats, muesili, and protein powder.
Belgian Boys – peanut and tree nut free pre-packaged pancakes, crepes, and waffles, which are made in a nut free facility. Belgian Boys also make some other incredible treats such as a chocolate covered waffle (soooo good, I don't want to share) and it's worth a look. They are great about labeling for possible cross-contact and some of their products are made in nut free facilities, so read and reread the labels and enjoy carefully.
P*De*Q – nut-free, gluten free Brazilian cheese breads, pizza crust, pizza dough, and fruit gems. I've known of this company and their addictive Brazilian cheese breads for awhile now, but what's new are their pizza dough and pizza crust as well as their fruit gems, which are like soft tender bite sized pies. See www.pdeq.net for more info.
Follow Your Heart – My post about them was originally about their vegan egg product which has been discontinued. They are peanut-free and treenut-free (except for coconut), vegan, and plant based company with a very comprehensive allergen chart linked in their FAQ.
Gluten-Free Tea
The allergen information for the teas currently only mention that they are gluten-free, so I'm updating the post to reflect this.
Numi Organic Tea – gluten free, organic tea. I enjoy their tea in general because they understand my need to know how much caffeine is in each variety of tea. I love that their tea is organic and people who likes tumeric, should check out their line of tumeric tea. Numi won an award at WFFS15 for their tumeric tea.
Republic of Tea -I love their eco-friendly packaging, the teas are packaged in an airtight tin and wonderful variety of flavors. They really caught my eye last year when they debut their line of Downton Abbey inspired tea flavors which happen to be very good. I noticed that they have one tea with almond and emailed them to enquire. "The main nut allergen teas are Vanilla Almond, Yerba Mate Latte, Almond Coconut Macaroon, Get Restored and get clean. These teas are all processed separately from the other teas and have strict protocol to avoid any cross-contamination in the Nashville, Illinois, factory. That being said, we do process with nuts in our facility, so they are in the same factory as the rest of the products."
Note about teas – One would think that teas do not contain nuts or other allergens, thus should not have any risk of cross contact with allergens and I felt silly for pressing Numi and Republic of Tea (last year) for more information even though they were very gracious.
Then I noticed Davidson's Organic Teas at the show and when emailed them, they shared a statement from their website that they do not use peanuts or tree nuts in any of their products. Seems safe, right?
I requested some samples and I was amazed by how fresh and fragrant the box of tea smells. I was impressed by the variety of flavors and as I looked through the products, one of the samples was labelled as a type of almond tea!
They responded with the following clarification: "We use an Almond extract flavor for the Bing Cherry Almond tea. There is no cross contamination risk since we undergo strict sanitation rules between flavors and production batches, and we don't process nuts in our facility." The owner of the company seems very certain that their products are safe for people with nut allergies, but if one is allergic to almond, be cautious.
Chips & Crackers:
Lotus Foods – peanut free, tree nut free (with the exception of coconut), and egg free Arare rice crackers (wheat, fish, shellfish, milk, and coconut present in the facility). This is an exceptional find because it's very difficult to find nut free versions of these Japanese rice crackers. I love the crunch, the beautiful colors and shapes, and the fact that the crackers are made from whole grain rice. My children love the shoyu flavor the most because it's just like the traditional arare crackers. They also have a slightly sweeter flavor and a spicy flavor too. Lotus foods also makes a variety of rice and ramen products, I only specifically asked for allergen information about the arare crackers.
Oolala – nut-free potato chips with sophisticated flavors such as truffles (affiliate) and saffron. They're absolutely delicious and very flavorful, we tried the saffron and olive oil flavor and our family loved it. I love that this product uses allergen advisory labels on their packaging.
Way Better Snacks – nut-free, gluten free, and allergen friendly tortilla corn chips and crackers. They have a new nacho flavored tortilla chip. Our family really likes their crackers but we're unable to find them in our local stores. They are available to order online via Amazon. I've also blogged about Way Better Snacks before in a review.
Laiki – top 8 allergen free and gluten free rice crackers. They're light and crispy like a delicate woven wheat cracker and won an award at last year's WFFS event. My son who prefers gluten free snacks loves this cracker, and it's on my shopping list. Their social media team is so nice, they even posted an Instagram picture of the exact location and shelf where I can find their crackers at a nearby store. That is awesome customer service. Also available on Amazon (affiliate)!
The Daily Crave – nut-free, egg free, fish free, and soy free vegetable chips and lentil chips. I didn't try all their flavors but had a couple of personal sized samples to share with my children, they really liked the lentil chips. This is a great find because many vegetable chips have a slight risk of cross contact with nuts and other allergens.
Joe's Chips – nut-free potato chips, confirmed via email that they do not have any nuts in their facility or ingredients. They have a lot of the typical flavors that people like but what makes them different is that their chips rock the taste without being super salty or greasy. I haven't seen them in my local stores ever.
Pasta Chips – nut-free, non-GMO baked fresh pasta chips that are crispy for snacking but also sturdy enough to use for appetizers. Our family liked the Alfredo and Garlic Olive Oil flavors best when they sent some for us to try last year.. The Sea Salt flavor is plain for snacking but a great base for appetizers. I was lucky enough to be invited to their after party held at San Francisco's North Beach treasure, Original Joe's where they served Italian classics along with a variety of appetizers made with Pasta Chips as a sturdy base. I also had a chance to try their new Bow Ties pasta chips, they look like puffed bow tie pastas and have a more delicate texture. Read more about other portable munchables from my review last year.
Beanfields Snacks – nut-free, certified gluten free, non-GMO bean and rice chips. These chips are light and flavorful yet high in fiber and protein. None of their ingredients contain the top 8 allergens but their packaging indicates that their chips are made in a nut free facility that also uses dairy, wheat, soy, and corn. I tried each of their flavors twice to determine which one is my favorite flavor and it's still a toss up between their newest flavors, Ranch and Barbeque.
Popcorn Snacks
PopCorners, Pop Crinkles, & Popped Bean Chips by Medora Snacks – gluten free, nut-free, non-GMO popped corn chips and served on Jet Blue flights. I'm so glad that Medora Snacks sent me some samples because I did not realize that they have three different types of products. PopCorners is a triangular shaped popped corn chip and has the crunch of a tortilla chip but the light puffy texture of a popped chip. Popped Bean Chips is a hexagonal version of PopCorners and is made with the addition of beans so that it's higher in fiber and protein, and the lower in calories. Pop Crinkles are popped potato crinkles made with corn and potato and they remind me of Ruffles but sturdier. Now that I know about PopCorners, I've seen them in a couple of stores in my area (Cost Plus and Trags) but the most surprising place is that one can buy them on Groupon!
Half Pops – nut-free, gluten free, non-GMO half popped popcorn. They are literally half popped popcorns that are crunchy and yummy to eat especially if you miss eating nuts. Half Pops was a surprise find last year and I loved the small sample that I picked out. I didn't share about them because I couldn't confirm that they are nut free until this year. I'm really excited for this company because I think they're growing, with more distribution and availability, more flavors, and soon they will be moving their production to their own facility. Some flavors have dairy, so read the ingredient labels carefully if you have a milk allergy.
Pop'd Kerns – nut-free crunchy partially popped popcorn snack (contains soy and/or milk). Pop'd Kerns are not completely popped like popcorn but very crunchy and fluffy at the same time. There's no allergen information on the website but the packaging indicates that the snack is made on shared equipment with milk and I was informed at the show that the snack is nut free.
Pop Art Snacks – nut-free (except for coconut) gourmet popcorn. You've probably seen their colorful packaging before. I enjoy the variety of popcorn flavors, our family favorites are the nori sesame and white pepper parmesan and I also like the rosemary truffle flavor. Some flavors have sesame, coconut, and milk so be sure to check the ingredient labels or reach out to them before consuming.
Kettlepop – nut-free, organic, non-GMO kettle corn. We first fell in love with this company at our local farmer's market. The prepackaged kettle corn is perfect for anyone who likes kettle corn but doesn't want it too salty or too sweet and still crispy and crunchy.
Nut-Free Cookies
Dr. Lucy's – gluten free, nut-free, and allergen friendly cookies and brownie crisps. I was surprised to learn that Dr. Lucy sold her business to Westminster Crackers which makes nut free oyster crackers (you're welcome, that's a two for one find). The Westminster representative assured me that Dr. Lucy products will remain the same, but I think it's important to be vigilant about reading labels. We tried the new Triple Chocolate brownie crisps and they basically taste like a thin crispy chocolate cookie. I also tried a new flavor with pumpkin seeds (it had a spicy kick to it, not sure if that's intentional or not) and a mint chocolate brownie crisp, which I liked the best.
Fancypants Bakery – nut-free, non-GMO cookies, in addition to their big and beautifully decorated seasonal cookies, they recently launched mini-crunch cookies that you can buy in a supermarket. We tried the vanilla bean cookies and they remind me of Danish butter cookies but taste as good as homemade cookies. I loved meeting Maura, the owner of Fancypants Bakery. I asked her why did she decide to start a nut free bakery. She told me that at the time one of her close friends has a child with nut allergies and told her about how challenging it is to avoid nuts in bakery products. Maura decided that she could help by creating a nut free bakery and I applaud her for being a compassionate bystander.
Mrs. Thinster Cookie Thins – peanut-free, non-GMO cookies. These thin and crispy cookies are delicious, love the brownie batter cookies (affiliate). They also make a thin coconut cookie (which is probably why they're not considered tree-nut free), which I absolutely loved because they remind me of crispy coconut roll cookies that my mom used to buy for Chinese New Year. The coconut cookies are made in a separate facility from their other varieties.
Hidden Garden Foods – nut-free, gluten free "sneaky vegetable" cookies free of artificial colors, flavors, and preservatives. Granted, these cookies do contain vegetables in them, but let's not fool ourselves, we're not eating a salad but a delicious cookie. The vegetable flavors enhance the taste of the cookies but without being too overpowering. As an example, one of my sons does not like pumpkin or chocolate, but he really liked the chocolate chips cookies which contain pumpkin.
Nut-Free Candy and Chocolate
Surf Sweets – top 10 allergen free candy, also corn syrup free, dye free. I love Surf Sweets, their candies are so good and when nothing else is allergy safe, it's a great treat that lightens the emotional burden of living with food allergies and being left out. They are great about donating samples to school and food allergy related events and giving back to the community and sent me samples to use for future recipes (so fun, I can't wait). Available via Amazon (affiliate)!
I also love their transparency about allergens so that you can make an informed decision, here's their email response: "We have two brands, Surf Sweets and TruJoy Sweets. For the allergy aware, it's pretty simple – all our Surf Sweets products are made and packaged in a facility free of the top 10 food allergens. Our TruJoy products are organic versions of classic candy favorites and are formulated free of the top 10 allergens, however, they are made in different facilities and therefore each form has its own allergy statement. Our Organic Candy Canes, Heart Shaped and Bunny Shaped lollipops are made in a nut free facility although there is dairy and soy in the facility, the candies are in a separate floor with separate ventilation. Risk of cross contamination is minimal, but we can't say "free from" since it does exist in the facility. We'd rather be transparent and let consumers decide for themselves. The Organic Fruit Chews and Choco Chews are organic, vegan and gluten free, however they are processed on shared equipment with nuts, dairy and soy."
Premium Chocolatiers – chocolate candies free of milk, nut, gluten, egg, and artificial colors. They make snack pack sizes of their allergen friendly versions of popular chocolate candies as well as boxes of their truffles. I tried their Pea Not chocolate candies and they're cute little round balls of milk free chocolate encased in a dye free candy coating.
Seely Mint – top 8 allergen free mints and nut-free chocolate candies (might contain soy, egg, and/or dairy). Seely Mint is a mint farm and they produce mint candies which are top 8 allergen free. They also make some chocolate products such as peppermint patties (affiliate link), peppermint bark, and mint melts (white and dark chocolate flavors). I think this is a great ingredient source for making allergy safe peppermint bark.
Taffy Towne – nut-free, soy free, gluten free taffy. Some flavors include egg and milk. They have such a huge variety of flavors that there's bound to be a favorite flavor for everyone.
Torie & Howard – nut, dairy, soy, wheat, & dairy free fruit flavored hard candies that are also non-GMO and free of dyes and corn syrup. They sent some samples after the 2015 show and I love their hard candies, which taste and smell sweet and fruity, with a tinge of tartness that's mouthwatering and packaged in a very pretty tin. Their latest product are chewie fruities, which taste great but when I sampled a piece, it felt a bit big in my mouth so be careful when sharing with others. I appreciate that T&H provide allergen information to let us know that the chewie fruities are made in a facility that processes nuts, dairy, and soy.
Original Gourmet – nut-free lollipops (except coconut, some "creamy" lollipop products contain soy, dairy, coconut). All of Original Gourmet lollipops are nut free (except coconut) and made in a peanut and tree nut free facility. There is one product line called "Sweetly Naturals" (affiliate link) that is also non-GMO and free of artificial flavors, artificial colors, and artificial sweeteners. More info at www.ogfc.net
Dandies – free of 7 out of 8 common allergens (contains soy), gelatin free, corn free and made in a peanut and tree nut free facility. These are marshmallows that I feel better about using. When I use them to make rice crispy treats, I find that it's not quite a sticky as a conventional brand so I have to use less cereal and end up with a treat that is sweeter than I'm used to typically.
Peanut Free Only, But Too Wonderful Not to Mention
Element Snacks – peanut free chocolate covered thin rice cakes. Soooo good.
Guittard Chocolate – peanut free baking products. Excellent company, excellent products with a very comprehensive allergen statement located at the bottom menu.
Morton & Basset Spices – peanut free and gluten free spices and herbs. Their herbs and spices are very vibrant in color and smell better than other brands. Either they're extremely fresh or they have a unique way of drying them so that they look/smell so fresh. They recently started testing for peanut and gluten and have updated their website so that it's easier to reach them with questions and comments.
LiteHouse Foods – gluten free (on the label) and nut free (confirmed in person only, please double check before using) wine jelly to enjoy with cheese. I like the LiteHouse brand because they told me they made a decision to be nut-free which is why I reviewed their Instantly Fresh Herbs last year. I am fairly certain that I was told in person at the show that the wine jelly is safe for nut allergies, but please check in case I am wrong and then pgrade your cheese and crackers with a dab of wine jelly, cheers!
Now it's your turn…
Please spread the nut free food love by using the sharing buttons below and share this post with your friends and family. Using the sharing buttons is the nicest way to share and introduce our friends and family members to all the wonderful allergy friendly alternatives. And when we support allergy aware companies, we create demand for more allergen safe foods and help these companies to add more flavors, move to dedicated facilities, afford regular allergen testing, etc..
Have you ever tried any of these products? Which ones do you love? Which ones are new to you and you want to try? Do you love this post? I probably spent at least 50 hours working on this post, I want to know that it's worth the effort and beneficial to you. Tell me what you think in the comments below.
Lastly, please be sure to visit these companies' websites, you are responsible to read the packaging and ingredient labels carefully to ensure your safety before consuming, and contact them by phone or email if you are not sure. Manufacturers may change owners, recipes, or manufacturing practices at any time, so always be vigilant.
More Winter Fancy Food Show Nut-Free Recommendations
Thanks for reading, please help Nut Free Wok!
If you like this recipe, please be sure to give a 5 star rating, leave a comment, and share this post! Your support means a lot to me.
Subscribe to Nut Free Wok's email subscription (be sure to respond to the confirmation email). You will be notified by email next time I publish another post or recipe and I won't send you spam or share your email address with anyone.
Disclosure/Disclaimer:
I may mention the names of stores and/or brand names of products that I use because readers ask and I share products and sources which I use and think may be helpful to readers, all opinions are my own. Please note that manufacturing practices and ingredients can change at anytime without notice and readers are always responsible for assuring allergen safety before buying or consuming foods. NutFreeWok.com is a participant in the Amazon Services LLC Associates Program, an affiliate advertising program designed to provide a means for sites to earn advertising fees by advertising and linking to Amazon.com. Thank you for reading!