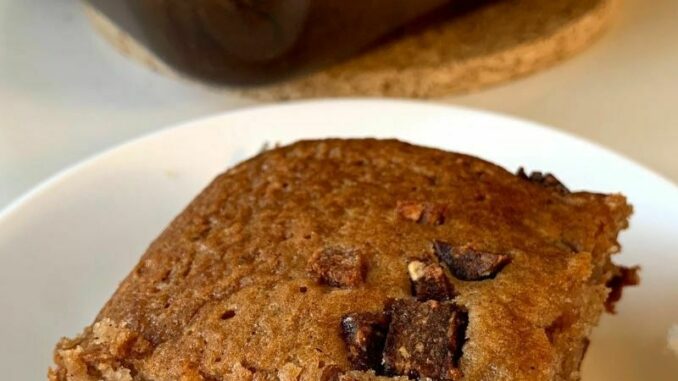 My grocery shopping habits have changed a great deal over the last few months. I rely more on pantry staples and a little bit of creativity to use what we have instead of shopping as needed. We almost always have baking ingredients, applesauce, and That's It bars for nut allergy safe snacking.
Disclaimer: I am a brand ambassador for Rodelle and receive products to use and review. Please check that all ingredients are suitable for your allergies and be sure to ask your medical care team regarding any allergy related questions (I do not share medical advice). As an Amazon Associate I earn from qualifying purchases.
I am a Rodelle ambassador because I love their nut free and high quality products and share some recipes using Rodelle products a few times a year. That's It recently reached out to send me a care package (aww, thank you). Since everyone in our family is home 24/7 we were able to enjoy the fruit bar samples together. One thing led to another and I came up with this easy Apple Pear Spice Cake recipe for my family and to share with you.
I was inspired to make this quick and easy Apple Pear Spice Cake that is tender, spongy, and spicy using some of my Rodelle spices and vanilla with chopped up pieces of That's It fruit bars mixed into the batter. I serve the cake when it's still warm out of the oven and this sweet cake with fall inspired spices is so comforting.
Jump to Recipe
Making an Apple Pear Spice Cake with Pantry Staples
I love wacky cake (also known as crazy cake) and I have shared an easy lemon cake and a classic chocolate cake (which I also use as a base to make an elaborate baked Alaska dessert with ice cream). These wacky cake or crazy cake recipes are free of milk and eggs but bake perfectly every time. It so easy to make a baked treat without a lot of fuss.
This apple pear spice cake is tender and spongy fresh out of the oven and even the next day. It's so delicious that we usually finish it within 24 hours and even my husband who does not have a sweet tooth enjoys a second piece. I usually serve it as is without frosting, icing, or powdered sugar but you can add them if you wish.
Baking with That's It Fruit Bars
I happened to taste a That's It Apples + Cinnamon and a Apple + Pear + Ginger bar at the same time and I loved the sweet and zesty combination of cinnamon and ginger and wanted to share this super easy Apple Pear Spice Cake with you.
I wanted to know how small should I chop the pieces, whether they melt into the batter, whether they dry out or harden if used as a topping.
I chopped each bar into about 20 pea sized pieces and then coarsely chopped about half into smaller pieces. It turns out the smallest pieces mix into the batter so that they're invisible but the flavor is so bright.
In my second test batch, I reserved a small handful (approximately half a bar) to sprinkle on top and to my surprise, the topping pieces are soft and delicious even after they're baked.
My conclusion is that you can chop it whatever size you want and mix some or all of the chopped pieces in the cake and the apple pear spice cake will turn out. The larger pieces of fruit bars do sink to the bottom and the smaller pieces do disappear into the batter, I love the even distribution.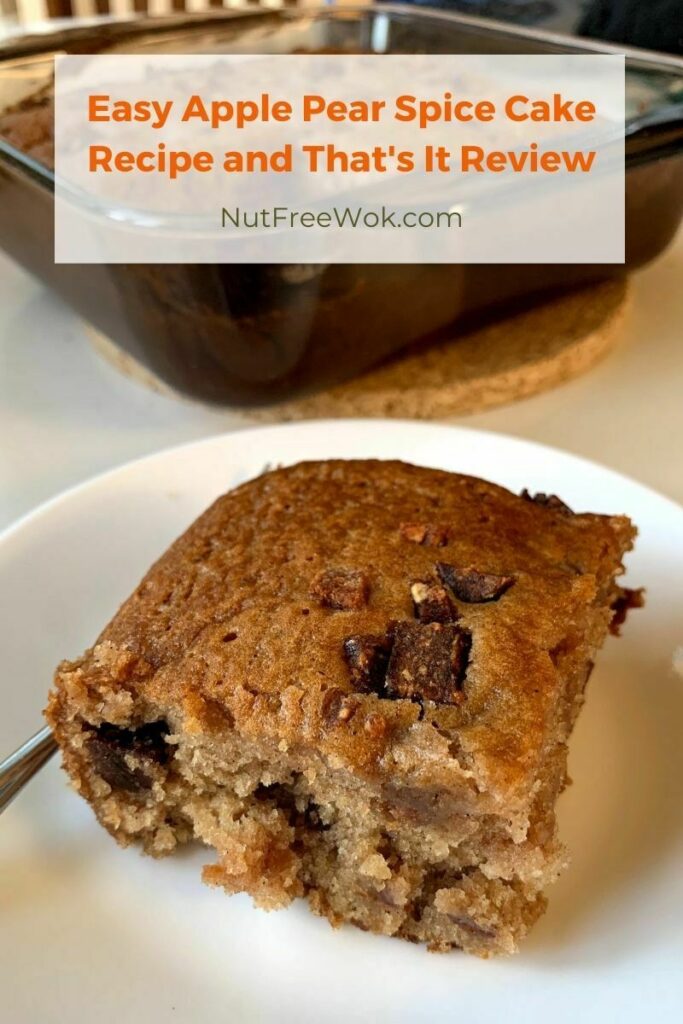 What's Great About That's It
I first shared with you about That's It fruit bars when I went to the Winter Fancy Food Show back in 2016 and in 2017. I loved them then because they were free of the top 8 allergens (except for coconut) and disclosed all potential allergen advisories.
Since then, they've transitioned to their own dedicated facility that's free from sesame and the top 8 allergens, except coconut. My kids were not allergic to coconut and I introduced it cautiously to our diet with our allergist's approval. Coconut is botanically a fruit but the FDA considers coconut as a tree nut. If you're not sure about coconut, check with your allergist first.
It's great when companies have an allergen statement like this on their website so that consumers can make informed decisions: "All of That's it.® snacks are made in our own dedicated facility free from peanuts, tree nuts (except for coconut), dairy products, eggs, soy, wheat, crustaceans, fish, and sesame. Our products have the "Allergen-safe" circled logo for your knowledge and comfort that you can snack safely. If you are allergy-conscious, you should always consult your doctor before consuming new products."
Which That's It Products Did We Try and Like?
That's It sent some of their Fruit Bars (affiliate link) which are basically apples combined with a variety of other fruits in a bar. Aside from the Apple + Cinnamon and Apple + Pear & Ginger bars used in this recipe, our family likes Apple + Mango (affiliate link) the most. I love seeing their products when we're on the go. It's nice to know more allergy safe options.
We also sampled their Probiotic Bars (affiliate link) which are basically pure fruit bars (fig, blueberry, mango, or banana) with probiotic active cultures (bacillus coagulans). Generally, the fruit is considered a prebiotic that feeds the probiotics in our gut and consuming probiotics may help with gut health. Talk with your doctor for more information about consuming probiotic products for health reasons.
We were unanimous in how much we liked the probiotic bars. The flavors are more intense and the texture is reminds us of the fruit. We all liked the Mango Fruit Bar (affiliate link) and Blueberry (affiliate link) bars best. I love that they're shelf-stable and delicious.
They also sent boxes of their latest product, Organic Apple Crunchables, which are crunchy dried apple pieces. I put a box out and it didn't take long for my family to finish it. They taste like crispy apple chips but aren't fried.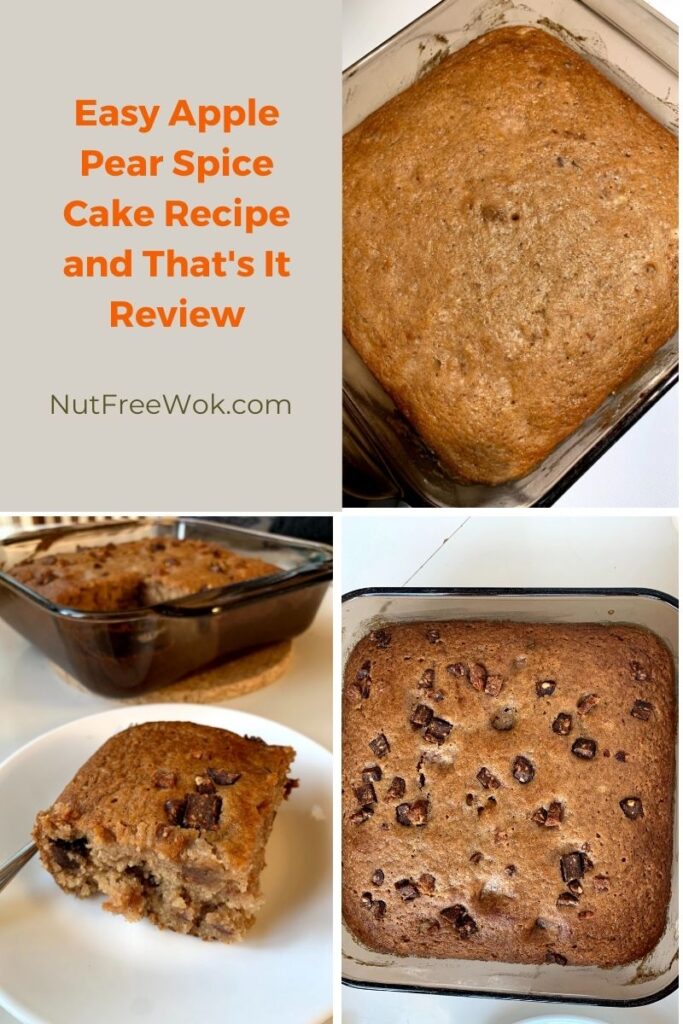 Allergy Aware Apple Pear Spice Cake & Rodelle Vanilla & Spices
This Apple Pear Spice Cake recipe is free of peanuts, tree nuts, milk, egg, soy, fish, and shellfish as written. It's an easy and reliable egg-free and dairy-free recipe and perfect to share with friends who are vegan.
The only major allergen in this cake is wheat because I use all purpose flour. I haven't tried making this recipe gluten free but I suspect you can use your favorite 1:1 gluten free all purpose flour substitute.
The Apple Pear Spice Cake recipe wouldn't be complete without the Rodelle's Organic Ceylon Cinnamon, which is naturally sweet, and Rodelle's Organic Ginger, which is zesty and smells so good. The cinnamon and ginger spices complement each other well to flavor the cake. I also use Rodelle's Vanilla Extract in the recipe too, which I have reviewed in other posts.
I love that Rodelle's products are such great quality and organic, some of their products are available at Costco and Amazon (affiliate link) for your convenience. All of us food allergy folks feel like a company has our backs when they include an allergen statement like this: "Rodelle does not utilize peanuts or tree-nuts on its production floor or in its products. Contact us for any other allergen questions."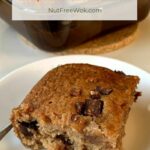 Easy Apple Pear Spice Cake Recipe
I was inspired to make this quick and easy Apple Pear Spice Cake that is tender, spongy, and spicy using some of my Rodelle vanilla and spice ingredients and featuring chopped up pieces of That's It fruit bars mixed into the batter.
Ingredients
1 ½

cup

all purpose flour

¾

cup

sugar

1

teaspoon

baking soda

1

teaspoon

Rodelle ground cinnamon

½

teaspoon

Rodelle ground ginger

½

teaspoon

salt

½

cup

applesauce

6

tablespoons

olive oil

or any neutral tasting oil

1

teaspoon

apple cider vinegar

1

teaspoon

Rodelle vanilla extract

¾

cup

water

room temperature

2

That's It Apple + Cinnamon bars

2

That's It Apple + Pear & Ginger bars
Instructions
Cut each fruit bar in half lengthwise, cut each stick into 8 pieces and then coarse chop and set aside.

Combine all the dry ingredients in a 9×9 square baking dish or pan with a fork or a whisk. Smooth the surface and make 4 wells (2 large, 2 small) and add the applesauce, olive oil, apple cider vinegar, and vanilla extract into separate wells.

Add water and stir until the dry ingredients are mostly mixed in.

Add the chopped That's It pieces (reserve 1-2 tablespoons for sprinkling on top if desired) and stir until the batter is evenly mixed. Use a spatula to scrape the sides and smooth the top, add the sprinkles if using.

Bake for 35 minutes or until golden brown and a toothpick in the center comes out clean (for my oven, it takes about 37 minutes).

Allow the cake to cool and it's ready to serve when the pan is cool enough to touch. Use a serrated knife to cut the cake in an up and down motion so that you don't drag the fruit bar pieces and tear the cake.
Thanks for reading, please help Nut Free Wok!
The best way to see every post or recipe is to subscribe to Nut Free Wok's email subscription (be sure to respond to the confirmation email). You will be notified by email next time I publish another post or recipe and I won't send you spam or share your email address with anyone.
If you enjoyed this post, please use the social media buttons below to share with others. I am on Facebook, Twitter, Pinterest, and Instagram as @nutfreewok and it's great to chat and interact on social media too.
Disclosure/Disclaimer:
I may mention the names of stores and/or brand names of products that I use because readers ask and I share products and sources which I use and think may be helpful to readers, all opinions are my own. Please note that manufacturing practices and ingredients can change at anytime without notice and readers are always responsible for assuring allergen safety before buying or consuming foods. NutFreeWok.com is a participant in the Amazon Services LLC Associates Program, an affiliate advertising program designed to provide a means for sites to earn advertising fees by advertising and linking to Amazon.com. Thank you for reading!