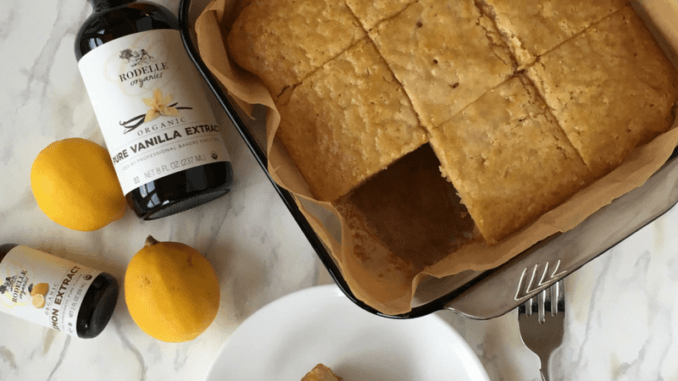 This light and tangy easy lemon cake recipe is nut-free, egg-free, and easy to adapt to become dairy-, wheat-, and/or gluten-free. My recipe for Easy Lemon Cake is inspired by crazy cake or wacky cake recipes and I hope will be one of your family favorites.
Disclaimer: I am a brand ambassador for Rodelle and receive products to use and review. Please check that all ingredients are suitable for your allergies and be sure to ask your medical care team regarding any allergy related questions (I do not share medical advice). As an Amazon Associate I earn from qualifying purchases.
Update (2/7/2023): This post has been updated with minor edits.
Jump to Recipe
Lemon's Galore!
I'm making Easy Lemon Cake because it's lemon and citrus season in the Bay Area. My friends and neighbors are sharing fruit from their citrus trees and my meyer lemon tree has fruit also. My neighbor has an orange tree and sometimes the fruit is very sweet and sometimes it's not, in which case I'll use them to make my award-winning Orange Chiffon Cake.
I'm making an Easy Lemon Cake recipe that is egg allergy friendly, easy to adapt, delicious baked as cupcakes, and as a base for other recipes. If you love lemon recipes, be sure to look at my recipes for Lemon Vanilla Crinkle Cookies and Blueberry Lemon Muffins.
Easy, Crazy, Wacky Cake Basics
Wacky cake is a simple chocolate cake recipe that was invented during the depression era when butter, eggs, and milk were rationed. The recipe is very simple, mix the dry ingredients in a square baking dish and create separate indentations to act as wells for the wet ingredients: oil, vanilla extract, and vinegar. Add water, mix everything up, and bake! This Easy Lemon Cake recipe is inspired by wacky cake but I like to use milk so that the lemon juice and milk can react, create buttermilk, which in turns makes the cake moist and tender. If you avoid milk, you can use any other milk or water in the recipe.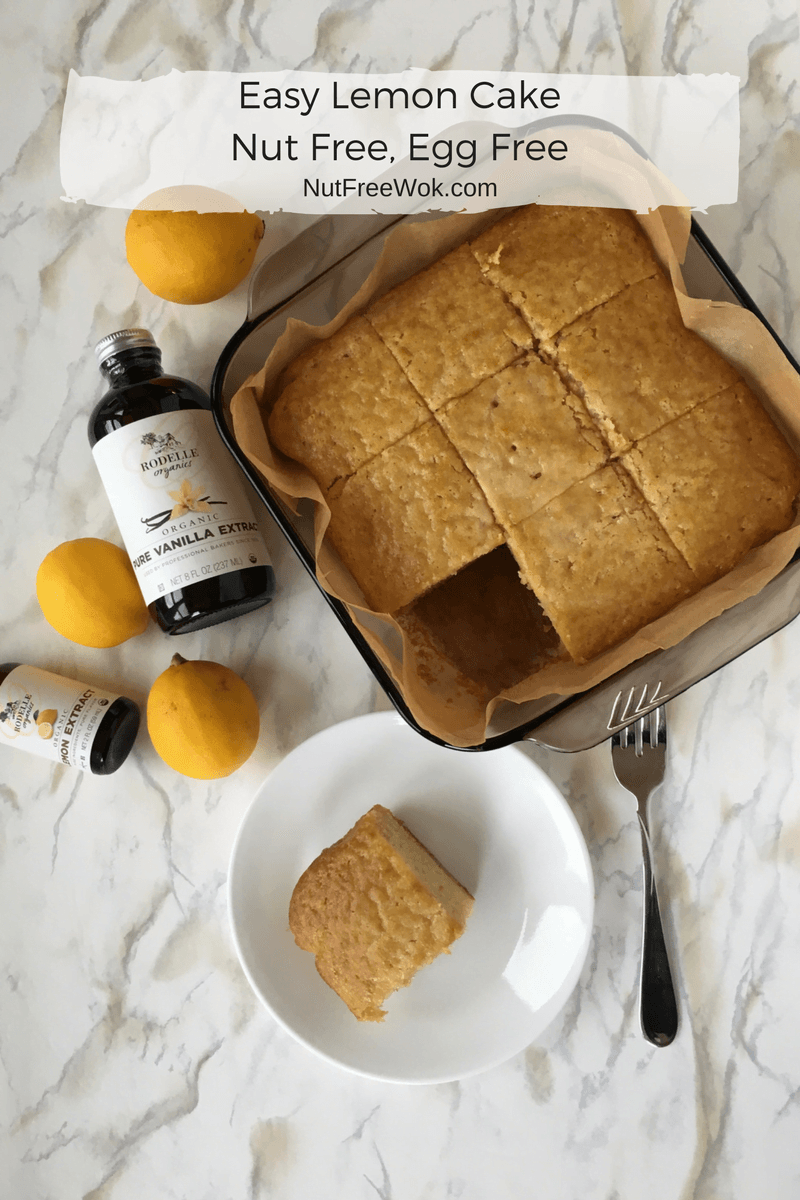 Allergy Aware Wacky Cake & Adaptations
Not everyone in our family likes chocolate but everyone loves lemon.
I lightened the texture of the batter with some cornstarch, but if you avoid cornstarch, then omit the cornstarch and use a total of 1 1/2 cups of all purpose flour instead.
I've reduced the amount of sugar to lighten up the calories.
I use non-fat milk in this recipe, but you can use water, soy milk, or any kind of milk as needed for your specific allergies. Dairy milk works the best.
You could make this recipe gluten-free by using a one to one gluten free mix that includes xanthum gum (or similar ingredient).
You could mix everything in a square nonstick baking pan. If you are using a glass pan, mix the batter in a bowl and line the glass pan with parchment paper for easy clean up.
Healthy 2017 and Rodelle's Organic Products
2016 was a tumultuous year for my health and every January is a great reminder to refocus and recommit to healthy choices, whatever they may be. I'm eager for a fresh start: exercise more, eat more fruits and veggies, cook more, lose weight, and get more sleep. How about you?
To make the easy lemon cake a little more mom-approved and waistline friendlier, I reduced some of the sugar. I usually serve this cake plain, but if a little sweet topping is a must, be sure to let it cool completely before sprinkling some powdered sugar or drizzling a little lemon icing.
I also love being able to use organic ingredients whenever I can. I used Rodelle Organics Lemon Extract and Rodelle Organics Pure Vanilla Extract for this recipe. The cake tastes wonderful right out of the oven as well as the next day, which is convenient if you are preparing food for a crowd.
This recipe is free of peanuts, tree nuts, egg, soy, fish, shellfish, and sesame as written.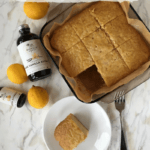 Easy Lemon Cake
Ingredients
1 1/4

cups

+ 2 tablespoons all purpose flour

2

tablespoons

cornstarch

3/4

cup

sugar

organic preferred

1

teaspoon

baking soda

1/2

teaspoon

salt

1

lemon

zest

1

cup

+ 2 tablespoons water or milk

soy, rice, any kind, I use non-fat milk

6

tablespoons

oil

any kind, I use extra virgin olive oil

1

tablespoon

lemon juice

or white vinegar

2

teaspoons

lemon extract

1

teaspoon

vanilla extract
Instructions
Preheat oven to 350 degrees farenheit, line a 9×9 square baking dish with parchment paper.

In a medium sized bowl, whisk together flour, cornstarch, sugar, baking soda and salt.

Zest the lemon over the flour mixture and whisk.

Add milk, oil, lemon and vanilla extracts and stir a few times.

Add lemon juice (or vinegar) and stir a few more times.

Immediately pour the batter into a parchment lined pan, trim any excess parchment paper, and place in the oven on a middle rack.

Bake for 25-30 minutes until the cake is golden brown and a toothpick inserted into the center comes out clean.

Let it cool completely by placing the pan on a wire rack.

Serve plain, or dust with powdered sugar, or drizzle with lemon icing (1/2 cup of powdered sugar + 1 tablespoon lemon juice, whisk).
Other Nut Free Cake Recipes You Might Like:
Thanks for reading, please help Nut Free Wok!
The best way to see every post or recipe is to subscribe to Nut Free Wok's email subscription (be sure to respond to the confirmation email). You will be notified by email next time I publish another post or recipe and I won't send you spam or share your email address with anyone.
If you enjoyed this post, please use the social media buttons below to share with others. I am on Facebook, Twitter, Pinterest, and Instagram as @nutfreewok and it's great to chat and interact on social media too.
Disclosure/Disclaimer:
I may mention the names of stores and/or brand names of products that I use because readers ask and I share products and sources which I use and think may be helpful to readers, all opinions are my own. Please note that manufacturing practices and ingredients can change at anytime without notice and readers are always responsible for assuring allergen safety before buying or consuming foods. NutFreeWok.com is a participant in the Amazon Services LLC Associates Program, an affiliate advertising program designed to provide a means for sites to earn advertising fees by advertising and linking to Amazon.com. Thank you for reading!