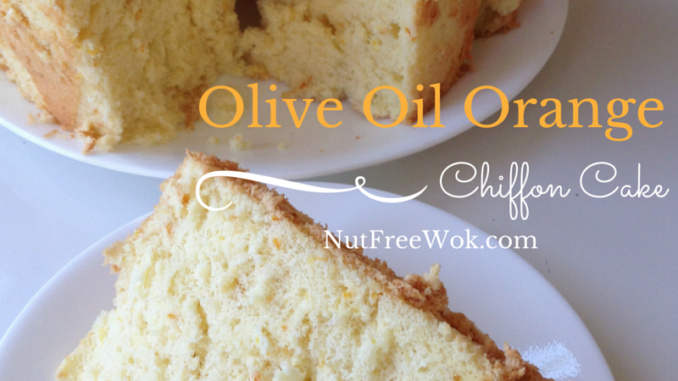 I'm sharing my award winning Olive Oil Orange Chiffon Cake recipe that is nut free and dairy free with all of my top secret tips on making a light and airy chiffon cake. This recipe won 1st place at the San Mateo County Fair many years ago, you know it's good!
I've also included an ingredient list at the bottom due to multiple requests and I'll try out this format for now until I can create an index of some sort. Let me know what you think. In the meantime, I wish someone could come by and help me catalogue my pantry, cupboards, and refrigerator so I can focus on doing what I love, sharing allergy aware Asian fare and food allergy awareness.
Disclosure: This post was originally published on June 2, 2015 and updated on April 30, 2018 (for clarity, recipe remains the same) and some links are affiliate links. I'm a Rodelle Brand Ambassador.
Jump to Recipe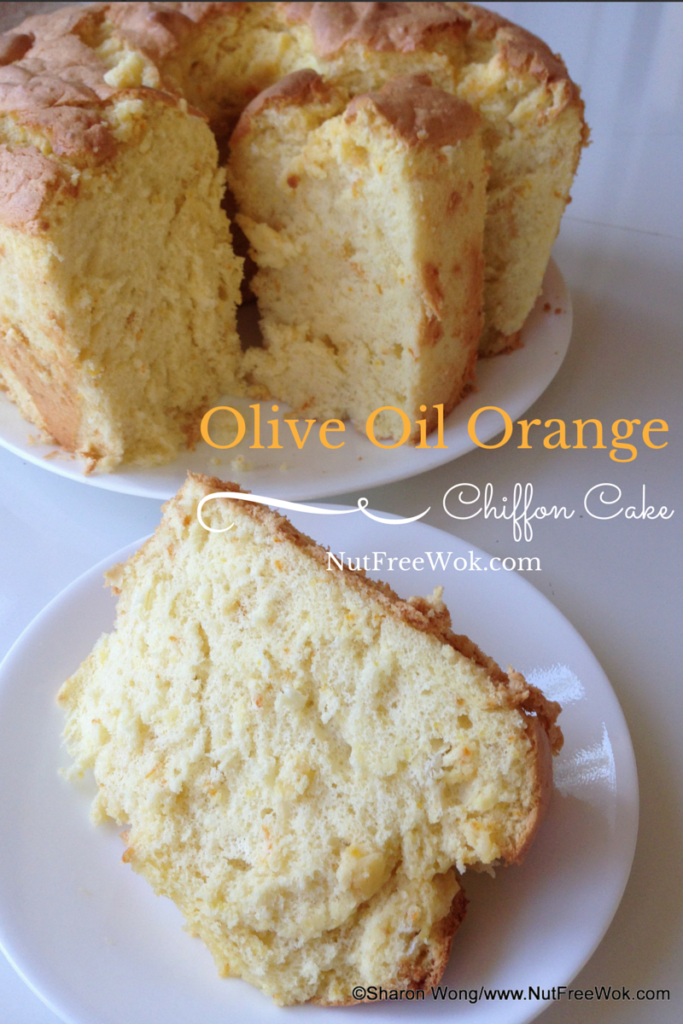 Baking with Dad: Cake Mix Magic
Making cakes with my parents was a magical experience as a little girl. My dad was influenced by his experience as a U.S. Army cook during the Korean war and I remembered he used boxed cake mixes to make a cake. I was amazed by the transformation of powder plus water turned into a thick liquid which went into the oven and came out as cake, pure magic to a 3 year old. I abided by his reminders to walk softly and be quiet. Now that I am a parent, I wondered if baking a cake was how he gained my cooperation for some peace and quiet.
Baking with Mom: Traditional Chinese Recipe & Method
A few years later, my mom wanted to show me something after dinner and with a little bit of excitement in the air, she cleared the table and brought out some eggs, flour, and sugar, a couple of mixing bowls, a cake pan, a spatula, and a pair of chopsticks. I watched her carefully separate the egg yolks from the egg whites, mix the flour, sugar, and egg yolks together, and then use chopsticks to beat the egg whites until they were glossy foamy peaks. Take a moment to think about that, my mom beat egg whites with chopsticks, she's amazing. Then she showed me how to fold the egg whites into the batter, transferred everything into a cake pan and steamed the cake. The cake tasted just like the Chinese steamed cakes from dim sum restaurants and Chinese bakeries and we made this together often.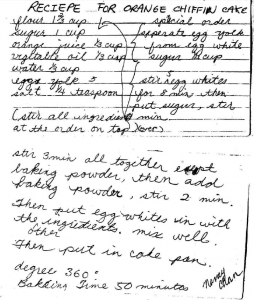 Baking by Myself: Practice Makes Perfect
Fast forward a few more years and my mom took me to her friend's house to play with her daughter, Nancy. I can't remember much of the play date and not sure if I ever saw Nancy again, but I do remember I came home with a recipe for Orange Chiffon Cake which I ended up making hundreds of times throughout my teen years. I always had to make two, one for our family and one to take to an event with friends or family during weekend. Over the years, I varied the recipe upping the orange flavor, reducing the fat, reducing the sugar, and played around with the technique. I could make the cake from memory and shared the recipe with anyone who wanted it.
A Blue Ribbon Recipe
Several computers and many years later, I wanted to enter the San Mateo County Fair's baking contest and enter the chiffon cake category because I knew I had a great chance of winning. But I couldn't remember my version of the recipe and couldn't find a copy either. So I had to start over with a new recipe. I learned that a man named Henry Baker invented the chiffon cake, which was a cross between an angel food cake and a pound cake, and used oil. I decided to adapt two orange chiffon cake recipes from Joy of Baking and Epicurious's Gourmet Magazine (March 1992 edition) and incorporated some of the techniques that I've learned from baking so many cakes. My cake won first place in the 2010 San Mateo County Fair, so you can be sure that this cake recipe is a keeper!
Recipes Adaptations and Baking Tips:
This recipe as written is peanut, tree nut, milk, soy, fish, and shellfish. Since this cake is light and airy and does not rely on gluten formation, is possible to make this cake wheat free by using a safe gluten free mix. I haven't tried this recipe by Serious Eats, but I think it has great potential with lots of tips on how to adapt any chiffon recipe to be gluten free. Egg is a key ingredient that defines this cake as a chiffon cake, so while it's always possible to make an egg free cake, I don't think that it will be a chiffon cake.
Cake Pan Tips:
Clean pan: The cake pan must be absolutely clean and free of residues in order for the cake to rise well.
Which pan: If you have a tube cake pan already, I think a light colored 10 inch angel food pan with feet will work the best for this recipe. I bought the worst one for myself when I first got married. It was dark colored (can never get the timing right), "non-stick" (it stuck anyways, but the cake needs to cling to the pan as it rises, so it's an unnecessary feature), and didn't have feet to help keep the cake balanced and level when cooling upside down. My mom gave me hers (pictured below) but if I ever needed a replacement, I would buy something like this Wilton cake pan (affiliate link).
Contingency plan: Sometimes the cake rises taller than the tube which makes it challenging to cool upside down. So before you start baking, I recommend that you find a sturdy and stable glass bottle that one can use to prop up the cake pan (my DH added the ginger beer bottles, just in case). Alternatively, one can prop the pan up by the feet by using equally sized cups. Try it out before you're dealing with a very hot cake in the pan.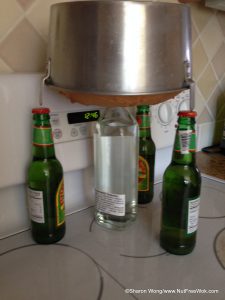 Ingredient & Technique Tips:
Egg temperature: Eggs straight out of the refrigerator are easier to separate, but room temperature eggs are easier to whip up and aerate, so I separate the eggs first and let them hang out while I work on other steps.
Pure egg whites: The egg whites must be completely free of any debris or liquid in order to form stable foam. Be sure that the bowl and whisk are clean and dry and that the egg whites are free of egg yolk and shells.
Separate the whites and yolks: If you have trouble with separating eggs, separate the egg whites into a small bowl and transfer them one at a time into your large mixing bowl so that if an egg yolk accidentally breaks, you can avoid contaminating all the egg whites. You can use the egg whites with broken yolks for other purposes but you'll need extra eggs on hand as back ups.
Why EVOO: Extra Virgin Olive Oil is my oil of choice for health reasons and it tastes fine in this recipe. The original recipes use vegetable oil, which could mean soy, corn, or canola. I don't like that soy turns rancid quickly, corn seems inflammatory as I feel a lot of aches and pains when I use corn oil, and I can't find a non-GMO canola oil that I can trust to be nut-free.
Less sugar: I've also reduced the amount of sugar in the recipe by 1/2 cup (33%) to suit the preferences of my mom and mother in law. I also use organic sugar which seems to taste sweeter and allows me to use less sugar in most recipes.
Light touch: Be gentle when folding the egg white into the egg yolk mixture, the resulting batter should become lighter in color and foamy.
Check ingredients: Check your baking powder, drop a spoonful into an ounce of water, it should fizz otherwise replace it. Check your cream of tartar, it has a long shelf life and should look dry and powdery. Test the cream of tartar by adding a spoonful to half cup of water and adding a spoonful of baking soda, it should fizz vigorously.
Read first: This is a no-fail recipe for me but it is a moderately difficult recipe. Be sure to review each of the tips above and the recipe below before you start.
Passing on Baking Traditions and Memories
I have fond memories of making cakes with my parents which is why I cook with my children, inviting them to be involved, and teaching them along the way so that they can be self-sufficient adults. As they are growing older, they have less time, but I still grab them for a few minutes at a time to teach different skills at various times.
I mostly make this recipe for my mom and mother-in-law when they come over to visit, and send the leftovers home with them. This style of cake is very popular with my older Chinese relatives and they will share with their friends and sisters.
My family dug into the cake before I could take a picture for this blog because it's that good when freshly baked. And sharing my recipes and imperfect photos are just part of sharing my life. Truth be told, my kids don't love this cake as much as their grandmothers so I'm not sure if they will make it for themselves someday, but I share it so they have the option and have a tangible connection to their grandmothers.
It's one of those family food experiences that spans traditions, time, and generations which will outlast my son's egg allergy* (who is currently tolerating baked egg, but don't make this for someone with an egg allergy without approval from their allergist). Enjoy! *Update, my son is now desensitized to egg!
If you love this recipe, please take a photo of your cake and share with me via email or social media! I would love to see it and please tell your friends!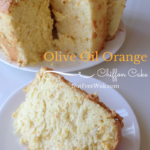 Olive Oil Orange Chiffon Cake Recipe
This recipe is adapted from Joy of Baking and Epicurious/Gourmet Magazine March 1992.
Total Time
1
hour
30
minutes
Ingredients
9

eggs

you'll only use 7 yolks, reserve 2 yolks for other purposes

2

cups

all purpose flour

1/4

cup

cornstarch

OR 2 1/4 cup cake flour

1

cup

sugar

divided

1

tablespoon

baking powder

1/2

teaspoon

salt

2

oranges

zest and juiced (need 3/4 cup)

1/2

cup

extra virgin olive oil

2

teaspoons

vanilla extract

1

teaspoon

cream of tartar
Instructions
Wash, towel dry, and air dry a two piece 10 inch tube cake pan and, for beating the egg whites, a large mixing bowl and whisk (or whisk attachment).

Position oven rack so that the cake will be in the center of the oven and preheat oven, 325 °F.

Separate the egg yolks and egg whites, place 9 egg whites into a freshly washed and dried bowl and 7 egg yolks into a second large mixing bowl.

Sift together the flour, cornstarch, 3/4 cup sugar, baking powder, and salt into a medium sized bowl.

Wash and dry two oranges and zest the oranges over the flour mixture.

Use a fork or wire whisk to stir the flour for 30 seconds to break up any clumps of zest or baking powder, set aside.

Juice the oranges and add 3/4 cup of orange juice to the bowl of egg yolks.

Add oil and vanilla extract to the egg yolks and mix until blended.

Add the flour mixture to the egg yolk mixture and mix with a spatula until just combined, do not over mix, and set aside.

Use a clean and dry whisk to beat the egg whites until the eggs have soft peaks.

Add the cream of tartar and 1/4 cup of sugar to the egg whites and continue beating for 1 minute if using a mixer or until there are stiff glossy peaks, with a pointy tip when you take the whisk out of the egg whites.

Use a spatula to transfer 2 large scoops of egg whites (up to 1/3) to the flour and egg yolks mixture and gently fold in the egg yolk by using the spatula to "cut" into the center of the ingredients, scraping along the bottom, up the side of the bowl, lifting the thick batter from the bottom to the top, and turning the bowl as you go with each fold.

Fold in the remaining batter until there are no more clumps of egg white, be gentle and patient.

Gently tap the bowl on the counter to release any large air bubbles.

Transfer the batter into the tube pan, use a spatula to even out the batter, and a damp paper towel to wipe up any drips.

Bake for 50 minutes (up to 1 hour, time may vary), the cake is ready when golden brown and a skewer inserted into the cake comes out clean.

Flip the cake and allow it to cool upside down in the cake pan, allow 1-2 hours.

When cooled, insert a long thin knife in between the cake and the pan and carefully run the knife along the edges of the pan and the tube.

Hold the tube from the bottom and use your other hand to twist the pan away from the cake.

Slide a knife in between the bottom of the cake and the base, carefully lift the cake out of the tube base and transfer onto a cake platter.

Serve plain, with a scoop of fresh cut fruit, or with a dollop of whipped cream.
My Favorite Brands:
Many readers have asked about which brands I buy and use, which I believe are peanut and tree nut free. Please note that we all have different allergies and what works for me, might not work for you. You are responsible for verifying allergen safety before using or consuming by reading the labels, contacting the manufacturer, and/or discussing with your medical care team. If you are interested in what other products that I like to use, please check What's in My Cupboard.
All Purpose Flour: Gold Medal or King Arthur
Cornstarch: Rapunzel Organic Corn Starch (affiliate link), allergen advisory on the box: produced in a facility that also processes wheat, gluten, dairy, and soy
Sugar: Kirkland Organic Sugar
Baking Powder: Clabber Girl Double Acting Baking Powder (affiliate link)
Olive Oil: Kirkland Extra Virgin Olive Oil
Vanilla Extract: Rodelle Vanilla Extract (affiliate link)
Cream of Tartar: Spicely Cream Of Tartar – Glass Jar (affiliate link), I actually have the tin but the tin is very hard to open and close, I'm sure I will spill it all over myself one of these days. I recommend the glass jar instead.
Other Nut Free Cake Recipes You Might Like:
Thanks for reading, please show your support for Nut Free Wok!
The best way to see every post or recipe is to subscribe to Nut Free Wok's email subscription (be sure to respond to the confirmation email). You will to be notified by email next time I publish another post or recipe and I won't send you spam or share you email with anyone.
If you enjoyed this post, please use the social media buttons below to share with others. I am on Facebook, Twitter, Pinterest, and Instagram as @nutfreewok and it's great to chat and interact on social media too.
Disclosure:
I am a Rodelle brand ambassador and I may mention the names of stores and/or brand names of products that I use, I have not been paid or solicited by any of the above companies (except Rodelle) to mention them. I share products and sources which I use and think may be helpful to readers, all opinions are my own. Please note that manufacturing practices and ingredients can change at anytime without notice and readers are always responsible for assuring safety before buying or consuming foods. NutFreeWok.com is a participant in the Amazon Services LLC Associates Program, an affiliate advertising program designed to provide a means for sites to earn advertising fees by advertising and linking to Amazon.com.