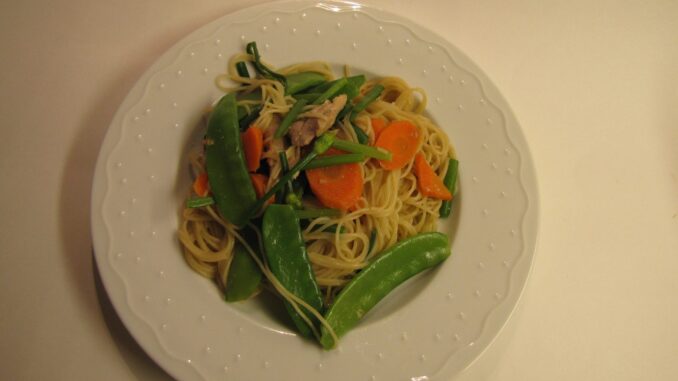 My dear friend, Mary, gently reminds me from time to time that she wishes to have a Nut Free Wok Allergy Aware Asian Fare recipe for Chicken Lo Mein. This Chicken & Vegetables Lo Mein recipe is a veggie packed recipe adapted from a fellow food blogger.
Disclaimer: Please check that all ingredients are suitable for your allergies and be sure to ask your medical care team regarding any allergy related questions (I do not share medical advice). As an Amazon Associate I earn from qualifying purchases.
Jump to Recipe
Is Lo Mein nut free?
Lo mein is typically a peanut-free and tree-nut free recipe, so it's very easy to make an allergy-safe meal for someone with a nut allergy. It's important to prevent cross-contact and to cook with ingredients which you know are peanut and tree nut free, as well as free of any other allergens you avoid. Then you need to know what you're cooking.
I've had Lo Mein a few times in my life and I couldn't imagine why a plate of egg noodles, with small amounts of meat and veggies, with a bowl of broth on the side to pour over the noodles would generate a lot of enthusiasm or interest from many Nut Free Wok readers besides Mary.
I personally would want a recipe for Chicken Chow Mein, stir fried chicken with vegetables, seasoned with sauce, a touch oily, and with "wok hay." Because I know it's too oily for me to make at home often, I usually whip together a lighter and simpler version at home. Make a stir fry, add some cooked noodles, add some seasoning, stir, and serve.
Making Nic's Lo Mein Recipe
Some food blogger friends decided to try cooking and sharing each other's recipes and I was introduced to Nibbles by Nic and her recipe for "Lo Mein is Back (More Veggies & Healthier)." It wasn't anything like my recollection of a plate of egg noodles with a bowl of broth on the side but I was excited her tasty looking recipe.
I made some adaptions, I added more pasta and a lighter sauce to suit our family's preferences. I didn't have cooked chicken on hand either, such as a rotisserie chicken breast, so I cooked some chicken thighs and chopped them rather than doing the usual slice, marinate, and stir fry.
Because I have been busy with a home project, dinner was late, so I served up a dish, took a quick picture, and had dinner with my hungry family. The kids enjoyed some veggies with their noodles and I enjoyed some noodles with my veggies. Everyone was happy, full, and we had plenty for lunch the next day. Thank you, Nic, for sharing your recipe with me!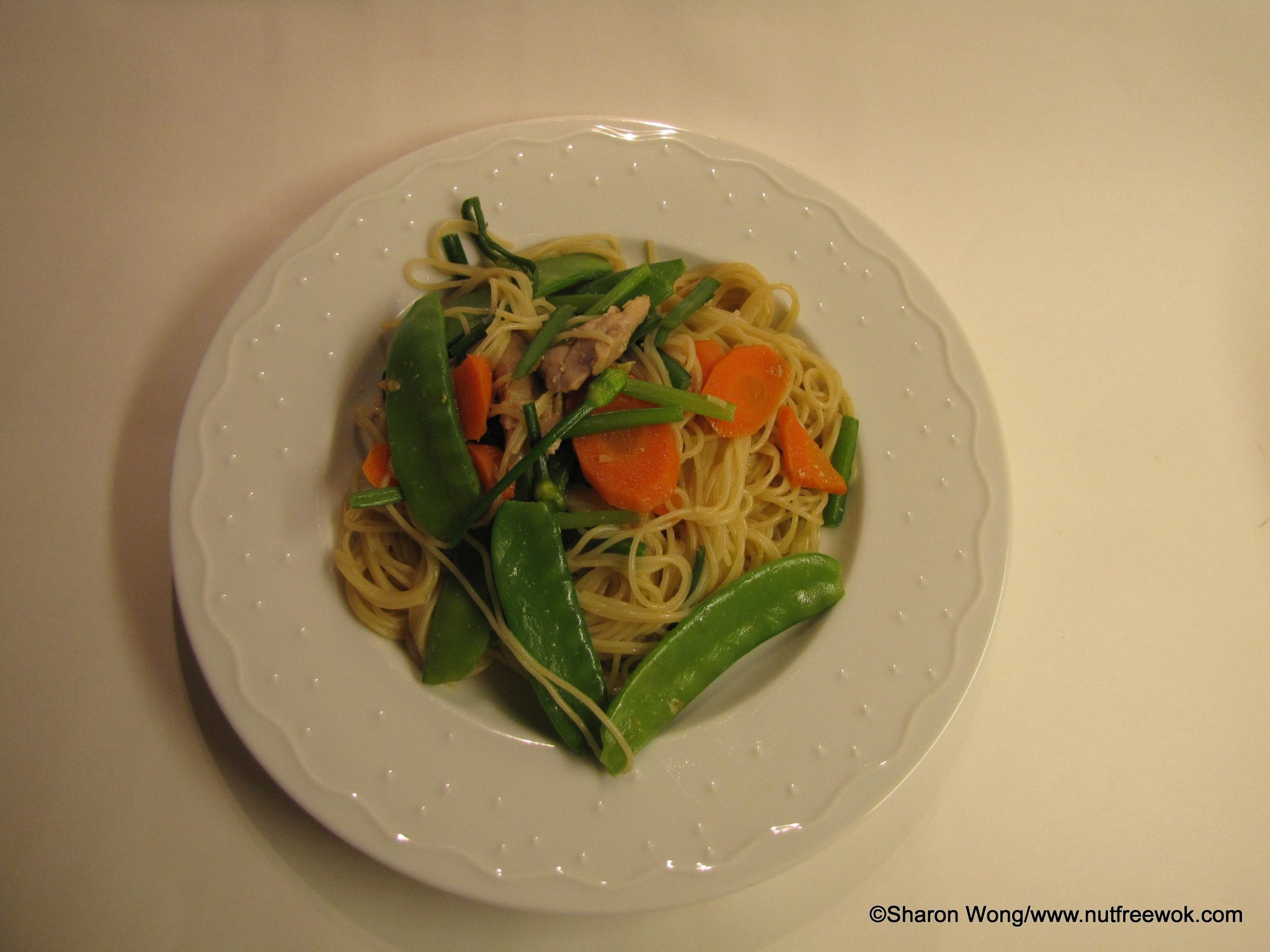 What's Duck Sauce Got to Do with Lo Mein?
Still something about what is lo mein didn't seem right to me. Is lo mein a stir fry with noodles in it or is it noodles with a bowl of broth on the side? I couldn't publish this post and didn't know what I didn't know until I remembered the time my friend, Susan, tagged me in a Facebook post about a Smithsonian article, "What Exactly is Duck Sauce" to ask me what's my opinion regarding duck sauce. Duck sauce? I had no idea.
The resulting discussion was quite amusing as my east coast friends talked about their experiences with duck sauce, a orange colored sweet and sour sauce. My west coast friends and I were basically baffled as it's not a commonly served condiment and the only condiment we eat with duck is hoisin sauce, which is dark brown and has a sweet and salty taste.
My friends and I had some fun exchanges with our casual observations which led to some anthropological comparisons. I came to the realization that there are some differences between Chinese-American cuisine on the East and West coasts and suddenly I wished I had eaten at some Chinese restaurants when I've visited the East coast!
The Great Lo Mein Mystery Solved!
I felt closer to figuring out what exactly is lo mein when I checked online.
On the west coast, lo mein refers to egg noodles with a bowl of soup on the side, it's also known as Hong Kong style lo mein.
On the east coast, lo mein refers to a dish that is a stir fried noodle dish seasoned with sauce, which people on the west coast call chow mein.
Well, that begs the question what is chow mein?
When people on the east coast order chow mein, they are expecting a crispy fried noodle that is cake shaped with a stir fry with brown sauce on top.
On the west coast, we refer to that kind of chow mein as Hong Kong style chow mein or crispy pan friend noodles.
Now I have a better idea of Mary's request, we both want the same kind of recipe but we have different names for them because the same dish has different names depending on which coast you live.
Allergy Aware Lo Mein
Lo Mein is usually made with a wheat based egg noodle but we avoid egg noodles due to my son's allergy to egg. I have found that egg-free angel hair or capellini pasta works very well as a substitute for egg noodles. For this kind of recipe, you can easily substitute any kind of allergy-safe pasta that won't fall apart from the stirring.
There are plenty of great soy sauce alternatives and if you want, you can also try making your own soy-free soy sauce.
If you're not avoiding soy, I like using Kikkoman (affiliate), Wan Ja Shan (affiliate) which is made in a peanut/tree nut free facility. San-J (affiliate) tests their rinse water for nut residue and make gluten-free tamari sauce. If you need help finding ingredients, check What's in Nut Free Wok's Cupboard? Allergy Aware Ingredients.
If one is allergic to corn starch, try substituting tapioca or potato starch instead. You can just omit or substitute the other ingredients with something similar, enjoy!
This recipe as written is free of peanuts, tree nuts, egg, dairy, shellfish, and fish.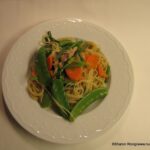 Chicken & Vegetable Lo Mein
This recipe is adapted from Nibbles by Nic with permission.
Ingredients
1

pound

cappelini or angel hair pasta

1

pound

boneless, skinless chicken thighs

or chicken breast

2

teaspoons

olive oil

divided

1/4

cup

soy sauce

or to taste

1/4

cup

water

or reserve pasta cooking water

2

tablespoons

rice vinegar

2

tablespoons

corn starch

1

tablespoons

sesame oil

omit if allergic

1

teaspoon

garlic powder

1

teaspoon

ginger powder

1

teaspoon

sugar

1

pound

garlic chives*

chop into 1 to 1.5 inch pieces

4

carrots

peeled and thinly sliced

1

pound

snow peas

trim ends
Instructions
Cook pasta according to package instructions until al dente, rinse with cold water and drain in a colander.

Heat up a large skillet on medium high heat, add 1 teaspoon olive oil, and pan fry chicken on both sides until cooked thoroughly, set aside to cool, and chop into bite sized pieces.

Prepare sauce by combining soy sauce, water, rice vinegar, cornstarch, sesame oil (if using), garlic powder, ginger powder, and sugar in a small mixing bowl and set aside.

In the same skillet, add another teaspoon of olive oil and stir fry the garlic chives and sliced carrots until the chives are bright green (3-5 minutes)

Add snow peas, stir fry for 1 minute.

Rinse pasta with water if the strands are stuck together and add to the stir fry.

Stir sauce ingredients and pour over the noodles.

Stir to combine the noodles with the stir fry until the sauce thickens or is absorbed by the pasta.
Recipe Notes
*The original recipe uses garlic chives and garlic chive flowers interchangeably which is ok only if the garlic chive flowers are very tender. 
If you like this recipe, you might like some of my other Asian carbs + protein stir-fry dishes:
Thanks for reading, please help Nut Free Wok!
The best way to see every post or recipe is to subscribe to Nut Free Wok's email subscription (be sure to respond to the confirmation email). You will be notified by email next time I publish another post or recipe and I won't send you spam or share your email address with anyone.
If you enjoyed this post, please use the social media buttons below to share with others. I am on Facebook, Twitter, Pinterest, and Instagram as @nutfreewok and it's great to chat and interact on social media too.
Disclosure/Disclaimer:
I may mention the names of stores and/or brand names of products that I use because readers ask and I share products and sources which I use and think may be helpful to readers, all opinions are my own. Please note that manufacturing practices and ingredients can change at anytime without notice and readers are always responsible for assuring allergen safety before buying or consuming foods. NutFreeWok.com is a participant in the Amazon Services LLC Associates Program, an affiliate advertising program designed to provide a means for sites to earn advertising fees by advertising and linking to Amazon.com. Thank you for reading!
Disclaimer: Please check that all ingredients are suitable for your allergies and be sure to ask your medical care team regarding any allergy related questions (I do not share medical advice). As an Amazon Associate I earn from qualifying purchases.