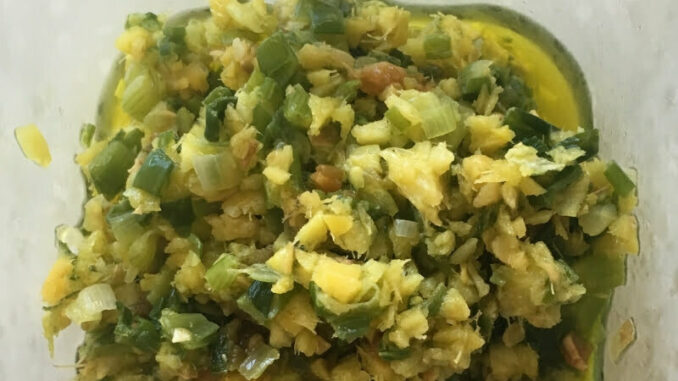 I was in the middle of making a ginger and scallion sauce on Sunday afternoon when someone walks into the kitchen and asks "What smells so good?" I love the smell and taste of fresh ginger and scallions, and the two ingredients make an amazing sauce.
Ginger and Scallion Sauce Love
My parents gave me the task of making Ginger and Scallion Sauce when I was a child, it's the Chinese family version of making pesto or salsa. It an easy way to add lots of zippy flavor to any meal. My family always makes a zippy ginger and scallion dipping sauce for dipping boiled or steamed chicken, meat, or seafood. It's a great dip for White Cut Chicken or dipping the cooked meats or seafood when we have Chinese Hot Pot. I also save the leftover sauce to add to fried rice, vegetables, or stir fries for extra flavor.
Another reason I try to incorporate ginger into our meals is because it is supposed to be beneficial for many physical ailments such as tummy troubles. I was surprised to learn that ginger might relieve some asthma symptoms, so I started using ginger more frequently so that my kids get used to the flavor and then I know that if make them chicken soup and congee with ginger it when they aren't feeling well, they have something that might help them feel better. (Disclaimer: do not consider this as medical advice, please follow your doctor's instructions for asthma treatments).
Is it a Sauce, Dip, or Relish?
Calling ginger and scallion sauce a sauce is a misnomer since it's not literally a liquid that you can drizzle. It is more like a relish that one can dip. I usually use my chopsticks to spread a small dab on my food. But it's common to have a small personal dish for condiments and sauce so that one can dip and double dip to one's content!
Optimizing Organic Ginger
I also like to buy organic ginger but am reluctant to pay $9 per pound so I buy a 2.5 pound box from Costco for $6 and then I have to think of ways to use up my ginger while it is still fresh. Making ginger and scallion sauce is definitely one of my favorite ways to use up my ginger! I also make ginger fried rice and add ginger to steamed fish and porridge/congee.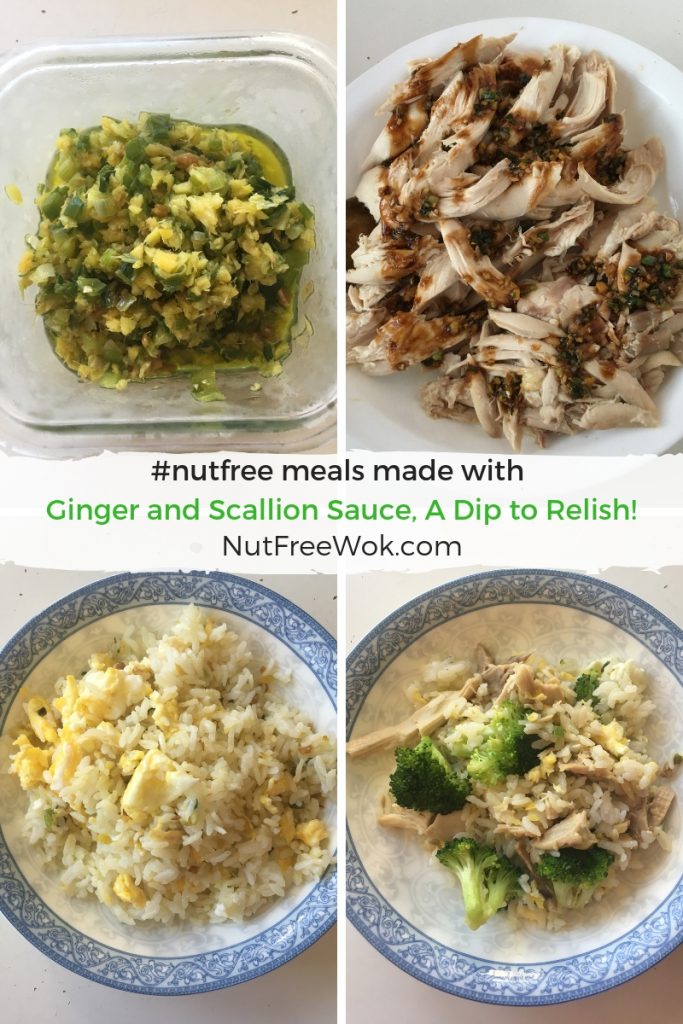 Optimizing Plain Chicken with a Ginger Scallion Sauce
I used a whole chicken to make chicken broth for soup in my Instant Pot but the resulting chicken meat tastes plain and needs a little help. I made a ginger and scallion sauce and added some soy sauce and oyster sauce to make it easier to drizzle and extra tasty. The soy sauce and oyster adds a little bit of sweetness, but is not necessary. Coconut aminos is also a great option. If you need help with finding ingredients, be sure to see what is in my cupboard.
Mince, Mince, Mince
One of my jobs as a child was to make ginger and scallion sauce for dinner on the weekends. I learned that if I minced the ginger and scallions separately and then mince them together into a fine mince, the sauce is flavorful without big jarring bites of ginger. It turns out that the fine mince makes a difference for my kids too. This is a simple but delicious recipe that will amp up your Asian nut free meals too, I hope you enjoy it!
In case you don't know how to mince ginger, the fast and easy Chinese way is to peel the ginger and then use the side of a cleaver to smash it (keep your fingers out of the way), then it will look like large pieces of jagged matchsticks. Cut them crosswise and then you'll have small chopped pieces, run your knife over them a few times and then they're minced.
If you don't have a cleaver, you can use a large chef's knife or slice the ginger, then cut the slices into matchsticks and then chop the matchsticks into small pieces, and then mince some more.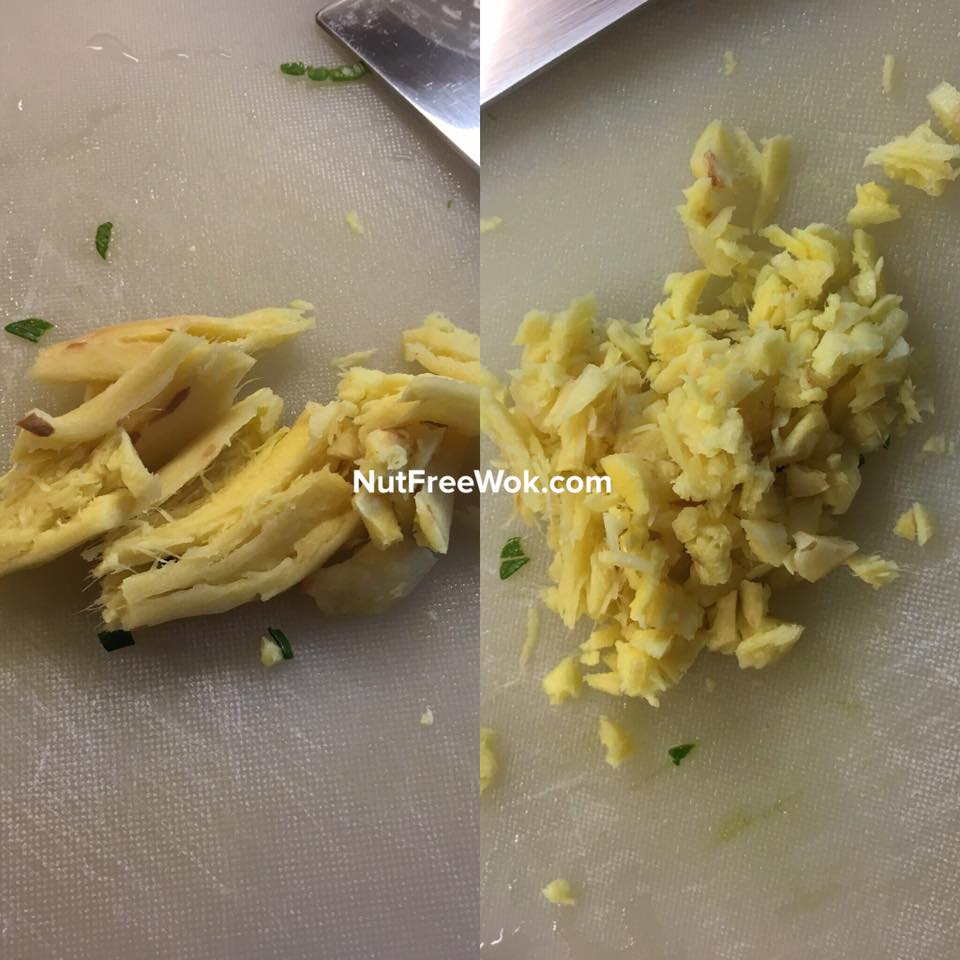 This recipe is free of the top 8 allergens as written unless you add the optional ingredients of soy sauce, oyster sauce, or coconut aminos.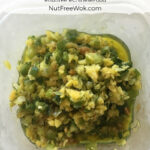 Ginger and Scallion Sauce Recipe
Ingredients
3

inch

piece of ginger

4

scallions

3

tablespoons

olive oil

1/2

teaspoon

salt

OR season to taste with soy sauce, oyster sauce, or coconut aminos (optional)*
Instructions
Peel and mince the ginger, set aside (about 1/2 cup).

Thinly slice the scallion (about 1 cup), add the ginger, and finely mince together.

Preheat a frying pan for a few minutes, add oil, and swirl to coat.

Add the minced ginger and scallion and sautee for 60-90 seconds, or until fragrant, remove from heat.

Optional: Add salt OR season to taste with oyster sauce, soy sauce, or coconut aminos.
Recipe Notes
*Salt, soy sauce, oyster sauce, or coconut aminos are optional, especially if there are any allergen concerns or sodium restrictions. I usually use 1/2 teaspoon of salt OR 1 tablespoon of oyster sauce or 1 tablespoon of soy sauce or 1 tablespoon of coconut aminos. 
For the purpose of making my chicken tasty, I transferred about 2/3 of the sauce into a container to reserve for later use and added about 1 teaspoon of oyster sauce and 1 teaspoon of soy sauce to combine with the remaining ginger and scallion sauce in the pan and spooned that over the chicken. 
Makes about 1/2 cup sauce, 2 teaspoons is approximately 35 calories.
Thanks for reading, please help Nut Free Wok!
The best way to see every post or recipe is to subscribe to Nut Free Wok's email subscription (be sure to respond to the confirmation email). You will to be notified by email next time I publish another post or recipe and I won't send you spam or share your email address with anyone.
If you enjoyed this post, please use the social media buttons below to share with others. I am on Facebook, Twitter, Pinterest, and Instagram as @nutfreewok and it's great to chat and interact on social media too.
Disclosure/Disclaimer:
I may mention the names of stores and/or brand names of products that I use because readers ask and I share products and sources which I use and think may be helpful to readers, all opinions are my own. Please note that manufacturing practices and ingredients can change at anytime without notice and readers are always responsible for assuring allergen safety before buying or consuming foods. NutFreeWok.com is a participant in the Amazon Services LLC Associates Program, an affiliate advertising program designed to provide a means for sites to earn advertising fees by advertising and linking to Amazon.com. Thank you for reading!