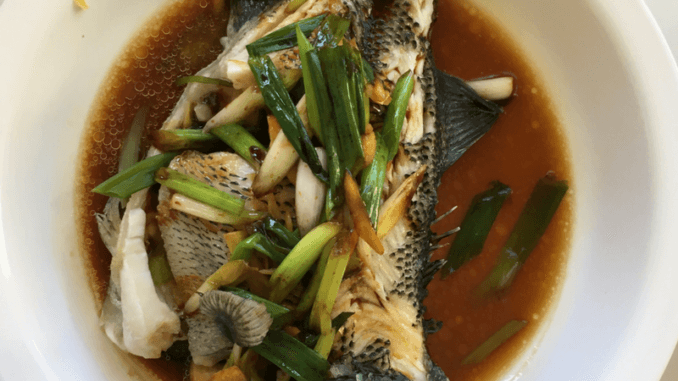 Chinese Style Steamed Fish
A Chinese style steamed fish can be enjoyed anytime of the year, but it's an especially auspicious dish to serve during Chinese New Year (aka Lunar New Year) which is coming up soon on January 28th.
Happy New Year 2017 and Happy Chinese New Year!
I hope that you had a restful, safe, and happy holiday season with your friends and loved ones and that your 2017 is off to a great start. Some of my ongoing (basically forever) resolutions are to be healthy, be at a healthy weight, and eat well. A Chinese style steamed fish is one of our family's favorite dishes to help us eat healthy and enjoy great food.
A Chinese style steamed fish is considered an auspicious dish to celebrate Chinese New Year because it symbolizes wealth and prosperity. If you are preparing a steamed fish for Chinese New Year for someone who takes the symbolism seriously, be sure to cook and serve the whole fish intact (with the head and tail too). I personally leave them on everytime (less work, more flavor).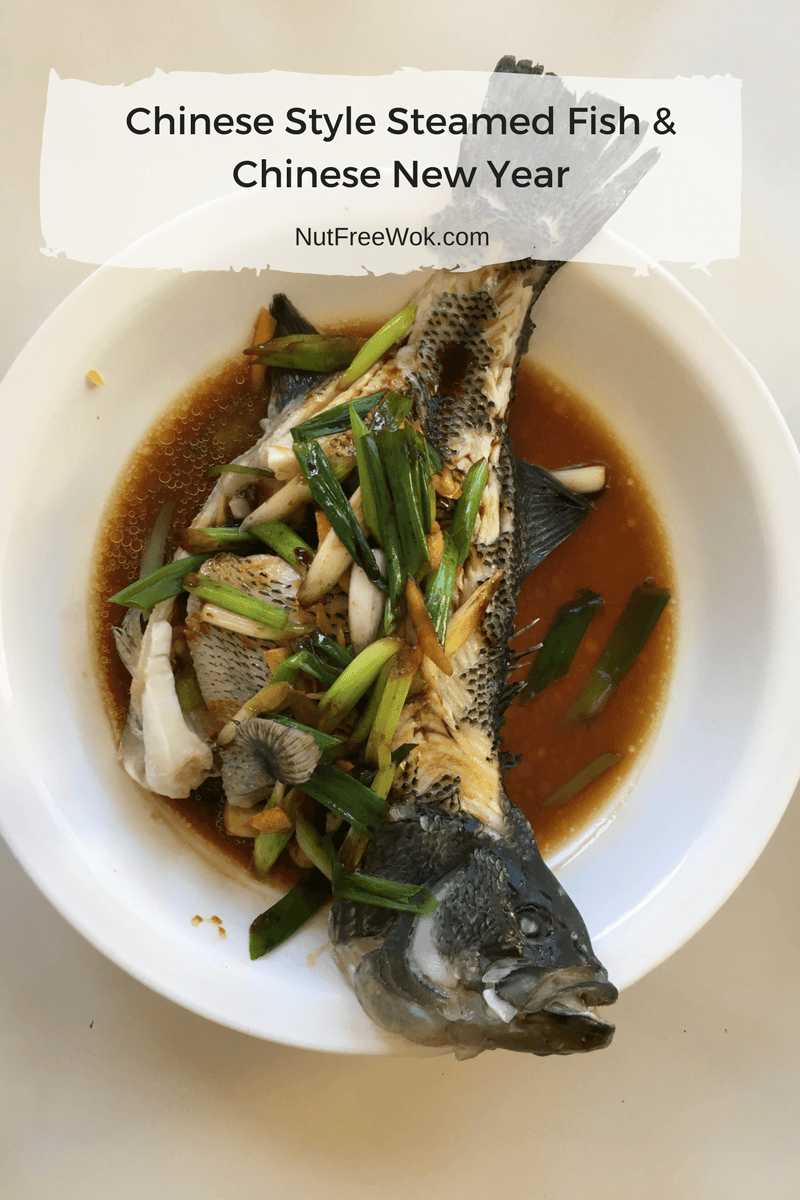 Buying Fish
Freshness is key. Chinese style steamed fish is sublime when you have access a really fresh fish, preferably something that was swimming hours before in an Asian supermarket or in an ocean, lake, or river. If you don't have access to live fish, select a fish that looks clean, fresh and firm, doesn't smell fishy, has bright, clear, bulging eyes (not cloudy around the pupils), and has bright red gills. If the fish is already gutted, look inside the abdomen area and avoid fishes with discoloration in the belly area.
Whole or filet? If you want to steam fish as part of a regular meal, you can serve fish in any form as long as it's fresh. But if you are serving steamed fish for a traditional Chinese New Year meal, the fish must be whole with it's head and tail intact. I have a personal preference for serving a whole fish with only one cut along the belly where it's gutted. I don't like cutting off the tail or the head or cutting a larger fish in half to fit my plate because I think some of the flavor and juices leak out at the cuts.
Size matters. If you have a fresh whole fish, a 1 to 1.25 pounds size fish is ideal, 1.5 pounds maximum. If it's too small, it might not be fleshy enough and you'll just be sorting through a lot of tiny bones. If it's too big, then it's difficult to cook evenly.
What kind of fish? My favorite fresh fish that is available locally is called "mang cho" in Cantonese or largemouth bass. I also like petrale sole, which is great to serve to young children because there are very few hidden bones other than the large spine and little bones along the back and fins. If you decide to try petrale sole, ask the fish monger to discard the head, do not cook it. My mom recommends yellow croaker, which I haven't tried yet. I used to like tilapia, but ever since I noticed I don't feel well after I eat tilapia, I avoid it as well as other bottom feeders.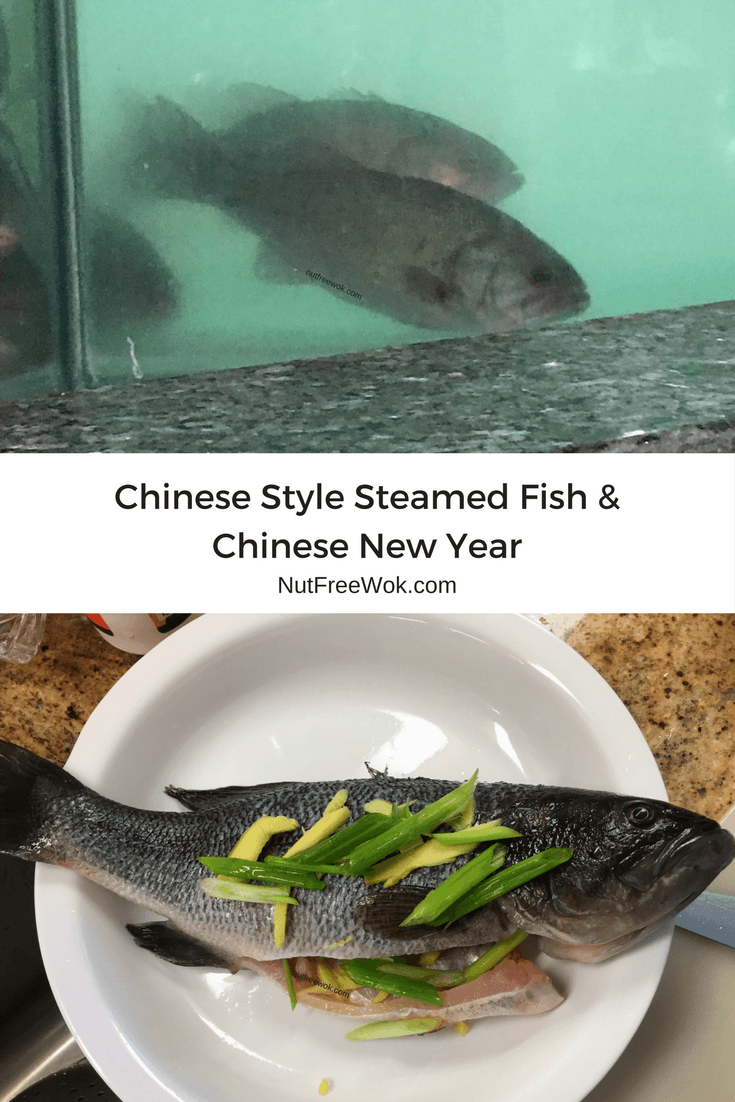 Preparing Fish
My family used to go fishing for fun and I've had to gut fish a few times in my life. It's messy and not so easy to do, the hardest part is not piercing an organ that releases an awful tasting bile that makes the area around the belly taste bitter. Even if you do not have to gut the fish yourself, do not select a fish that has a yellow or brown stain in the abdominal area if you can avoid it. If you can't avoid it, rinse the fish out as best as you can, note which area is stained, and don't serve that bite.
Use your fingers to remove any bits of guts and organs under running water. Check the head and remove any remains of the gills (twist it off). Use a paring knife and carefully scrape the skin to remove any scales and slime on the skin. Rinse everything one more time and let the fish drain in a colander or plate for a few minutes, pat dry with paper towels, and place in a pie plate (or something similar). Let it rest some more and pat dry before adding ginger and scallions.
Set up a Steamer
I've recently written an indepth post on how to steam Chinese recipes. One of the reasons I recommend a smaller fish is that you need to fit it in a serving dish such as a pie plate. And a pie plate will fit inside most 6-8 qt stock pots or large lidded frying pans and allow a little bit of clearance around the sides so that you have room to lower fish into a hot steamy pot and take the finished dishe out safely when the fish is ready to serve.
You will also need a steamer rack or sauce to elevate the pie plate above the water level and have enough clearance for the rack, the dish, and the fish with the lid in place. I recommend that you run through your various combinations of dishes and pots to make sure the different parts of your steamer set up will fit together before you start cooking.
How to Steam, Serve, and Politely Eat Steamed Fish
Once I get the water in the steamer at a rolling boil, I add the fish and cover it immediately. Fish is very delicate and time-sensitive so I have to immediately set a timer. I try to buy a fish that is around 1.25 pounds and steam it for about 8 minutes, 7 minutes if the fish is closer to 1 pound and 9 minutes if the fish is closer to 1.5 pounds. Add an extra minute if you take your previously prepared fish right out of the refrigerator.
It's important to serve the fish immediately after it's cooked for optimal texture and temperature. I carefully use a serving spoon to tease apart large pieces of fish without scooping the little bones along the fins and spine and drizzle a little bit of the sauce and serve a tiny amount of green onions and ginger with each morsel.
It is considered extremely bad manners and bad luck to flip the fish over to serve the other side, instead one is supposed to lift the spine and set it aside and continue serving. If anyone remembers watching the movie adaptation of Amy Tan's Joy Luck Club, during the meet parents scene Waverly's mom modestly says that her fish might not have a lot of flavor and Waverly's boyfriend helpfully drenches the fish in soy sauce and every gasps and looks aghast because steamed fish is supposed to be delicately seasoned and it's not appropriate to drench it with additional soy sauce.
"How Do You Celebrate Chinese New Year?"
I remember when one of my friends shared that she was going to buy Chinese food from a take out place at the mall to celebrate Chinese New Year and then asked me how do you celebrate Chinese New Year? My friend is not Asian so I was quite impressed that she wanted to celebrate Chinese New Year and interested in how I celebrate. I might have mentioned having dim sum with family but I had pangs of guilt about how we celebrate Chinese New Year.
I do not do all of the traditional things such as cleaning the house, placing tangerines and money filled red envelopes in every room, bringing sweets and oranges to relatives houses, or giving red envelopes of money to every child or single person I meet during the first 2 weeks of Chinese New Year. Those omissions are my lazy choices but the core issue was that our family was greatly limited by food allergies.
We couldn't join in any extended family celebrations as it's traditional to have a tray of snacks containing nuts, candied fruits, and candies. At the time, my son was reacting to airborne nuts. I love my aunts' and grandmother's cooking but there was very little that my son could eat. I didn't even know how to begin to cook an allergy safe Chinese New Year feast let alone expect anyone else to do so.
A Chinese New Year Feast, One Dish at a Time
My friend's innocent and friendly question made me think about trying to master a new allergy aware Chinese New Year dish every year. I figured eventually I will be able to cook up a feast. 😉 In case steaming a fresh fish is not something you can do, here are some other great nut free recipes for you to make as a part of a Chinese New Year celebration:
Chinese New Year Cake "Nian Gao" – top 8 allergen free dessert made from rice, sugar, and water.
Make Beautiful Lettuce Cups – a how to guide to make lettuce cups
Stir Fried Iceberg Lettuce with Oyster Sauce – what to do with all the extra lettuce
Wagyu Lettuce Wraps (you can substitute wagyu sausage with any other cooked meat) – fill the lettuce cups with something delicious
Turnip Cake, a dim sum favorite – free of 7 out of the 8 top allergens, could be easily adapted to be top 8 free
Chinese Pork and Cabbage Potstickers – a traditional filling with store bought wrappers, great for feeding a crowd
Make Chicken Potstickers from Scratch – an alternative filling with home made wrappers, you can mix and match the two types of filling and wrappers.
Chinese White Chicken "Bok Cheet Gai" made in a slow cooker – a traditional dish but made with a modern convenience. If you want to be really authentic use a whole chicken with the head and feet attached.
Rice Ovalettes with Pork and Vegetable Stir Fry "Chao Nian Gao" – this is a stir fry dish that is a complete meal with carbs, meat, and veggies.
Sharon's Special Sticky Rice – this is not specifically Chinese New Year related, but is a delicious and popular entree to share with others.
Fortunately most people can enjoy oranges, mandarins, and tangerines which are free of top allergens and in season.
Later this week, I will post another Chinese New Year appropriate recipe as well as link to a Chinese New Year online party and you're all invited. 😉 
Chinese Style Steamed Fish Recipe
This recipe is free of peanuts, tree nuts, shellfish, egg, and dairy as written. Some readers have commented that they avoid eating fish due to their shellfish allergy. Just to be clear, fish allergies and shellfish allergies are different but some people with one allergy might avoid the other due to cross contact at any point. Please be careful if you have a shellfish allergy to avoid cross contact. You can adapt this recipe to be soy-free by leaving out the soy sauce and/or using a soy-free soy sauce.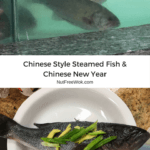 Chinese Style Steamed Fish
Ingredients
1.25

pound

big mouth bass

or similar fish

2

scallions

trimmed and julienned

1

inch

piece of ginger

peeled, smashed, and sliced

2

teaspoons

olive oil

1

tablespoon

soy sauce
Instructions
Clean fish and pat dry with a paper towel, set aside in a 9 inch pie plate.

Set up steamer at medium high heat.

When the water starts to boil, pat the fish dry again with paper towels and put half of the scallion and ginger on the fish and some in the abdominal cavity.

Place the fish in the steamer and steam for 8 minutes (7 minutes if the fish is closer to 1 pound and 9 minutes if the fish is closer to 1.5 pounds.

Meanwhile, heat a small frying pan on medium heat and when it's hot add the oil and the rest of the scallions and ginger and sautee until fragrant (1 minute), set aside if the fish is not done steaming.

Transfer the scallion, ginger, and oil mixture onto the steamed fish and drizzle the fish with soy sauce, serve immediately.
Thanks for reading, please help Nut Free Wok!
The best way to see every post or recipe is to subscribe to Nut Free Wok's email subscription (be sure to respond to the confirmation email). I won't send you spam or share your email address with anyone.
If you enjoyed this post, please use the social media buttons below to share with others. I am on Facebook, Twitter, Pinterest, and Instagram as @nutfreewok and it's great to chat and interact on social media too.
If you see any of my posts on social media, please like, retweet, comment, or share. I would love your help in sharing Allergy Aware Asian Fare with your friends so that I can spend more time working on recipes.
Disclosure/Disclaimer:
I may mention the names of stores and/or brand names of products that I use because readers ask and I share products and sources which I use and think may be helpful to readers, all opinions are my own. Please note that manufacturing practices and ingredients can change at anytime without notice and readers are always responsible for assuring allergen safety before buying or consuming foods. NutFreeWok.com is a participant in the Amazon Services LLC Associates Program, an affiliate advertising program designed to provide a means for sites to earn advertising fees by advertising and linking to Amazon.com. Thank you for your support!