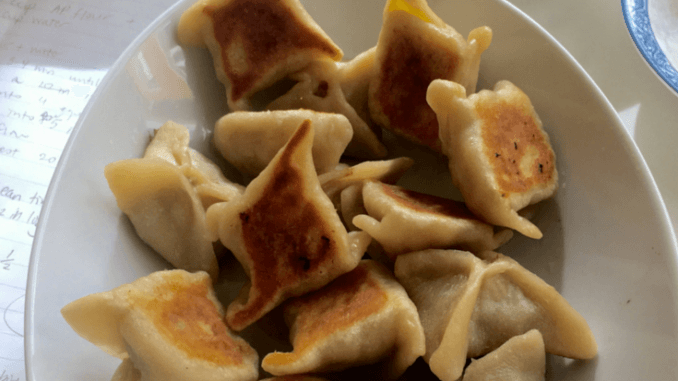 You can make these Chicken Potstickers at home even if you can't buy potsticker wrappers at a store because this recipe contains instructions to make the wrapper from scratch. These crispy bottom potstickers are savory with a bit of sweetness from nibbles of corn.
Disclaimer: Please check that all ingredients are suitable for your allergies and be sure to ask your medical care team regarding any allergy related questions (I do not share medical advice). As an Amazon Associate I earn from qualifying purchases.
Jump to Recipe
Potsticker Filling Made with Chicken
Traditional potstickers are made from pork and napa cabbage but I love some of the newer variations such as pork potstickers with celery, chicken potstickers with corn, shrimp potstickers with chives, etc.. When I posted a recipe for Pork & Napa Cabbage Potstickers, I mentioned that I would share a variation with you. This recipe is made with a different meat and produce and uses a made from scratch wrapper.
Making Homemade Wrappers
I like the convenience of buying potsticker wrappers but I prefer the taste of homemade wrappers much better. It takes about 10 minutes to make the dough by hand (easy) and I let the dough rest for about 30 minutes while I make the filling. When ready to assemble, I roll the wrapper into a circle, add a little bit of filling, and seal it up. Rather than pleat them like traditional potstickers, I don't fuss with them and seal them up simply to save time.
The potsticker wrapper instructions are inspired by a combination of Ellen Blonder's Dim Sum cookbook (affiliate link), Steamy Kitchen's recipe, and Andrea Nguyen's Asian Dumplings
(affiliate link). The filling is inspired by a couple of local restaurants that serve chicken potstickers with corn.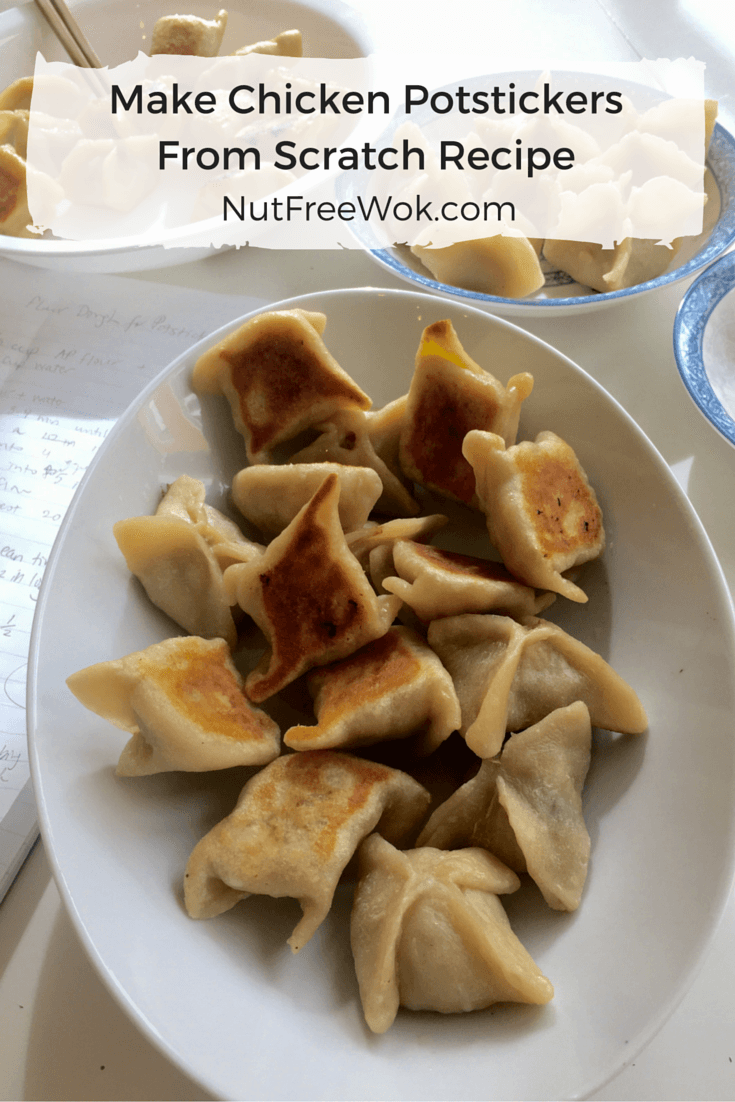 Allergy Aware Asian Fare: Chicken with Corn Potstickers
If you are avoiding soy, you can easily substitute with 1/3 tsp of salt or using a soy sauce alternative or some soy-free soy sauce. If you are avoiding wheat or gluten, stay tuned for a gluten free version of the potsticker wrapper.
I hope you enjoy this recipe for Chicken Potstickers. You can also try using using the filling for this recipe with store bought potsticker wrappers or the pork and cabbage filling with a homemade potsticker wrap. Have fun, enjoy, and show me your pictures (tag me on social media and use #NutFreeWok).
This chicken potsticker recipe is peanut-free, nut-free, egg-free, fish-free, shellfish free, and dairy-free (sesame free too).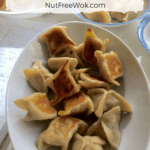 Make Chicken Potstickers From Scratch Recipe
You can make these Chicken Potstickers at home even if you can't buy potsticker wrappers at a store because this recipe contains instructions to make the wrapper from scratch. These crispy bottom potstickers are savory with a bit of sweetness from nibbles of corn.
Prep Time
1
hour
15
minutes
Total Time
1
hour
35
minutes
Ingredients
1 1/2

cup

all purpose flour

plus extra for dusting

1/4

tsp

salt

2/3

cup

hot water

8

oz

ground chicken

1/2

cup

frozen corn

thawed (I use organic corn)

2

stalks scallions

chopped

1

tablespoon

soy sauce

or allergy safe equivalent

1

teaspoon

cornstarch

1/2

teaspoon

garlic powder

or 1 clove garlic, minced

1/2

teaspoon

sugar

1/8

teaspoon

white pepper

2

teaspoons

oil

for frying

hot water
Instructions
Mix flour and salt together in a large bowl.

Pour hot water around the flour while combining the water and flour together with a fork or a spatula until the dough is shaggy.

Knead the dough in the bowl or on a flour dusted surface for 3-5 minutes until the dough is smooth, add small amounts of flour as necessary to keep the dough from sticking.

Roll the dough into a 10 inch cylinder, cut it into 4 equal sizes.

Roll the quarters into a 5 inch log and dust them generously with flour and loosely wrap with plastic or place inside a sturdy plastic bag (such as a freezer bag), allow the dough to rest at room temperature for 20 minutes (up to 2 hours, if making ahead, refrigerate the dough and allow it to come to room temperature).

Combine chicken, corn, scallion, soy sauce, cornstarch, garlic, sugar, and white pepper and set aside.

When ready to assemble, roll one log into an 8 inch long rope and cut the rope into 8 equally sized marshmallow shaped pieces of dough (keep the rest of the dough moist by leaving the rest covered or inside the bag)

Dust your work surface with flour, place the cut ends into the flour and gently pat them down with your fingers into cookie shaped disks.

Either use a tortilla maker (if you have one) or a small rolling pin to roll the disks into 1/8 inch thick wrappers, about 3 inches in diameter.

As you work, keep your dough from drying out by covering the disks and rolled out wrappers with plastic wrap.

Add a heaping teaspoon of filling to the center and seal it up: pinch the dough at 3 o'clock and 9 o'clock positions and bring them together, pinch them shut at 12 o'clock and 6 o'clock to form a little pouch (or you can either fold in half into a half moon or pleat them like the other potsticker recipe).

Repeat until all the dough or filling is used up.

When you are ready to cook them, preheat your frying pan on medium-high heat for a few minutes, add a teaspoon of oil and swirl to coat.

Arrange half of the potstickers on the frying pan and allow them fry until slightly browned (about 3 minutes), add about 1/3 cup hot water, cover immediately, and steam for approximately 8-10 minutes until the pan stops sizzling, uncover and allow the potsticker bottoms to become crisp.
Recipe Notes
I like dipping my potstickers in white vinegar or Chinese red vinegar on the side. Otherwise, I would serve guests a dipping sauce from 2 tablespoons each of rice vinegar and soy sauce, 2 tablespoons of chopped scallions, 1 teaspoon each of sugar and grated or julienne ginger.
Please help me out!
The best way to see every post or recipe is to subscribe to Nut Free Wok's email subscription (be sure to respond to the confirmation email). You will to be notified by email next time I publish another post or recipe and I won't send you spam or share you email with anyone.
If you enjoyed this post, please use the social media buttons below to share with others. I am on Facebook, Twitter, Pinterest, and Instagram as @nutfreewok and it's great to chat and interact on social media too.
Disclosure/Disclaimer:
I may mention the names of stores and/or brand names of products that I use, I have not been paid or solicited by any of the above companies to mention them. I share products and sources which I use and think may be helpful to readers, all opinions are my own. Please note that manufacturing practices and ingredients can change at anytime without notice and readers are always responsible for assuring allergen safety before buying or consuming foods. NutFreeWok.com is a participant in the Amazon Services LLC Associates Program, an affiliate advertising program designed to provide a means for sites to earn advertising fees by advertising and linking to Amazon.com.