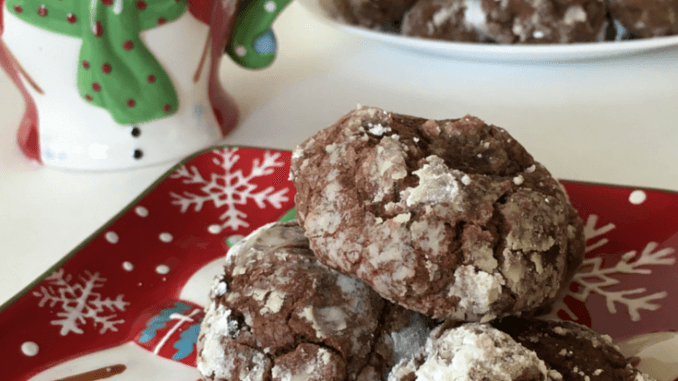 If you haven't tasted chocolate crinkle cookies, they are best described as nut free brownie trapped in a powdered sugar coated cookie. They're light and fudgy with a fabulous crinkle design when baked. This Chocolate Crinkle Cookie recipe is one of my older son's favorite cookies because we've been baking them together since he was a toddler. When he made them this morning for his friends, I felt nostalgic and proud of him.
Disclaimer: Please check that all ingredients are suitable for your allergies and be sure to ask your medical care team regarding any allergy related questions (I do not share medical advice). As an Amazon Associate I earn from qualifying purchases.
Jump to Recipe
Help Kids With Food Allergies Be Confident Cooks and Bakers
This recipe for chocolate crinkle cookies is adapted from Williams-Sonoma Kid's Baking (affiliate) cookbook, pages 22-23. The recipe is available online and I've included some of my tips for success from many years of baking this recipe.
As I flipped through the book, I felt nostalgic for the sheer delight of baking with little children and all the yummy treats shared. I also felt proud that my son could make the cookies to share with his friends. If you have little children, I highly recommend inviting them to spend time with you in the kitchen. It might be messy but it's a wonderful learning experience.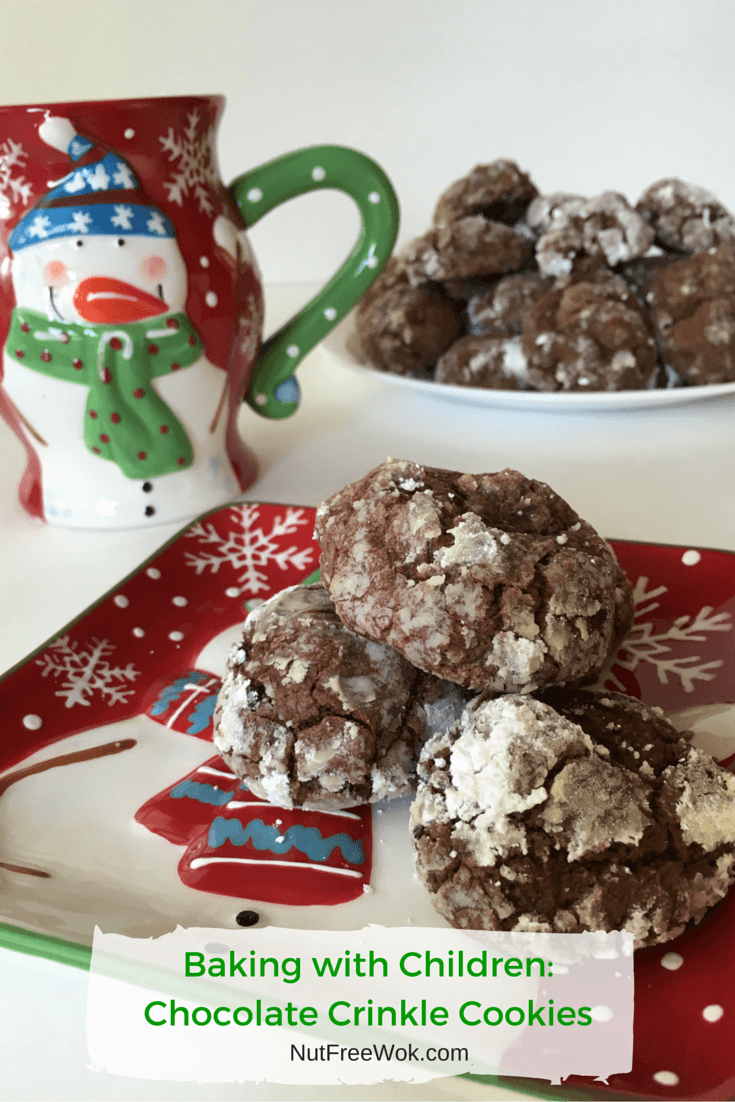 Have Fun & Learn Valuable Cooking Skills for Food Allergies
When my sons were preschoolers, we made chocolate crinkle cookies for a class party together and I asked them to help me with simple steps such as adding measured amounts of ingredients and stirring ingredients.
As they grew older, I taught them how to measure and various baking and cooking techniques. The time spent baking and cooking together are great opportunities to read ingredient labels, practice good hygiene, and be aware of potential cross-contact. It's one way to empower our children with food allergies with practical skills.
I provided my sons with kid-sized aprons and we checked out children's cookbooks from the library and I let them decide what recipes they wanted to try. My oldest is now in high school and cooking together is still fun as we talk and spend time together. Since I first wrote this post, my son is in college now and frequently cooks and bakes with friends to socialize, save money, and manage food allergies.
Allergy Aware Chocolate Crinkle Cookies
This recipe is free of peanuts, tree-nuts, fish, shellfish, soy, and sesame as written.
I've written the chocolate crinkle cookies recipe exactly as I would make it for my son who loves chocolate but is not allergic to egg. Chocolate crinkle cookies are typically peanut and tree nut free.
If you are egg-free, my favorite egg-free substitution to use for cookies is a combination 1 1/2 tablespoon of water + 1 1/2 tablespoon oil + 1 teaspoon baking powder for each egg.
If you are milk-free, try using an equivalent amount of oil or Earth Balance's Buttery Baking Sticks (contains soy).
If you are milk

and

egg free, you can easily make both substitutions or refer to a vegan version of this recipe.
If you are wheat or gluten free, try substituting the all purpose flour with Cup 4 Cup gluten free flour, but check to see if their products suits your needs first. Otherwise, there are numerous gluten free options.
If you're not into chocolate (like my younger son), there are other variations such as red velvet crinkle cookies, and my lemon vanilla crinkle cookies, matchta (green tea) crinkle cookies, egg nog crinkle cookies, etc..
More Nut-Free Cookie Recipes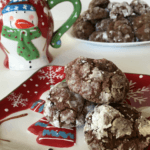 Baking with Children: Chocolate Crinkle Cookie Recipe
This recipe is adapted from Williams Sonoma's cookbook Kids Baking. I reduced some of the sugar and added one step to refrigerate the dough before shaping and baking.
Chill the dough
15
minutes
Ingredients
1/3

cup

confectioners' sugar

1 2/3

cup

all purpose flour

1/2

cup

unsweetened cocoa powder

1 1/2

teaspoons

baking powder

1/4

teaspoon

salt

1

cup

sugar

granulated

1/2

cup

unsalted butter

1 stick at room temperature

2

large eggs

1/2

teaspoon

vanilla extract
Instructions
Take 1 stick of butter out of refrigerator to soften (at least 30 minutes).

Preheat your oven to 350°F and line baking sheets with Silpat or parchment paper.

Add confectioners' sugar to a medium sized bowl and set aside.

In a different medium sized bowl, combine flour, cocoa powder, baking powder, and salt with a fork or a whisk (be sure to break up any lumps of cocoa powder).

Add the granulated sugar and softened butter to a large mixing bowl (if the butter is still hard, cut it into 1/2 inch cubes before adding to the mixing bowl) and use an electric mixer to cream the butter and sugar together until smooth (about 3 minutes).

Crack the eggs into a bowl and check for any stray eggshells.

Stop the mixer, scrape down the sides, add 1 egg, and beat for 1 minute until mixed, then add the 2nd egg and vanilla, and beat for 1 minute until mixed.

Turn off the mixer, add the flour mixture and mix on low or by hand until the flour is incorporated into a dough.

Refrigerate the dough for 10-15 minutes (this additional step will make it easier to roll the dough into balls and yield nice puffy cookies).

Use a tablespoon sized measuring spoon to scoop a heaping tablespoon of dough and use a metal teaspoon in the other hand to scrape a rounded lump of dough directly into the bowl of powdered sugar.

Use 2 fingertips to gently pat the dough into a ball as you roll the dough in powdered sugar.

Place the dough balls approximately 2 inches apart from each other on the baking sheets and repeat.

Bake for 10-12 minutes, the cookies will look puffy and crackled when ready.

Remove the baking sheets from the oven and allow them to cool on a cooling rack, after a few minutes use a spatula and transfer the cookies from the baking sheet to a cooling rack.
Recipe Notes
I often bake a double batch of this recipe and left a little note in my cookbook with the following measurements (double batch):
1/2 cup confectioners' sugar
3 1/3 cup all purpose flour
1 cup unsweetened cocoa powder
1 tablespoon baking powder
1/2 teaspoon salt
2 cup sugar (granulated)
1 cup unsalted butter (2 sticks) at room temperature
4 large eggs
1 teaspoon vanilla extract
Please help me out!
Thanks for reading, please help Nut Free Wok!
If you like this recipe, please be sure to give a 5 star rating, leave a comment, and share this post! Your support means a lot to me.
Subscribe to Nut Free Wok's email subscription (be sure to respond to the confirmation email). You will be notified by email next time I publish another post or recipe and I won't send you spam or share your email address with anyone.
Disclosure/Disclaimer:
I may mention the names of stores and/or brand names of products that I use because readers ask and I share products and sources which I use and think may be helpful to readers, all opinions are my own. Please note that manufacturing practices and ingredients can change at anytime without notice and readers are always responsible for assuring allergen safety before buying or consuming foods. NutFreeWok.com is a participant in the Amazon Services LLC Associates Program, an affiliate advertising program designed to provide a means for sites to earn advertising fees by advertising and linking to Amazon.com. Thank you for reading!