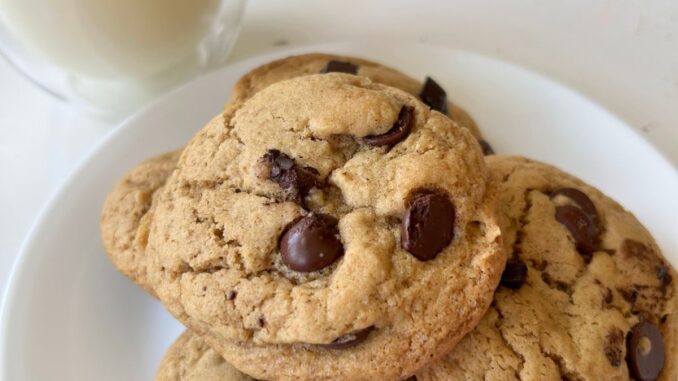 Enjoy these nut-free, dairy-free olive oil chocolate chip cookies that are moderately sweetened. This recipe is utterly scrumptious and great for satisfying chocolate chip cookie cravings. I want to share this recipe with you so we can celebrate National Chocolate Chip Cookie Day on August 4 every year.
Disclaimer: I am a brand ambassador for Rodelle and receive products to use and review. Please check that all ingredients are suitable for your allergies and be sure to ask your medical care team regarding any allergy related questions (I do not share medical advice). As an Amazon Associate I earn from qualifying purchases.
Jump to Recipe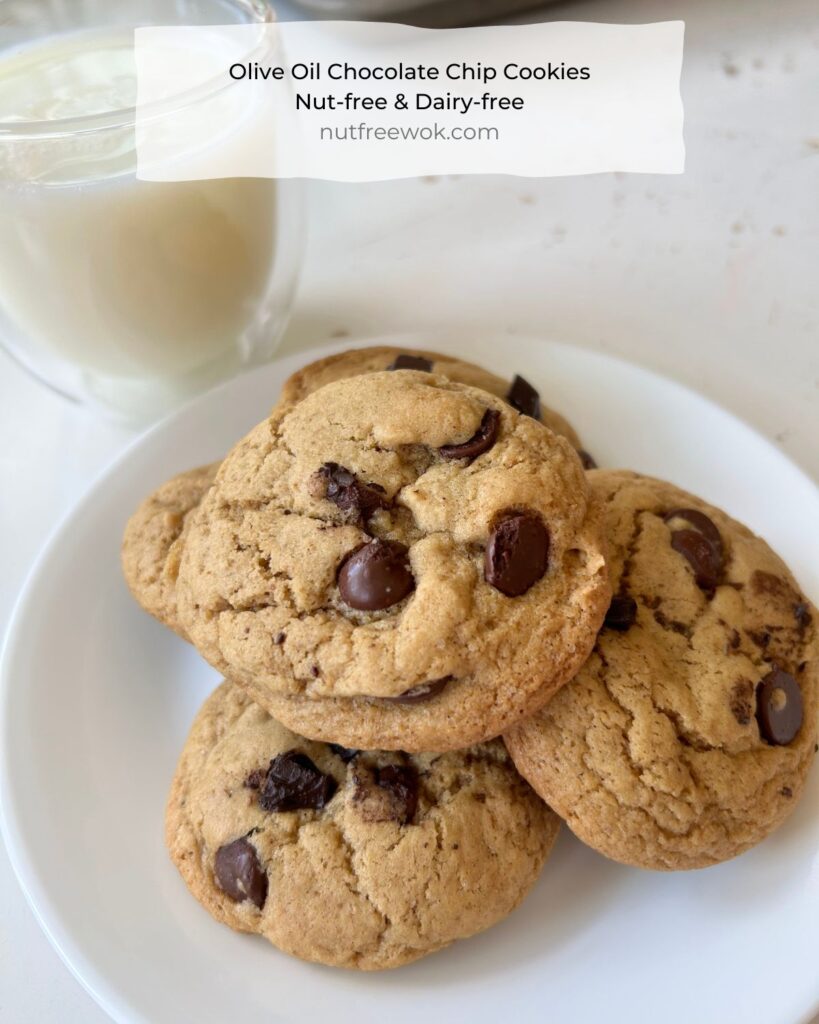 Why Make Dairy-Free Olive Oil Chocolate Chip Cookies?
I love making chocolate chip cookies for special occasions, such as my $250 Chocolate Chip Cookies Recipe, Nut-Free & Egg-Free. But for my own dietary preferences and family health history, I prefer to use less butter and sugar in my baking. I started thinking about how can I make dairy-free chocolate chip cookies using olive oil instead of butter. I had to share my nut-free, dairy-free olive oil chocolate chip cookie recipe with you. The cookies turned out amazing, especially when still warm from the oven with crispy edges and a soft middle.
These olive oil chocolate chip cookies are so easy to make. They're perfect for when you want (or need) some nut-free, dairy-free chocolate chip cookies in a hurry. Measure, mix, chill, and bake. I love easy recipes!
Altogether it took me about 15 minutes to make the dough. I put the dough in the refrigerator to chill for 15 minutes while I tidy up and preheat the oven. It took me 2 minutes to scoop and roll the dough. Then bake for 10-11 minutes until golden brown around the edges. It's such a simple recipe that I used a regular spoon to mix the dough and scoop for baking.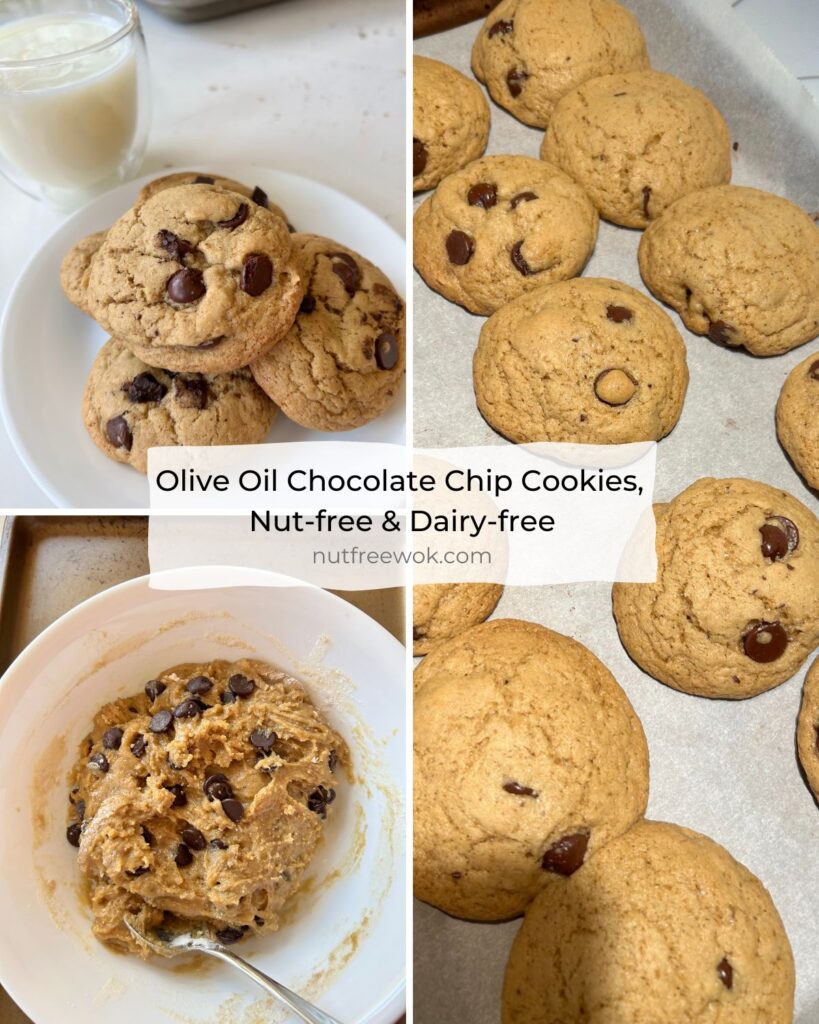 Quick Baking Tips
Equipment needed: You will need 2 bowls, 1 spoon, measuring devices, and a parchment paper lined baking sheet. That's it! Dishes and clean up will be negligible. lol
Baking soda vs. baking powder: Be sure to

use baking soda

, not baking powder. Apparently the acid in the baking soda will react with the brown sugar to make a denser cookie.
Cookie dough size: I wasn't sure if these cookies will spread a little or a lot since they're dairy-free. They spread like normal so a heaping tablespoon of dough shaped into a ball will yield a normal shaped cookie.
Parchment Paper: I lined my baking sheet with parchment paper for quick clean up. If you have silicone cookie sheet liners, be sure to bake until the cookies are golden brown around the edges.
Make ahead: You can make the dough ahead of time (up to 1 day) and chill it longer. I recommend wrapping your bowl with plastic wrap so that the dough doesn't dry out.
Storage: Allow the cookies to cool completely to room temperature and store in an airtight container.
Mix-in and variations: feel free to use chocolate chips or chunks, or white chocolate chips, or some combination of chocolate chips.
Allergy Aware Olive Oil Chocolate Chip Cookies
This recipe is free of peanuts, tree nuts, dairy, fish, shellfish, soy, and sesame as written.
I make these olive oil cookies without butter for other non-allergy related health reasons. But if you are making these cookies for someone with a milk allergy, please be sure that the chocolate chips that you use are dairy-free from an allergy friendly brand such as Enjoy Life (affiliate) or Pashcha (affilate).
If you are wheat-free or gluten-free, it would be possible to substitute the flour with a gluten-free flour that is meant to be a cup-for-cup substitute.
People who are allergic to eggs may try my favorite egg-free substitute with oil, baking powder, and water (1.5 tablespoons oil + 1.5 tablespoons water + 1 teaspoon baking powder is equivalent to 1 egg).
Hopefully you have all of the ingredients for this recipe in your cupboards already. I like using Rodelle Kitchen vanilla extract (affiliate) because their quality is good and I like that I can buy a nice sized bottle for a reasonable price. Rodelle's extracts are nut-free and you can contact them for more information if you have additional allergy related questions. If you want to see what other ingredients I use, check out What's in Nut Free Wok's Cupboard? Allergy Aware Ingredients.
If you are interested in some of my other cookie recipes or dessert recipes made with olive oil, you might enjoy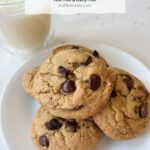 Olive Oil Chocolate Chip Cookies (nut-free, dairy-free)
Ingredients
1 ½

cups

all-purpose flour

1

teaspoon

cornstarch

½

teaspoon

baking soda

¼

teaspoon

salt

1

egg

½

cup

extra virgin olive oil

½

cup

brown sugar

dark or light

¼

cup

granulated sugar

2

teaspoon

vanilla extract

½

cup

chocolate chips*

plus 1 tablespoon (optional)
Instructions
In a medium-sized mixing bowl, combine the flour, cornstarch, baking soda, and salt with a spoon until the ingredients are evenly mixed, set aside.

In a second medium-sized mixing bowl, beat the egg. Add the olive oil, brown sugar, granulated sugar, vanilla extract, and mix until there are no more brown sugar lumps and the egg is fully incorporated.

Add the flour mixture to the bowl of wet ingredients. Use a spoon to fold the ingredients together by scooping under the wet ingredients and folding it over the dry ingredients. Give the bowl a quarter turn and keep folding until 90% of the flour is mixed in. Scrape down the sides of the bowl.

Sprinkle the chocolate chips over the dough and use a spoon to press the chocolate chips into the dough, then keep folding the dough over the chocolate chips and pay attention to incorporating any remaining bits of flour into the dough.

Refrigerate the dough for 15-20 minutes. Preheat the oven to 350°F and line a cookie sheet with parchment paper. When the dough is chilled and the oven is at the right temperature, use a spoon to scoop heaping tablespoons of dough, roll them into balls, and place them on the parchment paper lined cookie sheet. Optional: add the remaining 1 tablespoon chocolate chips to the tops of any cookie dough balls which look like they need more chocolate.

Bake on a middle rack for 10-11 minutes until the outside edges of the cookies are golden brown. Take the cookies out and allow them to cool on the cookie sheet for 10 minutes. Transfer to a cooling rack and/or serve warm.
Recipe Notes
*If you are sharing this with someone who is allergic to milk, be certain to use dairy-free chocolate chips such as Enjoy Life or Pascha.
Thanks for reading, please help Nut Free Wok!
The best way to see every post or recipe is to subscribe to Nut Free Wok's email subscription (be sure to respond to the confirmation email). You will be notified by email next time I publish another post or recipe and I won't send you spam or share your email address with anyone.
If you enjoyed this post, please use the social media buttons below to share with others. I am on Facebook, Twitter, Pinterest, and Instagram as @nutfreewok and it's great to chat and interact on social media too.
Disclosure/Disclaimer:
I may mention the names of stores and/or brand names of products that I use because readers ask and I share products and sources which I use and think may be helpful to readers, all opinions are my own. Please note that manufacturing practices and ingredients can change at anytime without notice and readers are always responsible for assuring allergen safety before buying or consuming foods. NutFreeWok.com is a participant in the Amazon Services LLC Associates Program, an affiliate advertising program designed to provide a means for sites to earn advertising fees by advertising and linking to Amazon.com. Thank you for reading!