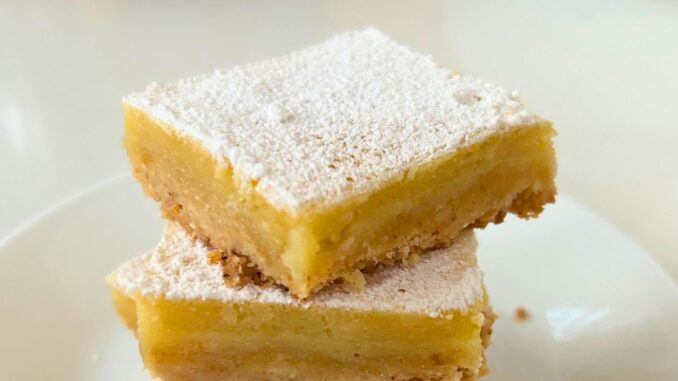 This will be the best Meyer Lemon Bar recipe ever! Meyer lemons make great lemony desserts, what's exciting about this recipe is the brown butter crust, which has subtle caramel and nutty flavors but in a 100% nut-free recipe.
Disclaimer: I am a brand ambassador for Rodelle and receive products to use and review. Please check that all ingredients are suitable for your allergies and be sure to ask your medical care team regarding any allergy related questions (I do not share medical advice). As an Amazon Associate I earn from qualifying purchases.
Jump to Recipe
Meyer Lemons are Great for Dessert Recipes
I recently picked a lemon from my Meyer lemon tree and five big juicy lemons fell out of the tree at the same time. The remaining Meyer lemons on the tree are not ready for picking but Meyer lemons will be in season during the winter through April, so bookmark this recipe so you can make it Meyer lemons are available in stores.
Meyer lemons are a little bit sweeter than a regular lemon and less acidic. I love the natural sweetness of Meyer lemons so I can use less sugar for a lemon dessert. When I can, I like to reduce the amount of added sugar in my baked goods for health reasons. I want desserts sweet enough so that my senses registers that "Ooooo, I'm eating something sweet!," but not too sweet. You can also use regular lemons to make this recipe, with or without additional sugar.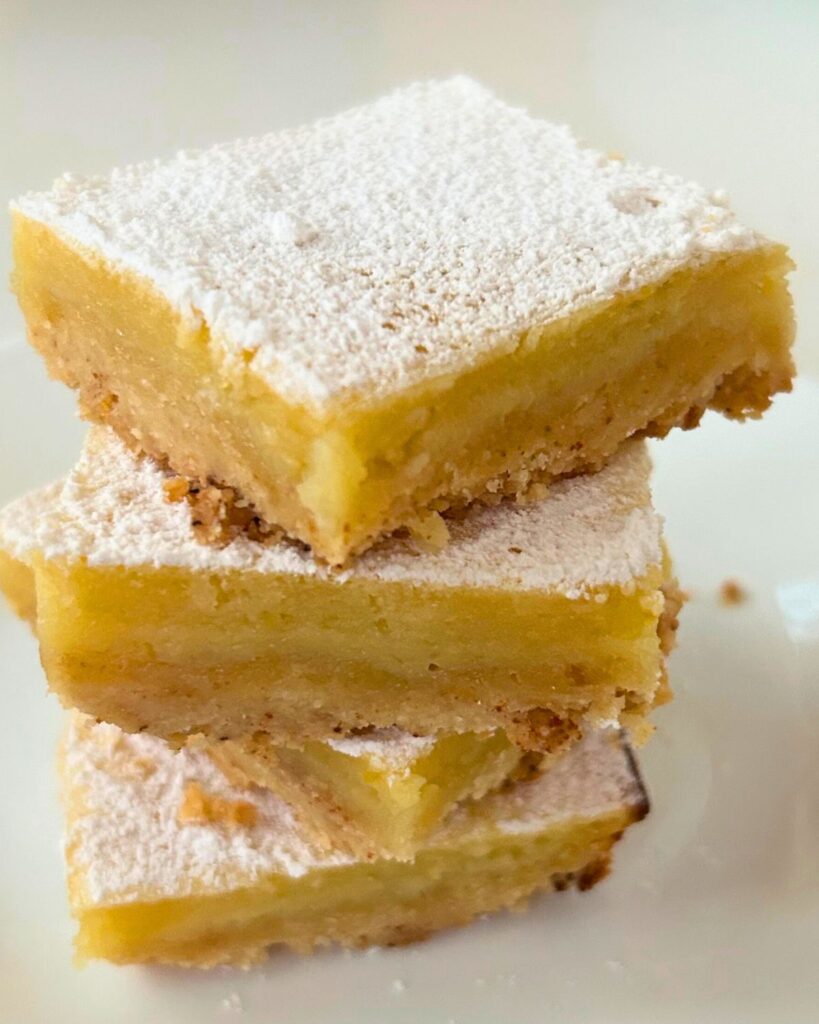 Why Make Lemon Bar with a Brown Butter Crust
Having too many fresh Meyer lemons on hand is a great reason to make lemon bars with them. I actually love a creamy lemon bar (egg-free and made with oatmeal!) but my son loves a traditional lemon bar with a plain shortbread crust. As a compromise, I made Meyer lemon bar
with a brown butter crust. We both loved it and I have to share this delicious lemon bar recipe so that we can make this recipe again.
Brown Butter is Easy to Make
Make brown butter by melting butter and cooking it until the milk in the butter turns into light brown solids. The brown butter will have a subtle nutty aroma with some caramel or toffee flavor.
Even though it's an extra step to make brown butter, the resulting brown butter shortbread doough is easy to spread in the pan. I love the subtle caramel and nutty flavors! The flavor and texture are so good that we might be missing in our nut-free meals and snacks.
Follow these general steps and tips to make some an awesome brown butter:
In a small sauce pan, add the butter and cook on medium-low heat.
It takes about 3-4 minutes to melt the butter and soon you will hear some popping, sizzling noises. At that point you will want to use a heat-resistant spoon to stir the butter, which will become foamy.
Soon the foam disappears becomes white solids which sink to the bottom and eventually will brown like toast.
Be vigilant and don't let the solids burn. Remove the brown butter from the heat as soon as the solids turn light brown and continue to brown.
Avoid burning the solids by promptly removing the brown butter from the heat at this stage.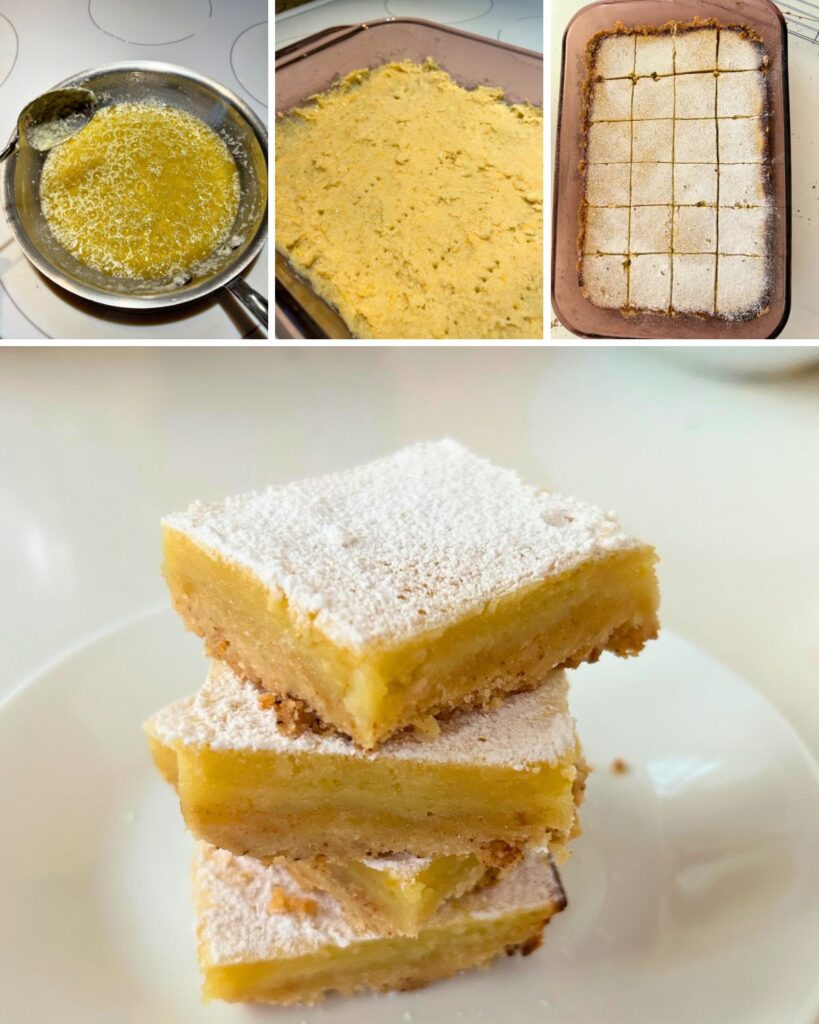 Additional Meyer Lemon Bar Preparation Tips
Butter the glass pan. Apply a thin layer of butter in the pan to help the Meyer lemon bar not stick to the pan. Use the butter wrapper to hold a small block of butter (~2 tablespoons) to grease a 9×13 glass baking pan. That is a handy, mess-free way to butter the pan! When done, I wrap the remaining butter with the paper and refrigerate for future use.
Zest efficiently. I recommend zesting your lemons over the dry ingredients to maximize getting more of the citrus oils into your recipe. I splurged on a new OXO zester recently. It is so easy to hold and my lemons glide right effortlessly to zest right over the bowl. However, if in doubt, be safe and zest onto a stable surface and then add the zest to the recipe.
Press the shortbread dough. Because we pour melted brown butter into the dry ingredients, the shortbread dough is soft, pliable, and easy to spread. Use a spatula to spread it out evenly with a little more of the dough around the edges. Press together any dough that looks cracked so your Meyer lemon bar will bake evenly. Use a metal spoon to press the dough into the sides of your pan to form a wall. Make the wall approximately 1/2 inch high to contain the lemon filling.
Rodelle Kitchen
A brown butter shortbread crust tastes great but adding vanilla extract boosts the sweet caramel flavor of the crust. I use Rodelle Kitchen's vanilla extract in my baking. "Rodelle does not utilize peanuts or tree-nuts on its production floor or in its products. Contact us for any other allergen questions!" You can buy their extracts in supermarkets and at warehouse stores (best value). I loved their products ever since the first time I tried making Vanilla Ice Cream in a Bag!
They also sell baking cocoa and cooking spices too which have allergen advisories for coconut, almond, and other allergens. I still have half a bag of their fantastic baking cocoa from before they changed manufacturing facilities. Some of my favorite recipes are Triple Chocolate Banana Bread, Nut Free and Classic Chocolate Wacky Cake, Allergen Friendly.
This recipe is free of peanuts, tree nuts, soy, fish, shellfish, and sesame as written.
The main allergens in these Meyer Lemon Bar are wheat, milk, and egg. It would be possible to make the recipe wheat-free by using a gluten-free flour.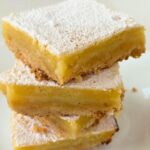 Meyer Lemon Bar with a Brown-Butter Crust Recipe (Nut-free)
This will be the best Meyer Lemon Bar recipe ever! Meyer lemons make great lemony desserts, what's exciting about this recipe is the brown butter crust, which has subtle caramel and nutty flavors but in a 100% nut-free recipe.
Ingredients
Shortbread Crust
3/4

cup

unsalted butter

plus more to butter the pan

2

cups

all purpose flour

1/4

cup

granulated sugar

1/2

teaspoon

salt

1

Meyer lemon

zest (reserve lemon juice)

1

teaspoon

vanilla extract
Lemon Filling
1

cup

granulated sugar

1/4

cup

all purpose flour

6

eggs

lightly beatened

1/2

teaspoon

baking powder

1

Meyer lemon

zest (reserve lemon juice)

1/2

cup

lemon juice

1

tablespoon

powdered sugar

optional
Instructions
Check that an oven rack is in the middle position and preheat oven to 350°F. Butter a 9×13 glass baking pan and set aside.

In a medium sized saucepan, melt 3/4 cups butter on medium heat (approximately 5 minutes). When the butter begins to foam, continuously stir until the melted butter looks clear and there are lightly browned solids in the butter (7-10 minutes). Immediately remove from heat and set aside to cool.

In a medium sized mixing bowl, combine 2 cups flour, 1/4 cup sugar, and salt with a spatula. Zest one lemon over the bowl, mix. Add the browned butter (including the browned bits) and vanilla extract and mix. Scrape the shortbread mixture into the buttered 9×13 pan and use spatula to spread the shortbread mixture to the edges of the dish. Set aside the mixing bowl to make the lemon filling.

Use a metal tablespoon to press shortbread dough up the edges of the sides of the pan to create a 1/2 inch wall. Use the tines of a fork to poke some holes in the base of the shortbread dough. When the oven is hot, place the baking dish on the middle rack for 15-17 minutes until the is shortbread crust slightly golden in color.

While the crust is baking, make the lemon filling in the shortbread crust mixing bowl. Add 1 cup sugar, 1/4 cup flour, baking powder, and mix. Zest the remaining lemon over the bowl, mix with a spatula. Add the eggs and mix. Juice the two lemons, add the juice to the filling mixture, and mix until smooth. Set aside.

When the shortbread crust is ready, take the crust out of the oven and pour the filling over the hot crust. Carefully return the pan to the oven. Bake for 25-30 minutes. The lemon bars are ready when the edges look golden brown and the filling is not runny.

Place the baking dish on a wired cooling rack and allow the dessert to cool to room temperature (2 hours). Wrap and refrigerate until ready to serve. Cut the dessert into 24 pieces in a 4×6 grid. Use a sifter to sprinkle some powdered sugar (optional). Refrigerate any leftovers in an airtight container.
Thanks for reading, please help Nut Free Wok!
If you like this recipe, please be sure to give a 5 star rating, leave a comment, and share this post! Your support means a lot to me.
Subscribe to Nut Free Wok's email subscription (be sure to respond to the confirmation email). You will be notified by email next time I publish another post or recipe and I won't send you spam or share your email address with anyone.
Disclosure/Disclaimer:
I may mention the names of stores and/or brand names of products that I use because readers ask and I share products and sources which I use and think may be helpful to readers, all opinions are my own. Please note that manufacturing practices and ingredients can change at anytime without notice and readers are always responsible for assuring allergen safety before buying or consuming foods. NutFreeWok.com is a participant in the Amazon Services LLC Associates Program, an affiliate advertising program designed to provide a means for sites to earn advertising fees by advertising and linking to Amazon.com. Thank you for reading!