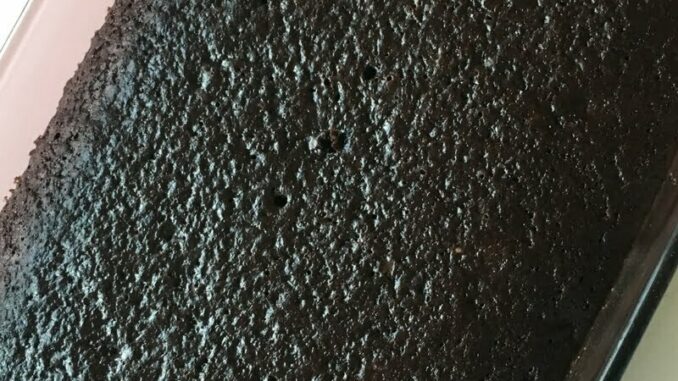 Chocolate wacky cake is one of the best dessert recipes to have in your recipe collection. It's nut free, egg free, and dairy free and super easy to make.
Because chocolate wacky cake is such a no-fuss recipe, it's my go to recipe when I need a dessert in a hurry. I have probably made hundreds of orange chiffon cakes in my youth. When I saw that I could mix wacky cake ingredients in a 9×9 baking dish and bake the batter in the same dish, I love the simplicity of making a chocolate cake that tastes delicious.
Update (2/2/2023): This post has been updated with minor edits. Also please note that since I originally shared this recipe, Rodelle's cocoa products now have the following allergen advisory: Produced in a facility that processes milk, wheat, soy, eggs, sesame, almonds and coconut. Contact us for allergen questions.
Disclosure: I'm a Rodelle brand ambassador and every so often I will share how I use Rodelle products in my recipes, all opinons are mine. This post may have affiliate links.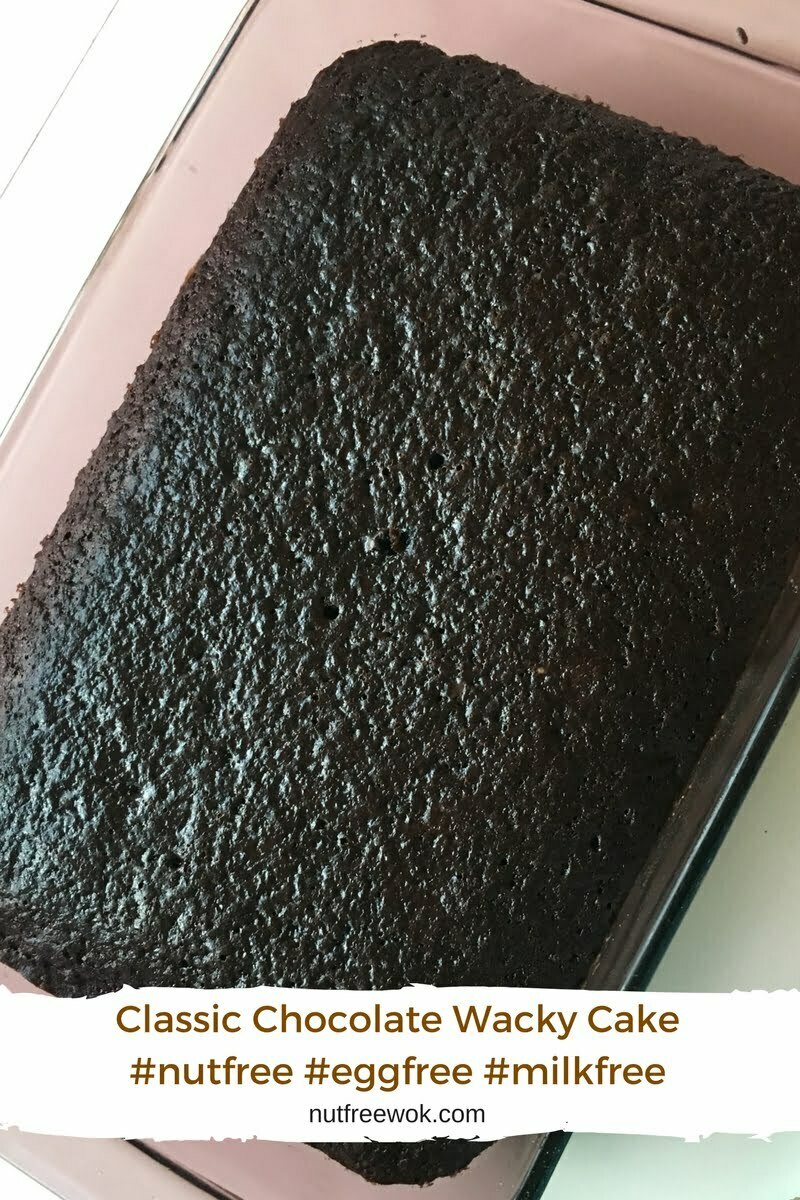 Nut Free, Egg Free, Dairy Free Chocolate Wacky Cake
I learned that chocolate wacky cake was invented during the depression era (1930s) and uses the most basic baking ingredients. At the same time, chocolate wacky cake happens to be nut free, milk free, and egg free. My son who is allergic to eggs doesn't like chocolate so I make a lemon cake which we all love as an alternative flavor.
I have baked a lot of nut free and egg free desserts and birthday cakes for my kids over the years. And because some of their friends are also allergic to milk, wacky cakes are a perfect base recipe that friends can enjoy together and I put in some effort into transforming a simple wacky cake into something special, such as decorated cupcakes or adding some chocolate chips on the cake as it comes out of the oven or sprinkling powdered sugar when the cake completely cools. I use chocolate wacky cake as a base for an aquafaba meringue covered ice cream cake, Baked Alaska. My kids think it's amazing that I put an ice cream cake in an oven under the broiler, lol.
Why is Rodelle Gourmet Baking Cocoa So Chocolatey?
There was one time I ran out of Rodelle Gourmet Baking Cocoa (affiliate link) and had to use a baking cocoa product that I used before I became a Rodelle brand ambassador. I was shocked to notice that the other baking cocoa looked pale in comparison and the chocolate flavor was negligible using the other brand.
I reached out to my contact at Rodelle to find out why and she told me that "Rodelle Gourmet Baking Cocoa has a lot richer flavor due to the higher percentage of cocoa fat that we add to the cocoa powder. Most cocoa powder on the market has 10-12% cocoa fat while ours has 16-18%. The Dutch-processing, or processing with alkali, also helps with the rich, dark color." I think you'll notice the difference and love the taste too.
I also used Rodelle Chocolate Extract to give the recipe an extra chocolatey flavor boost. If you prefer, you can substitute it with 2 teaspoons of Rodelle Vanilla Extract or 2 teaspoons of Rodelle Chocolate Extract instead. I usually buy Rodelle products when I find them at Costco and if they're not available at yoru local store, you can check on Amazon.
Rodelle does not use any peanuts or tree nuts in their vanilla and extract products, however, as I noted above, their cocoa products now have an allergen advisory for almonds, coconut, and other allergens. If you have other allergen concerns be sure to reach out to their customer service department.
Nut-free alternative cocoa options: I haven't tested this recipe with other brands but I would start with Gerbs Dutch Cocoa (affiliate). I also see that Guittard and King Arthur also make Dutch processed cocoa but I don't know if they are nut-free at this time.
This recipe is free of peanuts, tree nuts, eggs, milk, soy, fish, shellfish, and sesame as written.
This recipe is a great cake base for my latest favorite recipe: Allergy Friendly Aquafaba Baked Alaska, which is also egg-free and nut-free!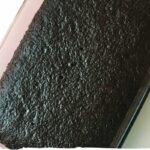 Classic Chocolate Wacky Cake
This chocolate wacky cake, also known as crazy cake, is an easy recipe to make and is nut free, egg free, and milk free.
Ingredients
1 ½

cup

all purpose flour

1

cup

organic sugar

4

tablespoons

Rodelle Gourmet Baking Cocoa

1

teaspoon

baking soda

½

teaspoon

salt

6

tablespoons

oil

I use extra virgin olive oil

1

teaspoon

Rodelle Vanilla Extract

1

teaspoon

Rodelle Chocolate Extract

1

tablespoon

apple cider vinegar

1

cup

water

Frosting options: allergy safe chocolate chips or powdered sugar
Instructions
Preheat oven 350 °F

If baking in a rectangular pan, mix the ingredients in a mixing bowl. If baking in a square pan (8×8 or 9×9), you can mix the ingredients in the pan if desired.

Combine flour, sugar, cocoa, baking soda, and salt with a fork or a whisk until evenly mixed, make 3 wells.

Pour the oil into one well, the extracts into one well, and pour the apple cider vinegar in last.

Pour water over the entire container and stir until well mixed.

Transfer the batter into a baking dish (if you didn't mix it in a square pan) and bake in the middle rack of a preheated oven.

The cake is ready when a toothpick poked into the center of the cake comes out clean: 18-20 minutes in a 9×13 pan or 30-40 minutes in a square pan.

Cool for 30 minutes to serve as is OR sprinkle chocolate chips on the cake when it comes out of the oven OR cool completely and sprinkle with powdered sugar.
Recipe Notes
If you are baking in a square pan, you could mix the cake batter in the baking pan or in a bowl and then bake for about 30 minutes. If you are baking in a rectangular 9×13 pan, mix the batter in a bowl and then transfer the batter to a 9×13 baking pan and bake for 18-20 minutes. 
Other Nut Free Cake Recipes You Might Like:
Thanks for reading, please help Nut Free Wok!
If you like this recipe, please be sure to give a 5 star rating, leave a comment, and share this post! Your support means a lot to me.
Subscribe to Nut Free Wok's email subscription (be sure to respond to the confirmation email). You will be notified by email next time I publish another post or recipe and I won't send you spam or share your email address with anyone.
Disclosure/Disclaimer:
I may mention the names of stores and/or brand names of products that I use because readers ask and I share products and sources which I use and think may be helpful to readers, all opinions are my own. Please note that manufacturing practices and ingredients can change at anytime without notice and readers are always responsible for assuring allergen safety before buying or consuming foods. NutFreeWok.com is a participant in the Amazon Services LLC Associates Program, an affiliate advertising program designed to provide a means for sites to earn advertising fees by advertising and linking to Amazon.com. Thank you for reading!