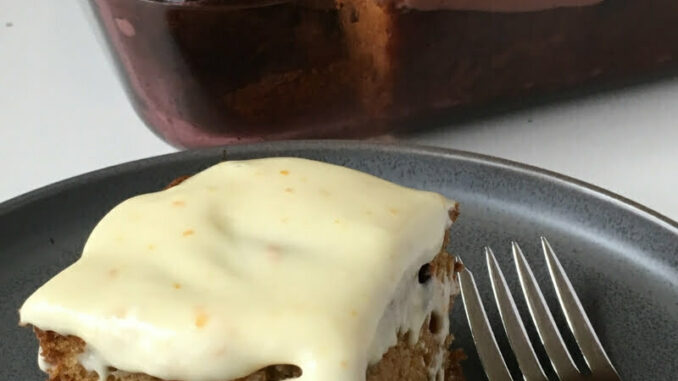 This carrot cake with an orange cream cheese frosting tastes incredible and is irresistible. It's nut-free and easy to make milk- and/or egg-free as needed. It's so incredibly good that I find it irresistible (I might or might not enjoyed a few extra pieces yesterday, ahem, not saying…).
2/2/2023 This post has been updated with minor edits, Rodelle product changes, and new spice recommendations.
Disclaimer: I am a brand ambassador for Rodelle and receive products to use and review. Please check that all ingredients are suitable for your allergies and be sure to ask your medical care team regarding any allergy related questions (I do not share medical advice). As an Amazon Associate I earn from qualifying purchases.
My friend Y (using just her first initial for her privacy) made carrot cake for a get together many years ago and it was so good that our friends all asked her to share her recipe. My husband who does not have a sweet tooth and has excellent self-restraint only asks for me to make carrot cake for dessert.
Serve Nut-Free Carrot Cake with Allergy Mom Reminders
If you are serving this to little ones with a nut allergy, let them know that not all carrot cakes are nut free. It's taken this allergy mom a long time to make carrot cake because I didn't want my kids to love nut-free carrot cake and then associate carrot cake as a safe dessert without teaching them to be wary.
Carrot cake typically contains pecans or walnuts so for years, so if we see carrot cake, I would point out its typical appearance so they could recognize it and know that they should not eat it because it may have hidden nuts.
On the other hand, if you are serving this nut-free carrot cake to big kids or adults with a nut allergy, let them know that you didn't add nuts to the carrot cake and they can decide whether they would like to enjoy a piece.
Baking tips: More Carrots, More Orange, More Fluffy
I used Y's recipe and used a carrot cake recipe from my beloved copy of Williams-Sonoma Kids Baking (affiliate) for inspiration. I used more carrots, reduced the amount of sugar, added more spices to boost the flavor, and added raisins for natural sweetness.
Y's recipe calls for 2 tablespoons of orange juice, I decided to add some orange zest for more flavor. I also added some orange juice and orange zest to the cream cheese frosting. The little specks of orange zest are so pretty and the frosting is light with a sweet tang to it. My orange cream cheese frosting recipe makes just enough for a thin layer of frosting.
Do you peel your carrots? I learned that about 50% of the phytonutrients are in the skin layer so I don't peel my carrots. But I'm also concerned about pesticides and dirt so I buy organic carrots and scrub them with a brush under running water.
If you peel carrots, you might need more than 4 carrots to yield 1.5 cups of grated carrots (packed). Grater safety tip: I trim just the tip but not the carrot top so that I have more carrot to hold while grating.
I recently watched my son make banana bread and noticed that he packs the flour into the measuring cup which is why his banana bread turns out a little drier than mine. I should mention that before I measure flour, I fluff up my flour by scooping and stirring the flour around before I scoop and level off with a knife or chopstick.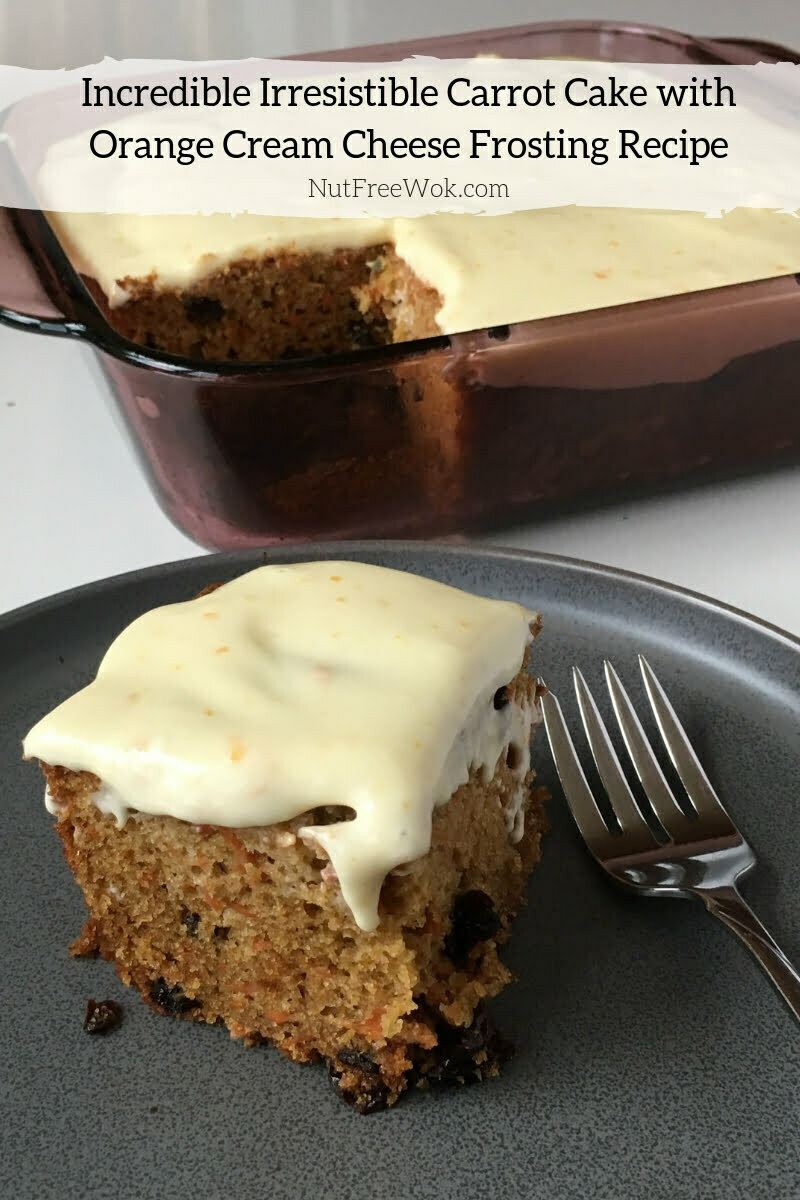 Rodelle's Spices & Some of My Favorite 2018 Recipes
Update (2/3/2023): Since this post was originally shared in 2018, Rodelle has discontinued some of their spice products, including the ground ginger and cinnamon previously mentioned. I found out last year that their cooking spices and baking cocoa have allergen advisories for milk, wheat, soy, eggs, sesame, almonds and coconut. However, Rodelle's vanilla extracts and other baking extracts are still made in a nut-free facility.
I love being a Rodelle Brand Ambassador and having the opportunity to try their products. Since Rodelle no longer carries cinnamon or ginger, I use buy my spices from McCormick's and/or Spicely.
Have you tried any Rodelle products yet? Their vanilla and extract products are made in a facility free of peanuts and tree nuts. I also love that they have great customer service to help us with our allergen questions. I shared a fun recipe to make vanilla ice cream in a bag. It's a bit chilly to do this now but if you have energetic kids cooped up during snow days or winter break, it might be something fun to do.
I usually buy 40-50 bananas as snack for my son's high school sports teams. But this year I had a little more free time this year to bake treats for the kids. One time I made Triple Chocolate Banana Bread and it was a huge hit. Sometimes my son comes home with extra bananas as a subtle request to make more banana bread for the team, which is sweet and cute for teenagers. I love the coaches and the team, so I'm happy to make banana bread.
I apparently love desserts and also shared a bubble egg waffle recipe earlier this year that uses Rodelle's Vanilla products. Did you buy a bubble egg waffle maker? If you did, let me know in the comments because I have a fabulous savory recipe to share, but only if you are ready for a new recipe.
I love that Rodelle spices smell so fresh and sweet. I use ground ginger whenever I make Egg Drop Soup in my Instant Pot and it's funny how I always take a moment to enjoy the ginger.
Are you interested in trying Rodelle's products? Visit their website and leave a comment below which products you would like to try and I will pick from your top choices to put together a gift pack for a future giveaway (possibly in February or March).
This recipe is free of peanuts, tree nuts, soy, fish, shellfish, and sesame as written.
If you have a milk allergy, substitute with dairy free versions of cream cheese and butter.
If you have an egg allergy, I recommend whisking 2 teaspoons baking powder, 3 tablespoons oil, and 3 tablespoons water to substitute for 2 eggs (be sure to test your baking powder by adding a small amount of baking powder to water to see that it's fizzy first). The other egg substitute you can try is Ener-g Egg Replacer (affiliate) and it works great if you whisk the powder with warm water until it's frothy like egg whites.
If you make this recipe and love it, will you please come back and leave a comment and/or share the recipe with your friends and family? Thank you!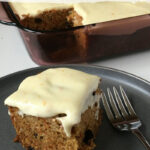 Incredible Irresistible Carrot Cake with Orange Cream Cheese Frosting Recipe
This carrot cake with an orange cream cheese frosting tastes incredible and is irresistible. It's nut free and easy to make milk and egg free as needed.
allow time for cake to cool
1
hour
Total Time
1
hour
5
minutes
Ingredients
4

oz

carrots

4-5 medium, organic if possible

1 ½

cup

all purpose flour

2

teaspoon

baking powder

1 ½

teaspoon

Rodelle ground cinnamon

1 ½

teaspoon

Rodelle ground ginger

1

teaspoon

baking soda

¼

teaspoon

nutmeg

¼

teaspoon

salt

2

medium oranges

divided (used for zest and juice)

2

large eggs

¾

cup

dark brown sugar

firmly packed

½

cup

extra virgin olive oil

1

teaspoon

Rodelle vanilla extract

½

cup

raisins
Orange Cream Cheese Frosting Ingredients
4

ounces

cream cheese

2

tablespoons

butter

or non-dairy equivalent

½

cup

powdered sugar

2

tablespoons

orange juice

Orange zest
Instructions
Preheat oven to 350°F and spray a 9×9 glass baking dish with non-stick cooking spray.

Scrub carrots and grate the carrots, you will need 1.5 cups grated carrots (packed) and set aside.

Add flour, baking powder, cinnamon, ginger, baking soda, salt, and nutmeg to a medium sized bowl.

Wash and dry one orange and zest it over the flour bowl, whisk the ingredients together, and set aside.

Juice the orange, set aside.

Beat 2 eggs in a large mixing bowl, add brown sugar, olive oil, 2 tablespoons of orange juice, and vanilla extract and whisk together until well combined (it should look creamy and lighter in color).

Add flour mixture to the egg mixture and stir to combine 50%.

Add grated carrots and raisins and stir until combined.

Pour the batter into the prepared baking dish and smooth the top so that the cake is level.

Bake for 30-35 minutes on the center rack, the cake is ready when a toothpick inserted into the center comes out clean.

Cool completely before frosting.
Orange Cream Cheese Frosting instructions:
Place cream cheese and butter into a mixing bowl and use an electric mixer to cream them together for 1 minute.

Stop the mixer, scrape down the sides of the bowl with a spatula, add powdered sugar, cream together for 1-2 minutes.

Stop the mixer, scrape down the sides of the bowl with a spatula again.

Wash, dry, and zest the second orange over the frosting mixture (reserve or eat the second orange).

Add 1 tablespoon of orange juice to the frosting mixture.

Cream the frosting for 1 minute until smooth. Spread the frosting over the cake and serve.
Recipe Notes
Allergy adaptations: use your favorite milk and egg substitutes as needed for milk-free and egg-free options. 
Calorie count: if you cut the cake into 9 pieces, the calorie count is approximately 435 calories. 
Other Nut Free Cake Recipes You Might Like:
Thanks for reading, please help Nut Free Wok!
If you like this recipe, please be sure to give a 5 star rating, leave a comment, and share this post! Your support means a lot to me.
Subscribe to Nut Free Wok's email subscription (be sure to respond to the confirmation email). You will be notified by email next time I publish another post or recipe and I won't send you spam or share your email address with anyone.
Disclosure/Disclaimer:
I may mention the names of stores and/or brand names of products that I use because readers ask and I share products and sources which I use and think may be helpful to readers, all opinions are my own. Please note that manufacturing practices and ingredients can change at anytime without notice and readers are always responsible for assuring allergen safety before buying or consuming foods. NutFreeWok.com is a participant in the Amazon Services LLC Associates Program, an affiliate advertising program designed to provide a means for sites to earn advertising fees by advertising and linking to Amazon.com. Thank you for reading!