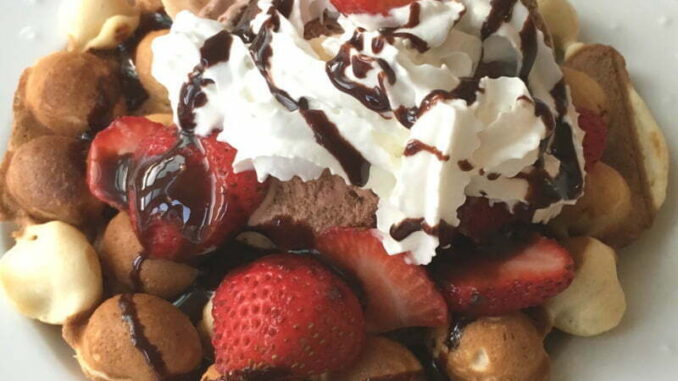 Enjoy a popular Hong Kong style dessert at home with my easy bubble egg waffle sundae dessert recipe which I've adapted using simple ingredients and an electric bubble egg waffle maker.
Disclaimer: I am a brand ambassador for Rodelle and receive products to use and review. Please check that all ingredients are suitable for your allergies and be sure to ask your medical care team regarding any allergy related questions (I do not share medical advice). As an Amazon Associate I earn from qualifying purchases.
2/3/2023 This post was updated with minor edits.
What are Bubble Waffles?
Bubble egg waffles are a popular treat in Hong Kong and it's a waffle with puffy egg shaped puffy bubbles connected together like bubble wrap. Some times they are called bubble waffle or egg waffle. Our family loves bubble egg waffle with ice cream, chopped fruit, and toppings! However, they're also delicious to eat plain, one bubble at a time. I usually cook all the batter and we'll have some extra bubble waffles which are great to snack on or have as breakfast the next day.
We go to a Hong Kong style dessert shop* that is not nut-free but is friendly to food allergic customers. I feel comfortable about proceeding cautiously since they have a request for food allergy notifications. Not everyone has access to a Hong Kong style dessert shop, I thought it would be great to share this delicious treat with you, because I think you will LOVE it!
*Unfortunately since I first published this post, that dessert shop closed and we haven't found another dessert shop we feel comfortable with taking my sons.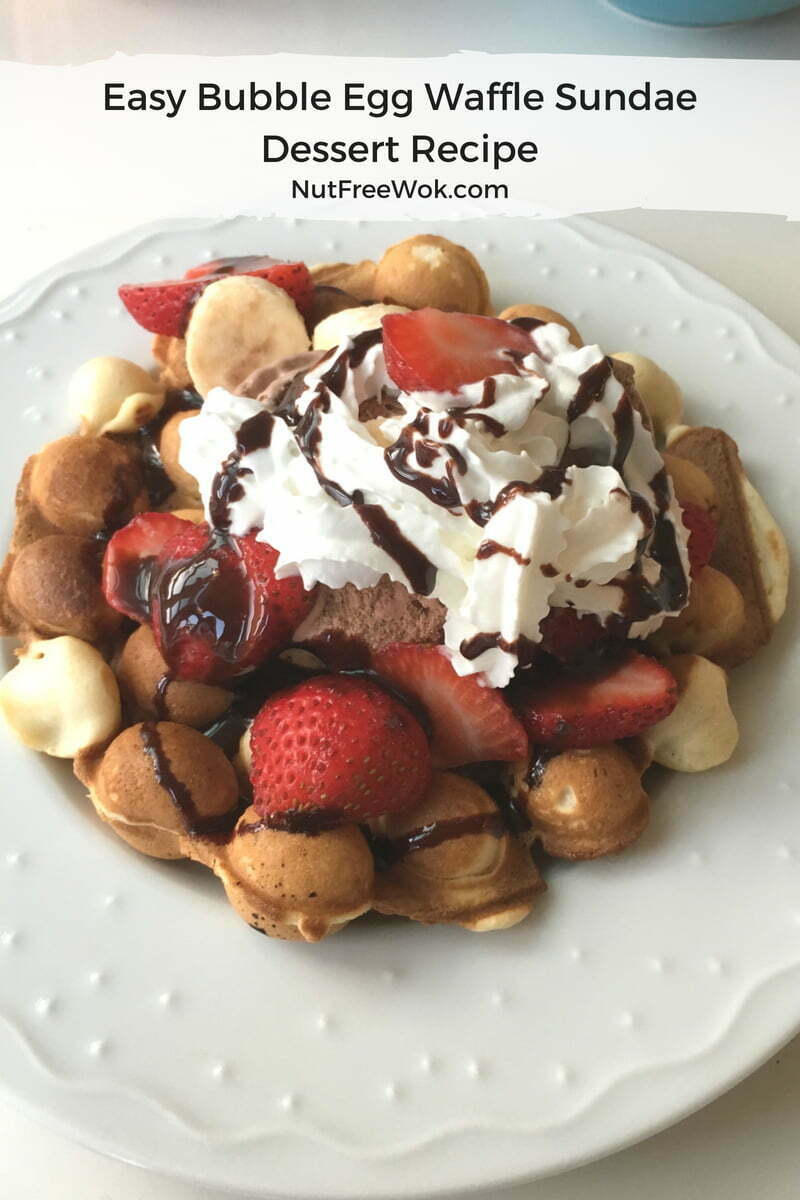 Comparing Bubble Egg Waffle Makers
I wanted a bubble egg waffle maker that is compact sized, affordable, and easy to use and clean. Since I have an electric stove with a glass cooktop, I decided not to use any stove top bubble egg waffle makers to avoid scratching or damaging my glass cooktop. I narrowed down my options to two electric bubble egg waffle makers, one made by Cucina Pro and one made by Star Blue.
Cucina Pro Bubble Egg Waffle Maker Review
The Cucina Pro bubble egg waffle maker (affiliate link) has bubble eggs molds all the way out to the edges and makes approximately 37 bubble eggs. However if I fill the all the bubbles, the batter oozes out and runs into a groove where the metal plate meets the cover, which makes clean up a huge chore. I recommend making a smaller bubble egg waffle by not filling the outer bubbles.
The Cucina Pro maker produces tasty waffles with crispy edges and the manual contains detailed instructions on how to use it and tasty looking recipes. I like this maker except the machine I received had a crack so I returned it and ordered a different brand.
Star Blue Bubble Egg Waffle Maker Review
The Star Blue bubble egg waffle maker (affiliate link) has a very clever hexagon shaped rim around the bubble eggs, so that any overflow will be contained. As a result, the machine makes smaller waffles with about 30 bubble eggs but is less likely to lead to a giant mess.
Unfortunately all of the Star Blue waffles were too brown, almost burnt so I returned the Star Blue maker too. Star Blue contacted me to let me know that the one I received was probably defective and they sent a free replacement. A second one arrived on my doorstep shortly and it makes golden brown mess-free bubble egg waffles. Kudos to Star Blue for their excellent customer service.
My Recommendation
Both bubble waffle makers require flipping the maker over to cook both sides of the waffle, which could potentially become messy, so the key is to not overfill the maker. I really do like the Cucina Pro however all things being equal, I would recommend the Star Blue Bubble Egg Maker simply because of the company's customer service.
Easy Bubble Egg Waffle Batter
I tried a variety of different bubble egg waffle recipes from the Cucina Pro manual and some online recipes which use ingredients such as Bird's Custard powder, tapioca starch, butter, evaporated milk, an egg meringue, etc.. The bubble egg waffle results were good but not great and the recipes were not easy enough.
Bird's custard powder is a nut-free egg-free custard mix. It's mainly cornstarch, sugar, and annato, which is a natural food coloring. I don't think it's essential to the recipe and doesn't add anything to the taste but an excellent option for making egg-free bubble waffles.
Some recipes use a teaspoon of tapioca starch. Unless you already have tapioca starch, it's not worth the effort to source and buy a package of tapioca starch since cornstarch can do the same thing. However if someone is allergic to cornstarch, tapioca starch is a great 1:1 substitute.
Butter is lovely but requires melting and an extra bowl to wash. It's much easier to use olive oil (that's what I have).
Some recipes call for 2 tablespoons of evaporated milk and water or 5 oz of evaporated milk. I don't like keeping canned evaporated milk around because of their short shelf-life and it's wasteful not to use the whole can. I opted to use fresh milk, which I have onhand.
I tried another recipe which calls 6 egg whites for making an egg meringue, which is extra work and takes more time. I didn't notice any benefit except that it does make 50% more waffles than other recipes with comparable ingredient amounts.
I also recommend making the batter and then making the waffles right away rather than allowing the batter to rest as some recipes recommend. The resulting bubble egg waffles have a good bite to them without being chewy and holds up well under the ice cream and fruit.
My recipe will not disappoint because it's easy and tasty. I like to use organic sugar because I think it taste sweeter so I can use a little bit less. I also use and recommend Rodelle Vanilla Extract (affiliate link). They're simple ingredients which add a lot of taste.
Allergy Aware Bubble Egg Waffle
It's also easy to adapt this recipe to be dairy-free, use oil instead of butter in the batter and to brush the nonstick surface and use dairy-free milk, ice cream, and whipped cream.
For nut-free ice cream, I buy Straus ice cream or I make my own homemade vanilla ice cream or no churn strawberry ice cream. If peaches are in season, you can make some peach ice cream and then top the waffle with more fresh peaches.
I haven't tried an egg-free version of this recipe since one of my son needs to eat eggs every day as part of his food allergy treatment. If you need an egg-free recipe, try the ones using Bird's Custard Powder.
And if you can't eat strawberries or bananas, select from the fruits that you can eat and make it your way.
Serve Bubble Egg Waffle Sundaes DIY Buffet Style
Because I am busy making the waffles, I set up the fruit, ice cream, and other toppings buffet style and have everyone assemble it their way. Make the bubble egg waffles one at a time, put them on a plate, and have guests help themselves to ice cream, chopped fruit, whipped cream, toppings, and chocolate sauce so that everyone can customize their sundae dessert according to their preference.
The amount of time it takes for me to make one waffle coincides nicely with the time it takes for someone to assemble their bubble egg waffle sundae. My older son loves this dessert so much, he asked me to make bubble egg waffles for his birthday party and the kids enjoyed it.
This recipe is free of peanuts, tree nuts, shellfish, fish, and soy as written and easy to make dairy free.
Enjoy this recipe, have fun, and be sure to tag me in your photos so I can see your creative bubble egg waffle sundaes!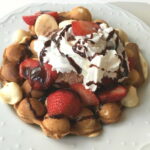 Easy Bubble Egg Waffle Sundae Dessert Recipe
Enjoy a popular Hong Kong style dessert at home with my easy bubble egg waffle sundae dessert recipe which I've adapted using simple ingredients and an electric bubble egg waffle maker.

Ingredients
1

cup

all purpose flour

½

cup

sugar (granulated)

2

tablespoons

cornstarch

1

teaspoon

baking powder

¾

cup

non-fat milk*

2

eggs

large

2

tablespoons

olive oil

1

teaspoon

Rodelle vanilla extract

1

teaspoon

Olive oil

or neutral oil, butter for brushing

1

pint

ice cream

2

bananas

sliced

1

pound

fresh strawberries

sliced

whipped cream

optional

chocolate sauce

optional
Instructions
Plug in the bubble egg waffle maker and preheat for 5 minutes

Combine flour, sugar, cornstarch, and baking powder in a medium mixing bowl with a whisk.

Add milk, eggs, olive oil, and vanilla extra, whisk until the wet and dry ingredients are combined and the batter doesn't have any large lumps.

When the batter is ready and the egg waffle maker light is green, I quickly rub a stick of butter on both sides of the hot bubble egg waffle mold or use a silicone brush to brush on olive oil.

Work quickly to pour approximately ¼ cup of batter to the center of the egg waffle maker and use a heat proof spatula to even out the batter and so that the outer "bubbles" are at least partially filled (add 1-2 tablespoons more batter if needed).

Lower the top lid of the waffle maker, grab both handles and flip the waffle maker over to coat the other side, and set a timer for 2 minutes. The waffles are ready when the top lid puffs up a tiny bit and you can see from the side that the waffles are golden brown.

Remove the waffle from the egg waffle maker. (I find it easier to loosen it from the top lid onto the plate rather than lift it up from the bottom lid)

Serve with ice cream and toppings, repeat with the remaining batter.
Recipe Notes
*If you don't have non-fat milk, you can use low-fat, whole milk, or other non-dairy milk, except don't use buttermilk 😉
Milk allergy: you can adapt this recipe by using olive oil instead of butter and dairy free milk instead of cow's milk. 
Actual calories may vary depending on the serving size and types of ice cream, fruit, and topping you use. One plain waffle is 328 calories.
Thanks for reading, please help Nut Free Wok!
The best way to see every post or recipe is to subscribe to Nut Free Wok's email subscription (be sure to respond to the confirmation email). You will be notified by email next time I publish another post or recipe and I won't send you spam or share your email address with anyone.
If you enjoyed this post, please use the social media buttons below to share with others. I am on Facebook, Twitter, Pinterest, and Instagram as @nutfreewok and it's great to chat and interact on social media too.
Disclosure/Disclaimer:
I may mention the names of stores and/or brand names of products that I use because readers ask and I share products and sources which I use and think may be helpful to readers, all opinions are my own. Please note that manufacturing practices and ingredients can change at anytime without notice and readers are always responsible for assuring allergen safety before buying or consuming foods. NutFreeWok.com is a participant in the Amazon Services LLC Associates Program, an affiliate advertising program designed to provide a means for sites to earn advertising fees by advertising and linking to Amazon.com. Thank you for reading!