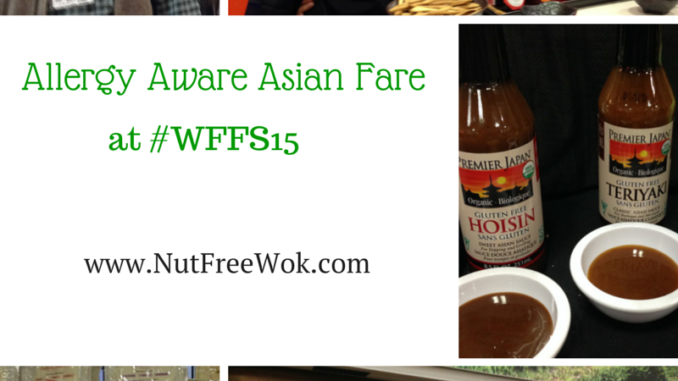 Part 4 of Allergy Friendly Products at the Winter Fancy Food Show 2015
More great allergy friendly food finds from the Winter Fancy Food Show 2015. As mentioned in my previous post,  readers are 100% responsible for their own safety before buying or consuming any foods. My intention is to highlight products which are peanut and tree nut free but there might be details that slip past me, ingredients and manufacturing practices change without notice, and I have no control over the websites linked. Allergies to the top 8 allergens, peanut, tree nuts, egg, dairy, soy, wheat, shellfish, and fish account for 90% of all allergic reactions but people can be allergic to any food, including ingredients in foods that are considered allergy friendly. Since everyone has allergies to different foods and has different levels of severity, I cannot predict whether any or all of the following food finds would be appropriate for readers. Use this resource as a guide to start your own research, I followed up with each manufacturer by phone or email (except where noted) and only included those which seem consumer friendly, responsive, or with some allergy aware wording on their website or packaging. Please take the time to visit the websites of the brands or products that interest you and consult with your medical care team if you have any questions.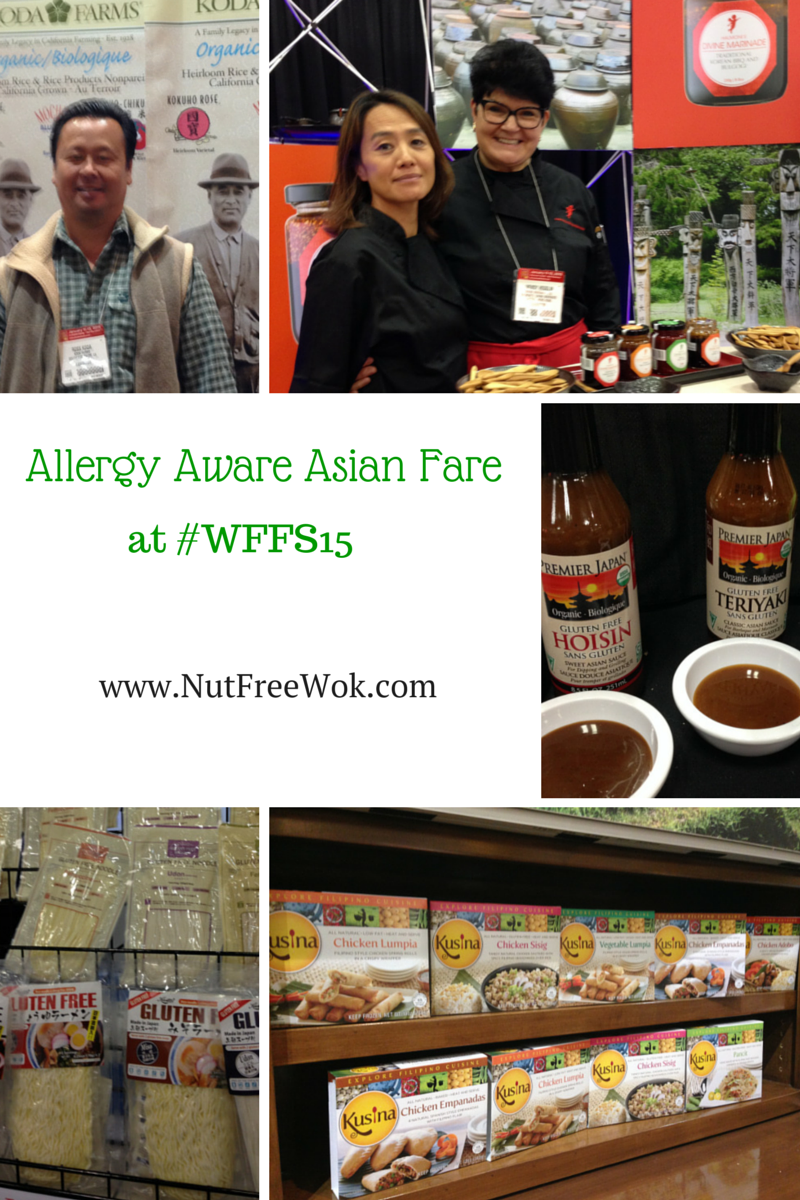 Allergy Aware Asian Fare at WFFS15
Kusina – I love Filipino foods but don't know how to make them or even how to order food safely in a Filipino restaurant. Get ready to be excited, Kusina makes Filipino frozen entrees and appetizers such as lumpia and empanada and the samples at the show were so good! Their manufacturing facility is peanut and tree nut free, so there is no chance of cross contact. Breaking news is that their gluten free products, Chicken Adobo, Chicken Sisig, and Vegetable Pancit, recently received gluten free certification. Do I want to receive samples to try? Yes, please! And I will let you know how my family likes it, I can't even remember if my kids have ever had Filipino food.
Divine Marinade – is a new Hong Kong based start up company that makes Korean marinades (with soy and sesame ingredients). As they are starting up, they are renting facilities but bring their own dedicated equipment. None of their products contain peanuts or tree nuts and they might eventually produce a gluten free version of their marinade. Since their products are not available in the US yet but just in City Super stores in Hong Kong, I hope they will be successful. This is one Asian sauce company that cares about the food allergy community based upon the questions they asked me. They were generous and gave me some of their sauces to try and I will let you know what I think.
Koda Farms – top 8 allergen free, GMO free, gluten free rice and rice products. They have the best allergen statement on their website. When I met the owner, I had no questions, just told him I'm a fan and was very impressed that he looks just like his grandfather. 🙂 I regularly buy their 1 pound boxes of sweet rice flour to make Nian Gao and Better For You Butter Mochi.
Gluten Free Meister by Kobayashi Seimen – gluten free Japanese noodles such as ramen made from rice in an allergen free facility according to the representative I met at the show and their website (and Google Translate!). Via email: "Our gluten free noodles are free from peanuts, tree nuts, egg, dairy, soy, wheat, fish, and shellfish.
Also our plant is rice dedicated facility."
Edward & Sons – they sell many different products including some condiments such as hoisin sauce, teriyaki sauce and other ingredients used in Asian cuisine. I don't know how they taste but they are definitely allergy aware with a very thorough allergen chart on their website.
JFC – among the Asian food distributors that I talked with at the show, I think that JFC has a lot of potential options because their products are widely distributed supermarkets and Asian grocery stores. They don't have allergen information available online, but one can call or email them for more information. Look for brands such as JFC, Wel Pac, Dynasty, Hime and Hapi.
Miracle Noodles – Miracle Noodles are free of the top 8 allergens, have zero net carbohydrates, zero calories! The noodles are made of the dietary fiber from the konjac plant and they are packaged with water in a plastic pouch. They remind me of the Japanese potato starch noodles found in sukiyaki, a Japanese type of soup or stew.
Part 5 of Allergy Friendly Products at the Winter Fancy Food Show 2015 click here—> Good Eats, with Caveats WFFS15
Disclosure of Material Connection: I received one or more of the products or services mentioned above for free in the hope that I would mention it on my blog. Regardless, I only recommend products or services I would use personally and believe will be good for my readers. I am disclosing this in accordance with the Federal Trade Commission's 16 CFR, Part 255: "Guides Concerning the Use of Endorsements and Testimonials in Advertising."
Love this post and want more?