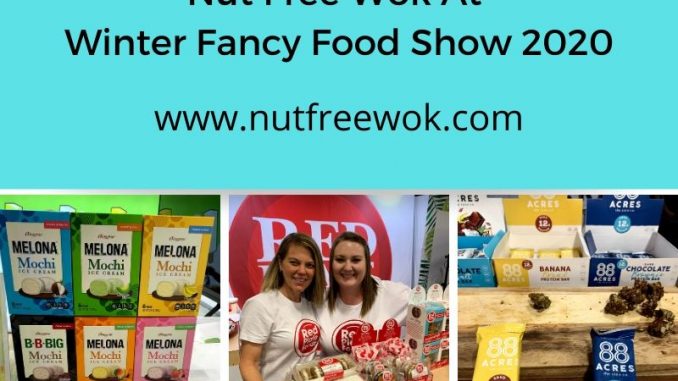 Attending the Winter Fancy Food Show is like a food allergy mom scavenger hunt for me. I tasted some really great nut-free foods, my favorite of the show was Red Plate Foods. WFFS usually takes me three full days to see everything in San Francisco because there are thousands of exhibitors. There's so much to taste and so many people to talk with and catch up. However due to the timing in early 2020, I zipped thru the show as fast as possible, washed my hands frequently, sampled minimially, and noted the highlights. I'm glad I went to the Winter Fancy Food Show as it turned out to be the last year they would come to San Francisco.
I also did not follow up by email or phone as much as I typically would to confirm our conversations and some companies did not reply with the exception of Honey Stinger & Zego Foods. If there are any new brands that you want to try, please be sure to contact them directly to verify whether their products are safe for you or not and proceed with caution.
This post was updated on 8/18/2023. As of January 1, 2023, sesame has been added as a top 9 allergen and you will need to double check for sesame if that's an allergen for you. 
Disclaimer: Please check that all ingredients are suitable for your allergies and be sure to ask your medical care team regarding any allergy related questions (I do not share medical advice). As an Amazon Associate I earn from qualifying purchases.
Updates from Our Favorite Nut-Free Brands
These are some of my favorite brands over the years that I have met at WFFS and other events over the years. There are many others too numerous to mention but I did talk with the ones listed below to find out what's new with them.
ZEGO – has top 9+ allergen free delicious oats, muesili, and protein powders. You can also trust their ingredient labels as ZEGO is committed to transparency during the pandemic and beyond.
88 Acres – I sampled almost everything, my favorites are their pumpkin butter, watermelon seed butter, and chocolate brownie protein bar. I love that they embrace not wasting food and repurpose the sides and ends of their bars to make their granola. Read more about 88 Acres from 2019.
That's It – they have new prebiotic and probiotic bars and new mini fruit bars (fun sized), top 9+ allergen free. I love their products, especially their chocolate covered fruit bites (which might have allergen advisories). Read more about That's It from 2016
Laiki – has new flavors (black pepper and cheese) and available at Costco in bulk! Read more about Laiki from 2015.
Marukome – they make miso soup kits and other products (affiliate) in a soy only facility (maybe fish too, I forgot to ask). They showed me a Japanese health drink called amasake, it's a fermented sweet rice (non- alcoholic, non-dairy) and I loved the sample. Read more about Marukome in 2016.
B-Green – I have shared about their top 8 allergen free noodles before but they have expanded their product line. My Chinese American friends and readers who grew up eating haw flakes (san ja beng) will be delighted to know that they have hawthorn snacks in different shapes. I was surprised to see how much my husband loved the samples I brought home. I bought them locally in a Chinese herbal shop (near the register for impulse buys!). (I've shared about them before but I think this is their first WFFS show)
Copper Cow – On the go Vietnamese pour over coffee, I love their sweetened condensed milk packet. I tried their new rose flavor pour over coffee and love it. Read more about Copper Cow from 2019.
Popcorner – they have a new line of veggie crisp snacks called Flourish, the chips are made with vegetables. People with pea or bean allergies need to check the ingredient labels. Read more about Popcorners from 2016.
Pitaya Foods – I love dragonfruit which is why I talked with folks from Pitaya Plus (previous business name) in 2016. I stopped by their booth and they have a lot of other tropical fruit products, including coconut. Please be aware in case you're managing a coconut allergy. 
Ozery – They will be making snacking rounds of their newest flavor, Blueberry.
New Nut-Free Food Finds
I love it when I find brands which are new to me and nut-free and/or allergy friendly. Columbus became even more allergy safe. Red Plate Foods tastes amazing. Melona bars are a staple at our house now.
Columbus Craft Meats – I met them during the first year I attended WFFS in 2015 and at the time they used to make mortadella with pistachios but in a separate room on dedicated equipment. They weren't a nut free brand but safe enough for us so I didn't share about them. This time was the first time I've seen them again and the mortadella no longer contains pistachio so they're are a nut free company and according to their FAQ, some of their products contain soy or milk.
Red Plate Foods – They make the most delicious desserts and granola that are free of the top 8 allergens, gluten free and vegan. I can't even taste that it's missing milk, butter, eggs, or flour. I love that the owner was inspired to bake top 8 free to keep her nephews/nieces safe and included. I'm fairly confident that their products will be as allergy safe as possible, but confirm that they are checking with their suppliers.
Honey Stinger – they used to mainly make honey chews which are nut free. They've added some new products, the waffles are nut free but contain traces of dairy (per label). Be aware that their protein bars and cracker bars are not nut free. Via email: "The Energy Chews are totally allergen free of peanuts and tree nuts. The Waffles and Gels do not share the facility with any peanut product or peanut containing products, but not a certified peanut free facility because peanut products are permitted in the facility cafeterias or office areas."
Hardbite Chips – these handcrafted style potato and vegetable chips taste amazing. According to their FAQ their chips are peanut and tree nut free, gluten free, and some products are dairy free. I love the variety of flavors and a fan of sea salt and vinegar (affiliate).
Nova Crisp – grain free casava chips that are nut free, gluten free, and vegan. They are air popped, delicious. I just ordered some Nova Crisp from Amazon (affiliate) to ship to my house since I can't find these in stores anyways. Possibly discontinued.
Melona – they make fruity ice cream bars and mochi. There's a chance of cross contact with coconut as there's one bar made with coconut and the other flavors are honeydew, banana, strawberry, and mango which do not contain coconut intentionally. The bars are our new favorite frozen treat, I haven't been able to find the frozen mochi in my local stores.
Callebaut – I'm sharing specifically only about Callebaut's Ruby Chocolate chips, their other products might or might be nut free (I didn't ask). I love ruby chocolate, it's a fruity flavored chocolate and Callebaut invented the process to make it a few years ago. I bought them originally from Trader Joe's but the package has an allergen advisory and the person who helped me said that only the ruby chocolate in the original 2.5 kg (~5 pounds) package are nut free and he shared their product specifications with me to confirm and a sample (yum). I have a big bag of ruby chocolate (affiliate) in my Amazon shopping cart and am tempted…
Cautiously Optimistic
These products are delicious and worth considering but I can't confirm regarding allergen cross-contact information without a phone call, an email response, or more information on their websites. Usually I would leave out companies that don't respond to emails but considering that we are experiencing so many disruptions in general, having more options to consider could be beneficial.
Turbana – light and crispy banana chips made in their own facility that handles only bananas. I have talked with them previously but don't have written confirmation via email or website. My family loves these.
Avocrazy – puff snacks made from avocado, website says gluten free, dairy free, and vegan (no mention of peanuts and tree nuts). Email sent, no response.
KC Nori makes Kim Nori snack nori packs (affiliate link), I just ordered the BBQ flavor because it's in stock and we are out of nori snacks. According to our conversation at the show they are organic, test for allergens and heavy metal, and they make their products in the US. They also make nori snacks for Annie Chun and Sprouts but I didn't receive confirmation by email.
Good Roots Lotus Chips – this is my new favorite find, lotus chips (also known as renkon chips) are light, crispy. The owner told me that her products are free of the top 8 allergens. I think it might be a very local product for now, she mentioned that I can find them at Suriki (a Japanese market in San Mateo).
Humphry Slocombe – famous for their delicious dairy-free ice cream flavors. They are not a nut free company but I was surprised to learn via conversation that their peanut containing ice cream is made on a separate line. Definitely worth looking into more if their products are available in your area.
Tin Pot Creamery – is a local ice cream shop and they are not a nut free ice cream company. But when I called them to ask, they were so gracious to let me know that they take precautions during manufacturing and will prepare my children's order with a clean scoop from a new container of ice cream in the back. Their blue jasmine ice cream is amazing.
Always Check, Double Check, Triple Check Any New Products
After years of going to the WFFS, there's one type of product that scares me: vegan cheese made from nut milks. I'm sure they are delicious, wonderful, and are good in many ways but it's not for this family with food allergies to peanuts and tree nuts.
Well, sure enough I ended up buying buying two containers of vegan cream cheese containing cashews by accident recently and I didn't notice until over a week later.
This is how it happened. I was uncomfortable inside a grocery store because other customers and staff weren't observing social distance and many were not wearing masks and I wanted to finish shopping and get out. There was only one kind of cream cheese on the top shelf and when someone helped me get it, I went to check out right away instead of checking the ingredients.
When I came home, my son helped me unload the bags and I missed my opportunity to double check. I did remember to check the label right before using it to make an omelet and realized my mistake.
Remember to check at the store, double check when you come home and unload your groceries, and triple check before serving. Be especially wary of new products, stay safe and healthy! <3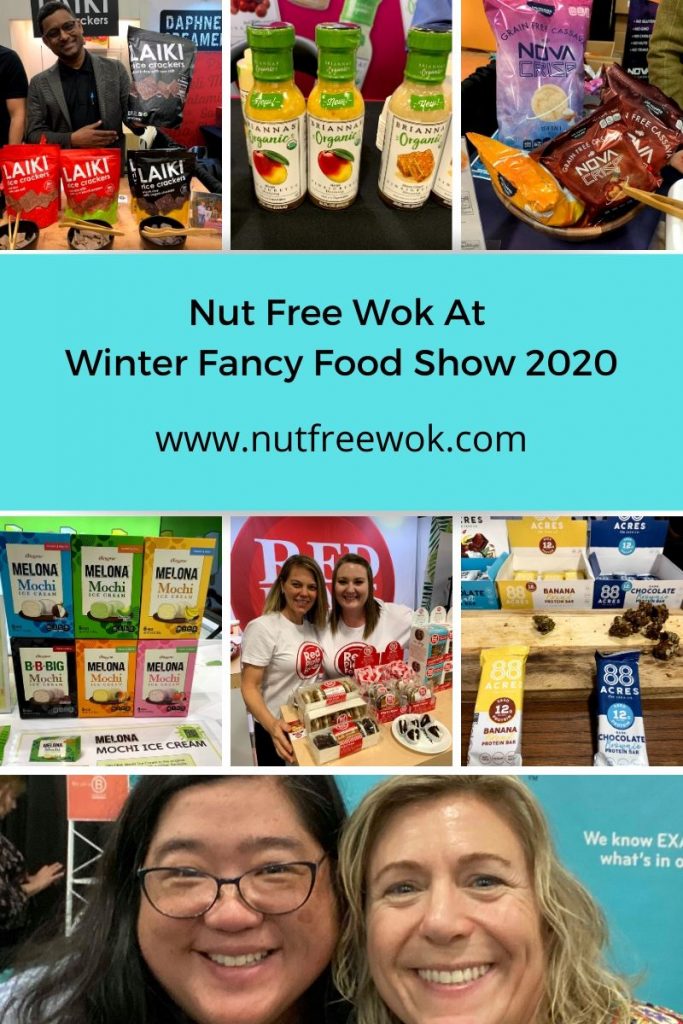 More Allergy Friendly Products at the Winter Fancy Food Show
Thanks for reading, please help Nut Free Wok!
The best way to see every post or recipe is to subscribe to Nut Free Wok's email subscription (be sure to respond to the confirmation email). You will be notified by email next time I publish another post or recipe and I won't send you spam or share your email address with anyone.
If you enjoyed this post, please use the social media buttons below to share with others. I am on Facebook, Twitter, Pinterest, and Instagram as @nutfreewok and it's great to chat and interact on social media too.
Disclosure/Disclaimer:
I may mention the names of stores and/or brand names of products that I use because readers ask and I share products and sources which I use and think may be helpful to readers, all opinions are my own. Please note that manufacturing practices and ingredients can change at anytime without notice and readers are always responsible for assuring allergen safety before buying or consuming foods. NutFreeWok.com is a participant in the Amazon Services LLC Associates Program, an affiliate advertising program designed to provide a means for sites to earn advertising fees by advertising and linking to Amazon.com. Thank you for reading!