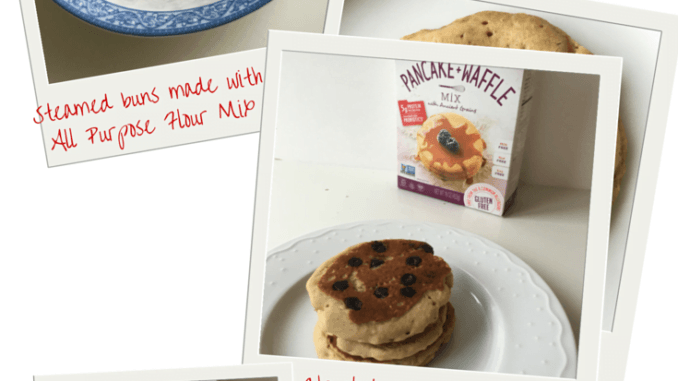 Enjoy Life Foods Baking Mixes Make Cooking Easier
Have you heard about Enjoy Life Foods Baking Mixes that are gluten free, top 8 allergen free, and include probiotics and plant based proteins yet? I wanted to tell you about Enjoy Life Foods' Pancake & Waffle Mix and the All-Purpose Flour Mix.
Disclosure: I received samples of Enjoy Life Foods' Baking Mixes to try. All opinions are my own and was not asked to write this review. I only share what I think might be useful for others to know. This post also may contain affiliate links which do not affect your price but will help me earn a small commission to support the cost of this blog.
Enjoy Life Foods: Pancake and Waffle Mix
I was happy to share with readers about Enjoy Life Foods baking mixes when I hosted a giveaway in February and received a box of their new Pancake and Waffle Mix along with other goodies. Aside from the fact that the packaging indicates that contents are free from the top 8 common allergens and gluten free, there are a couple of other features on the box which catch my attention. I love that the pancake mix is Non-GMO Project verified, there are no artificial ingredients or preservatives, and there are probiotics and 5 grams of protein per serving.
I have a confession to make, my husband is the pancake maker in our home because I either burn them or undercook them. I'm so bad at making pancakes that I can't even begin to figure out how to make egg free pancakes.
Enjoy Life Foods' Pancake and Waffle Mix are easy to use, just add water and oil. I don't have to make any allergy aware adaptations to make the pancakes egg-free. As a bonus, there are separate instructions printed on the back of the box on how to prepare the batter for pancakes or for waffles, it's so easy. I followed the directions and 1.5 cups of mix makes about 16 small 3 inch sized pancakes which can easily feed 4-5 people. The pancakes were fluffy and round, and tasted good. Since the mix contains buckwheat, rice, teff, millet, and tapioca in the flour blend, it doesn't taste like wheat based pancakes we're used to but the difference is not noticeable when you top your pancakes with your favorite toppings, syrup, fruit, yogurt, etc..
My first batch of pancakes tasted great but looked laughable. The second batch turned out much better. I let the batter sit a bit before frying them, I used a timer, and I stayed focused. They looked pretty good and I gained a little bit of confidence too soon. I decided to decorate my pancakes with a happy face using banana slices for eyes and Enjoy Life Chocolate Chips for a smile. I share the resulting photo with my Facebook friends and someone mentioned that my happy face pancakes remind them of "A Nightmare Before Christmas." Ha ha, ok, I'll save the fancy pancakes for another day. I am thrilled to have an easy pancake option.
If they're not yet available at a store near you, you can order the Pancake & Waffle Mix via Amazon (affiliate link).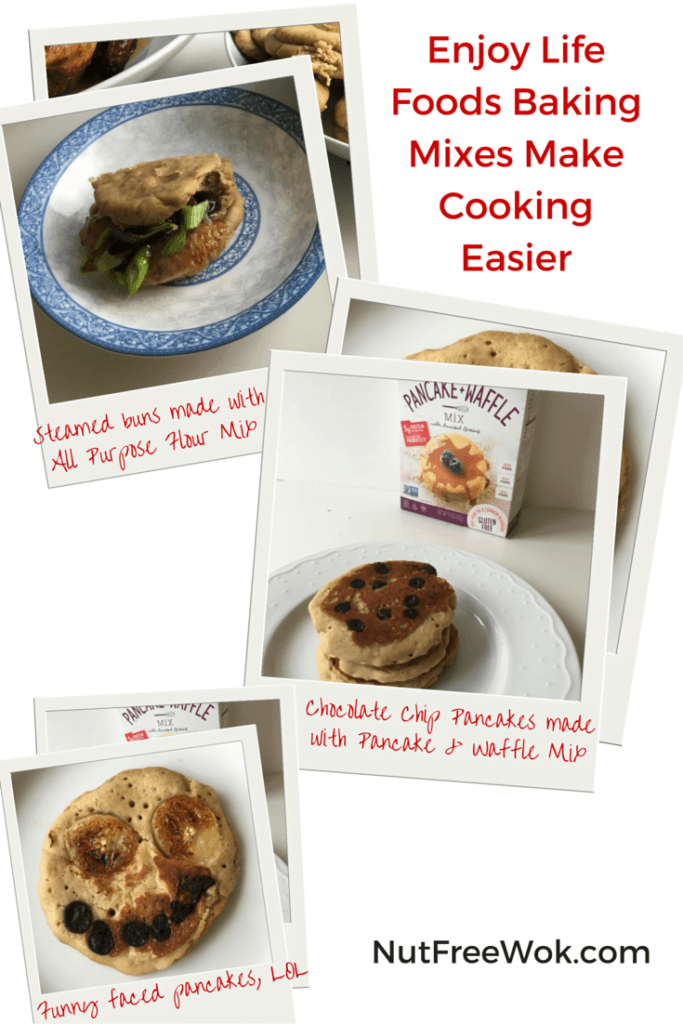 Enjoy Life Foods: All Purpose Flour Mix
I know that Enjoy Life Foods is committed to making products which are free from wheat, dairy, peanuts, tree nuts, egg, soy, fish, and shellfish and as a bonus, they're also made without casien, potato, sesame, and sulfites. That leaves out more allergens that we need to avoid but it's a great option to to keep in mind when I have an opportunity to cook for friends who have different allergies than my family.
I was most excited to try Enjoy Life Foods' All Purpose Flour Mix because I've been looking for a gluten free flour mix that is easy to use and top 8 allergen free. "Swap equally with any recipe" and "1 cup Enjoy Life All Purpose Flour = I cup Regular All Purpose Flour" sound easy to use.
I'm sure that the Enjoy Life Foods team did a lot of testing using the All Purpose Flour Mix in recipes for baked goods. I wanted to know how easy it would be to use the flour as a substitute for Chinese steamed bun recipes, such as bao. I made roast duck for dinner and had time to test out a bao recipe using a wheat based all purpose flour and test Enjoy Life Foods' All Purpose Flour Mix to compare.
The Enjoy Life Foods All Purpose Baking mix dough obviously did not feel stretchy because it's gluten free. But the dough did stick together enough so that I could shape them. The buns made from the Enjoy Life Foods All Purpose Flour also has a darker appearance. Most importantly, the bao puffed up nicely, had a nice texture after steaming the dough, and tasted good stuffed with slices of juicy roast duck meat, with a little dab of hoisin sauce, and garnished with thinly sliced fresh scallions. Overall, I think that the All Purpose Mix is a great one to one substitute to make steamed buns and other kinds of Allergy Aware Asian Fare when we share meals with friends with other allergies. See the All Purpose Flour Mix on Amazon (affiliate link).
Final Thoughts about Enjoy Life Foods Baking Mixes
I tried the Pancake and Waffle Mix and the All Purpose Flour Mix. Enjoy Life Foods Baking Mix line also includes Brownie Mix, Muffin Mix, and Pizza Crust Mix which I did not review. I like the Pancake & Waffle and All Purpose Flour mixes for their ease of use and allergy related peace of mind.
Of the baking mixes available, they meet my needs the most. I haven't found a nut free pancake mix that doesn't need eggs and I need an easy to use all purpose flour mix to use for allergy aware Asian fare recipes. I'm so worried about trying to safely make something wheat and/or gluten free for friends and lack experience. I love having these easy to use Enjoy Life Baking Mixes as safe options. We aren't used to the flavors of the ancient grains so with any new ingredients and flavors, it takes some getting used to and compensating with careful use of additional flavors and textures from fresh fruit, herbs, and spices. Have you tried any of the baking mixes yet? Let me know what you think.
Please help me out!
The best way to see every post or recipe is to subscribe to Nut Free Wok's email subscription (be sure to respond to the confirmation email). You will to be notified by email next time I publish another post or recipe and I won't send you spam or share you email with anyone.
If you enjoyed this post, please use the social media buttons below to share with others. I am on Facebook, Twitter, Pinterest, and Instagram as @nutfreewok and it's great to chat and interact on social media too.
Disclosure/Disclaimer:
I received free samples from Enjoy Life Foods to try, I have not been paid or solicited to mention them. I share products and sources which I use and think may be helpful to readers, all opinions are my own. Please note that manufacturing practices and ingredients can change at anytime without notice and readers are always responsible for assuring allergen safety before buying or consuming foods. NutFreeWok.com is a participant in the Amazon Services LLC Associates Program, an affiliate advertising program designed to provide a means for sites to earn advertising fees by advertising and linking to Amazon.com.