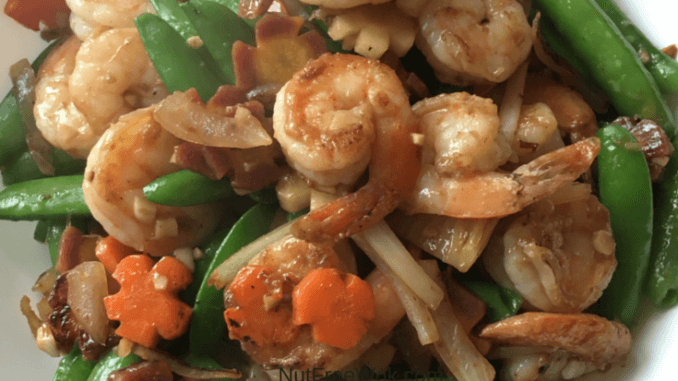 Three reasons why this Shrimp Stir Fry with Spring Vegetables Recipe is pure happiness: 1) The savory bites of shrimp with a variety of fresh vegetables are a feast for the mouth and eyes. 2) I am so grateful I can stir fry shrimp without worry because my son outgrew his seafood allergy. 3) And I'm in and out of the kitchen in a jiffy because this recipe is easy to make.
Disclaimer: Please check that all ingredients are suitable for your allergies and be sure to ask your medical care team regarding any allergy related questions (I do not share medical advice). As an Amazon Associate I earn from qualifying purchases.
You can share in my happiness too by making this shrimp stir fry with spring vegetables in your kitchen. I prefer large to extra large sized shrimp for stir fries (approximately 24-30 count per pound), they have a nice bite to them and taste indulgent. Remember to defrost a bag of frozen shrimp the night before. When you are ready to cook all you need to do is clean, rinse, and pat them dry with paper towels. Sprinkle salt and white pepper on the shrimp and mixed with Chinese rice wine for flavor and then coat them with some cornstarch.
You can use regular carrots but I happened to have some big beautiful rainbow carrots and I love how they look when cut into carrot flowers. Fresh sweet peas are so good right now and I sliced some sweet onions. I had all the ingredients ready and use a traditional stir fry technique. First stir fry the protein, remove it from the pan, then stir fry the vegetables and finally combine the ingredients with a sauce.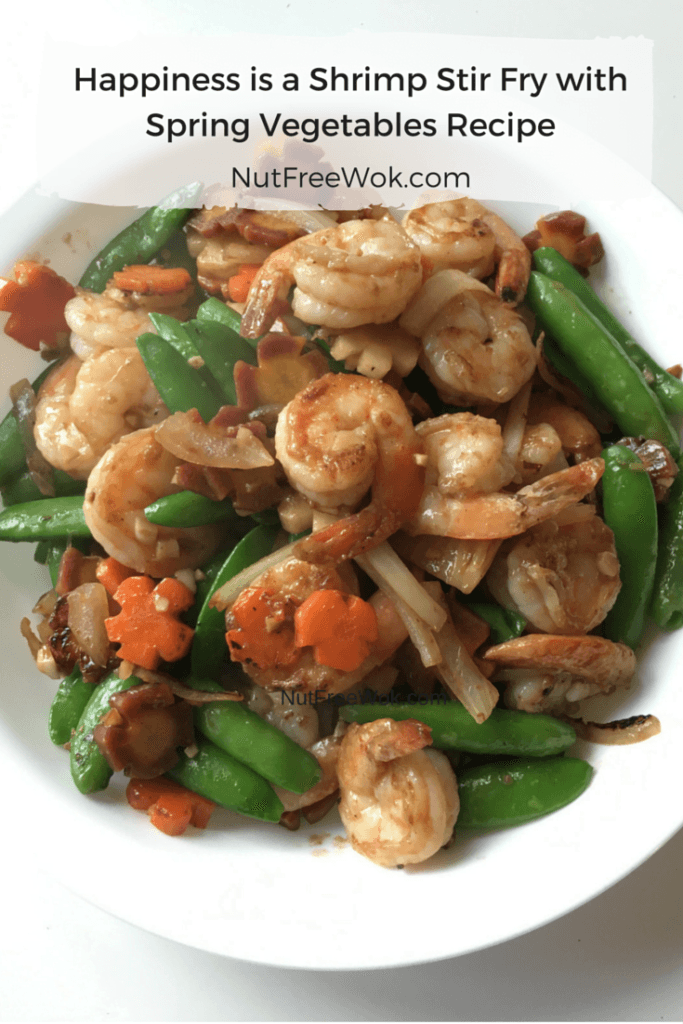 The shrimp stir fry recipe as written is free of peanuts, tree nuts, dairy, egg, fish.
If you need help sourcing allergy safe ingredients, be sure to check what's in my cupboard. If you don't have access to Chinese rice wine, you can also use sherry. I used Spicely's White Pepper (affiliate link). It is possible to make this shrimp stir fry soy and/or wheat free by using a soy sauce alternative or making your own soy-free soy sauce or omitting soy sauce altogether.
If you are allergic to shrimp but like the look and colors of this recipe, you could use chicken, beef, pork, or tofu instead. You can see how to use chicken in a similar vegetable stir-fry by looking at Fast & Easy Chicken Stir Fry with Vegetables Recipe: New Comfort Food.
If you prefer to stir-fry with tofu instead for a vegetarian variation, you can follow the instructions for the tofu parts of Minced Beef with Tofu, Peas, and Oyster Sauce Recipe or Pan Fried Tofu: Light and Versatile recipe (but don't use the teriyaki sauce), cut them into 1 inch cubes, stir fry the sweet peas and carrots, and then add the tofu with the sauce at the end.
Pan Fried Tofu – follow the instructions for making pan fried tofu, but cut them into large cubes and skip the step of seasoning the tofu, set aside, stir fry the vegetables, and then add the tofu back in and combine.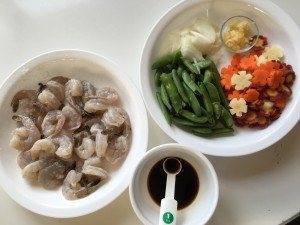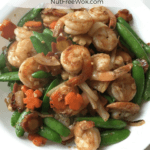 Happiness is a Shrimp with Spring Vegetables Stir Fry
This Shrimp Stir Fry with Spring Vegetables Recipe is pure happiness. The savory bites of shrimp with a variety of fresh vegetables are a feast for the mouth and eyes. And I'm in and out of the kitchen in a jiffy because this recipe is easy to make. Serve with fresh rice or over cooked noodles.
Ingredients
1

pound

shrimp

shelled and deveined

1

teaspoon

Chinese rice wine

1/4

teaspoon

salt

1/4

teaspoon

white pepper

2

teaspoons

cornstarch

divided

2

teaspoons

olive oil

divided

1/2

sweet onion

sliced

1

cup

carrot flowers*

or thinly sliced carrot coins

2

cups

sugar snap peas

trimmed

1

clove

garlic

minced

1

tablespoon

soy sauce

1

tablespoon

water

1

teaspoon

water
Instructions
If using frozen shrimp, defrost in the refrigerator overnight.

Remove shrimp shells, score the back and use a knife tip to remove the vein, rinse the shrimp and drain in a colander.

Use paper towels to pat dry the shrimp and spread out on a plate, evenly sprinkle salt and white pepper, add Chinese rice wine and mix.

Sprinkle with 1 teaspoon of cornstarch and mix, you want the shrimp to feel a little bit dry (add 1/2 teaspoon more cornstarch if needed).

Make a cornstarch slurry by combining the soy sauce, water, and the remaining 1 teaspoon of cornstarch.

Preheat a wok or a large frying pan on medium to medium high heat until a drop of water sizzles, add 1 teaspoon olive oil and swirl to coat.

Add the shrimp and spread them out in a layer to allow them to sear a bit, when they start turning pink, stir fry them until they look mostly pink, then transfer to a plate.

Add another teaspoon of oil to the frying pan, stir fry the onions and carrots until the onions smell fragrant (1-2 minutes), add sweet peas until the sweet peas start to turn bright green (1-2 minutes).

Add the cooked shrimp, cornstarch slurry, and minced garlic and stir fry until everything is heated through and the sauce thickens slightly.

Serve immediately.
Recipe Notes
Carrot flowers: larger carrots are easier to work with, lay the carrots on their side (make your your fingers are safe) and cut 4-5 lengthwise grooves out, then slice the carrots. I used the top halves of three large carrots for this recipe and chopped up the bottom halves for another recipe.
Estimated calorie count: 150 
Thanks for reading, please help Nut Free Wok!
The best way to see every post or recipe is to subscribe to Nut Free Wok's email subscription (be sure to respond to the confirmation email). You will be notified by email next time I publish another post or recipe and I won't send you spam or share your email address with anyone.
If you enjoyed this post, please use the social media buttons below to share with others. I am on Facebook, Twitter, Pinterest, and Instagram as @nutfreewok and it's great to chat and interact on social media too.
Disclosure/Disclaimer:
I may mention the names of stores and/or brand names of products that I use because readers ask and I share products and sources which I use and think may be helpful to readers, all opinions are my own. Please note that manufacturing practices and ingredients can change at anytime without notice and readers are always responsible for assuring allergen safety before buying or consuming foods. NutFreeWok.com is a participant in the Amazon Services LLC Associates Program, an affiliate advertising program designed to provide a means for sites to earn advertising fees by advertising and linking to Amazon.com. Thank you for reading!