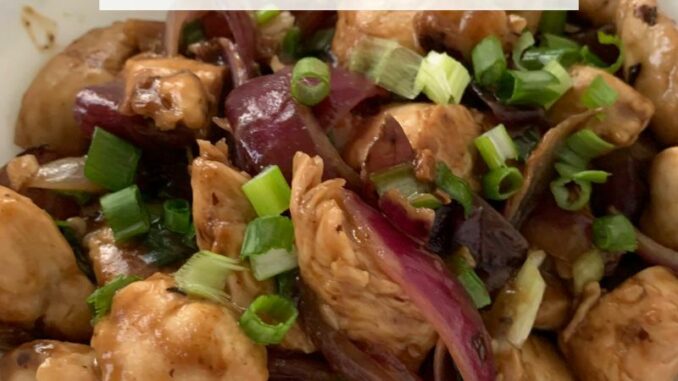 Chicken tenderloin is the healthiest and easiest part of the chicken to make into a stir-fry. I flavored it with black bean sauce, but you can easily adapt the recipe with your favorite stir-fry sauce. I recently needed to make an easy weeknight dinner with chicken tenderloins and it was so delicious, I had to share the recipe with you.
Disclaimer: Please check that all ingredients are suitable for your allergies and be sure to ask your medical care team regarding any allergy related questions (I do not share medical advice). As an Amazon Associate I earn from qualifying purchases.
Jump to Recipe
Chicken Tenderloin or Chicken Breast?
The real question I ask myself when I go shopping is whether I want to buy chicken dark meat or white meat? I love chicken thighs and chicken drumsticks, but I like chicken breast and chicken tenderloins because of the lean protein. They just require more care to cook them well.
How are chicken tenderloins and chicken breasts the same or different? A chicken tenderloin is part of the chicken breast. The chicken tenderloin is the long skinny muscle that is in between the chicken breast and the breast bone. It's tender and much less fibrous than the rest of the chicken breast.
You can buy whichever cut is available and fits your budget. For this recipe, I cut the chicken tenderloins into 1 inch pieces. If I had a chicken breasts, I would cut them into long strips and then cut against the grain into smaller half inch sized pieces so that it's less fibrous.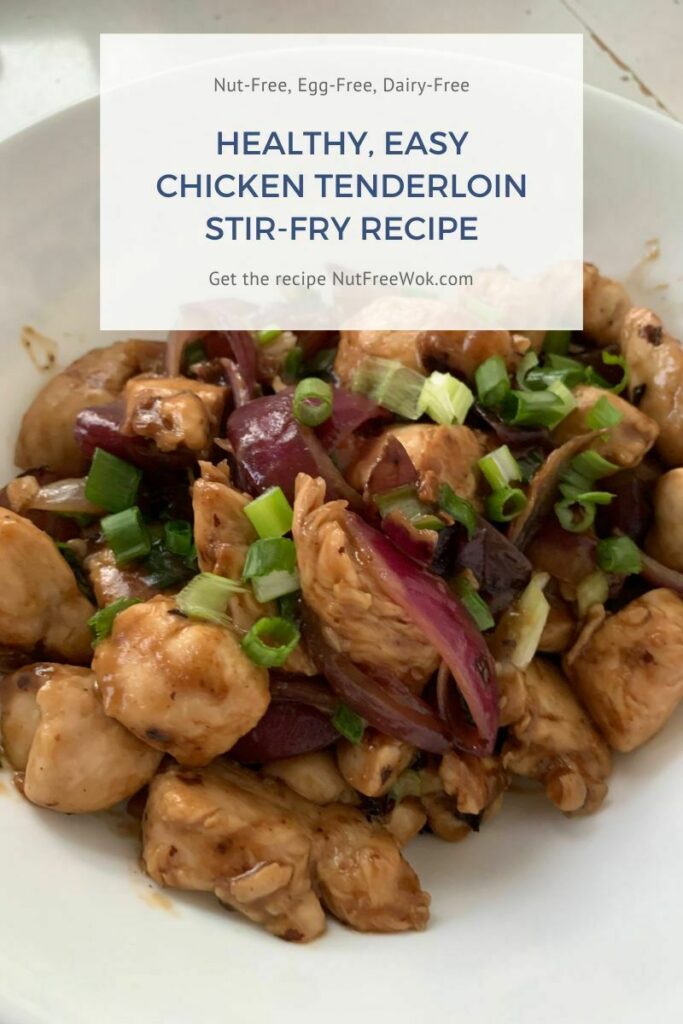 Quick and Easy Weeknight Dinner
I decided to stir fry it with a chopped onion for flavor and serve the chicken stir-fry with baby bok choy and rice. I start my dinner prep by washing the rice and soaking the rice for at least 10 minutes before cooking in my rice cooker. While the rice soaks, I wash and prep the baby bok choy and set aside.
Lastly, I prep the chicken by cutting the tenderloins into 1-inch pieces and marinating. When I'm done stir frying the chicken, I transfer the cooked chicken into a serving bowl and cook the baby bok choy in the same pan since it's already hot and flavorful. Usually the water clinging to the vegetables is enough to cook the vegetables and everything will finish cooking at the same time.
If you like chicken tenderloin stir fry recipes, I have a similar chicken stir fry recipe using a variety of vegetables.
What to serve with this chicken stir-fry?
Just this chicken recipe plus some sides such as vegetables, rice, or another side dishes are enough for 2-3 people. If you are cooking for 4 or more people, you will need additional side dishes, entrees, green salad, or raw cut veggies to round out your meal. I recommend something easy and hands-off such as steamed water eggs, or something that can be prepped ahead and also hands-off such as steamed spare ribs, or something that can be made earlier in an Instant Pot such as Chicken, Corn, and Egg Drop Soup. If you need a bigger entree, add more vegetables to the stir-fry such as this recipe for Fast & Easy Chicken Stir Fry with Vegetables Recipe: New Comfort Food.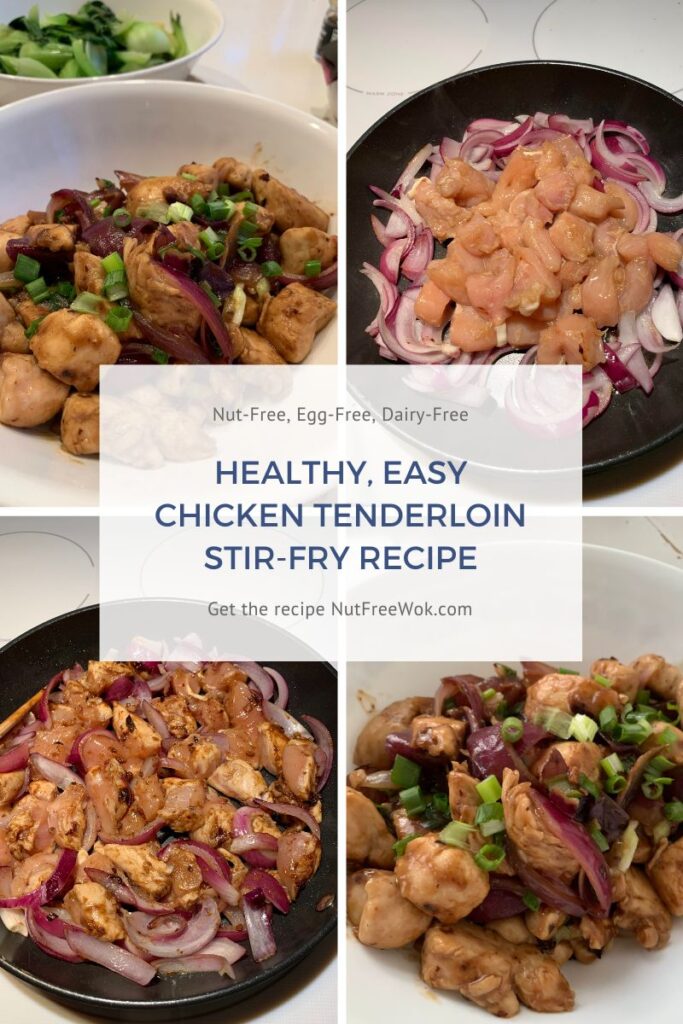 Nut Free Black Bean and Garlic Sauce Epilogue
I few years ago I tested Lee Kum Kee's black bean and garlic sauce using a Nima Sensor's peanut test and the results were ambiguous. Nima Sensor also tested a jar of LKK's black bean sauce, and it was negative (no peanut detected). Since that time, I used the rest of the jar of black bean sauce as well and nothing happened. Nima Sensor was acquired and rebranded to Nima Partners and no longer carries the peanut test.
I was not able to discuss with anyone from Lee Kum Kee regarding how they manufacture their peanut sauce and prevent accidental cross-contact. I still buy Lee Kum Kee's black bean and garlic sauce and I strongly encourage you to reach out to them if you have allergen questions about any of the products and let me know if they're responsive.
Allergy Aware Chicken Tenderloin Stir-Fry
This recipe is free of peanuts, tree nuts, eggs, milk, fish, shellfish, and sesame. If you are soy allergic or avoiding soy, try a soy-free soy sauce alternative or make your own soy-free soy sauce as a soy sauce alternative. Black bean with garlic sauce is a jarred sauce is made with soy, you can substitute with your favorite Asian inspired sauce at the end.
If you are allergic to wheat or gluten, use tamari sauce for the marinade and a gluten free Asian sauce instead of black bean garlic sauce. Chicken breast and chicken tenderloin are delicious with any kind of sauces that work for your food allergies. That is the beauty of an easy recipe, it's adaptable.
If you need help with finding allergy safe ingredients, be sure to check what is in my cupboards!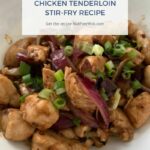 Healthy, Easy Chicken Tenderloin Stir-Fry Recipe
Chicken tenderloin is the healthiest and easiest part of the chicken to make into a stir-fry. I flavored it with black bean sauce, but you can easily adapt the recipe with your favorite stir-fry sauce. See the recipe notes at the bottom if you need to make some subsitutions.
Ingredients
1

pound

chicken tenderloin

or chicken breast

2

teaspoon

soy sauce

1

teaspoon

cornstarch

1

teaspoon

sugar

2

teaspoon

olive oil

divided

1

red onion

or sweet onion, chopped

1

tablespoon

black bean with garlic sauce

or from scratch

1

tablespoon

rice wine

¼

cup

scallion

chopped, reserve some for garnish
Instructions
Cut the chicken into 1-inch bite-sized pieces and transfer to a medium-sized mixing bowl.

Add the soy sauce, cornstarch, and sugar, and mix. Set aside to marinate for 10 minutes.

Preheat a medium or large nonstick frying pan for 4-5 minutes on medium heat until a drop of water sizzles in the pan.

Add 1 teaspoon of oil and swirl to coat. Add the chopped onions and stir-fry they're slightly translucent and wilted (2-3 minutes).

Push the onions to the side of the pan and add the remaining oil, add the black bean sauce and stir gently until the sauce is sizzling and fragrant.

Add the chicken, spread the pieces out, and allow them to sear for 1 minute. Stir fry until it's no longer pink on all sides.

Add the rice wine and some of the scallions, stir fry until the chicken cooks through and the rice wine evaporates.

Transfer to a serving dish and garnish with the remaining scallion.
Recipe Notes
If you are using fermented black beans, rinse and drain the beans and then coarsely chop. Coarsely chop 1 clove garlic and add to the chopped black beans and mince to combine.
If you are not using black bean sauce, you can substitute with hoisin sauce and add it into the stir-fry in the middle at step 6. If using any kind of Asian sauce with sugar in it (sweet and sour, orange sauce, etc.) add it at the end at step 7 and cook until warmed through and the chicken is thoroughly coated.
Related Recipe Suggestions
Do you like this recipe and are wondering what to serve with it? You might like some rice or noodle dishes such as these recipes:
And you might want to consider some easy vegetable side dish rices:
Thanks for reading, please help Nut Free Wok!
If you like this recipe, please be sure to give a 5 star rating, leave a comment, and share this post! Your support means a lot to me.
Subscribe to Nut Free Wok's email subscription (be sure to respond to the confirmation email). You will be notified by email next time I publish another post or recipe and I won't send you spam or share your email address with anyone.
Disclosure/Disclaimer:
I may mention the names of stores and/or brand names of products that I use because readers ask and I share products and sources which I use and think may be helpful to readers, all opinions are my own. Please note that manufacturing practices and ingredients can change at anytime without notice and readers are always responsible for assuring allergen safety before buying or consuming foods. NutFreeWok.com is a participant in the Amazon Services LLC Associates Program, an affiliate advertising program designed to provide a means for sites to earn advertising fees by advertising and linking to Amazon.com. Thank you for reading!