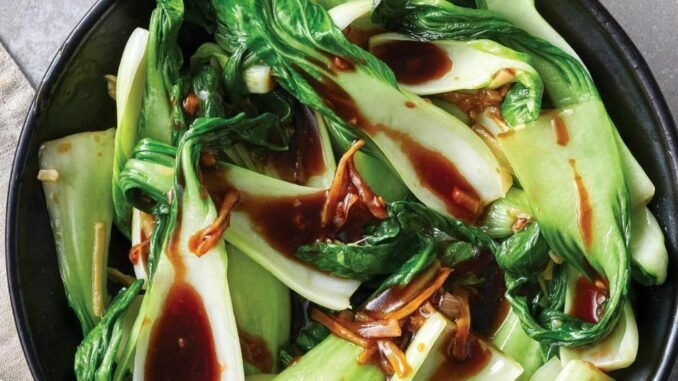 Make this Chinese classic stir-fried baby bok choy in an Instant Pot. Cooking it in the Instant Pot is easy and tastes tender crisp and full of flavor. Because this Instant Pot recipe is so quick, it also preserves the nutritional value of the bok choy. Excerpt from Chinese Instant Pot Cookbook by Sharon Wong, published by Rockridge Press. Copyright © 2022 by Callisto Media, Inc. All rights reserved.
Disclaimer: Please check that all ingredients are suitable for your allergies and be sure to ask your medical care team regarding any allergy related questions (I do not share medical advice). As an Amazon Associate I earn from qualifying purchases.
Most people think that it's not possible to cook bok choy or any Chinese vegetables in the Instant Pot so that it's still tender crisp and not overcooked and soggy. When I was writing Chinese Instant Pot Cookbook (affiliate), I wanted to share a Chinese veggie recipe for people who have an Instant Pot but limited access to a full kitchen.
Jump to Recipe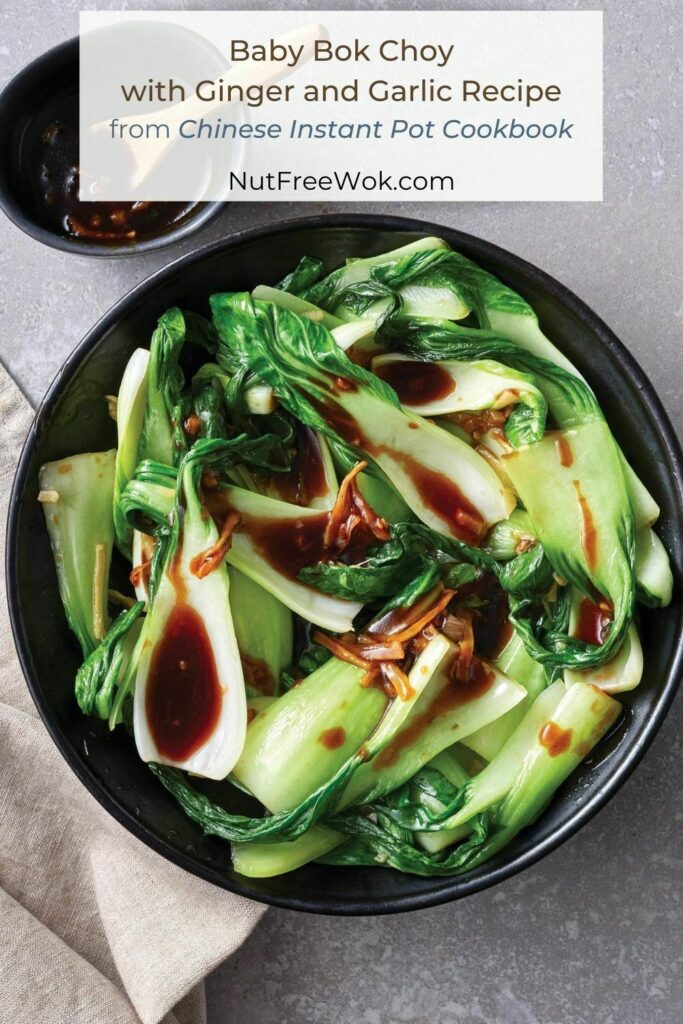 What is baby bok choy?
Baby bok choy is harvested early, when it's 3 to 5 inches tall. Baby bok choy has creamy white stalks and dark-green frilly leaves. Sometimes, you might see baby bok choy that's green with smooth flat leaves, which is actually Shanghai bok choy. You can cook both varieties in the same way. Full sized bok choy can be as large as 8-12 inches long, if that's your only option chop it into 2-inch pieces.
When you shop for bok choy, look for leaves that aren't yellowed or discolored and stems that are free of blemishes.
How to prep for cooking?
I had previously shared a recipe for making baby bok choy where I parboil the whole baby bok choy which helps them to cook evenly before a flavorful quick stir fry. You can make this recipe in one pot and use less water and energy when you cook your baby bok choy in the Instant Pot.
It's important to thoroughly clean the baby bok choy with a quick rinse and then fill a large vegetable washing bowl (affiliate), a large bowl, or a pot with clean water and soak the vegetables for a few minutes. While the baby bok choy soaks, I like to pluck the large outer leaves off so I can check for dirt at the base of the stems. And then I trim the stem at bottom, pluck 4-5 outer leaves off, and if it's still larger than bite size, then I cut the bok choy in half lengthwise. This also continuously agitates the baby bok choy in the bowl of water and loosens the dirt. Change the water and soak again, if needed.
Cooking Chinese Vegetables Chinese-Style
Chinese green leafy vegetables stir fried with garlic and ginger is a classic flavor combination. You could cook almost any kind of Chinese vegetable this way and it will be delicious. What you want to be sure to do is trim the vegetables to bite sized pieces that will cook evenly, chop the stem parts smaller and leafy parts larger.
When you sprinkle in salt to your Chinese vegetables matters. Adding a sprinkle of salt sometime after the oil but before you put the raw vegetables into the pot causes the vegetables to sweat more which creates more steam to cook the vegetables. For this Instant Pot recipe, the bok choy will finish cooking and be tender crisp and look vivid within 2 to 3 minutes after you put the lid on but before the Instant Pot builds up enough pressure to seal. Program your Instant Pot to pressure cook for 0 or 1 minute and then set a kitchen timer for 2 minutes.
Allergy Aware Baby Bok Choy
This recipe is free of peanuts, tree nuts, dairy, egg, and fish as written but could be optionally free of top 8 allergens. Season the baby bok choy with an optional drizzle of your choice of sesame oil, oyster sauce, or soy sauce for flavor and color. If you happen to avoid all three ingredients due to allergies to sesame, shellfish, or soy, feel free to explore other options such as tamari (gluten-free soy sauce), Soy-Free Soy Sauce or soy-free alternatives and use sparingly since the recipe already uses salt and you want to taste the freshness of the bok choy, ginger, and garlic.
This baby bok choy recipe is a perfect side dish for another recipe from the cookbook, Soy-Braised Duck Legs with Ginger and Scallion Instant Pot Recipe, and you can use the sauce from the duck recipe to flavor the vegetables instead of oyster sauce, soy sauce, or sesame oil. If you decide to cook both recipes, I recommend cooking the duck first, transfer everything to serving bowl, and then cook the vegetables in the pot.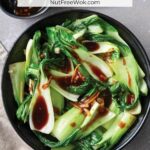 Bok Choy Instant Pot Recipe
Make this Chinese classic stir-fried baby bok choy in an Instant Pot. Cooking it in the Instant Pot is easy and tastes tender crisp and full of flavor. Because this Instant Pot recipe is so quick, it also preserves the nutritional value of the bok choy. This recipe and photo are reprinted with permission from Rockridge Press, publisher of Chinese Instant Pot Cookbook.
Ingredients
12

ounces

baby bok choy

1

teaspoon

neutral oil

1

1/2-inch piece fresh ginger, julienned

2

garlic cloves

chopped

1/8

teaspoon

salt

1/4

cup

water or vegetable broth

1

teaspoon

oyster sauce

sesame oil, or soy sauce (optional)
Instructions
Cut off a thin slice from the bottom of the bok choy stems, then separate 4 or 5 of the leaves. Halve the remaining bok choy lengthwise.

On the Instant Pot, select Sauté and adjust the heat to high. Preheat for 3 minutes.

Pour the oil into the Instant Pot and add the ginger and garlic. Stir-fry for 1 minute until fragrant.

Sprinkle the salt into the pot and add the bok choy. Stir-fry for 1 minute. Pour in the water.

Lock the lid. Program to pressure cook for 0 minutes (or 1 minute) on high pressure.

Set a timer for 2 minutes (the bok choy will finish cooking within 2-3 minutes after you put the lid on but before the Instant Pot builds up enough pressure to seal). When it sounds, carefully remove the lid to check for doneness. The bok choy should look more vivid in color and taste tender-crisp. Depending on the size of your bok choy cook for another 30 seconds.

Stir in the oyster sauce (if using). Immediately transfer the bok choy to a plate so that it doesn't overcook.
Cookbook Updates
If you haven't heard already, I previously shared that I wrote a cookbook with Rockridge Press and included a short list of helpful accessories to cook your way through the book. Some of you also might need to shop around for an Instant Pot and here's my review of their latest model, the Instant Pot Pro, which I love and some considerations to help you pick the one you want. If you are new to the Instant Pot, I have a video in my Nut Free Wok & Friends Facebook group to help you with getting started with a water test and some ingredient recommendations.
Many thanks to my friend Tamara Hubbard who invited me to chat with her in a Facebook Live to talk about how the Chinese Instant Pot Cookbook could empower families and children with food allergies to learn new skills and enjoy new food. Tamara is a licensed clinical professional counselor (LCPC) and the founder of The Food Allergy Counselor Directory & Website.
Esquire magazine included the cookbook in "The 15 Best Cookbooks of 2022 Will Have You Cheffing It Up in No Time." Two of my friends bought the Chinese Instant Pot Cookbook for their husbands as presents, they were on trend!
I'm super excited that the cookbook is an Amazon Editor's Pick in the Best Cookbooks, Food, and Wine category! Please help keep the momentum going by telling your friends about the book and/or writing a review on Amazon or wherever you purchased the book.
I also posted some other recipes from the cookbook, this baby bok choy recipe would be a wonderful side dish for Soy-Braised Duck Legs with Ginger and Scallion Instant Pot Recipe or Lu Rao Fan, Braised Pork and Egg Rice Bowl.
Author Event at Omnivore Books!
Omnivore Books, a treasured San Francisco bookstore that only sells cookbooks and food related books, will be hosting an author event for my Chinese Instant Pot Cookbook release! Join us on Saturday, March 19, 2022 from 3-4 pm.
I've been thinking about how does one give a book reading about a cookbook? I have some ideas to make the event interesting and helpful, but I mostly want to meet you! There will be time for Q&A and if you buy a cookbook (or bring the copy you already ordered), I will be happy to sign them for you. Since we'll be meeting in an indoor space, I kindly ask that you wear a mask and bring proof of vaccination to attend. Space is limited. If you want a signed cookbook but can't attend, you may order a copy from Omnivore Books.
Thanks for reading, please help Nut Free Wok!
If you like this recipe, please be sure to give a 5 star rating, leave a comment, and share this post! Your support means a lot to me.
Subscribe to Nut Free Wok's email subscription (be sure to respond to the confirmation email). You will be notified by email next time I publish another post or recipe and I won't send you spam or share your email address with anyone.
Disclosure/Disclaimer:
I may mention the names of stores and/or brand names of products that I use because readers ask and I share products and sources which I use and think may be helpful to readers, all opinions are my own. Please note that manufacturing practices and ingredients can change at anytime without notice and readers are always responsible for assuring allergen safety before buying or consuming foods. NutFreeWok.com is a participant in the Amazon Services LLC Associates Program, an affiliate advertising program designed to provide a means for sites to earn advertising fees by advertising and linking to Amazon.com. Thank you for reading!