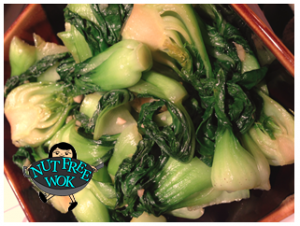 Learn how to stir fry baby bok choy, a tender green that is easy to prepare and delicious with a simple stir fry of garlic and ginger with a classic Chinese sauce.
Disclaimer: Please check that all ingredients are suitable for your allergies and be sure to ask your medical care team regarding any allergy related questions (I do not share medical advice). As an Amazon Associate I earn from qualifying purchases.
Update: This post was updated with minor edits for readability on 9/9/2022.
Inspired by Chef Martin Yan
Our family went to a cooking demonstration event at a local public library to watch Chef Martin Yan, from the beloved and delightful television cooking show, Yan Can Cook. Chef Martin Yan cooked so fast and entertained us with his quick wit and humor while sharing many cooking suggestions. His demonstration on how to relax a chicken made a lasting impression on my children that they still remember even 4 years later. Check it out on YouTube.
That evening I bought one of Martin Yan's cookbooks, Martin Yan's China (affiliate link). It's not just a cookbook that explores China's four main regional cuisines but has gorgeous photos of China's landscape, people, and culture and the photos of the food are mouth watering. Ginger is good for the digestive system and cooking with minced ginger is a traditional way to cook stir-fried Chinese vegetables. This Ginger-Garlic Baby Bok Choy recipe is adapted from Martin Yan's China cookbook.
Shopping for Ingredients
There are two kinds of baby bok choy, some bok choy have a white stem with dark green curly leaves and some have jade green stems with dark green leaves (pictured). You can cook and prep both in the same way.
Select smaller baby bok choy as they are more tender, each one is about 3-5 inches long. Try to use them as soon as possible, you know that the baby bok choy is too old if the leaves are yellowed or look bruised or soft (wilted baby bok choy could be revived by soaking in cold water for 5-10 minutes).
If your store doesn't carry baby bok choy, you can substitute other Asian leafy greens. If you cannot buy any Asian greens, this is a great recipe to use with spinach. If you have a green thumb and have time and space, you can order seeds online and grow them in late winter or early spring, the plants will start to bolt when the weather is too warm.
When you buy ginger, pick out pieces that look heavy for their size, free of wrinkles, blemishes, and mold. Uncut pieces will last longer but they will be big and if you need to use it up in a hurry, make some ginger and scallion sauce.
How to Prep
Washing the baby bok choy greens is probably the most painstaking task IMHO. I rinse the visible dirt off the plants and then swish them in a big bowl of cold water and soak for a few minutes. Then I trim off the bottoms, discard any spoiled leaves and cut the vegetables in half lengthwise and soak in fresh water for 5 minutes and swish some more and keep rinsing until the greens are clean. Look for dirt where the leaves attach to the stem.
If you have an Instant Pot you can make a simpler variation of this recipe in your Instant Pot using a recipe from my cookbook, Chinese Instant Pot Cookbook (affiliate link). If you don't have the cookbook yet but want to try the recipe, I shared how to make bok choy in an Instant Pot and it's worth a peek for my "out of the pot" idea!
Allergy Aware Baby Bok Choy
This recipe as written is free of peanuts, tree nuts, dairy, eggs, shellfish, and fish.
Not only is eating Asian vegetables good for you and so guilt free, it's also simple which lends itself to being allergy friendly. The original baby bok choy recipe calls for using 2 teaspoons of oyster sauce which you can add if you have oyster sauce and don't have any allergies to the ingredients. I substituted the oyster sauce with more soy sauce and a tiny bit of sugar. I also left out 3 dried red chili peppers to make it more kid-friendly. 
If you avoid gluten, substitute the soy sauce with tamari sauce. If you avoid soy, you can either make your own soy-free soy sauce or consider a soy-free soy sauce alternative.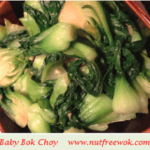 Baby Bok Choy with Garlic and Ginger
Fresh Asian greens, baby bok choy, are stir fried but retain their fresh flavor with a boost of garlic and ginger. Recipe adapted from Martin Yan's China (Chronicle, 240 pp, $24.95)
Ingredients
1

pound

baby bok choy

2

tablespoons

rice wine or dry sherry or mirin

2

teaspoons

soy sauce

1

tablespoon

vegetable oil

1

tablespoon

minced garlic

1

tablespoon

minced ginger
Instructions
Wash and prep baby bok choy: rinse the dirt off of the baby bok choy and then soak in a large bowl of cold clean water for 5 minutes, swish and change the water, trim off the bottom 1/4 inch of the stem and discard any spoiled leaves, split any large baby bok choy in half lengthwise.

Bring a large stock pot filled halfway with water to a boil and add the bok choy and blanch for 1 minute until the greens are bright green.

Drain in a colander and rinse with cold water, set aside to drain some more.

Combine the wine, soy sauce, sugar, salt and pepper in a small bowl and set side.

Heat a large frying pan over medium to medium high heat until a drop of water sizzles in the pan.

Add the oil, ginger and garlic and stir until fragrant while coating the entire pan with oil until the garlic and ginger is fragrant (30 seconds).

Add the vegetables and sauce and stir fry until the vegetables are warm and the liquid is slightly reduced.
Recipe Notes
If you make half of this recipe or stir fry in batches or have a very large wok and lots of heat, you can skip blanching the baby bok choy and stir fry the raw vegetables until they're tender crisp and add the sauce.
Adapted from Martin Yan's China (Chronicle, 240 pp, $24.95) (affiliate). Post updated on September 9, 2022.
Thanks for reading, please help Nut Free Wok!
The best way to see every post or recipe is to subscribe to Nut Free Wok's email subscription (be sure to respond to the confirmation email). You will be notified by email next time I publish another post or recipe and I won't send you spam or share your email address with anyone.
If you enjoyed this post, please use the social media buttons below to share with others. I am on Facebook, Twitter, Pinterest, and Instagram as @nutfreewok and it's great to chat and interact on social media too.
Disclosure/Disclaimer:
I may mention the names of stores and/or brand names of products that I use because readers ask and I share products and sources which I use and think may be helpful to readers, all opinions are my own. Please note that manufacturing practices and ingredients can change at anytime without notice and readers are always responsible for assuring allergen safety before buying or consuming foods. NutFreeWok.com is a participant in the Amazon Services LLC Associates Program, an affiliate advertising program designed to provide a means for sites to earn advertising fees by advertising and linking to Amazon.com. Thank you for reading!