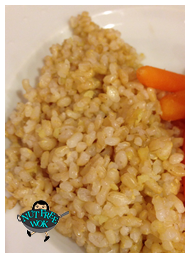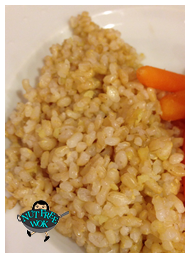 Ginger fried rice is a simple side dish that is light and tasty. It's perfect for when you want to use up some fresh ginger. I love it when I don't have a great appetite or am feeling under the weather.
Disclaimer: Please check that all ingredients are suitable for your allergies and be sure to ask your medical care team regarding any allergy related questions (I do not share medical advice). As an Amazon Associate I earn from qualifying purchases.
Chinese Post-Partum Meal
I will always remember that my mom made the most delicious ginger fried rice for me within hours after I gave birth. I had not eaten all day and the contractions were faster than the anesthesiologist, so I was tired and hungry. It was really important to her that my first meal after giving birth involved a lot of ginger to help relieve any post-partum "wind" and help with any abdominal discomfort. My mom's explanations for what is "wind" and how and why ginger helps postpartum moms are lost in translation but ginger is a delicious ingredient that adds a little bit of spiciness to foods in a way that is fresh and appetizing and is known as a folk remedy to settle minor upset stomachs.

Potential Health Benefits
I had mentioned in a previous post about rice congee with ginger that there are studies that suggest that ginger could enhance the effects of asthma medicines. Having well controlled asthma is helpful in general but even more significant for someone who is at risk of anaphylaxis due to food and other allergies. I almost always have leftover rice available and I currently have a large bag of ginger to use up so here's another simple recipe that makes ordinary ingredients into a tasty dish, Ginger Fried Rice.
How to Select and Prepare Ginger
Look for fresh ginger that is light colored, smooth, and heavy for its size. Big pieces with fewer nobs will be easier to peel. Buy organic ginger if available since ginger grows in the ground, it can become contaminated by pesticides or fertilizers. I prefer the taste of fresh ginger to jarred minced ginger.
How to prepare ginger? Some people peel a large piece by scraping with a spoon. I use a paring knife and do my best to scrape off the outer layer without being wasteful. You can then slice, cut, or chop it into the sizes you need. I often smash a large piece of peeled ginger with the flat side of a cleaver first which makes mincing a very quick and easy task and then use half and reserve the other half to use the next day in another dish.
Allergy Aware Ginger Fried Rice
This recipe is free of peanuts, tree nuts, egg, dairy, shellfish, and fish as written. People with soy and/or wheat allergies can substitute with a soy sauce alternative or tamari (contains soy but not wheat).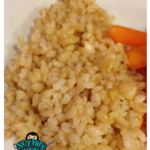 Ginger Fried Rice Recipe
Ingredients
1

tablespoon

olive oil

1.5

tablespoons

minced ginger

approximately 1/2 inch slice

1/8

teaspoon

salt

4

cups

cooked rice

refrigerated overnight

1

teaspoon

soy sauce

optional
Instructions
Heat up a large frying pan at medium heat until it is hot (a drop of water sizzles).

Add oil, swirl to coat.

Add minced ginger and salt, stir until the ginger is fragrant but not browned.

Add rice and stir fry the rice, gently breaking up the large chunks of rice until it's heated through.
Recipe Notes
If you like to add an egg to the fried rice, after step 4, push some of the rice aside to the edge of your pan and add a teaspoon of oil and then add a lightly beaten egg and scramble it. When it's almost cooked through, mix the rice and egg together. 
Thanks for reading, please help Nut Free Wok!
The best way to see every post or recipe is to subscribe to Nut Free Wok's email subscription (be sure to respond to the confirmation email). You will be notified by email next time I publish another post or recipe and I won't send you spam or share your email address with anyone.
If you enjoyed this post, please use the social media buttons below to share with others. I am on Facebook, Twitter, Pinterest, and Instagram as @nutfreewok and it's great to chat and interact on social media too.
Disclosure/Disclaimer:
I may mention the names of stores and/or brand names of products that I use because readers ask and I share products and sources which I use and think may be helpful to readers, all opinions are my own. Please note that manufacturing practices and ingredients can change at anytime without notice and readers are always responsible for assuring allergen safety before buying or consuming foods. NutFreeWok.com is a participant in the Amazon Services LLC Associates Program, an affiliate advertising program designed to provide a means for sites to earn advertising fees by advertising and linking to Amazon.com. Thank you for reading!