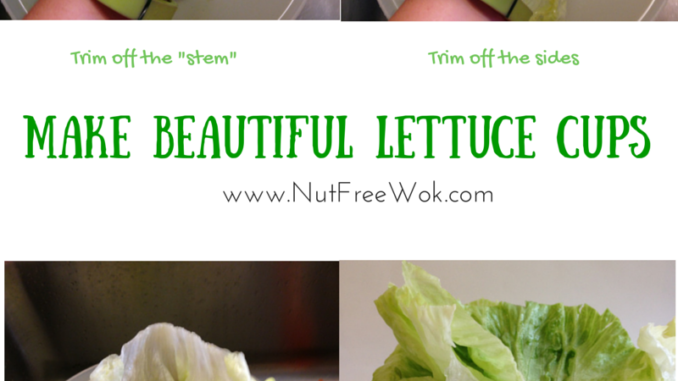 Happy Chinese New Year 2015!
Chinese New Year is usually celebrated for about two weeks which means there's time for me to squeeze in a few relevant Chinese New Year recipes for 2015 that can be enjoyed anytime. Lettuce wraps, a lettuce stir fry, and how to make beautiful lettuce cups!
I fondly remember when our large extended family usually gathered during the first weekend after Chinese New Year for a huge feast because the new year is typically celebrated for two weeks. I enjoyed dressing up and visiting extended family members and family friends' homes, bringing bags of oranges, sweets, and large tins of cookies for two weekends in a row. We greeted relatives and family friends Gung Hay Fat Choy, a wish of prosperity. In return, our elders would say a traditional blessing, wishing us good grades and good health and give us lucky red envelopes, called "lay see" with money inside. Often times the adults would gather to play mahjong and the kids would play with each other and have free access to traditional Chinese new year snacks such as peanuts, seeds, sweets, and dried fruit. My favorite were candied coconut strips and dried persimmons.
My mom used to (and still does) display symbolic foods in front of a mini altar as part of her ancestor worship. Lettuce, leeks, a whole chicken, leafy mandarin tangerines, etc. all represented auspicious wishes and blessings for our family's future. In the Chinese culture, if a food sounds like a blessing for future success, then it's part of the celebration. The word for lettuce in Chinese is Sang Choy 生菜 which sounds like growing fortune. A very traditional Cantonese Chinese New Year dish is to make lettuce wraps, especially with pork and dried oysters (also an auspicious symbol of good deeds, good events). I enjoy carrying on the food traditions by preparing and eating the foods associated with Chinese New Year. The food symbolism carries little spiritual significance to me because of my faith in God but I try to be aware of the traditions in order to avoid faux pas such as gifting a clock or pears (which are death omens) or knives (symbolic of severing ties)!
One of these days I would love to make lettuce wraps with oysters and ground pork but we've had concerns about whether my children are allergic to shellfish or not over the years. It wasn't until recently that we know for sure they are not allergic to oysters and we have gradually been introducing seafood into our diet. They do love the hands on experience of eating lettuce wraps using a variety of other allergy safe ingredients, usually some ground meat with finely chopped vegetables or fried rice. It sounds simple enough to make lettuce cups and I have even watched Master Chef Martin Yan effortlessly make perfectly circular lettuce cups in person. When I make them, the leaves tear apart as I wash them and I end up with lettuce strips and scraps. After some trial and error, I've figured out a way to make beautiful lettuce cups with some extras that you can set aside for a salad or a simple side dish, lettuce with oyster sauce stir fry.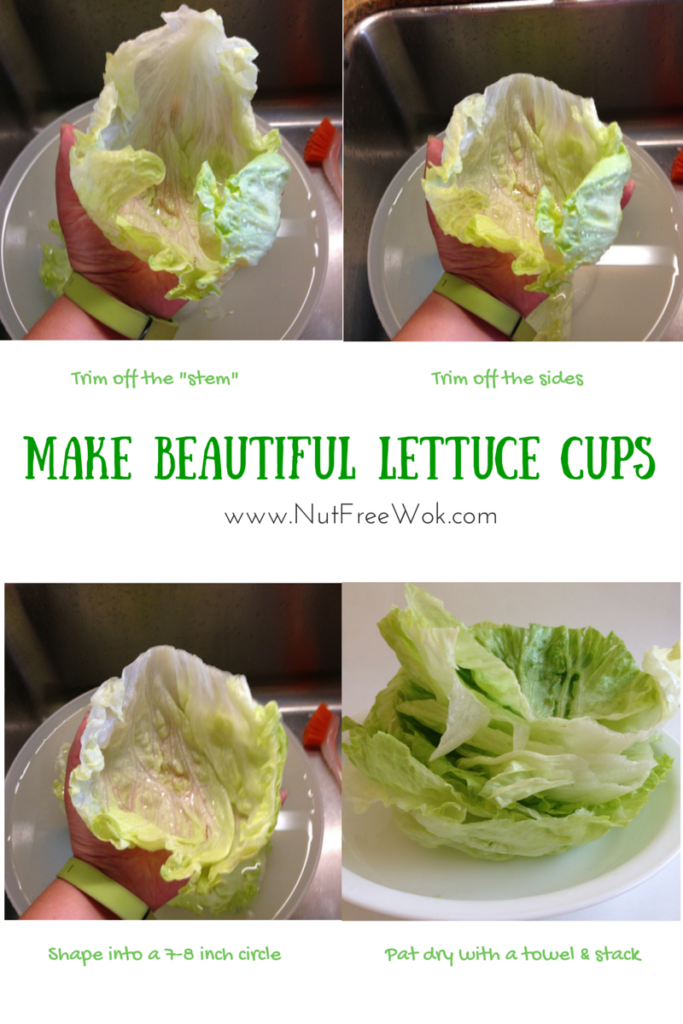 Prepping Lettuce Cups
Select big, dense, heavy for its size iceberg lettuce that looks fresh and free of pinkish discoloration.  Usually one head is enough for 1 meal and two is necessary for a second meal or social gatherings.
Peel and discard wilted outer leaves.
Use a knife to cut out the core.
Put the head of lettuce, cored side up, in a large bowl and rinse with water, allowing the water to gently fill the inside of the lettuce.
Carefully lift the lettuce up out of the water and you will see that the weight of the water inside the lettuce will separate the leaves slightly.
Carefully separate the leaves and set them in a colander to drain.
Continue separating the leaves until the leaves are too small or too curly for making cups, set the rest aside in a bowl for other uses.
Place a washed lettuce cup in the palm of your hand, use a pair of clean kitchen scissors, trim off the stiff white stem and the edges of the leaf into an approximately 7-8 inch diameter circle; set aside the nice lettuce cup on a plate and the scraps into the bowl of lettuce pieces.
Repeat with the remaining leaves, pat dry with paper towels, and arrange the lettuce cups in a stack to enjoy with lettuce wrap filling of your choice.
Make some filling for your lettuce cups
Beef Fried Rice with Cabbage and Carrots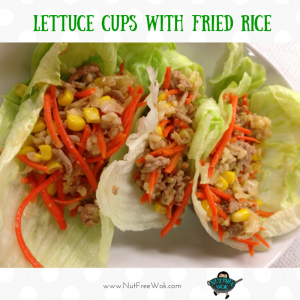 Wagyu Summer Sausage Lettuce Wrap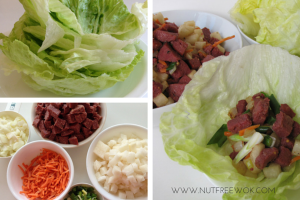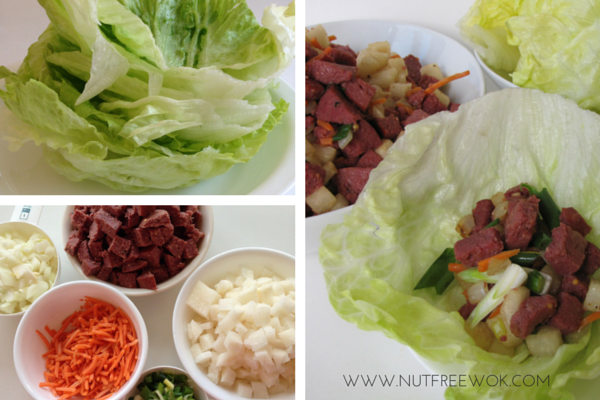 Use the extra lettuce in a salad or side dish
Hiyashi Chuka, a Cold Japanese Noodle Salad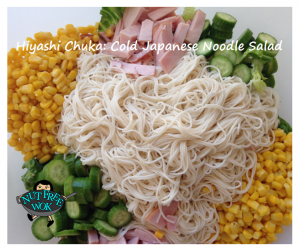 Stir Fried Iceberg Lettuce with Oyster Sauce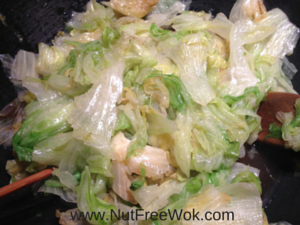 Related video: 
Watch Martin Yan make Chicken and Chinese Sausage Lettuce Cups, he preps lettuce cups starting at 1:30 minutes into the video. I tried this method and still tore the lettuce cups (filling the head with water helps a lot), got about 6-7 decent lettuce cups but the inner leaves were too small to make into lettuce cups. He's entertaining to watch anyways, enjoy the video.
Thanks for reading, are you following Nut Free Wok?
The
best way
to see every post or recipe is to subscribe to 
Nut Free Wok's email subscription
 (be sure to respond to the confirmation email). You will to be notified by email next time I publish another post or recipe and I won't send you spam or share you email with anyone.
If you enjoyed this post, please use the social media buttons below to share with others. I am on Facebook, Twitter, Pinterest, and Instagram as @nutfreewok and it's great to chat and interact on social media too.