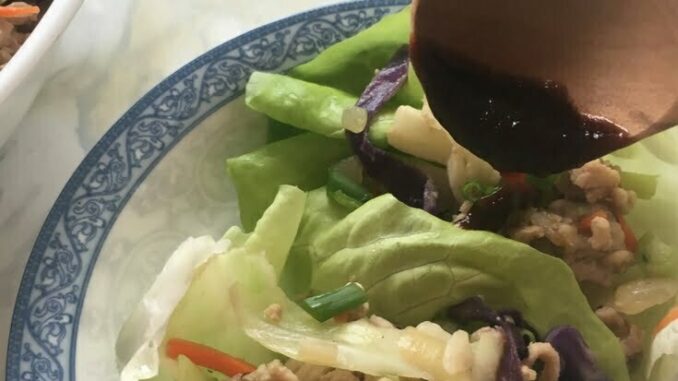 Chicken lettuce wraps are so easy to make and fun to eat and perfect for all those days when you want a meal that's packed with flavor and veggies!
I have been making a lot of chicken lettuce wraps lately because we're so busy. Ground chicken means no prep. It's less fatty than ground beef and tastes better than ground turkey.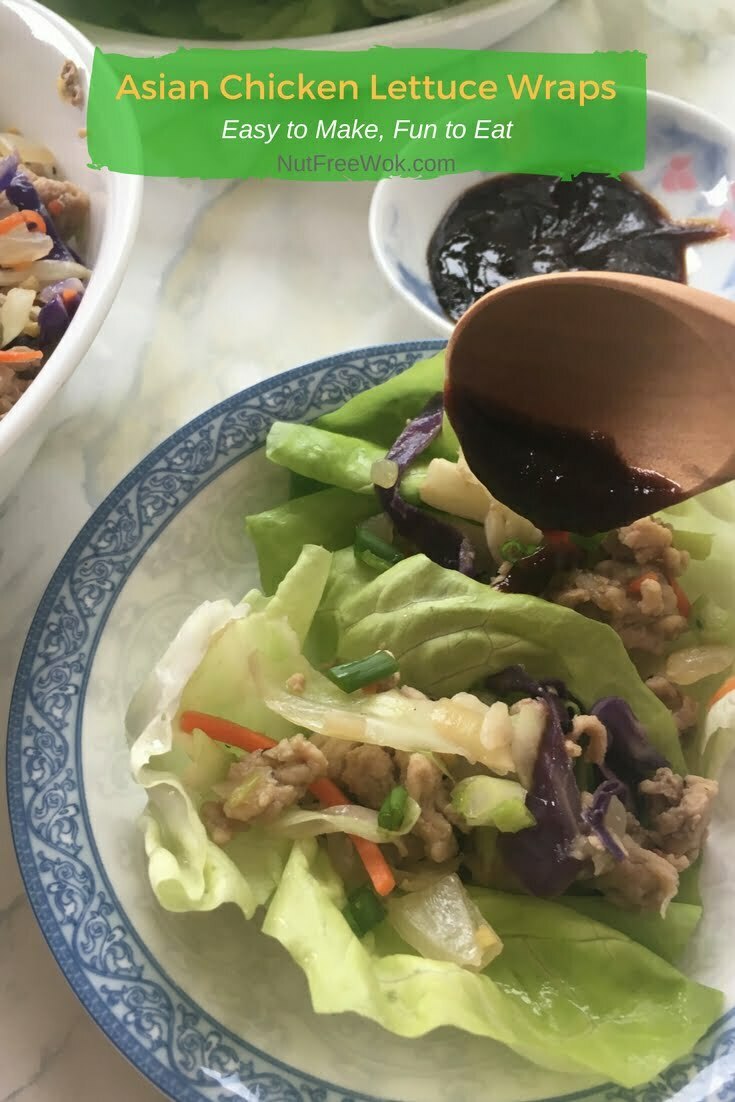 There are three main steps to making chicken lettuce wraps: 1) prepare the lettuce cups, 2) make the filling, and 3) assemble and eat!
I love using butter lettuce for chicken lettuce wraps. The leaves are already round and cup shaped, and is so perfect for holding the chicken and veggies filling. It also has a sweet mild taste.
I also like using iceberg lettuce which is crunchier and more readily available. My quick and easy way to prepare iceberg lettuce cups is to place the lettuce upright (the stem on the cutting board) and cut the lettuce to the left and right of the core (think Princess Leah buns) and then you have mostly perfect lettuce cups in an instant.
Reserve the lettuce leaves attached to the core for a salad or stir fry lettuce. If you have more time and you want to make the most out of every lettuce leaf check out my step by step instructions.
To make the filling, I basically saute the onions and garlic until they are fragrant and then I brown the ground chicken, add the shredded veggies, sauce, and saute briefly until the veggies are slightly wilted and the sauce thickens. The filling is perfect when the veggies aren't cold but still crisp.
Assembling the chicken lettuce wraps is the fun part and it's best to do it at the table as people eat so that the heat from the filling doesn't wilt the lettuce cups. Some people like to serve the lettuce wraps with a spoonful of freshly cooked rice as a complete meal. Sometimes I stir in the rice into the filling mixture and it becomes a complete meal.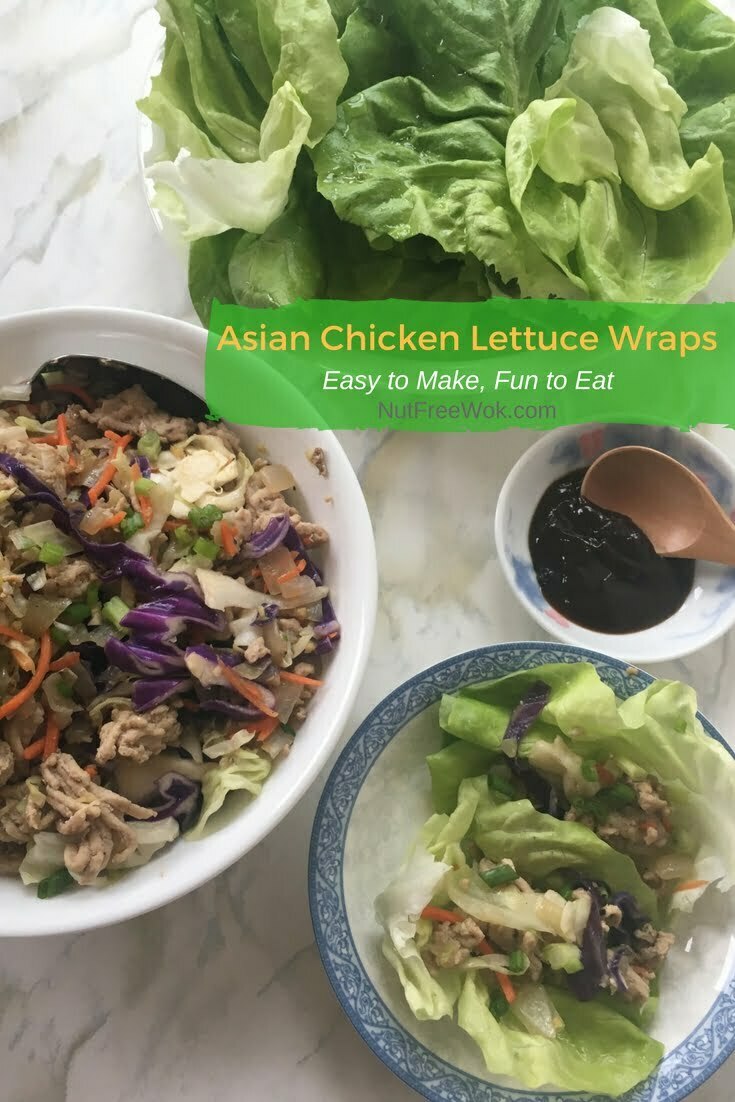 Allergy Aware Chicken Lettuce Wrap
I use a combination of soy sauce and oyster sauce in the sauce and hoisin sauce on the side. This chicken lettuce wrap recipe is very easy to adapt.
If you are allergic to soy, oysters, or any ingredient in hoisin sauce, substitute the soy sauce and oyster sauce with soy free soy sauce and omit the hoisin sauce.
If you are gluten free, you are in luck because there are gluten free versions of soy sauce (tamari), hoisin sauce, and oyster sauce.
For a flavor variation or an allergy aware substitution, you could also saute with other Asian sweet and salty sauces in flavors that you like. If you need ideas, check out what else is in my cupboard. 
This recipe is free of peanuts, tree nuts, egg, milk, and fish as written.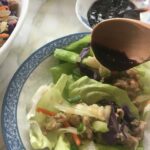 Asian Chicken Lettuce Wraps in a Jiffy
These Asian Chicken Lettuce Wraps are easy to make, delicious to eat, and fun to adapt to your taste and allergies.
Ingredients
1

teaspoon

cornstarch

2

tablespoons

oyster sauce

2

tablespoons

soy sauce

2

tablespoons

cold water

1

teaspoon

olive oil

2

cloves

garlic

minced

1

medium sweet onion

chopped

1

pound

ground chicken

9

oz

shredded cabbage or coleslaw mix

2

scallions

chopped

1

head butter lettuce

washed and leaves separated

1/4

cup

hoisin sauce
Instructions
Combine cornstarch, oyster sauce, soy sauce, and water in a small bowl, stir together and set aside.

Preheat a large skillet on medium heat for a few minutes, add oil and swirl to coat.

Add garlic and onions, saute until fragrant.

Add ground chicken and break up the meat into smaller pieces, saute for 3 minutes until is it's no longer pink.

Add cabbage, scallions, stir the sauce, add to the pan, saute for 1 minute.

Continue to stir to combine the meat and vegetables until the sauce thickens slightly, immediately remove from heat and serve with lettuce cups and hoisin sauce on the side.
If you like lettuce wrap recipes, I also have a lettuce wrap recipe using wagyu sausages.
Sign Up for Emails from Nut Free Wok!
The best way to see every post or recipe is to subscribe to Nut Free Wok's email subscription (be sure to respond to the confirmation email). I won't send you spam or share your email address with anyone.
Disclosure/Disclaimer:
I may mention the names of stores and/or brand names of products that I use because readers ask and I share products and sources which I use and think may be helpful to readers, all opinions are my own. Please note that manufacturing practices and ingredients can change at anytime without notice and readers are always responsible for assuring allergen safety before buying or consuming foods. NutFreeWok.com is a participant in the Amazon Services LLC Associates Program, an affiliate advertising program designed to provide a means for sites to earn advertising fees by advertising and linking to Amazon.com. Thank you for your support!