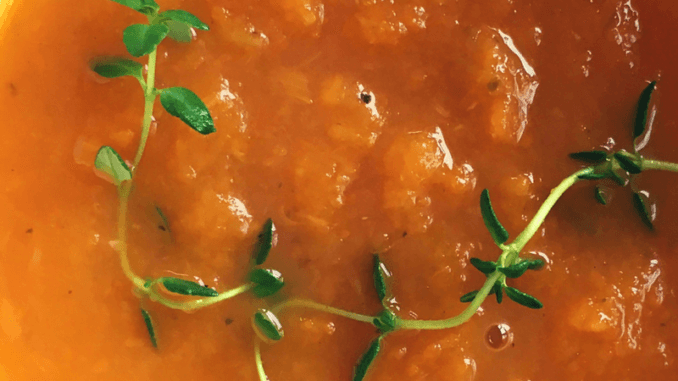 Maybe it's a little hard to get excited about carrot soup, but you should! This recipe is crazy good, healthy, and fast. I have fallen back in love with making carrot soup, thanks to my Instant Pot.
Disclaimer: Please check that all ingredients are suitable for your allergies and be sure to ask your medical care team regarding any allergy related questions (I do not share medical advice). As an Amazon Associate I earn from qualifying purchases.
Jump to Recipe
A carrot soup puree definitely helps to break up the monotony of our usual line up of stir-fry or steamed veggies, raw cut veggies, or salad. This carrot soup recipe is a very kid friendly recipe and tastes great with fresh bread, a sandwich, or as a starter. It tastes savory from the broth but light because of the natural sweetness from the carrots, and has a touch of freshness from the orange and lemon juices. I also make this soup when my kids are sick and add extra thyme for its antibacterial and other health benefits.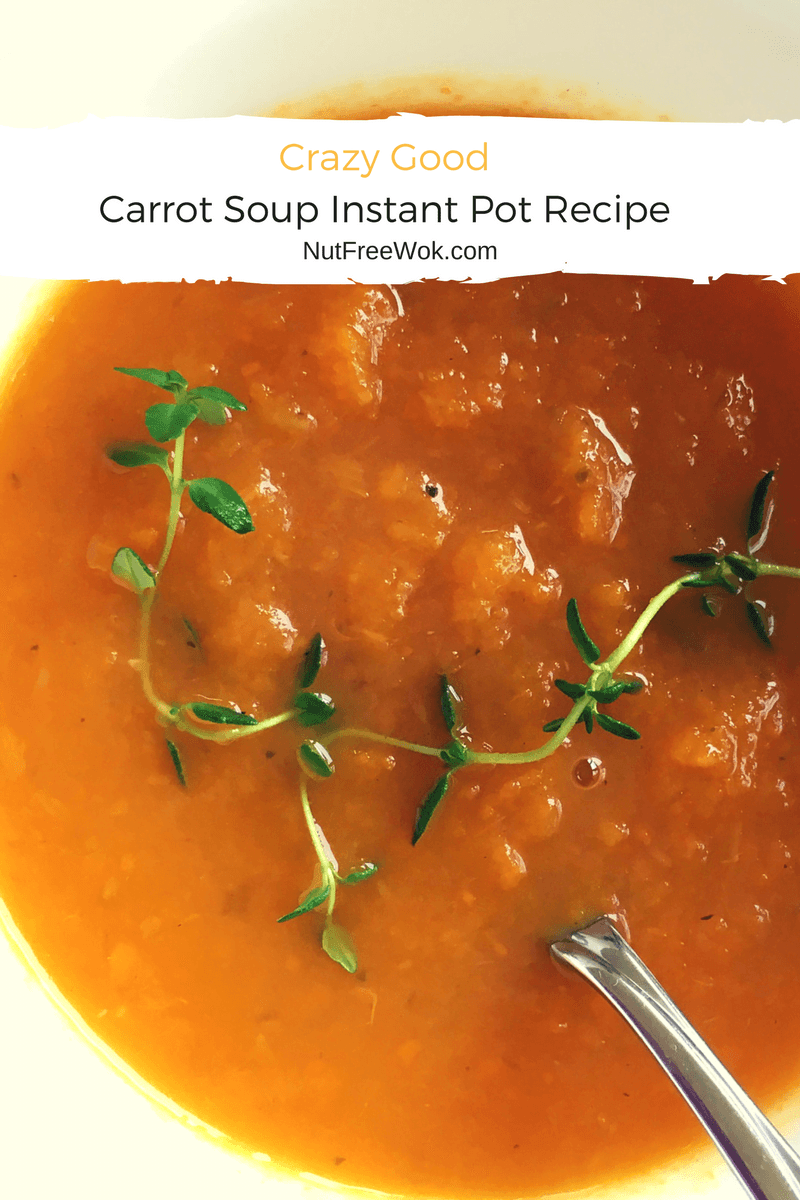 Stove Top vs. Instant Pot
The Instant Pot carrot soup recipe is adapted from Soups: Williams-Sonoma Kitchen Library, (affiliate link) a cookbook I bought about 20 years ago. You can make this soup on the stove top by following steps 1-5 and then cover, bring to a boil, lower the temperature and simmer on low heat for about 45-60 minutes until the carrots are tender enough to puree. The carrot soup recipe is delicious but I seldom make it on the stovetop because I don't have time or patience to prep and cook for 2 hours in the kitchen.
This Instant Pot adaptation of the carrot soup recipe is a huge timesaver because pressure cooking takes just a fraction of the time to make the soup, a shorter cooking time preserves the nutrients of the ingredients.
After I put the lid on the Instant Pot and double check that the vent is in the seal position, I can step away from the kitchen to pick up kids from school/practice/lessons, run laundry, exercise, etc.. And once it's done cooking, it will release the pressure naturally and keep the soup warm until I am ready to puree and serve the soup.
I love my Instant Pot (affiliate link) because it gives me back moments of time, be sure to read my complete review and Instant Pot recipe for Chicken Teriyaki Thighs. You may also enjoy making Instant Pot Chicken Corn Egg Drop Soup Recipe or Instant Pot Chicken Soup with Corn and Vegetables, A Dream Come True and also free of top allergens.
Allergy Friendly and Healthy Recipe Adaptations
The original carrot soup recipe calls for 4 cups of chicken broth, but because a family member needs to have a lower sodium diet, I substitute an equivalent amount of water, low sodium broth, or homemade chicken broth. For convenience, I like using 4 cups of water plus 1 bouillon cube (usually 1 cube makes 1 cup of broth) for flavor without so much sodium. You can use more or less as desired.
If I happen to be at a store with a meat counter, I would purchase one chicken leg or half a breast with bone, discard the skin and fat and cook the chicken pieces in the carrot soup instead of using bouillon. I take the cooked meat out of the soup before pureeing the soup and use the meat for other purposes.
If you are vegan, vegetarian, or don't eat chicken, you can substitute the chicken bouillon or broth with a vegetable bouillon or broth instead.
The original recipe also uses 1 teaspoon of dried thyme, which you can use if you have dried thyme at home. I like to buy organic thyme plants from Trader Joes and I leave it on my kitchen table, use as needed. For $2, I end up with a lot of thyme because when the plant looks a little worn out, I transplant it outside in a larger pot, and the plant keeps growing. I usually grab a handful, snip with scissors, rinse the sprigs, throw them in the soup pot, and pluck out the stems before pureeing the soup. When someone in our household is sick, I use a more generous amount of thyme.
SAFETY NOTE: Be careful about how you puree the soup!
Do not attempt to puree the carrot soup in a blender until the soup is cooled down to a safe temperature to transfer. Even if you are careful with transfering hot soup from the pot to the blender jar, the heat from the soup can build up pressure and make the blender lid pop off while pureeing. Wait for the soup to cool or use an immersion blender.
I highly recommend using an immersion blender (affiliate link) to puree the soup. I have a basic Cusinart immersion blender that I purchased for about $25 many years ago, an immersion blender doesn't need to be fancy. 😉
This recipe as written is free of the top 9 allergens.
The original carrot soup recipe uses 1/4 cup of butter which tastes rich, I use 1 tablespoon of olive oil instead, which makes the carrot soup recipe free of the top 8 allergens and lower in fat and calories.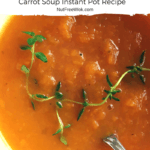 Crazy Good Carrot Soup Instant Pot Recipe
Crazy Good Carrot Soup Instant Pot Recipe
Ingredients
1

tablespoon

olive oil

1

chopped onion

chopped

4

stalks celery

chopped

2

cloves

garlic

minced

2

pounds

carrots

sliced

Handful of thyme

~10 sprigs, 3 inches long

4

cups

water, chicken, or vegetable broth

1

chicken or vegetable bouillon cube

use more or less as desired

½

cup

orange juice

1

tablespoon

lemon juice

salt and pepper

to taste (optional)
Instructions
Set up your Instant Pot, plug it in, turn on the saute mode, and wait 1 minute for the Instant Pot to heat up.

Add oil and chopped onions, saute until translucent (2-3 minutes).

Add celery and garlic, saute until the garlic is fragrant and onions are slightly browned (2-3 minutes).

Add carrots, saute for 2-3 minutes.

Add water, bouillon, and thyme.

Cover and lock the Instant Pot, set the vent to seal, change the mode to manual and set the time for 10 minutes.

Allow the Instant Pot to release the pressure naturally (wait 5-10 minutes) but be careful to keep your fingers away from the vent when you release and open the lid.

Pull out the thyme stems and discard.

If you have an immersion blender, puree the carrot soup in the Instant Pot otherwise allow the soup to cool and puree it in a blender when it's at a safe temperature.

Stir in the orange and lemon juices, adjust to taste with salt and pepper as desired.
Recipe Notes
Stovetop cooking instructions:  You can make this soup on the stove top by following steps 1-5 and then cover, bring to a boil, lower the temperature and simmer on low heat for about 45-60 minutes until the carrots are tender enough to puree. 
Thanks for reading, please help Nut Free Wok!
The best way to see every post or recipe is to subscribe to Nut Free Wok's email subscription (be sure to respond to the confirmation email). You will be notified by email next time I publish another post or recipe and I won't send you spam or share your email address with anyone.
If you enjoyed this post, please use the social media buttons below to share with others. I am on Facebook, Twitter, Pinterest, and Instagram as @nutfreewok and it's great to chat and interact on social media too.
Disclosure/Disclaimer:
I may mention the names of stores and/or brand names of products that I use because readers ask and I share products and sources which I use and think may be helpful to readers, all opinions are my own. Please note that manufacturing practices and ingredients can change at anytime without notice and readers are always responsible for assuring allergen safety before buying or consuming foods. NutFreeWok.com is a participant in the Amazon Services LLC Associates Program, an affiliate advertising program designed to provide a means for sites to earn advertising fees by advertising and linking to Amazon.com. Thank you for reading!