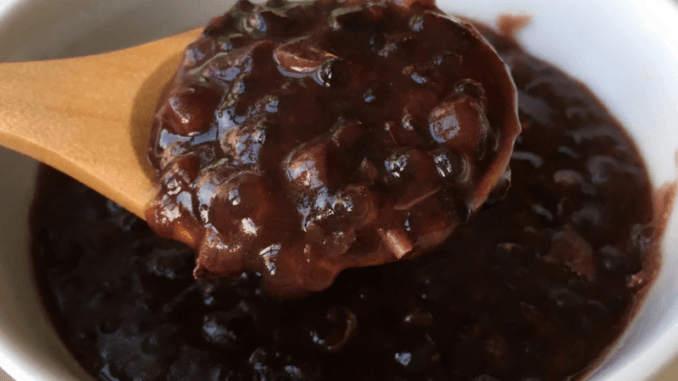 You can enjoy red bean soup anytime of year as a dessert but it's also enjoyed during Chinese New Year (aka Lunar New Year). My blogger friends and I are having a Sweet Lunar New Year Party and you're all invited to check out our recipes. (Post updated 12/28/2021)
Disclaimer: Please check that all ingredients are suitable for your allergies and be sure to ask your medical care team regarding any allergy related questions (I do not share medical advice). As an Amazon Associate I earn from qualifying purchases.
What is red bean soup and what is in it?
Red bean soup is a very popular dessert also known as "Hung Dao Jook" in Cantonese. It is often served hot after dinner and it's very soothing. Some upscale Chinese restaurants might serve hot red bean soup as a complimentary dessert. If you do not make the red bean soup dessert yourself, it's important to ask what are the ingredients as red bean soup may contain peanuts. My red bean soup is free of the top 8 allergens as written.
A basic red bean soup is literally red adzuki beans gently simmered in water until it has a porridge or congee like appearance and then sweetened with a little bit of sugar. My friend introduced me to using black glutinous rice, which I love because I like my red bean soup more like congee that's creamy. I also like eating this red bean soup with black glutinous rice cold because it's spoonable like pudding. That's a perfect dessert for a hot day.
I also love tapioca soup, which is a similar kind of Chinese dessert, so I add some tapioca pearls during the last hour of cooking. Red bean soup might have a hint of citrus with a piece of dried mandarin orange peel but I prefer to use fresh peel. Some people might add small amounts of lotus seeds, other beans, and/or peanuts.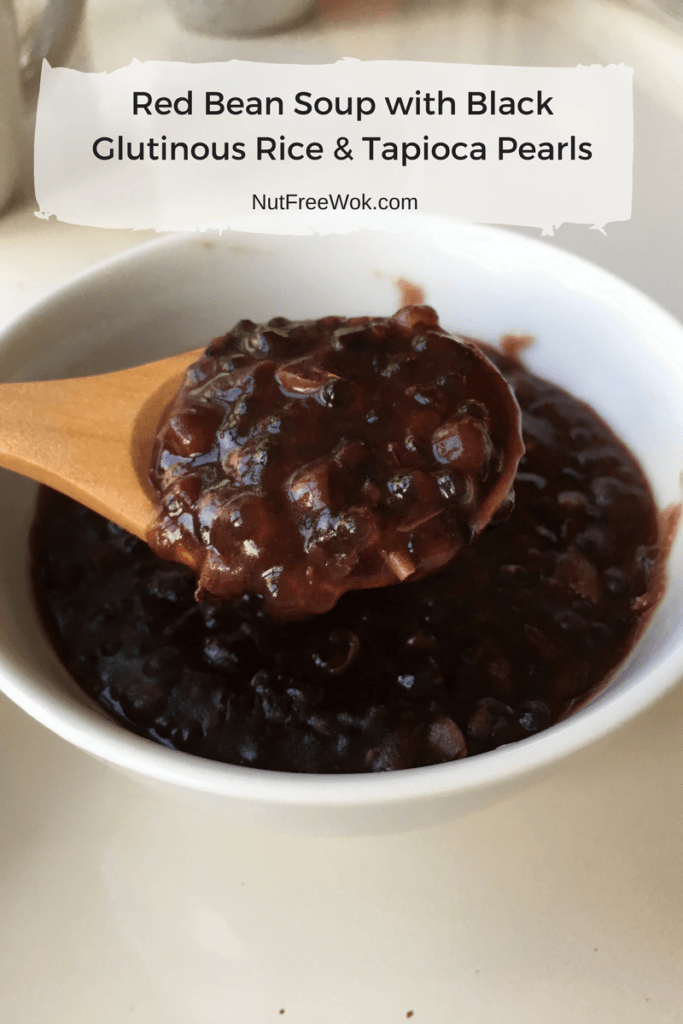 How to make Red Bean Soup?
Give yourself about 24 hours lead time to make the red bean soup, depending on how you like it. Some people prefer their soup to taste like a soup with soft beans. Some people might like it a little more like congee or split pea soup.
You will want to cook it at the lowest heat possible for a long time, which is easy to do if you have an electric stove. If you have a gas stove, you need to be sure that the temperature is at the lowest temperature possible but the flame won't go out. The recipe is written for cooking on a stove top.
If you want it to cook while you're at work or sleeping and can't supervise cooking the soup on a stove top, you can cook red bean soup in a thermal pot or a slow cooker so that you don't have to keep an eye on it. I ended up taking the red bean soup to a potluck so I made it in my thermal pot so that it's easy to transport. Obviously it was perfect when I finished making it at home and took a photo, but it kept cooking in the residual heat in the car, during lunch, and became too goopy by the time we had dessert. Next time I would adjust the amount of water or cooking time if I need to transport it via a thermal pot.
Allergy Aware Red Bean Soup
Red bean soup is free of the top 8 allergens as written in this recipe. Most of the ingredients are simple and easy to substitute or find nut free. It's traditional to use rock sugar or brown slab sugar but difficult to verify allergen information. You can easily substitute with your favorite brand of brown sugar.
However, I felt uneasy about the adzuki bean options available at my local Asian supermarket. Some brands didn't have allergen advisories but those brands also have packages of raw peanuts, it's reasonable to assume there's a chance of cross-contact. I didn't have a lot of time to check online or go to different stores, but I ended up buying a private label (store brand) package of adzuki beans from a Japanese grocery and rinsed the beans in a colander.
You could use instant tapioca as a substitute for tapioca pearls because it's easier to verify allergen information. Note that you must use the type of instant tapioca used for making pies and pudding from scratch. Do not use instant tapioca pudding mix, it's safe to say that "results will vary" if you use instant tapioca pudding mix. 😉 Edwards & Son has an allergen free and organic tapioca pearl which I did not have time to order or source locally. I simply used small tapioca pearls from the Asian supermarket.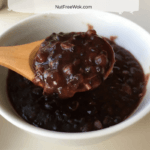 Delicious Red Bean Soup with Black Glutinous Rice Dessert
Ingredients
1

pound

adzuki beans

about 3 cups

3/4

cups

black glutinous rice

1

mandarin orange peel

16

cups

water

1

cup

small tapioca pearls

(reduce to 1/2 cup if you prefer it to be more soupy)

1 1/2

cup

packed brown sugar

add more to taste (I used 3 brown sugar slabs)

Canned coconut milk

optional
Instructions
Wash and rinse adzuki beans, soak in cold water for 3 hours or until ready to use.

Wash and rinse black glutinous rice, soak in cold water until ready to use.

Boil 16 cups of cold water in a 5 or 6 quart stock pot, drain the beans and rice and add them to the pot.

Wash and peel a mandarin orange, use a teaspoon to gently scrape out the white pith on the inside, and add the peel to the pot.

When the pot starts to boil, lower the temperature to low and simmer with the lid on (slightly ajar if there are a lot of bubbles), and stir every 30 minutes so that the beans and rice do not stick to the pot.

Continue cooking on low heat for 6 hours or more until the beans are tender and the soup is slightly creamy like congee or split pea soup, you can adjust the consistency by adding a cup of hot water or cooking it a little longer.

About 1 hour before serving, add the tapioca pearls (optional) and sugar and cook some more on low heat until the tapioca is translucent, adjust sugar to taste and hot water.

Serve with a drizzle of coconut milk (optional).
Recipe Notes
This recipe can easily be adapted to cook in a slow cooker or a thermal insulated pot instead if you think you need to leave it unattended.
Sweet Lunar New Year
Some of my amazing blogger friends are having a Sweet Lunar New Year Party online and you are invited to join us and check out all the wonderful recipes. I peeked at everyone's recipes and saw many delectible yummies. The recipes are not all nut-free but there are plenty of treats to make and enjoy. Many thanks to Christine at Vermillion Roots for organizing our Sweet Lunar New Year Party, links to all the recipes are below. You can also find the recipes on social media with the hashtags #SweetLunarNewYearParty or #ChineseNewYearCookieParty.
If you are interested in more Allergy Aware Asian Fare recipes for Chinese New Year, be sure to check out my other Chinese New Year appropriate recipes at the bottom of my Chinese Style Steamed Fish & Chinese New Year post.
#SweetLunarNewYear Recipes
Allergy disclaimer: The following recipes might need some adaptations. Please use your discretion. 🙂 It's like going to a party IRL and so many dishes contain nuts and other allergens. 
Chinese Peanut Cookies by Wok & Skillet
Coconut Red Bean Pudding by The Missing Lokness
Cashew Nut Cookies by Anncoo Journal
One Bite Pine Nut Cookies by Yummy Workshop
Baked Coconut Walnut Sticky Rice Cake by Jeanette's Healthy Living
Cashew Nut Cookies by Roti n Rice
Mini Peanut Puffs (Kok Chai) by Malaysian Chinese Kitchen
Thousand Layer Cake (Lapis Legit) by Daily Cooking Quest
Pineapple Cookies (Nastar) by V for Veggy
Almond Orange Spiral Cookies by Butter & Type
Three Color Dessert (Che Ba Mau) by The Viet Vegan
Korean Tea Cookies (Dasik) by Kimchimari
Sweet Sticky Cakes (Kuih Bakul) by Lisa's Lemony Kitchen
Chick Egg Tarts by Dessert Girl