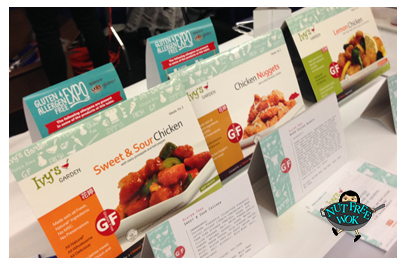 Allergy Aware Asian Fare Highlights from the Gluten Free Allergen Free Expo in San Francisco (2014)
Affiliate disclosure: some links are affiliate links, which do not affect your cost, but do help to support this blog. Thank you!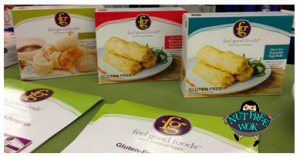 Feel Good Foods, hands down had the best gluten free egg rolls. Light and crispy on the outside, with a tasty filling on the inside. The egg rolls do not taste like they're free of anything and are better than regular egg rolls from an Asian restaurant. Feel Good Foods also make dumplings (no samples) but if I can find either, I would definitely buy them for my children to try. Their foods are not made in an allergen free environment due to shared facilities. However, they do have strict allergen control policies as indicated in their FAQ. UPDATE: THEY HAVE ADDED A NEW PRODUCT WHICH INCLUDES A PACKET OF CHOPPED PEANUTS. That's a deal breaker for me, people with a peanut allergy consume at your own risk. If you are gluten free only, it's still awesome.
San-J (affiliate link) makes organic tamari sauce, which is gluten free. One of the most important ingredients that makes Asian foods taste Asian is soy sauce. I tried one sample packet of the organic tamari when I made fried rice recently and the flavor was excellent. They also had some really nice giveaways (a flexible cutting board, a basting brush with a super long handle, gluten free soy samples, recipes, and packages of sesame crackers. They do make a peanut sauce but after finding out that they test the equipment's rinse water for nut residues, I feel great about the safety of their soy sauce alternatives.
Because there is so much to share about the expo, I've created separate mini-posts:
Yummy Crunchy Munchies and Other Savory Delights
Read about how I used Bella's Baking Mix to make Top 8 Allergen Free Scallion Pancakes
Thanks for reading, please help Nut Free Wok!
The best way to see every post or recipe is to subscribe to Nut Free Wok's email subscription (be sure to respond to the confirmation email). You will to be notified by email next time I publish another post or recipe and I won't send you spam or share you email with anyone.
If you enjoyed this post, please use the social media buttons below to share with others. I am on Facebook, Twitter, Pinterest, and Instagram as @nutfreewok and it's great to chat and interact on social media too.
Disclosure
I was selected as an official GFAF Expo blogger and received tickets to attend the event as well as samples and products to try. All opinions are my own. I may mention the names of stores and/or brand names of products that I use, I have not been paid or solicited by any of the above companies to mention them. I share products and sources which I use and think may be helpful to readers, all opinions are my own. Please note that manufacturing practices and ingredients can change at anytime without notice and readers are always responsible for assuring allergen safety before buying or consuming foods.