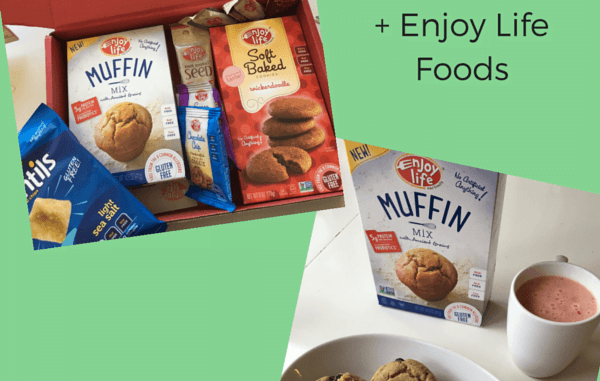 A Snack Box That Helps Others: Love With Food + Enjoy Life Foods
Who loves to receive a snack box as a surprise gift that's beautifully packaged and arrives on one's doorstep? I do! Love With Food sent me their May gluten free snack box containing Enjoy Life Food goodies to review.
Disclosure: I periodically receive samples to enjoy and review from Enjoy Life Foods as one of their blogger friends, I am not paid or required to share with you and all opinions are mine. As always, I only share what might be interesting for readers with complete disclosure and honesty.
A snack box filled with goodies from Enjoy Life Foods is an awesome way to celebrate Food Allergy and Celiac Awareness Month in May. Just in case you don't already know about Enjoy Life Foods, they are one of the leading allergy friendly companies because all of their products are free of the top 8 allergens. Our family's worst allergies are nuts but I like to be aware of top 8 allergen free options so that I can be a compassionate bystander for someone with different allergies.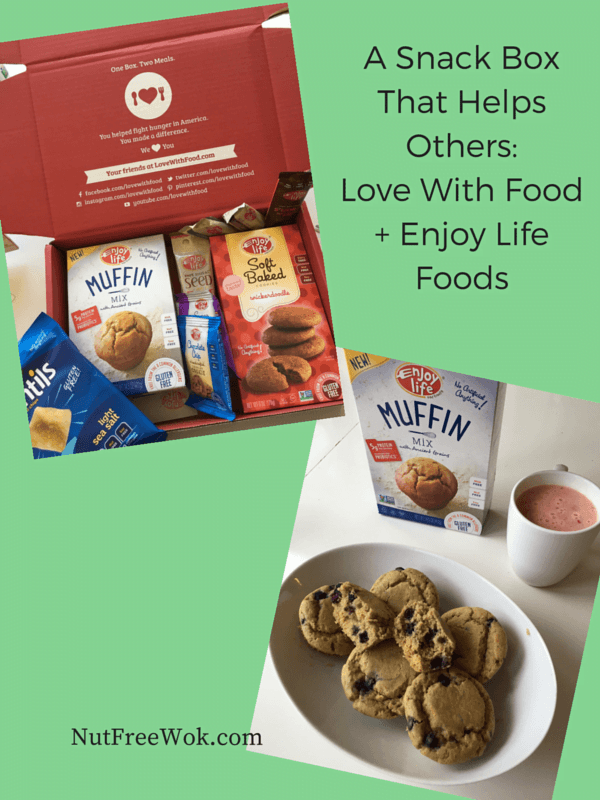 Blueberry Lemon Muffins
I was most curious about Enjoy Life Food's muffin mix, which is one item from their new line of baking mixes. I happen to have a lot of lemons that a friend dropped off and blueberries in the freezer so I tried making a gluten free Enjoy Life version of Blueberry Lemon Muffins. The resulting muffins were very good when freshly baked and out of the oven but the leftovers did feel crumbly the next day. If I were to try it again, I would try a different flavor combination  to complement the buckwheat flour better.
The baking instructions on the box are for 10 muffins and I found that they easily filled my 12 cup muffin tin. The baking time is for 10-20 minutes which I think is quite a wide range of time. I checked after 10 minutes the batter was still gooey. They were finally ready after baking for a total of 21 minutes and I think could have used 1 more minute in the oven due to the moisture of the blueberries.
The Love With Food May gluten free snack box contains a box of Enjoy Life Foods Muffin Mix and lots of snacks including a small bag of Plentils, individually packaged snack bars (3), cookies (2), and seed mixes (2), and a box of Snickerdoodle Soft Baked Cookies. Our family loves the seed mixes and Snickerdoodle cookies, yum.
What is Love With Food?
There is so much to admire about Love With Food (www.lovewithfood.com) and their snack boxes. Their tagline is "Snack Smart. Do Good. Discover NEW, Organic or All-Natural snacks delivered to your door every month and we'll donate a meal to a hungry child." I really like that they are working with organic and/or all-natural snack companies and that a food company is helping to meet basic needs by providing meals for hungry children. The most basic package costs $10 (including shipping) and could be discounted 10-20% depending on the subscription plan you choose. If you like certain products, you can buy more in bulk at a discount from their snack shop.
A snack box containing new products delivered to your home seems like a fun way to try new foods and different brands and if you like certain snacks, you can order them a la carte. I explored their "snack shop" and there's the option to narrow the selections by a quite a few dietary labels such as "kosher" or "dairy free" which is great. I did notice at least 10 nut free brands that I've mentioned on my blog such as Explore Asian, Surf Sweet, etc. but none of them were labeled as "nut free" and only one product which I am unfamiliar was considered nut free. If you decide to purchase from their snack shop, look for familiar brands or contact any unfamiliar manufacturers before ordering a la carte from the snack shop.
Be aware that Love With Food is not able to customize the boxes to accommodate allergy and dietary restrictions. They do offer a gluten free box but those with additional food allergies must check labels and if needed, contact manufacturers before consuming. If there's something you can't eat, share with your friends. Otherwise, the boxes would be a thoughtful care package for someone who does not have any food allergies or dietary restrictions and your purchases have a positive impact on others thru Love With Food's donations to food banks.
Order a Box or Enter a Giveway
The good news is that during the month of May, you can count on Love with Food's gluten free box to be generally safe and allergy friendly if Enjoy Life Foods products are safe for you or a loved one, which you can order from Love With Foods (be sure to look for promo codes online for a discount). If you are interested, Enjoy Life Foods is hosting a giveaway to celebrate Celiac Awareness and Food Allergy Awareness Month. They have 15 of these boxes to give away (click here for details), to enter:
Tag @lovewithfood & @enjoylifefoods telling us how you're celebrating celiac awareness month using #EatFreeLove
Enter by May 31st at 11:59 p.m. PST
15 lucky fans will win! Fans can also enter by emailing their photo to info@enjoylifefoods.com. Winners chosen at random. Enjoy Life Foods will notify winners directly. Limited to US residents, ages 13+.
Thanks for reading, please help Nut Free Wok!
The best way to see every post or recipe is to subscribe to Nut Free Wok's email subscription (be sure to respond to the confirmation email). You will to be notified by email next time I publish another post or recipe and I won't send you spam or share you email with anyone.
If you enjoyed this post, please use the social media buttons below to share with others. I am on Facebook, Twitter, Pinterest, and Instagram as @nutfreewok and it's great to chat and interact on social media too.
Disclosure: I periodically receive samples to enjoy and review from Enjoy Life Foods as one of their blogger friends, I am not paid or required to share with you and all opinions are mine. As always, I only share what might be interesting for readers with complete disclosure and honesty.