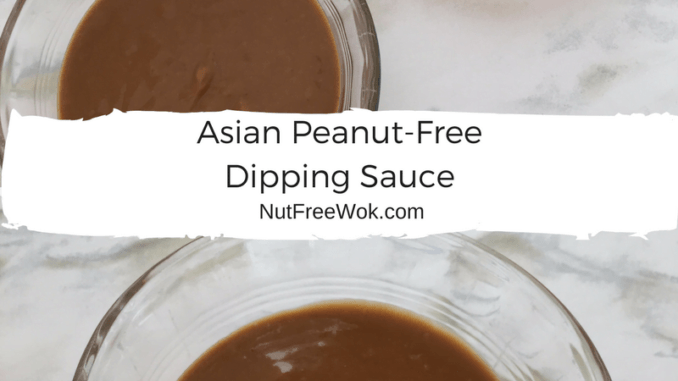 Enjoy your fresh Vietnamese spring rolls with an Asian inspired, Vietnamese style sunflower butter dipping sauce that is peanut-free! This delicious recipe uses sunflower seed butter as a nut-free substitute and easy to adapt with other nut-free butters. Be sure to read some important safety tips from my experiences as an allergy mom.
This post is updated on 2/21/2023 with minor updates.
Disclaimer: Please check that all ingredients are suitable for your allergies and be sure to ask your medical care team regarding any allergy related questions (I do not share medical advice). As an Amazon Associate I earn from qualifying purchases.
Jump to Recipe
Easiest Dipping Sauce Recipe
A Vietnamese peanut-free dipping sauce could be made in one of two ways. A traditional recipe would sauté the garlic in oil and then cook the sauce so that it blends together easily. Some recipes might use hoisin sauce, which might contain different allergens. My simple recipe makes it easier to adapt for food allergies.
It's generally very easy to make this dipping sauce. My no-cook recipe couldn't be any easier. All you need to do is stir the ingredients together and then dilute with somne hot water.
This recipe is adequate for 4 servings. Double the recipe if you are feeding more people or would like some extra dipping sauce for other purposes. Store any leftover dipping sauce in the refrigerator for up to 3 days. I love to eat cut veggies with the dipping sauce as a snack.
Sometimes Allergy Aware Substitutions Brings Up Feelings
Sometimes I would go out for lunch with my mom or friends and order Vietnamese spring rolls. Invariably the fresh spring roll order would come with a little dish of peanut dipping sauce, which might be made of peanut butter, hoisin sauce, and topped with chopped peanuts. The only Vietnamese restaurant that I know that makes a peanut-free spring roll is Monster Pho!
When I began testing out this peanut free dipping sauce recipe a few years ago, one of my children had been eating sunflower seed butter regularly so the concept of an alternative spread was already in our lives. However when my children saw that I was enjoying the peanut-free dip and encouraging them to try it, one of my sons asked me if I missed peanut butter.
He asked such a sweet, innocent, and thoughtful question but I felt pangs of guilt. What do I say?
A) I do not miss peanut butter which doesn't make sense because I'm obviously enjoying a peanut-free version of something delicious.
B) I do miss peanut butter, which isn't true because I love my child to infinity and would gladly give up anything and everything to keep him safe, alive, and healthy.
I can't remember exactly what I said but probably something along the lines of using what we already have in the house, which is sunflower seed butter. We work with what we can!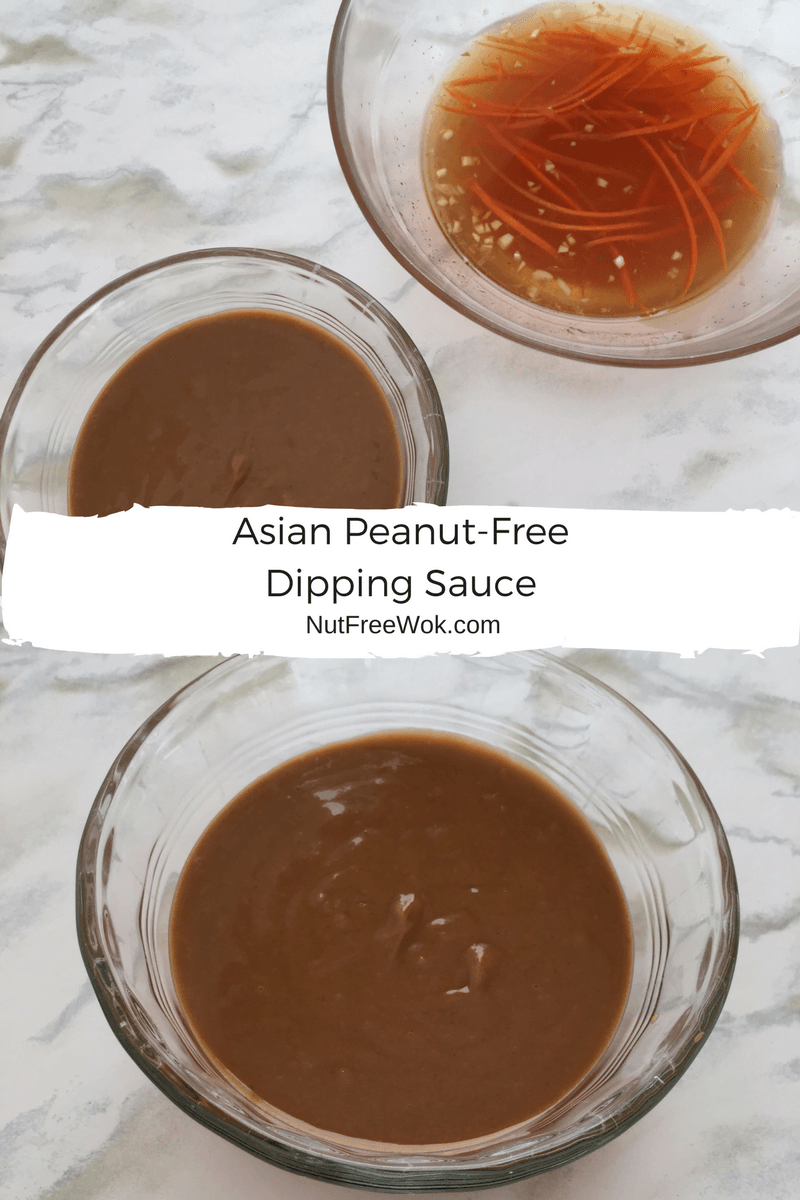 Allergy and Food Safety Tips When Using a Nut-Free Butter
Tip #1 Be certain the alternative nut-free butter is not an allergen!
This peanut-free dipping sauce recipe will need a peanut-free and allergy safe spread. There are many peanut butter alternative spreads made from sunflower seeds, peas, roasted soy nuts, and tree nuts, which are only appropriate if one is not also allergic to sunflower seeds, peas, soy, or tree nuts respectively.
Tip #2 Pick a trusted brand!
Ask other friends with food allergies for their recommendations of what tastes good and what they recommend. You can also look for an allergen statement or mission statement on the product websites to find out why are they making a peanut-free spread.
Sunflower seed butter: I use Sunbutter (affiliate link) for my recipe, I also use Trader Joe's Sunflower Seed Butter, which is creamier and needs less water to become a creamy dip.
Soy butter: My favorite soy butter spread is made by Don't Go Nuts (affiliate link). They make a soy butter spread and yum snack bars because one of their children has a severe peanut allergy. We know that if they have a personal connection to food allergies, then they will do everything they can to make a safe product free of cross-contact.
Tip #3 Be aware of recalls regarding spreads.
Nut and nut spreads often have recalls due to contamination of biological pathogens which can lead to severe health consequences that can affect anyone. One soy nut butter manufacturer had to recall their products due pathogens and then a few weeks later the FDA shut down the manufacturing facility. I highly recommend that you subscribe to the FDA's recall notifications by email.
Tip #4 Avoid cross-contact
One important safety consideration is that if you make this peanut-free, nut-free dip for someone with a food allergy, that you do not make a peanut butter version at the same time for others. The dipping sauces will look too similar and it is too easy for cross-contact or a mix-up to occur to and lead to accidental ingestion of an allergen and unintended consequences.
Tip #5 Share Allergen Awareness
Allergy-safe versions of recipes help people to enjoy different recipes and flavors but they can't let their guard down. If someone with a food allergy is young or newly diagnosed, be sure to remind them that you are making an allergy-safe version for them but that this type of dipping sauce is typically made with peanut butter.
For some people a peanut-free version of a typically peanutty recipe might feel uncomfortably dangerous, which needs to be respected. Select a different type of Vietnamese style dipping sauce, nuoc cham, Vietnamese dipping sauce made with fish sauce (it's the amber colored sauce with a carrot garnish in the photo, yum!).
Free from top allergens (except coconut aminos)
This recipe is free from top allergens. If someone is specifically allergic to coconut, I recommend double checking to see if coconut aminos are safe. Coconut aminos is made from the nectar collected from a coconut flower. If you aren't sure if that's allowed, you can try soy sauce, soy-free soy sauce, or fish sauce. See my post about What's in Nut Free Wok's Cupboard? Allergy Aware Ingredients for suggestions.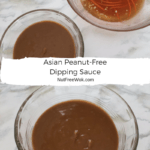 Nut-Free Vietnamese Dip Recipe for Spring Rolls
Enjoy your fresh Vietnamese spring rolls with an Asian inspired, Vietnamese style sunflower butter dipping sauce that is peanut-free! This delicious recipe uses sunflower seed butter as a nut-free substitute and easy to adapt with other nut-free butters. Be sure to read some important safety tips from my experiences as an allergy mom.
Ingredients
1/4

cup

sunflower seed butter

or other allergy safe nut butter

3

tablespoons

lime juice

1

tablespoon

coconut aminos

or use 2 teaspoons soy sauce

1

tablespoon

brown sugar

1

teaspoon

Sriracha sauce

optional, adjust to taste

1

clove

garlic

finely minced

3-4

tablespoons

hot water
Instructions
Combine all the ingredients except the hot water until smooth.

Add the hot water 1 tablespoon at a time and stir until it reaches a desired consistency (3 tablespoons if eating right away, 4 tablespoons if refrigerating overnight).
Thanks for reading, please help Nut Free Wok!
The best way to see every post or recipe is to subscribe to Nut Free Wok's email subscription (be sure to respond to the confirmation email). You will be notified by email next time I publish another post or recipe and I won't send you spam or share your email address with anyone.
If you enjoyed this post, please use the social media buttons below to share with others. I am on Facebook, Twitter, Pinterest, and Instagram as @nutfreewok and it's great to chat and interact on social media too.
Disclosure/Disclaimer:
I may mention the names of stores and/or brand names of products that I use because readers ask and I share products and sources which I use and think may be helpful to readers, all opinions are my own. Please note that manufacturing practices and ingredients can change at anytime without notice and readers are always responsible for assuring allergen safety before buying or consuming foods. NutFreeWok.com is a participant in the Amazon Services LLC Associates Program, an affiliate advertising program designed to provide a means for sites to earn advertising fees by advertising and linking to Amazon.com. Thank you for reading!