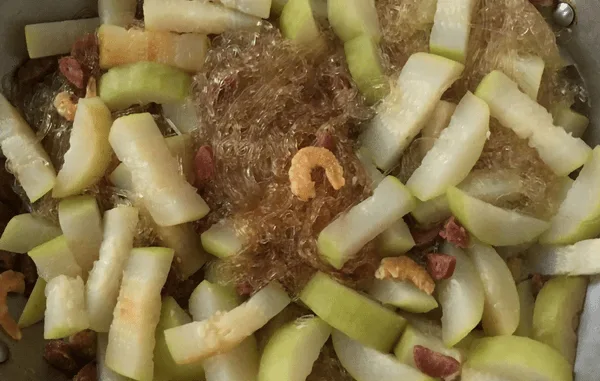 Fuzzy Melon with Vermicelli (Moa Gua Fun See) Recipe
Fuzzy melon with vermicelli is a classic Chinese homestyle dish that is allergen friendly and paleo friendly. This recipe is free of nuts, egg, milk, as well as grain free and paleo friendly.
Disclosure: This post contains Amazon affiliate links, which do not affect your cost but allow me to earn a small commission, thanks for your support. This post is not sponsored by any of the companies mentioned, I did recieve 1 package of BGreen Foods (Oct 2015) to sample, all opinions are mine.
What is Fuzzy Melon?
Fuzzy melon is a gourd that is related to wintermelon but it's smaller and has a prickly exterior. They are called Moa Gua in Chinese because of the fine layer of "hair" that are prickly when fresh. In fact when fuzzy melon is fresh, the "hair" will look golden brown and stick straight up. It's alright if the "hair" are slightly matted but the fuzzy melon is firm and free of blemishes.
Fuzzy melons look like the shape of zuchinni with a light green mottled appearance. There are two different varieties. I love the little fuzzy melons that are about the size of one's hand. Those have a lot more flavor but are usually only available during the summer. The longer zuchinni shaped fuzzy melons are available all year round in well-stocked Asian markets.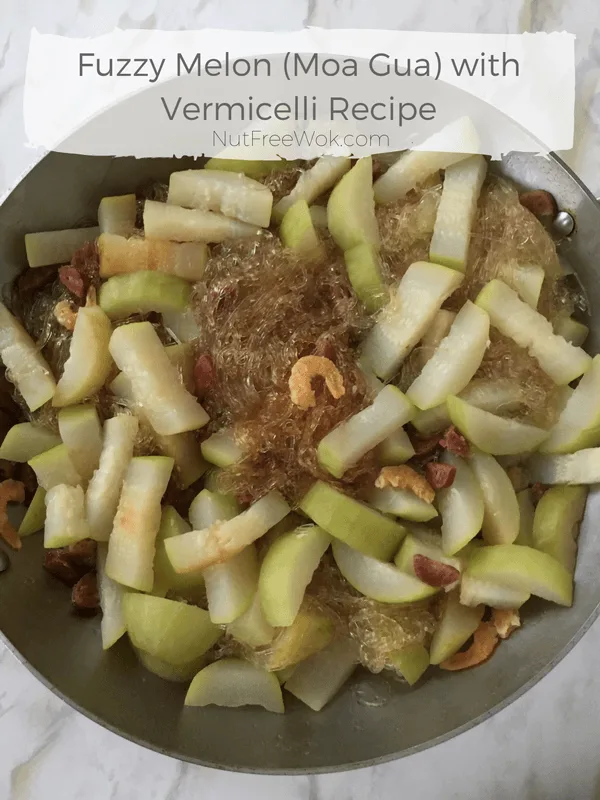 How to Prepare Fuzzy Melon
It's very simple to prepare fuzzy melons and use it in soups, stews, and stir fry. Use a paring knife to cut off the stem and the blossom end and then use the dull side of a knife and gently scrape the fuzzy hair off. Rinse it and then cut it into the desired size. For this recipe, you will want to cut them into 1/2 inch rounds, then cut the rounds into 1/2 inch sticks.
Equipment note – you will need to do a little sauteeing and braising for this recipe so you need a pan that is wide enough to sautee all the ingredients but you also need to braise the fuzzy melon with a covered lid. You can use any frying pan with a fitted lid, I use a
braising pan
(affiliate link) which I also use for steamed dishes.
Mung Bean Vermicelli Love
I love mung bean vermicelli, almost obsess over these glassy noodles because they absorb a lot of flavor, easy to cook, and have a great texture. As I have mentioned vermicelli noodles before when I wrote about how to make
napa cabbage
 and how difficult it is to find a reliable brand. There has been at least one recall due to how they're made but unrelated to food allergies.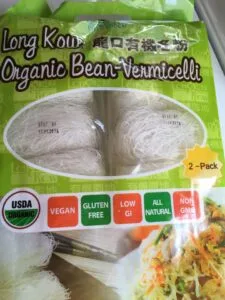 My wish for an allergy friendly and food safe vermicelli noodle came true last year when I found Long Kow organic mung bean vermicelli at Costco (
see photo on Facebook
). I cannot taste the difference between the organic noodles and non-organic ones, but my kids definitely notice a difference and enjoy eating the vermicelli. I was also able to verify via email that they're made in a peanut and tree nut free facility. I encourage you to contact them and check for yourself, especially if you manage additional allergies besides peanut and tree nuts.
Allergy Aware Adaptations:
I know that some readers are allergic to legumes, including mung beans, and they should not use mung bean vermicelli. However if you can consume peas, BGreen Foods makes an Organic Fensi, a bean-free and allergen friendly vermicelli from peas. You can also try other glassy noodles made from potato starch that I used in my recipe for
Korean Beef Jap Chae
. One last option is to use kelp noodles but kelp noodles do not absorb as much liquid so you'll need to adjust the liquid (a little less) and seasoning (a little more) accordingly.
Fuzzy melon with vermicelli noodles is typically prepared with dried shrimp, Chinese sausages (lap cheong), and seasoned with oyster sauce. However if you need to avoid any of those ingredients or can't find them, you could try the following adaptations:
Shrimp allergy: substitute with dried scallops (for a comparable flavor, if not allergic to scallops) or diced carrots (for color)
Seafood allergy: substitute the dried shrimp with diced carrots for color; use a vegan oyster sauce made from mushrooms or omit the oyster sauce and use soy sauce or soy-free soy sauce or use broth instead of water.
Soy/wheat allergy: check your oyster sauce and adapt accordingly
If you can't find Chinese sausage: substitute with bacon or ham (add the ham at the same time as the vermicelli), or omit for a vegan dish. I've also simply used chopped chicken thighs as an alternative.
If you can't find dried shrimp: use small fresh shrimp, such as bay shrimp. Add it at the end with the vermicelli.
This recipe as written is free of peanuts, tree nuts, egg, milk, and fish.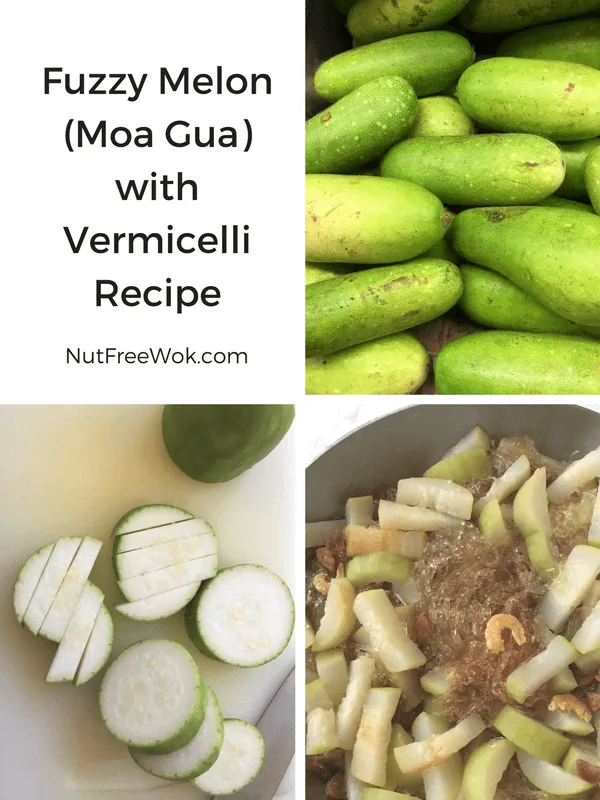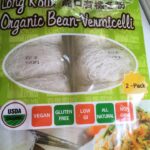 Fuzzy Melon (Moa Gua) with Vermicelli Recipe
Ingredients
2

bundles mung bean vermicelli

1

large or 2 small fuzzy melons

1

Chinese sausage

cut in half lengthwise and slice

2

tablespoons

dried shrimp

soak for a few minutes and drain

1

slice

of ginger

peeled and smashed with the side of a large knife

1

teaspoon

olive oil

2

cups

water

or broth

1

tablespoon

oyster sauce

or allergy safe substitute
Instructions
Soak the mung bean vermicelli in cold water for 10 minutes, drain, unfold the bundle and use scissors cut the vermicelli in half, set aside.

Scrape the fuzzy melon with the dull side of a knife, rinse it, and then cut it into 1/2 inch rounds, cut the rounds into 1/2 sticks.

Select a wide pan that has a lid, add the Chinese sausage and heat the pan on low heat for a 3-5 minutes to render the fat.

When you see some oil in the pan, turn the heat up to medium and saute the sausage for 1 minute and add the shrimp and ginger, saute for 1 minute.

Add a teaspoon of oil (if needed) and fuzzy melon and gently saute until some of the sides look slightly translucent (2 minutes).

Add 2 cups of water (or broth), cover with a lid, and bring to a boil and lower the temperature to medium low and simmer for 10 minutes.

Stir in soaked vermicelli so that it cooks in the liquid, add 1/2 cup of water if needed, cover with a lid and simmer for 3-5 minutes.

Season with oyster sauce and stir, the dish is ready when the fuzzy melon is tender and the noodles are glassy and translucent.

Transfer eveything to a large serving bowl as the noodles will continue to absorb the cooking liquid.
Thanks for reading, please help Nut Free Wok!
The best way to see every post or recipe is to subscribe to Nut Free Wok's email subscription (be sure to respond to the confirmation email). I won't send you spam or share your email address with anyone.
If you enjoyed this post, please use the social media buttons below to share with others. I am on Facebook, Twitter, Pinterest, and Instagram as @nutfreewok and it's great to chat and interact on social media too.
If you see any of my posts on social media, please like, retweet, comment, or share. I would love your help in sharing Allergy Aware Asian Fare with your friends so that I can spend more time working on recipes.
Disclosure/Disclaimer:
I may mention the names of stores and/or brand names of products that I use because readers ask and I share products and sources which I use and think may be helpful to readers, all opinions are my own. Please note that manufacturing practices and ingredients can change at anytime without notice and readers are always responsible for assuring allergen safety before buying or consuming foods. NutFreeWok.com is a participant in the Amazon Services LLC Associates Program, an affiliate advertising program designed to provide a means for sites to earn advertising fees by advertising and linking to Amazon.com. Thank you for your support!