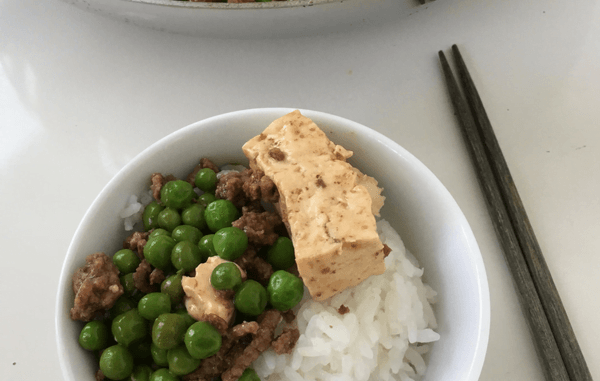 Minced Beef with Tofu, Peas, and Oyster Sauce is a delicious savory entree to enjoy with a steamy bowl of rice for pure comfort on a cold evening. It's an easy to make dish that is like a non-spicy version of mapo tofu, and appealing to kids because of the sauce and soft texture.
Disclaimer: Please check that all ingredients are suitable for your allergies and be sure to ask your medical care team regarding any allergy related questions (I do not share medical advice). As an Amazon Associate I earn from qualifying purchases.
You will love how easy it is to make minced beef with tofu, peas, and oyster sauce. One of my sons really loves tofu and peas and I tend to make this dish for him right after he gets his braces tightened because everything is so soft, the sauce coats the rice so that it's easy to eat. However, I have another son who loves beef but doesn't like beef with tofu or peas, so I have to make this dish along with something with broader appeal. Do you ever have to juggle multiple preferences along with allergy needs? This recipe is dedicated to my tofu loving son so that he can learn to make it by himself when he's ready. <3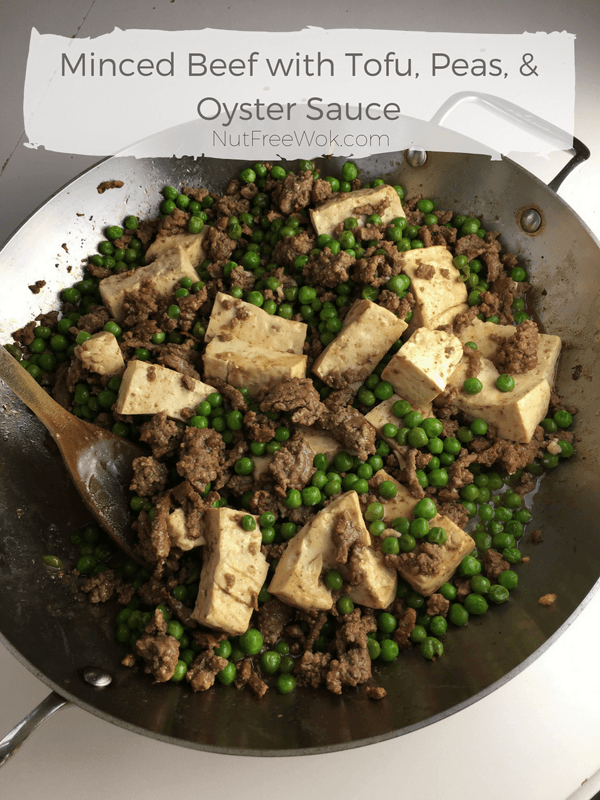 How to Prepare the Tofu
I don't like it when tofu releases a lot of liquid and waters down my recipes. In my recipe for Pan Fried Tofu, I recommend cutting slits on two sides of the tofu box and then tip the container on its side for a couple of hours to drain the tofu. Sometimes I forget to do this step or I run out of time. I use our microwave as a shortcut. Transfer the tofu to a microwave safe bowl and microwave it for 2 minutes, then take it out and allow it to cool for 5-10 minutes. While the tofu cools, more liquid will come out of the tofu and you can go ahead and drain it right before you are ready to use.
Allergy Aware Adaptations
If you are cooking Minced Beef with Tofu, Peas, and Oyster Sauce for someone with a soy allergy, one would think that this recipe is impossible to make but actually you still end up with quite a delicious dish by omitting the tofu and cooking just the beef, peas, and sauce. You would have to modify the recipe with soy-free soy sauce (1/4 cup), sugar (1 tsp), and cornstarch (2 teaspoon) instead of using soy sauce and oyster sauce (amounts are approximations, adjust to taste).
If you are cooking this dish for someone with a shellfish allergy, you could either use a vegan oyster sauce (made from mushrooms) or omit the oyster sauce and use extra soy sauce and a bit of sugar.
If someone has a pea allergy, you can substitute in other ready to heat and serve, bite size, tender vegetables such as shelled edamame, carrots, etc..
If you are unsure of what ingredients to use, be sure to see what is in my cupboard to see if they will work for you.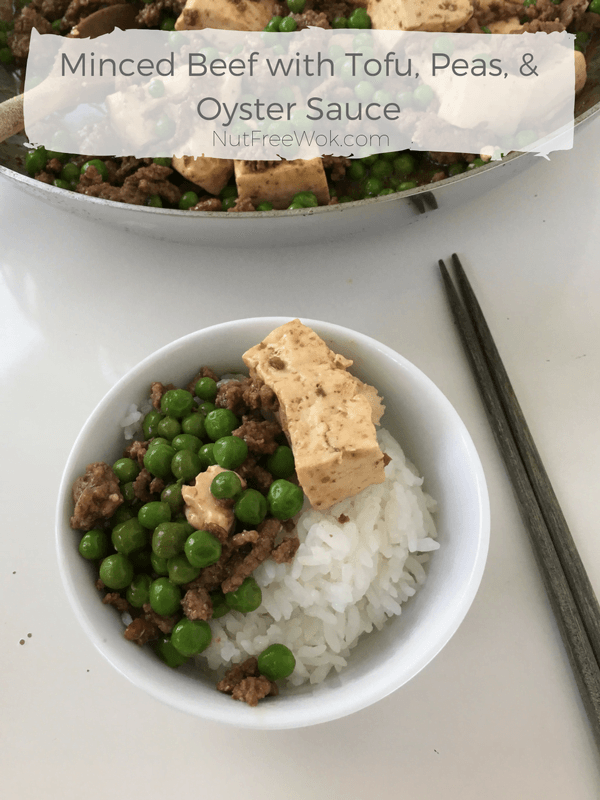 This recipe is free of peanuts, tree nuts, eggs, milk, and fish as written.
I also make variations of this dish using ground bison instead of ground beef. If you haven't tried ground bison before it is delicious and is leaner than beef. You can also substitute ground beef with ground turkey or ground chicken. You can also make the dish budget friendly by using half the beef.
I also sometimes use sole filets instead of beef. I find that dover sole filets are more delicate and cut pieces will break into tiny pieces so I recommend cooking the filets whole. Petrale sole filets are bigger and sturdier so it's okay to cut each filet into 2-3 pieces. I leave out the onions, pan fry the fish filets until they are 75% cooked, and then add the rest of the ingredients and cook until the tofu and peas are heated through and the sauce thickens.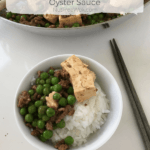 Minced Beef with Tofu, Peas, and Oyster Sauce Recipe
Minced Beef with Tofu, Peas, and Oyster Sauce is a delicious savory entree to enjoy with a steamy bowl of rice for pure comfort on a cold evening. It's easy to make and appeals to kids because of the sauce and soft texture and like a non-spicy version of mapo tofu. Serve with freshly cooked rice or quinoa.
Ingredients
1

pound

box of firm tofu

drained

1/4

cup

water

room temperature

2

tablespoons

oyster sauce

adjust to taste

1

tablespoon

soy sauce

2

teaspoons

cornstarch

1

teaspoon

olive oil

1/4

onion

chopped

1

pound

finely minced beef

or ground beef

2

cups

frozen petite peas

defrosted
Instructions
Cut some slits on the top of the tofu box and drain the tofu for a few hours in a bowl in the refrigerator OR drain and transfer to a microwave safe bowl and microwave for 2 minutes.

Cut tofu into approximately 16-20 pieces and set aside for 10 minutes or until ready to use.

In a small bowl, combine the water, oyster sauce, soy sauce, and cornstarch and stir, set aside until ready to use.

Preheat a large frying pan on medium heat for a minute, add oil, swirl to coat, and sautee chopped onions for 1-2 minutes until translucent.

Add beef and saute until browned (spoon out excess fat, if using ground beef, if desired).

Drain the tofu again, add tofu and peas into the pan, gently stir into the beef.

Stir the sauce and add to the pan, continue cooking until heated through and the sauce thickens (2 minutes).

Stir again and simmer for another minute, adjust to taste with more oyster sauce, serve over rice.
Recipe Notes
Estimated calorie count is 370.
Thanks for reading, please help Nut Free Wok!
If you like this recipe, please be sure to give a 5 star rating, leave a comment, and share this post! Your support means a lot to me.
Subscribe to Nut Free Wok's email subscription (be sure to respond to the confirmation email). You will be notified by email next time I publish another post or recipe and I won't send you spam or share your email address with anyone.
Disclosure/Disclaimer:
I may mention the names of stores and/or brand names of products that I use because readers ask and I share products and sources which I use and think may be helpful to readers, all opinions are my own. Please note that manufacturing practices and ingredients can change at anytime without notice and readers are always responsible for assuring allergen safety before buying or consuming foods. NutFreeWok.com is a participant in the Amazon Services LLC Associates Program, an affiliate advertising program designed to provide a means for sites to earn advertising fees by advertising and linking to Amazon.com. Thank you for reading!