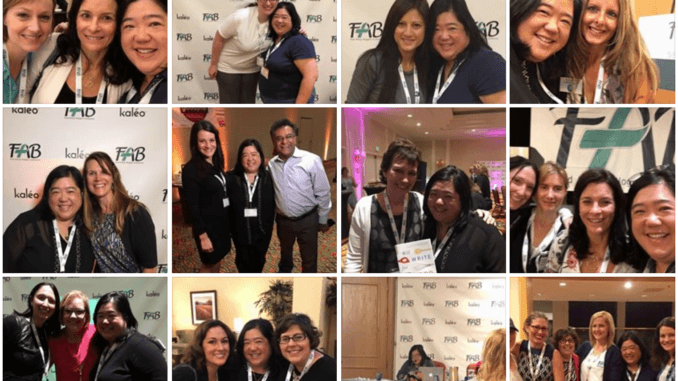 I had a great time at the Food Allergy Bloggers Conference (FABlogCon 2016)! It is a one week conference packed into a 3 day weekend. I will share a few highlights from the conference that really excite me as well as a giveaway of some of my favorite swag bag items.
I would like to congratulate and thank Jenny and her amazing planning committee for pulling off an incredible FABlogCon 2016. It's a very special event for anyone who is living breathing life with food allergies, celiac's disease, or other conditions which require managing food restrictions. FABlogCon friends share hugs and laughter and there is nothing compared to inperson conversations. If you weren't able to attend this year, I hope this post will inspire you to save up and clear your calendar for FABlogCon 2017.
Highlights:
I feel like I need to duplicate (or triplicate!) myself to be in several places at FABlogCon 2016.

I want to attend all of the sessions to be a better parent of food allergic children and be a smarter blogger. The expo room is filled with allergy friendly companies and products/services. And if one isn't too tired, one can take photobooth photos with their favorite people and dance the night away. There's always something interesting going on for everyone.
I came full circle this year. I attended the inaugural FABlogCon and was inspired to start this blog and my son enrolled in a peanut patch trial in 2012. This year I was delighted to come full circle and share a panel with Susan Weissman (Chinese Herbs with Dr. Li) and Amy Billington (OIT) about parent perspectives about food allergy treatment options. After hearing everyone's perspectives, my heart is filled with gratitude for so many treatment options and for all the advances in food allergy research. I didn't have a chance to share a lot of details about EPIT, but you can download the e-handout I created to learn more.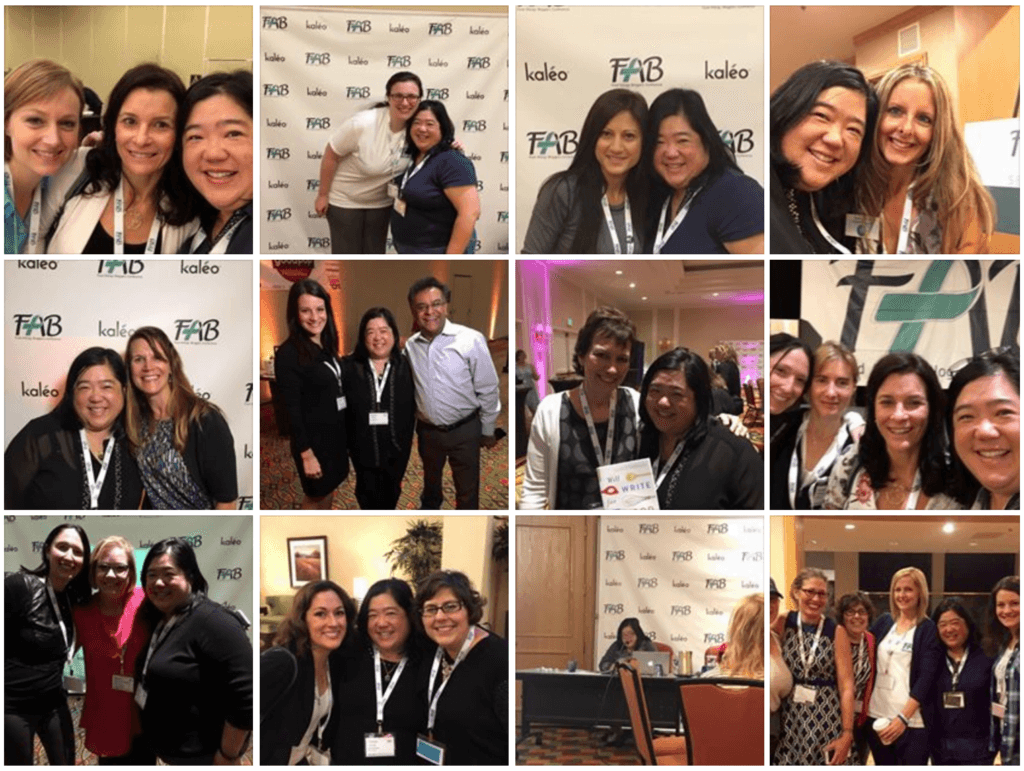 Check out the Expo.

I spent some time on Saturday to give you a tour of the Expo via Facebook Live. The video feed got cut off due to the WiFi connection but you can watch both clips (see below) to get an idea of the level of excitement in the Expo.

So much good food at FABlogCon 2016!

There are lots of new foods to sample at the expo or in the swag bag.The swag bags were wonderful and filled with goodies! I picked out a few of my favorites to share with you in a giveaway. All the details on how to enter are at the very bottom of this post.

Really good food!

The Denver Renaissance Hotel dining staff along with Chef Keith Norman does a great job of preparing allergy safe meals that everyone can enjoy. One of my favorites was a stir fry station in which one can pick from a selection of items to stir fry plus a sauce and a chef cooks the meal to order on the spot, so yum!
Auvi-Q & Inspiration
My absolute favorite highlight at FABlogCon 2016 was meeting and speaking with Eric and Evan Edwards. They are twin brothers who invented the Auvi-Q epinephrine autoinjectors and will relaunch AuviQ in 2017 via Kaleo, a pharmaceutical company they co-founded. They are my favorite new FABlogCon friends because not only do they make a cool epi, they also understand life with food allergies as patients and parents.
I want my sons to be like Eric and Evan when they grow up: friendly, smart, innovative problem solvers. Eric and Evan shared a story about when they were heading to Europe in 1998 with their family and thought they had forgotten their epi at home. Fortunately their mom packed a set for them (yay for allergy moms!). This incident led them to talk about being responsible to carry epi as incoming college freshmen and they began designing a smaller and easier to carry epinephrine auto-injector.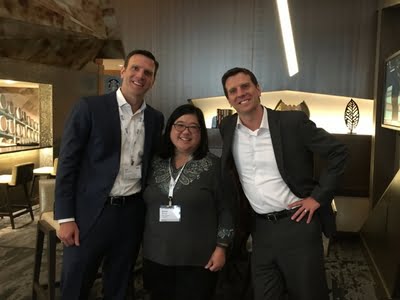 Their Auvi-Q epinephrine autoinjector launched in 2012. Everyone loved its small design and audio and visual cues to guide a patient or caregiver to use an epi during an anaphylactic event. Eric and Evan shared during the FABlogCon opening keynote presentation how much it meant to them to hear our stories of how their devices were easy to use and saved lives. When the Auvi-Q deeply was recalled last year they were deeply disappointed because the recall not only affected them but all of their children and had to buy another brand of epinephrine auto-injectors.
Evan and Eric were motivated to resolve the manufacturing issues and bring it back to market with their own company. I admire their tenacity to revamp AuviQ's manufacturing process with robotics and multiple quality control checks. They are committed to making an epi that is affordable, and being a company that is transparent. I cannot wait for the AuviQ comeback in 2017 and feel cautiously optimistic about AuviQ's safety and dependability to work exactly as it should. I recorded a few important moments of their keynote presentation (see below). 
Most Important Take Home Message: Caring for the Caregiver
One of my favorite sessions was "Caring for the Caregiver" with Robyn O'Brien, Cybele Pascal, and Kelly Rudnicki. These three amazing women are published authors and advocates in the food allergy space and have kids the same age as mine. They have weathered many challenges as food allergy parents, are on the frontlines to make life better for all of our families, yet are loving, kind, and wise. How do they do they keep it together? Some of their advice include:
Honor your feelings, ask for help, create a safe place with supportive friends and family.
Take breaks, be joyful, celebrate innovation/progress. Care for family. Heartbreak allows more love.
Love yourself by taking care of yourself and be mindful of modeling self-care with your children.
Well done, ladies! This was the very last session of FABlogCon 2016 and very literally my take home message. I wish that I could have stayed until the very end of their session but I had a plane to catch. If any of the panelists or attendees could add some of their favorite take home points, I would really love additional reminders. I think that we could definitely revisit this topic again (keynote speech, hint, hint, Jenny!). Let's take their advice to heart and take good care of ourselves so that we can be our very best for our families.
How do you take care of the caregiver?
Cheers to a great FABlogCon 2016! Enter the giveaway below.
FABlogCon Expo, part 1
FABlogCon Expo, part 2
FABlogCon 2016 Swag & Giveaway Details: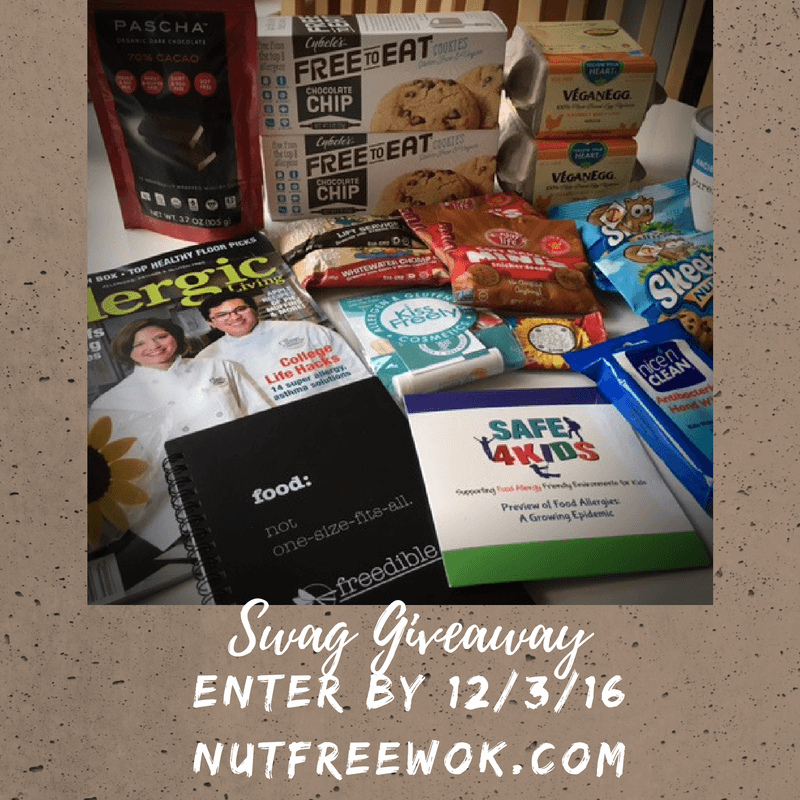 Giveaway box will include the following as pictured above: PASCHA chocolate, Cybele's Free To Eat cookies, Follow Your Heart Vegan Egg, Purely Elizabeth oatmeal cup, 1 issue of Allergic Living, Don't Go Nuts bars, Enjoy Life Food mini cookies, a cute Sunbutter pen and holder, Skeeters cookies, Zego bar, Kiss Freely lip balm, Nice & Clean wipes, Safe 4 Kids DVD (I have just one copy and haven't previewed this yet), and Freedible notebook. These are some of my favorite items and I hope you enjoy them as much as I do.
By entering this giveaway, you agree to assume responsibility for reading food labels and checking that the food products are safe before consuming or serving. I've provided multiple ways for you to enter. If you decide to subscribe to my newsletter, be sure to open the first email and verify your subscription. If you are already a subscriber (and received an email notifcation about this post), all you need to do is provide your email address so that I can verify your entry.
This post is not sponsored and I am sharing goodies from my swag bag and mailing them at my own expense (US address only). Giveaway begins on Sunday November 27, 2016 and ends on Sunday, December 4, 2016 at 12:00 AM PST. A winner will be selected on 12/5/16 and the winner has 24 hours to confirm and provide a mailing address. Nut Free Wok will ship via USPS Priority Mail but if the package is lost, damaged, or misdelivered, I will not be able to provide a replacement prize. Please enter by using the widget below, good luck!

Read more from FABlogCon 2016:
If you go on your favorite social media platform and search for #FABlogCon you will be able to read about the event and find some of the recaps and posts. I think that Colette, Tracy, and Caroline did a great job of capturing the spirit of FABlogCon.
Thanks for reading, please help Nut Free Wok!
The best way to see every post or recipe is to subscribe to Nut Free Wok's email subscription (be sure to respond to the confirmation email). You will be notified by email next time I publish another post or recipe and I won't send you spam or share your email address with anyone.
If you enjoyed this post, please use the social media buttons below to share with others. I am on Facebook, Twitter, Pinterest, and Instagram as @nutfreewok and it's great to chat and interact on social media too.
Disclosure/Disclaimer:
I may mention the names of stores and/or brand names of products that I use because readers ask and I share products and sources which I use and think may be helpful to readers, all opinions are my own. Please note that manufacturing practices and ingredients can change at anytime without notice and readers are always responsible for assuring allergen safety before buying or consuming foods. NutFreeWok.com is a participant in the Amazon Services LLC Associates Program, an affiliate advertising program designed to provide a means for sites to earn advertising fees by advertising and linking to Amazon.com. Thank you for reading!