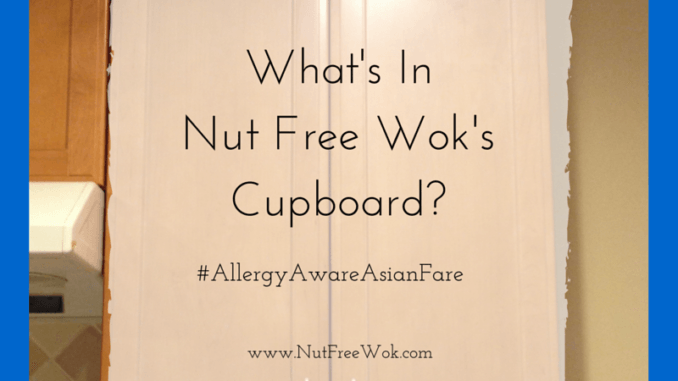 (AKA a mom approved shopping list for my husband and sons!) I am often asked what nut free ingredients do I use for my recipes and I've compiled them in this list. Use it as a guide but verify allergen safety before buying or using.
Disclaimer: Please check that all ingredients are suitable for your allergies and be sure to ask your medical care team regarding any allergy related questions (I do not share medical advice). As an Amazon Associate I earn from qualifying purchases.
Moving from San Francisco to the Bay Area suburbs limited my access to Asian ingredients even though there are a few Asian supermarkets within a 10 mile radius. The turnover of stock, variety of selection, and ability to find unusual ingredients are just not the same as buying groceries in Chinatown, "New Chinatown" in the Richmond district's Clement street, or even the Sunset district's Irving street or Noriega street where there are large clusters of Asian markets, restaurants, produce stores, and fish and meat markets. Adding the limitations of food allergies just adds to the need to be creative and resourceful, improvising with substitutions, or making some items from scratch.
I'm often asked what brand of *insert ingredient* do I recommend, which is a very challenging question for me to answer as I am keenly aware that we all have different allergens, react to them in different ways, have different comfort levels about cross contact, and live in different regions where product availability may vary. Additionally, food manufacturers are not required to disclose allergen advisories which alert us to the possibility of cross-contact and they have the right to change manufacturing processes and ingredients at any time.
If you decide to refer to this list, you must read the ingredient labels carefully, follow up with the manufacturers regarding any specific questions, and consult with your medical care team as needed. Listed below are some brands that produce Asian food ingredients as well as other supermarket brands that I use and keep in my cupboard and pantry because it's what I've always used or a healthier or allergy safe version. Some links will ta product's online allergen information and some are affiliate links, which wouldn't affect your cost but helps to support website operating costs (see full disclosure below).
It's important to note that everyone's reactions ranges from sensitivities or intolerances to severely life threatening anaphylactic allergies. This list only attempts to share products that I use when cooking for my family, either I have used them for years without any problems or have contacted the manufacturer at some point.
However, manufacturers may change their production at any time and the list below may not necessarily be timely or accurate. Some brands are top 8 allergen free, some are nut free, some are made on shared equipment but are thoroughly cleaned and allergen tested.
You are responsible to read and re-read the labels, follow up with your own research to decide whether these ingredients and brands are safe and appropriate for you or your loved ones before using. Discuss any questions you may have with your medical provider.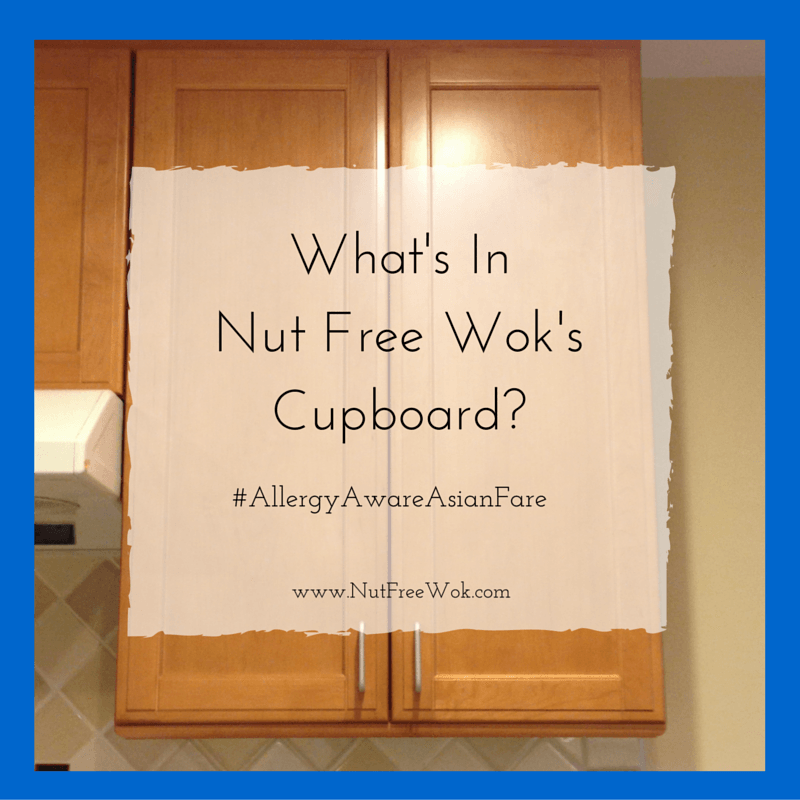 Asian Noodles (dry):
BGreen Foods – Organic, non-GMO, ancient grains, free of top 8 allergens and gluten free. I spoke with the owner of the company and felt reassured about the allergen safety of their products. I was surprised by the ease to cook the noodles and enjoyable texture and taste.
Dynasty's Maifun Rice Sticks confirmed that this specific product only has no cross contact with

peanuts, tree nuts, eggs or shellfish (per email, I did not ask them about other allergens). Available in large supermarkets and distributed by JFC, which is very responsive to allergen questions.

Flying Horse Rice Noodles (distributed by Walong, available at 99 Ranch) – confirmed to be nut free via email. Read more details on my Beef Chow Fun recipe. If you can't find this brand, check out Three Ladies rice noodles, it's considered a name brand and has a phone number listed on the packaging. I haven't tried them. Most packaged rice noodles will be allergen free. However be careful of rice noodles you find at non-Asian grocery stores. I once found a rice noodle product made from brown rice but it had an allergen advisory printed on it, possibly because the company also makes some flavored noodle soup products.
Hakubaku – Hakubaku makes organic Asian dry noodles such as ramen, soba, and somen; made on shared equipment with wheat flour, egg powder, soy flour, and buckwheat powder (Q5 in the FAQ). I've been using this product for over 20 years and it just happens to be organic as well. Affiliate link, about $3 in stores and online.
Wel-Pac – Japanese Soba Noodles (sku # 0-11152-21742-0) and Wel-Pac Japanese Udon Noodles (sku # 0-11152-09939-0) are labelled that they are made in the same facility as soy, egg, and wheat. Confirmed via email that the only other allergen present in the facility is buckwheat. I decided to try this product because it's a little less expensive than Hakubaku and might be distributed in regular supermarkets.

Asian Noodles & Dumpling Skins (refrigerated or frozen):
Most fresh noodles and dumpling skins are local products, so it's very important to read the ingredient labels carefully due to variations in production. Typical allergens include wheat, egg, or soy but generally not nuts or milk (although there are sure to be exceptions). I recommend looking at other products from the same manufacturer to see if any of their products contain other allergens you are avoiding.
I like the convenience of packaged dumpling skins for their ease of use and consistency but they contain preservatives and some contain yellow food dyes (I avoid). I haven't found an organic or preservative free product yet and have tried making dumpling skins from scratch and am limited by how much work I can do.
If the products are still within your comfort level, follow up with a phone call or email to confirm regarding allergens. Be patient, as the concept of food allergies is not well understood and cross contact even less so. I once had a representative at a noodle company sharply say to me "There are no peanuts in noodles!!! Why are you asking?!??" which I find amusing and frustrating at the same time.
Dong Huong Rice Valley – they mainly make fresh rice noodle sheets that can be used for noodle stir fries such as Beef Chow Fun. They are nut free but some products contain soy oil, wheat starch, or shrimp, so there is the potential for cross contact of those ingredients. There are other brands available in the Bay Area, but I always buy this one because it seems to be fresh and soft to the touch when I find them in stores.
Dynasty fresh potsticker (or wonton) skins are very thin and great for making Japanese gyoza. I tried this product because it does not include egg in the ingredients but it might be made on shared equipment with eggs. This product is distributed by JFC which will be able to provide allergen information upon request.
Han Asia Korean Rice Cakes per email with Walong Marketing "Regarding (Item # 1683437) is not cross contaminated with any peanuts, tree nuts, diary, eggs, soy, fish or shellfish. Since it is made with 100%

rice

, it is also wheat-free and does not come in cross contact with that either."
New Hong Kong Noodles is a well established San Francisco based company with fairly wide distribution. They make only wheat based noodles and dumpling skins, some with egg and some without egg. I was told by phone that they do not use any ingredients containing peanut and tree nuts. I mainly buy their potsticker skins which do not contain egg but are made in shared facilities with egg.
Sun Noodles is a Hawaii based noodle manufacturer and well known for their packaged fresh ramen with soup base that is served in restaurants. I've purchased them in Japanese supermarkets as well as Maui's Costco. The organic version is worth the premium price if you can find it. If you live near a Nijiya store, they carry a store brand version of organic ramen noodles that contains Sun Noodles' soup base. Noodles are free of peanut and tree nut but some noodles contain egg and the soup base contains soy.
Broth & Bouillon:
Better than Bouillon: creamy paste, very delicious, I use it as a flavoring. It is free of peanuts and tree nuts (except any potential cross contact with coconut will be labelled). Their products might contain other allergens, read the ingredient label and the allergen statement carefully.
Kitchen Basics: tested for the presence of peanut, tree nut, egg, milk, and gluten (up to 5 ppm), see allergen statement
Massel: products are free from common allergens including gluten. Confirmed via email that their products are nut free, read their FAQ.
Fish Sauce:
Flour & Starches:
Our family is mainly nut-free but sometimes I will use gluten free flours to learn how to make gluten free Asian fare and I do have a couple of gluten free recipes: Chinese New Year Cake and Top 8 Free Scallion Pancakes. There are many wonderful websites that write about gluten free in detail much better than I can and the following are what I use in my nut-free kitchen.
Cornstarch:

Rapunzel – Organic, information from ingredient label: made from non-GMO corn and produced in a facility that also processes wheat, gluten, dairy and soy. (Disclosure: I received coupons when I contacted the distributor for more allergen information.) However the distributor wasn't able to provide additional information beyond what was on the label. I use cornstarch in stir fries as well as my recipe for Olive Oil Orange Chiffon Cake.

Rice Flour:

Koda Farms produces rice, sweet rice and rice flours. A top 8 allergen free, GMO and Gluten free statement available on their website as well as information on how to order their products online. My favorite way to use this product is a top 8 free Chinese New Year Cake recipe. I love that they are now selling organic versions of their rice.
Erawan – I've used this brand (with a picture of 3 elephants) forever without issue but there is no way to call, write, or contact them. However, this is considered a name brand so I feel comfortable mentioning them even without confirmation that they are nut free. Note that Asian flours and starches are sometimes color coded. Red print on the package is for rice flour (for savory rice cakes), green print is for glutinous rice flour (for sweets and desserts, sometimes to add a chewy texture to other dishes), and blue print is for tapioca starch.
Flying Horse – this is 99 Ranch's store brand and I've confirmed via email that the rice and tapioca flours are peanut and tree nut free. The packaging is remarkably similar to Erawan, using the same color coding.

Tapioca Flour or Tapioca Starch: can be used as a substitute for cornstarch

Erawan – see above
Flying Horse – see above

Wheat Flour: King Arthur, Gold Medal
Wheat Starch: There is only one wheat starch that I know of and it's packed by Hip Sang Cheung. It's also another product that is impossible to contact the manufacturer. People with wheat or gluten allergies can substitute with potato starch, which might take some tinkering to get the recipe just right.
Furikake:
Ajishima Foods, distributed by JFC – Furikake sprinkles typically will have some combination of seaweed plus sesame, wheat, fish, egg, shellfish but no nuts and no dairy. I would avoid all furikake in general if one has allergies to sesame, wheat, fish, egg, or shellfish. If allergic to peanuts, tree nuts, soy, and/or dairy, I recommend contacting JFC to verify safety before using.
Mirin:
Mirin is a sweet rice wine used in Japanese cooking. I have used a variety of brands without issue and will update as I confirm with the different companies.
I contacted Kikkoman about their Mango Aji Mirin and apparently it's manufactured by another company. JFC distributes this product and they were able to confirm that out of the top 8 allergens, only wheat (and gluten) were present in the facility. I don't love it because it contains high fructose corn syrup, which is an ingredient we try to avoid when possible.
Eden Foods Mirin does not contain HFCS and is considered gluten free. There's no specific information regarding whether this product is free of cross contact with nuts but they do share their allergen policy in the FAQ for your consideration.
Nut Butter Alternatives:
Trader Joe's Sunflower Seed Butter: creamy, separates and requires a lot of stirring. Peanut and tree nut free, but I recommend calling Trader Joe's customer service to verify periodically.

Wowbutter (soy): creamy, tastes a lot like peanut butter. (Wowbutter, affiliate link)
Oils:
Olive oil:

Kirkland Extra Virgin Olive Oil (item # 692731), no cross contact with dairy, gluten, nuts or sesame per phone call.
Trader Joe's Extra Virgin Olive Oil (sku #14669) made in an olive oil only facility, top 8 and sesame free

Sesame oil

Kadoya – made in a sesame only facility, per email. Delicious and easy to find in many Asian markets and on Amazon (affiliate).
Kevala made in a sesame only facility, per email. I haven't tried this product because I haven't seen it locally and have access to good sesame oil in my local stores. They are peanut free but produce other products using tree nuts, including coconut in a coconut only facility.
Kuki – made in a sesame only facility, read more in my write up from the Fancy Food Show
Maruhon – made in a sesame only facility, my favorite brand before food allergies, read more in my write up from the Fancy Food Show
Miyake – Roasted Organic Sesame Oil, confirmed via email that they are nut free.
Rice:
Homai (from Costco) short grain rice – I've been buying this rice for 20+ years without any issue, unable to confirm via email.
Koda Farms Sweet Rice/Glutinous Rice – Top 8 free, gluten free, see allergen information posted on their website
Lundberg Organic Brown Rice (25# packages from Costco) – I like this brown rice, have used it for years. Per email, all of their bagged rice are milled and packaged in a rice only facility. They do make packaged rice and pasta mixes, some containing nuts, in a separate facility.
Rice Wine:
Sauces:
I believe that sauces deserve the greatest amount of scrutiny regarding nut allergens. I have found numerous products which intentionally contain peanuts or tree nuts, which I discuss in greater detail about Asian BBQ sauce. It is of utmost importance to read the ingredient labels for sauces and to check for potential cross contact by looking at nearby shelves to see if the company makes other products that contain nuts or your other allergens.
Hoisin Sauce

Koon Chun – I emailed this Hong Kong based company and didn't receive a response. I met their local distributor who told me that this company is well known for their high quality products that are free of preservatives, flavor enhancers, artificial colors, and have various food safety certifications. I also cannot find any other Koon Chun products containing peanuts or tree nuts. We've been using some of their products without issue. If I find out more information from their distributor, I will post an update.
Wok Mei – gluten free and nut free hoisin sauce (see my write up from WFFS16)
possible cross-contact risk with Dynasty brand hoisin sauce. I mention this because I ran out and used it without calling and my son didn't like the taste. Uh-oh, you know what that means. I emailed JFC and was informed that Dynasty brand hoisin sauce is made on shared equipment with peanuts and other allergens.

Oyster Sauce: Read more details in my post about Stir Fried Iceberg Lettuce with Oyster Sauce

Kikkoman – they make three different kinds of oyster sauce differentiated by red, blue, or green labels. We've tried the green label (no MSG) safely but please refer to Kikkoman's allergen information chart (shared facility but not shared equipment with peanuts).
Koon Chun – my new favorite, read about why in my recap of WFFS17.
Wan Ja Shan – "Mushroom Oyster Flavored Sauce" is a vegan option made from mushrooms that is also nut free. Tastes all right, but is watery not thick. People with shellfish allergies should verify if there is any cross contact with shellfish.

Soy Sauces & Alternatives: I personally prefer soy sauces made from organic soy beans, preservative free, and/or are naturally brewed.


Aloha Shoyu products – Products are all nut free, confirmed via email. They have gluten free products available but I don't know how they limit gluten cross contact, so be sure to check before using.
Kikkoman also makes marinade, vinegar, seasoning mix, and soy milk; has an allergen information chart available online. My family has always used Kikkoman.
Lee Kum Kee: I use their products but be sure to read their labels. From their website: "Most of our products do not contain milk, nuts or peanuts…Products produced by the U.S. manufacturing facilities are free of peanuts and its derivatives. For all products made in China, peanuts and its derivatives exist in the same facilities and may share the same production lines. "
Wan Ja Shan sauces: No peanuts or tree nuts are used in their facilities. I like the organic versions of their product when available. Gluten free products are isolated from other product lines and tested by a third party (per email).
Soy Free Alternative Sauces – discussed extensively in my post with alternative suggestions, Soy Sauce and Food Allergies
Soy Free Soy Sauce Recipe – this tastes very good when used in small amounts as seasoning. It actually turns out that this recipe works great even used in larger quantities. Click here for recipe made from pantry staples. I also shared a recipe for beef tongue and the resulting sauce could be used as a soy-free soy sauce 2.0.

Sriracha Sauce: read my post about Allergy Aware Sriracha Sauce by Huy Fung
Teriyaki Sauce:

Aloha Shoyu Hawaiian Style Teriyaki Sauce- I used this marinade when we were in Maui, it's a delicious marinade, I just wish it didn't have preservatives. Nut free, confirmed via email. Too watery to use as a glaze unless you take a few minutes to reduce it or try their teriyaki glazes sweetened with various tropical fruit flavors (which I have not tried or verified regarding allergens).
Mr. Yoshida's Original Gourmet Sauce – Delicious and I've used it for years, but read about my conversation with the manufacturer in this post. I recommend that you call the manufacturer and decide for yourself.
Wan Ja Shan – Teriyaki sauce is made in a facility without peanuts or tree nuts. Fine to use as a marinade, not thick enough to be a glaze without reducing for a few minutes.
Teriyaki recipe – Sharon's Teriyaki Marinade Recipe: Easy, Delicious, & Nut Free Recipe

Iron Chef Sauces have been recommended by Nut Free Wok readers because the label indicates the sauces are made in a peanut and tree nut free facility. I found them locally and love the taste. But I am unable to verify safety with the manufacturer. Be sure to read the labels and/or contact the manufacturer before buying or consuming.
Otafuku Sauces (Japanese) – see my recipe for Yakisoba for more information
Seasonings, Spices, and Herbs:
Seaweed products:
Yamamoto – nori sheets for making sushi, from a nut free facility. However they sometimes use a teriyaki sauce that contains soy sauce in their roasted seaweed processing room. "The allergens in soy sauce are almost undetectable amount, and we have an allergen control program to avoid possible cross contamination." (per email).
Ocean's Halo – nori sheets and nori snacks. Their sheets are nut-free when I first reviewed them at at WFFS17: New Nut Free Food Finds & FSMA. What's notable about them is that their nori stays fresh in an unopened package.
Vinegar:
Rice Vinegar

Kikkoman – free of the top 8 allergens and more per allergen chart on their website
Marukan – peanut and tree nut free, also free of top 8 allergens per email. However, gluten free readers need to be aware that they think the fermentation process removes the gluten.
Food Show Finds
Gluten Free Allergen Free Expo (2014)
Unfortunately many of the companies that I met are no longer in business, and the posts will need an update.
Winter Fancy Food Show
Nut Free Portable Munchables, foods that are perfectly nut-free for snacks, travel, and emergency supplies
15 Favorite Allergy Friendly Food Reviews and Recap of 2015
What are your favorite ingredients to use for Allergy Aware Asian Fare? What do you think I should include? Please share your favorites in the comments below!

Thanks for reading, please help Nut Free Wok!
If you like this recipe, please be sure to give a 5 star rating, leave a comment, and share this post! Your support means a lot to me.
Subscribe to Nut Free Wok's email subscription (be sure to respond to the confirmation email). You will be notified by email next time I publish another post or recipe and I won't send you spam or share your email address with anyone.
Disclosure/Disclaimer:
I may mention the names of stores and/or brand names of products that I use because readers ask and I share products and sources which I use and think may be helpful to readers, all opinions are my own. Please note that manufacturing practices and ingredients can change at anytime without notice and readers are always responsible for assuring allergen safety before buying or consuming foods. NutFreeWok.com is a participant in the Amazon Services LLC Associates Program, an affiliate advertising program designed to provide a means for sites to earn advertising fees by advertising and linking to Amazon.com. Thank you for reading!