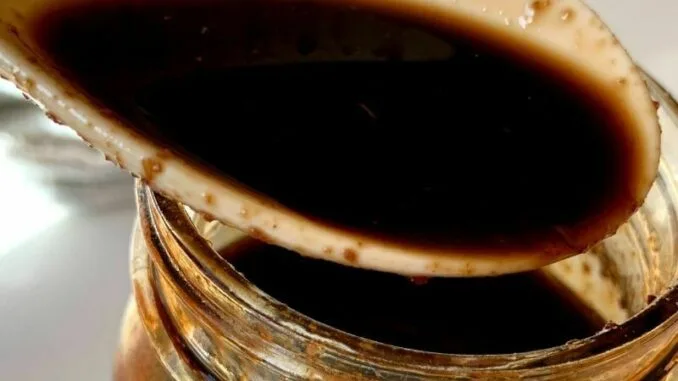 My recipe for a Japanese inspired teriyaki sauce that is savory with a touch of sweetness to use as a marinade to or as a glaze. The good news is that teriyaki sauce is typically nut free so all you need is a great recipe. When you make your own sauce with your nut free (or other allergy safe ingredients), you can control for other non-top 8 allergies such as sesame, ginger, garlic, etc..
Disclaimer: I am a brand ambassador for Rodelle and receive products to use and review. Please check that all ingredients are suitable for your allergies and be sure to ask your medical care team regarding any allergy related questions (I do not share medical advice). As an Amazon Associate I earn from qualifying purchases.
Update 10/27/2022: Rodelle has discontinued their line of cooking spices.
Teriyaki Sauce for Food Allergies
As I had shared in my recipe for Instant Pot Chicken Thighs with Teriyaki Sauce, I love Mr. Yoshida's Original Gourmet Sauce which is delicious and easy to use but the manufacturer does not provide any information on whether they are free from traces of other allergens. We have used it for years without issue but feel like we all use it at our own risk without more disclosure from the manufacturer. (If you are new to food allergies, I recommend that you read this article that I wrote about reading ingredient labels for food allergies.)
I recently ran out of Yoshida sauce, I decided to circle back to an idea of making my own teriyaki sauce from scratch. When we make our own sauces using separate ingredients that we know are allergen safe, we will know the allergy risks and we can also adjust the salt, sugar, and spices to our individual dietary needs too.
I didn't find a Yoshida sauce recipe that I liked. Instead I looked for an authentic teriyaki sauce recipe. I like Just One Cookbook's teriyaki sauce but I prefer something with a little less alcohol and more sweetness. I also used the ingredient and nutrition information on the Yoshida sauce botte to guide me.
We don't use a lot of sauce and I know I can not use up all of the sauce right away. But I don't want the leftovers to spoil, which is why I used dried ground garlic, ginger, and onion instead of fresh ingredients.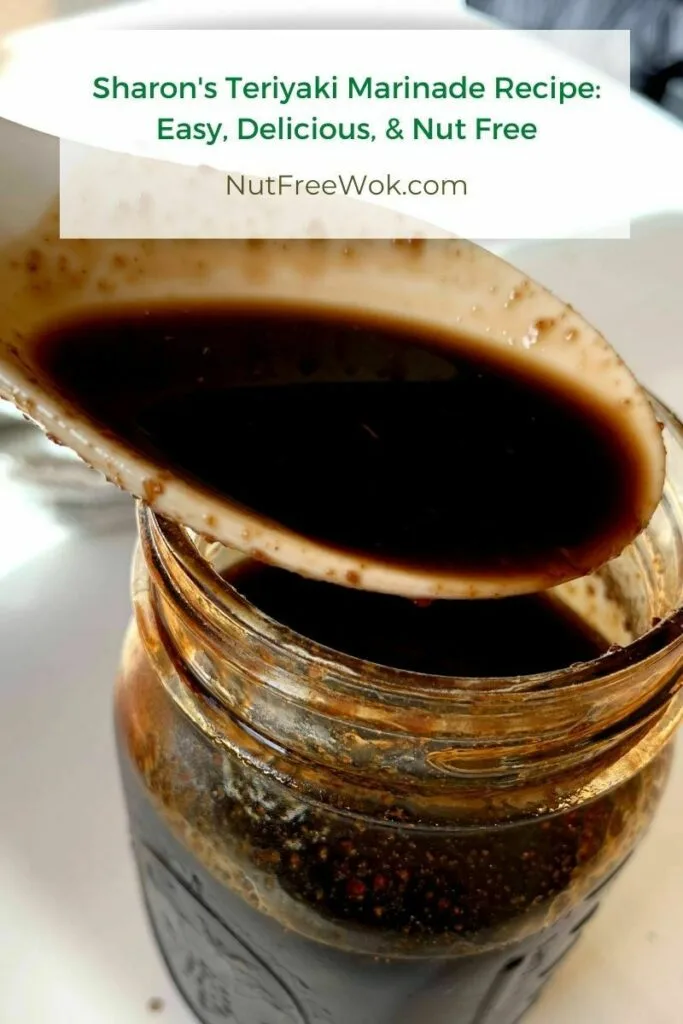 Cooking and Storage Tips
The first batch wasn't sweet enough. I think it might be because the bottled sauce uses high fructose corn syrup (HFCS), which tastes sweeter than sugar so I needed to bump up the amount of sugar slightly.
I tested each batch at least twice. As a quick taste test, I made spam musubi using the teriyaki sauce. And then I would use each batch in a recipe. For example, I checked that the teriyaki sauce tastes great as a marinade for chicken and as a basting sauce toward at the end of baking chicken drumsticks. I like the recipe I came up with and hope you will too.
I usually have too much going on in the kitchen to stir and watch a pot for 5 minutes. It's a sure thing to bring the sauce to boil and then lower the heat to low medium for 10 minutes and stir occasionally. If you are in a hurry and can give the sauce your undivided attention, then you can bring the sauce to a boil on medium heat and continue cooking for 3-5 minutes until slightly thickened while stirring constantly.
This recipe makes about 1 cup of sauce and since it's homemade, I would recommend using it up within 3-4 days if stored in the refrigerator. You can store leftover sauce in your freezer. Throw away any unused sauce if the sauce changes in appearance or taste after awhile.
Teriyaki Sauce & Marinade Uses
I love using it to make Chicken Teriyaki as a marinade and then broiling until browned on both sides and cooked through. I also have an Instant Pot version Chicken Teriyaki, which makes for an easy hands off meal.
We have baked salmon quite often, in this original recipe, I topped the teriyaki marinated salmon with rice cereal. My kids are not so into rice cereal any more so I top the salmon with some crispy fried onions (like French onions) and chopped scallions. Topping the salmon with something keeps the salmon moist and adds a nice crunchy texture.
If you have just a few tablespoons of marinade left, it's a perfect amount to make Spam musubi. We do love Spam musubi as a handy and satisfying appetizer, picnic, or potluck item once in a while. I like using Turkey Spam (affiliate link) the best, but it's difficult to find in stores. If you use a pork based Spam, I recommend removing some of the excess fat from the frying pan with some paper towels or a spoon before adding the teriyaki sauce.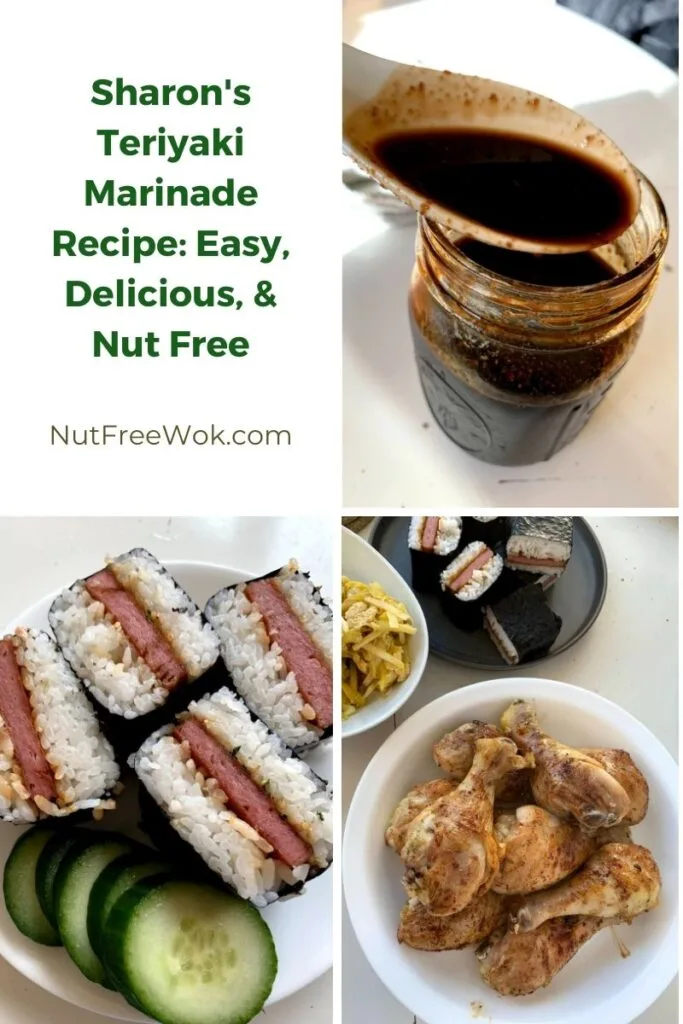 Allergy Aware Teriyaki Sauce
The ingredients are simple and you can refer to what's in my cupboard to source my favorite brands.
Soy Sauce contains soy and wheat. If you avoid wheat, you can use a tamari sauce for a gluten free option. If you avoid soy, you can consider some of the soy-free alternatives but I would recommend that you make your own soy-free soy sauce. One of my recipes uses pantry staples and the other recipe is the resulting sauce from making beef tongue.
Mirin: For this recipe I used Kikkoman Manjo Aji Mirin (affiliate link) because it's the only mirin I could easily buy via food delivery services. I have confirmed via a distributor that Kikkoman's mirin is nut free and free of seven of the top 8 allergens (except wheat and gluten are present in the same line and same facility). Note to self: next time I will look for Eden Food's Mirin (affiliate link) because it is HFCS free and gluten free.
Ground Ginger: I use Rodelle Organic Ground Ginger (discontinued). I love that it smells and tastes so great and that I can be certain it's nut free. It's a large container of ground ginger so I also use it in stir fries, Corn Chicken Egg Drop Soup, and other dishes.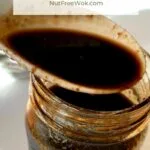 Sharon's Teriyaki Marinade Recipe: Easy, Delicious, & Nut Free
This make ahead Japanese style marinade and teriyaki sauce is handy to have on hand when you need a little bit for marinating raw ingredients or glazing for a finishing touch.
Ingredients
½

cup

soy sauce

1/3

cup

sugar

¼

cup

mirin

substitute honteri for a non-alcoholic option

1/4

cup

water

room temperature

1

teaspoon

ground garlic

1

teaspoon

ground ginger

1

teaspoon

granulated onion

or ground
Instructions
Whisk all the ingredients together in a small sauce pan and heat on medium heat until boiling.

When the sauce starts to boil, lower the heat to medium low so that it simmers. Allow the sauce to simmer for 10 minutes and stir occasionally. The sauce is ready when it thickens a bit and looks syrupy.

Set aside to cool down before using as a marinade. Refrigerate and use within 3-4 days or freeze.*
Recipe Notes
*I use dried and ground garlic in this recipe and keep any unused amounts of sauce in my refrigerator up to 1 week. But if you decide to use fresh garlic (or any fresh ingredients), it's important to use or freeze within 3-4 days. 
Thanks for reading, please help Nut Free Wok!
The best way to see every post or recipe is to subscribe to Nut Free Wok's email subscription (be sure to respond to the confirmation email). You will be notified by email next time I publish another post or recipe and I won't send you spam or share your email address with anyone.
If you enjoyed this post, please use the social media buttons below to share with others. I am on Facebook, Twitter, Pinterest, and Instagram as @nutfreewok and it's great to chat and interact on social media too.
Disclosure/Disclaimer:
I may mention the names of stores and/or brand names of products that I use because readers ask and I share products and sources which I use and think may be helpful to readers, all opinions are my own. Please note that manufacturing practices and ingredients can change at anytime without notice and readers are always responsible for assuring allergen safety before buying or consuming foods. NutFreeWok.com is a participant in the Amazon Services LLC Associates Program, an affiliate advertising program designed to provide a means for sites to earn advertising fees by advertising and linking to Amazon.com. Thank you for reading!