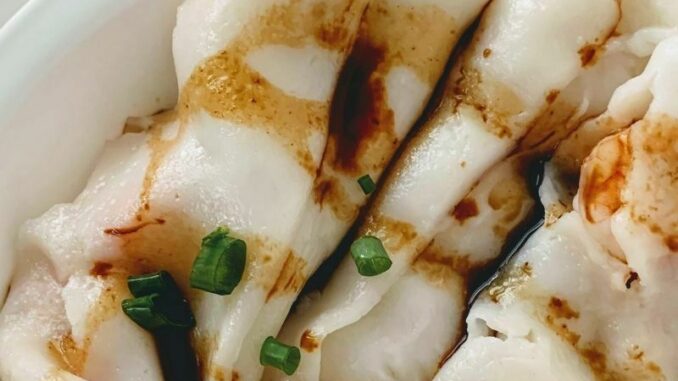 I had such a great time making and eating the shrimp rice roll recipe from The Nom Wah Cookbook by Wilson Tang. The rice noodle is delicate and tender and tastes exactly like shrimp rice rolls from a dim sum restaurant. I love recipes from restaurants, especially when it's dim sum and even more when it's a rice noodle roll recipe! Amiright?
The Shrimp Rice Noodle Roll recipe on page 89 refers to a Plain Rice Noodle recipe as well as a Dipping Sauce recipe on page 87 so this recipe is actually a combination of three different recipes. You can make plain rice noodle rolls if you have extra batter or if you don't want to make shrimp rice noodles. And if you can't find a nut-free potato starch, you'll end up making potato starch and have some prepped ingredients to make some latkes or hashbrowns too.
I want to thank Wilson Tang for sharing his recipe with us. The Shrimp Rice Roll and Sweet Dipping Sauce Recipes are shared from The Nom Wah Cookbook by Wilson Tang and Joshua David Stein. Copyright 2020 Wilson Tang. Excerpted by permission of Ecco, an imprint of HarperCollins.
Disclaimer: Please check that all ingredients are suitable for your allergies and be sure to ask your medical care team regarding any allergy related questions (I do not share medical advice). As an Amazon Associate I earn from qualifying purchases.
Jump to Recipe
Recipe Tips: Shrimp Rice Rolls
The first time I made the Shrimp Rice Noodle Roll (Ha Cheung) from The Nom Wah Cookbook (affiliate link), I made a batch with my usual rice noodle recipe to compare. I didn't tell my family which batch was which and they preferred Nom Wah's rice noodle recipe because it's more delicate and tender than my previous recipes.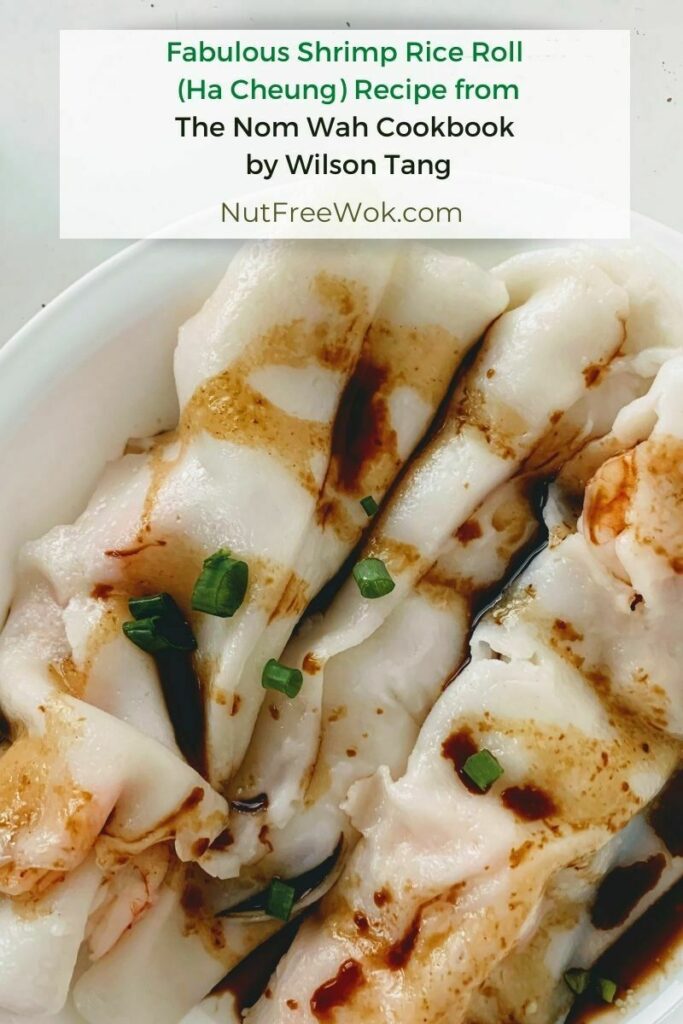 This rice noodle recipe uses potato starch and because of the current situation of the pandemic, I can't find a nut-free potato starch. It was purely a coincidence that I happened to make potato latkes from scratch and Martha Stewart's recipe mentioned saving the potato starch from the soaking water to add back to the latke mix. I decided to use some of the potato starch for making cheung fun.
I noticed that the rice rolls cracked a bit, so I added 1 tablespoon of olive oil to the rest of batter and the rest of the rice rolls were much more piable. I've noted the addition of oil to the batter as an optional ingredient.
The recipe calls for 18 medium shrimps but I think we need 36 shrimps to make 6 rolls with 6 shrimps each, which is approximately 1 pound of medium-large 36 count shrimp. I used 26-30 count uncooked shrimp which worked but were a bit bulky to roll.
Lastly, the recipe calls for steaming the rice rolls in a 9×13 pan which would work perfectly if you have adopted the steamer set up that I recommend my recipe for rice noodles with shrimp and Chinese sausages by using a 16 inch electric skillet (affiliate link). You can definitely steam the shrimp rice noodles in a square pan in a very wide wok, skillet or pot with a lid like I do in my recipe for beef rice noodle rolls, but you might need some extra shrimp or make some plain rice noodle rolls.
Cookbook Review: Telling Stories Thru Food
I love dim sum, it's one of the most special meals in Chinese cuisine. I have so many fond memories of enjoying small plates of dumplings, morsels, and sweets family style while sipping tea and spending time with my family.
I have been following Nom Wah, a dim sum restaurant in New York for years on social media even though I live in California. One of these days I'll be back to NYC and hopefully eat at Nom Wah. I was so excited to order and read The Nom Wah Cookbook: Recipes and Stories From 100 Years at New York City's Iconic Restaurant by Wilson Tang (affiliate link).
Wilson shares the Nom Wah restaurant recipes that are adapted for home kitchens and after I reading the cookbook, I have a better idea on how Chinese restaurant chefs make great tasting food, which is not due to MSG! I cannot wait to try more recipes.
I think that the recipes are very accessible and adapted for the typical home cook. He shares the names and brands of his favorite ingredients and you can cross-reference with my favorite ingredients to check on some allergens.
I love great recipes but am delighted with the storytelling. Wilson's casual diction and storytelling style belie that this cookbook is rich with stories for sociologists, anthropologists, and historians to observe. Wilson tells the stories from how the restaurant started to how it has evolved and he includes stories from owners of neighboring businesses in New York City's Chinatown.
Even though I've never been to the restaurant or met any of the people featured, they remind me of my family and the stories I grew up with. Nom Wah's cookbook is like a cookbook version of The Joy Luck Club (affiliate link), I see and am reminded of my Chinese-American family through the stories.
Allergy Aware Shrimp Rice Rolls
If you are allergic to shrimp, you can still make the plain rice noodle portion of this recipe or head over to my beef cheung fun recipe and use the beef filling with the plain rice noodle portion of this recipe.
You can peek into my cupboard to see what products I use and my previous post on making rice noodles covers a lot about which ingredients I buy for making rice rolls and food allergies. This recipe uses potato starch. I know that I have purchased potato starch before but cannot remember which brand and it might be out of business too. Making potato starch from scratch is the next best option for me and it's not so bad if I end up with a batch of hot crispy latkes (oh yum, yum, yum).
Making Nut Free Potato Starch from Scratch
I'm stumped on finding a nut free potato starch. If you have a trusted nut free brand, go ahead and use it in the recipe and please recommend a brand in the comments. I'm a high risk individual for COVID so I'm avoiding going to stores unless absolutely necessary. A quick internet search results in less than optimal options such as potato starch by a company that also makes nut flours, excessively large packages of potato starch, $10-15 for a tiny package, etc..
I happened to make latkes recently and thought maybe I could make potato starch as a byproduct from making latkes. I grated 5 pounds of peeled russet potatoes, soaked the grated potatoes in a bowl of water, and then squeezed all the liquid out of the grated potatoes using a cheesecloth. The grated potatoes can then be used for hashbrowns, latkes, or other recipes.
What's left is a murky bowl of pinkish water and I just let it hang out for 20-30 minutes until I could see a whitish layer at the bottom. I carefully pour off the liquid and add fresh water, stir, wait another 20-30 minutes. Repeat 1-2 more times until the water is clear not pinkish, drain, and you can scoop out some of the wet starch to use in the recipe. I made a little more than 3 tablespoons of potato starch from grating 5 pounds of russet potatoes. I stored the remaining wet potato starch in the refrigerator and used the rest for making more rice noodles within a few days.
Since I share these blog posts for my family, I asked my sons would they make potato starch from scratch so they could have restaurant like rice rolls? Hubby mentioned efficiency and doing other things instead. One son said yes but only if they happen to be making potato latkes anyways. One son said no because the other recipe is good enough but they only happen to know that this one is better because I made them at the same time. LOL! So please (pretty please) if you know of a nut free brand of potato starch, please share with me.
This recipe is free from peanuts, tree nuts, egg, fish, and dairy as written.
The following recipe is shared with permission from Wilson Tang's The Nom Wah Cookbook (affiliate link).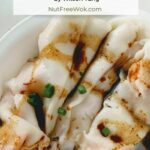 Shrimp Rice Noodle Roll (Ha Cheung)
The rice noodle is delicate and tender and tastes very much like shrimp rice rolls from a dim sum restaurant because it's a recipe from NYC's 100 year old Nom Wah Restaurant. I had such a great time making and eating the shrimp rice roll recipe from The Nom Wah Cookbook by Wilson Tang and Joshua David Stein. Copyright 2020 Wilson Tang. Excerpted by permission of Ecco, an imprint of HarperCollins. 
Total Time
1
hour
20
minutes
Ingredients
Sweet Dipping Sauce for Cheung Fun
½

cup

light soy sauce

¾

cup

dark soy sauce

¾

cup

sugar

1

cup

water

1½

teaspoons

oyster sauce

1½

teaspoons

chicken powder
Shrimp Rice Roll
1½

cups

rice flour

3

tablespoons

tapioca starch

1

tablespoon

wheat starch

1

tablespoon

potato starch

½

teaspoon

salt

2½

cups

lukewarm water

1

tablespoon

oil

optional*

Neutral oil for greasing the pan

(I put a couple of tablespoons in a mug with a pastry brush)

36

medium (41-50 count) shrimp

peeled, deveined, and patted dry**
Instructions
Make the sweet dipping sauce
Heat a small saucepan to medium-low heat and add all ingredients. Stir until sugar and chicken powder are dissolved. Set aside until ready to serve atop rice rolls.
Make the Shrimp Rice Rolls
Sift the rice flour, tapioca starch, wheat starch, potato starch, and salt into a large bowl. Mix in the lukewarm water, stirring until a consistency of very thin glue is reached (and the batter is smooth).

Set up a steamer according to the instructions on page 10 (see note below).***

When ready to cook, mix again until there are no clumps. Using a brush, generously oil a rimmed quarter sheet pan. Using a ladle, pour just as much batter in the pan as needed to form a thin, even layer. (The thinner you can keep your roll, the better.) (Sharon's note: use about ¾ cup of batter for a 9×13 pan)

After you pour the rice slurry into your pan, put 6 shrimp onto each roll, placing them 1 inch from the edges. Place the sheet pan in the steamer. Steam for 6 minutes, or until you see bubbles on top of the mixture.

Carefully remove the sheet pan from the steamer and set on a work surface (it will be hot, so be prudent). Let cool for a minute or so. Then, using a bench scraper (or a thin spatula brushed with oil), start rolling the rice roll from the top of the pan away from you until folded into a loose roll. Cut in half widthwise.

Brush the pan with oil again and repeat until you've used up all the batter.

When ready to serve, briefly re-steam the rolls for 1 to 2 minutes until hot and serve with the sweet dipping sauce.
Recipe Notes
*If you notice cracks in your steamed rice rolls, I found it helpful to add 1 tablespoon of oil into the rice batter.
**The original recipe calls for 18 medium shrimps which will not be enough. You will need 36 medium shrimps, approximately 1 pound. I used 1 pound of 26-30 count large shrimps and used 4-5 shrimps per roll.
***Steam set up notes from page 10: Steaming is perhaps what sets dim sum apart from all other dumpling- loving kitchens of the world. We steam everything at Nom Wah in an industrial Vulcan steamer. At home, I recommend steaming in a wok. Steaming times vary depending on the density and size of what you are steaming. But the general setup to steam in a wok is as follows.
Fill the wok with enough water to come up to the lower rim of the steamer but not so much the waterline is above the food bed. Line the bottom of the steamer with paper or a lotus leaf or something so that the fiddly bits won't fall through the cracks. (If steaming dumplings or bao, you won't need to line the steamer.) Place whatever needs steaming in the basket, leaving ample room between items. Bring water to boil and steam for the desired duration. If you need more water— water tends to evaporate— add boiling, not cold water so as not to stop the steaming. If you do want to DIY it, just use a plate in a pot. All you need is tinfoil and a plate that fits in your pot. Fill a pot with 1/2 an inch of water. Then make a sort of tripod out of tinfoil by forming three golf ball– sized balls and placing them in the bottom of the pot, making sure their tops rest above the water- line. Rest the plate on the tinfoil, cover, and steam. This method is especially useful when making rice rolls, in which you'll be using a cake pan instead of the plate. You can put anything in the steamer as long as it isn't so small that it would tumble through the holes into the roiling waters below.
Thanks for reading, please help Nut Free Wok!
The best way to see every post or recipe is to subscribe to Nut Free Wok's email subscription (be sure to respond to the confirmation email). You will be notified by email next time I publish another post or recipe and I won't send you spam or share your email address with anyone.
If you enjoyed this post, please use the social media buttons below to share with others. I am on Facebook, Twitter, Pinterest, and Instagram as @nutfreewok and it's great to chat and interact on social media too.
Disclosure/Disclaimer:
I may mention the names of stores and/or brand names of products that I use because readers ask and I share products and sources which I use and think may be helpful to readers, all opinions are my own. Please note that manufacturing practices and ingredients can change at anytime without notice and readers are always responsible for assuring allergen safety before buying or consuming foods. NutFreeWok.com is a participant in the Amazon Services LLC Associates Program, an affiliate advertising program designed to provide a means for sites to earn advertising fees by advertising and linking to Amazon.com. Thank you for reading!