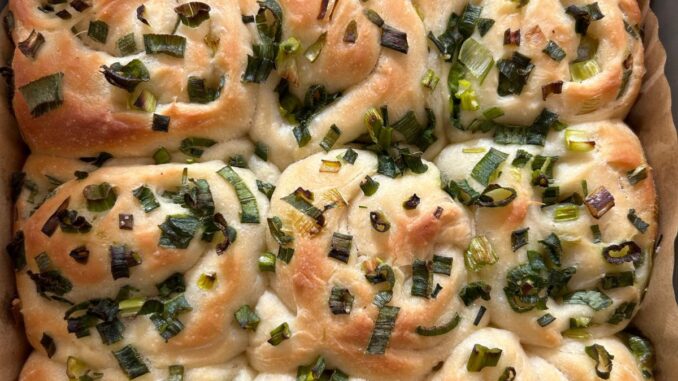 This Scallion Oil Bread recipe is inspired by a Chinese bakery bread called Chong Yo Bao. This bread is soft and fluffy due to the tangzhong method and is nut-free and egg-free. My son said that this bread reminds him of Scallion Pancakes but in bread form.
My scallion oil bread recipe is free of peanuts, tree nuts, eggs, fish, shellfish, soy, and sesame as written and easy to adapt for dairy free. Additionally, this recipe is low in sodium, just enough to give it flavor but not salty.
Disclaimer: Please check that all ingredients are suitable for your allergies and be sure to ask your medical care team regarding any allergy related questions (I do not share medical advice). As an Amazon Associate I earn from qualifying purchases.
Jump to Recipe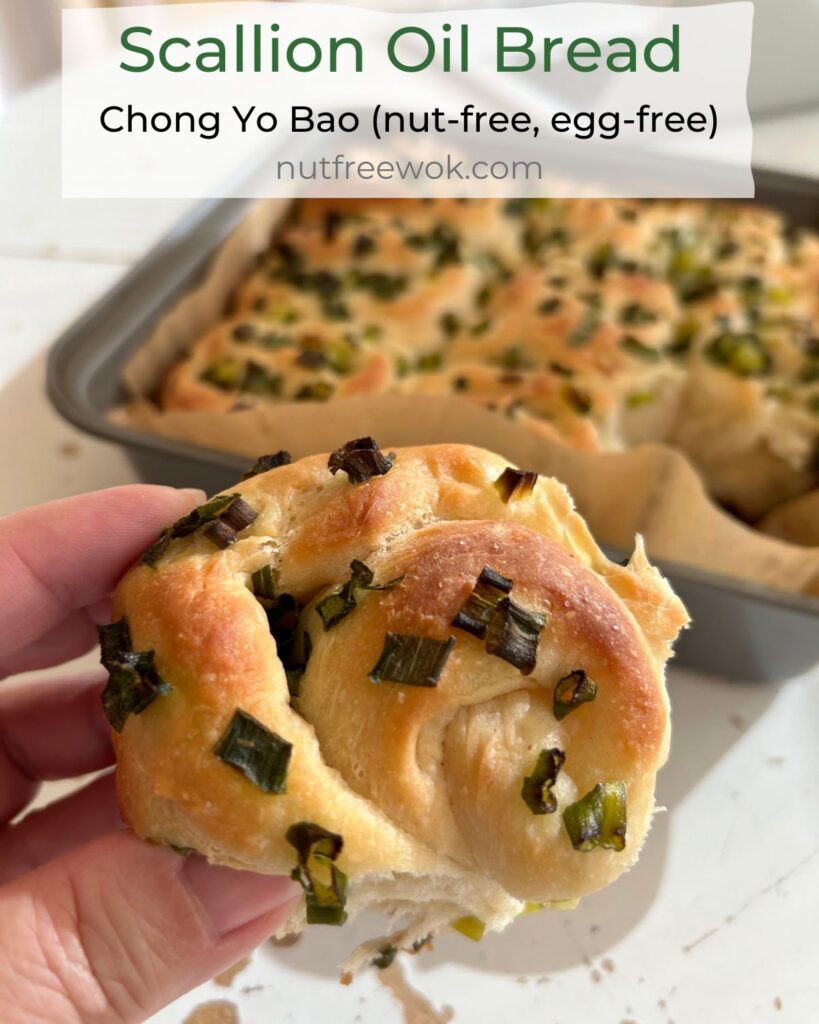 Chinese Bakery Breads
For about 20+ years I would stop by Cafe Bakery and order some Chinese bakery goodies such as raisin bread for my mom. After they closed, I made The Best Raisin Bread for her using the tangzhong method which results in soft breads that stay fresh. The tangzhong method literally translates to "soup method" (tong ju in Cantonese).
Another favorite Chinese bakery bread that my husband likes as a snack is chong yo bao 蔥油包, which means scallion oil bread. Sometimes they're also called green onion buns. Scallion oil bread is a savory bread with scallions layered into the bread. Sometimes there's a little bit of bacon and sometimes the buns are topped with sesame seeds.
My recipe simply includes scallions, oil, and a touch of salt. However, I did prepare some turkey bacon to add to this recipe but my family ate all of it before I could start baking. I added instructions for this recipe variation in the recipe notes.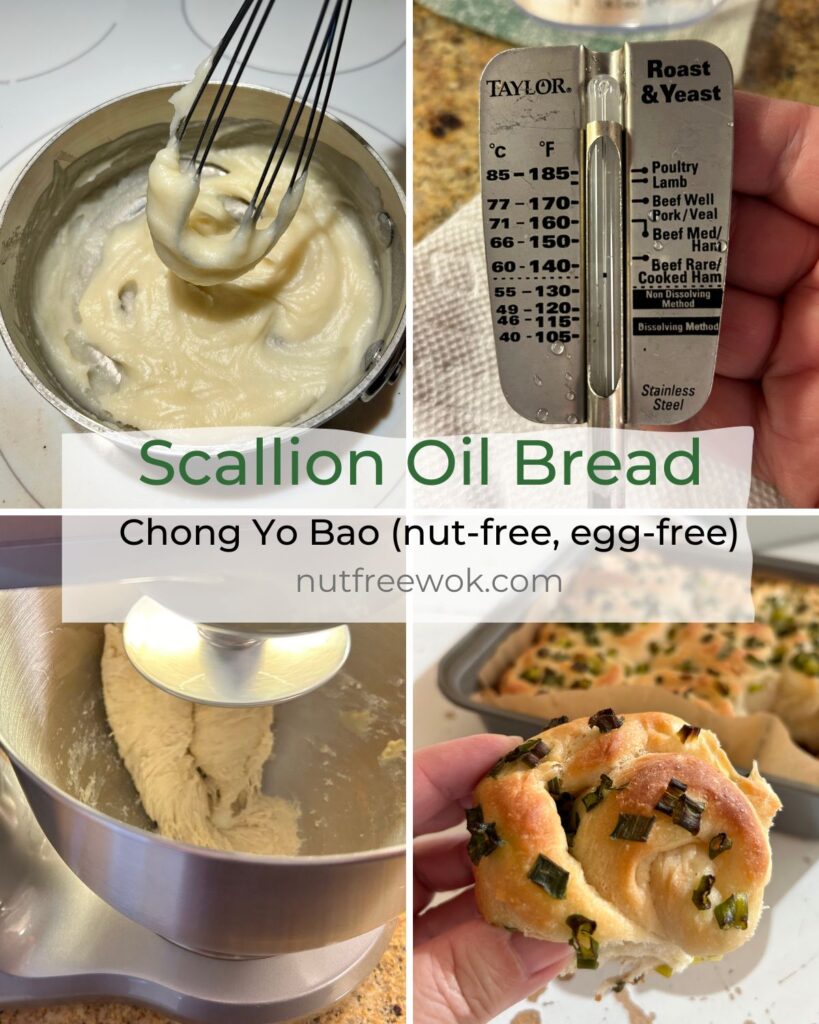 Part 1: Dough Making Steps and Tips
The process of making the tangzhong is simple and takes less than 5 minutes to prepare. Cook a little water and flour in a small pan and with a flat whisk. The roux will thicken the dough without needing additional flour. Allow the tangzhong to cool down a bit while you gather your dough ingredients. For more tangzhong background information, refer to my raisin bread recipe.
Use a thermometer to check the temperature of your warm milk. My roast and yeast thermometer can measure between 105°F to 180°F. The ideal temperature for yeast is between 105°F to 115°F and if the milk is too hot, then that would kill the yeast and if it's not warm enough then your yeast will rise and proof slowly.
If you don't have a stand mixer, you can still make this recipe. Use a spatula to combine the yeast mixture, flour, tangzhong, and oil in a mixing bowl until all the ingredients are mixed together. The dough might be too shaggy to knead by hand so try using a rounded dough scraper or a large sturdy silicone spatula to fold the dough over until the dough is smooth. Resist the urge to add more flour.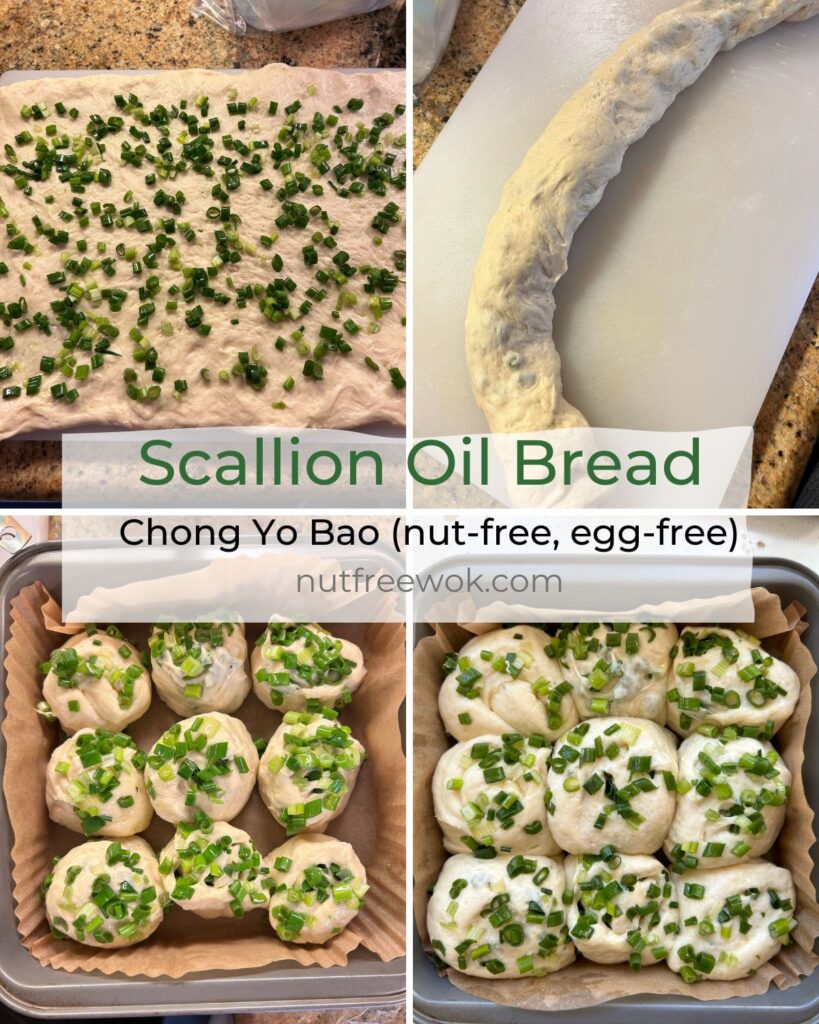 Part 2: Assembly and Baking Steps and Tips
I use a 8×8 square pan to bake this recipe, if you have a 9×9 pan, that's fine too. If you wanted to double the recipe, use a 13×9 pan. If you wanted to bake them on a baking sheet, I recommend a shorter baking time, perhaps 25 minutes.
Line the pan with parchment paper to prevent the buns from sticking to the pan. If you happened to buy the parchment paper liners I recommended in my Make Potato Home Fries in an Air Fryer recipe, those fit perfectly and are easy to use.
Shape like a cinnamon roll: There are also many creative ways to shape the bread and my inspiration for this scallion oil bread recipe were cinnamon rolls. I gently flattened the dough after it had risen, generously spread the scallion oil mixture over it, then rolled it up before cutting it into individual rolls to proof and bake in a square pan.
Allergy Aware Chong Yo Bao
This scallion oil bread recipe is free of peanuts, tree nuts, eggs, fish, shellfish, soy, and sesame as written.
If allergic to milk, you can easily adapt this recipe by replacing the cow's milk with another milk of your choice or water.
I haven't tested this recipe with gluten-free flours and can't make a recommendation.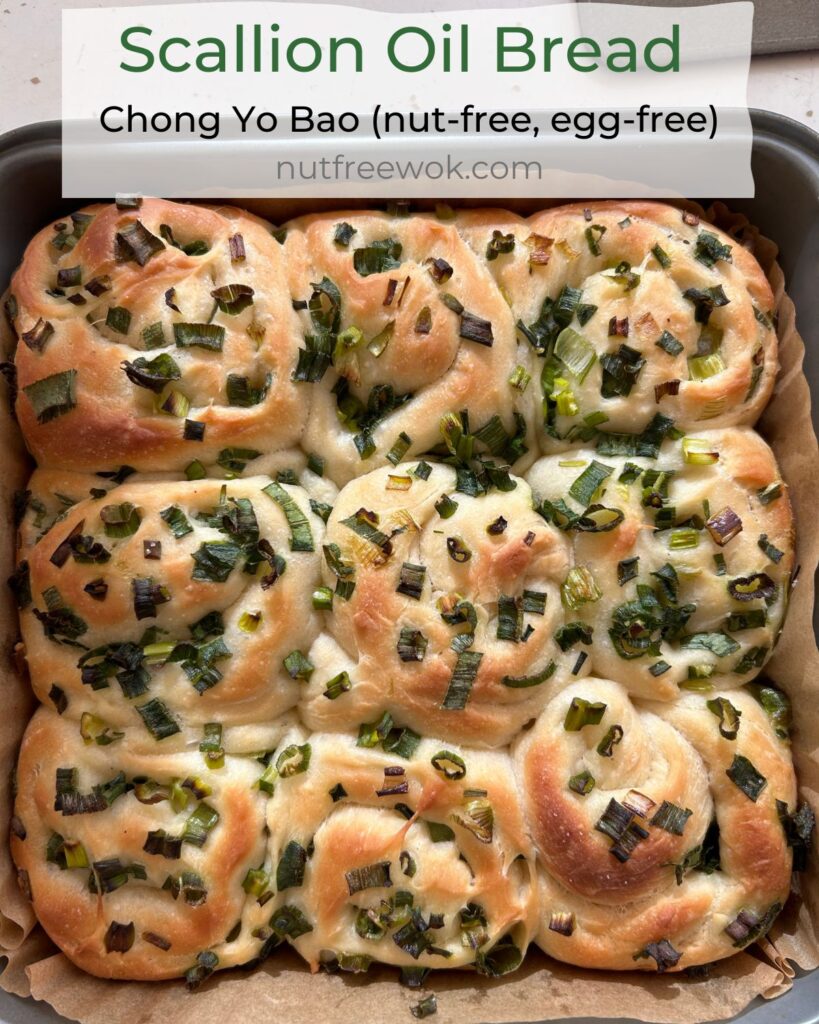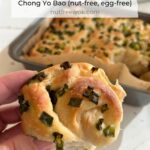 Scallion Oil Bread, Chong Yo Bao (nut-free, egg-free)
This scallion oil bread recipe is inspired by a Chinese bakery bread called chong yo bao. This bread is soft and fluffy due to the tangzhong method and is nut-free and egg-free.
Rising & proofing
1
hour
30
minutes
Total Time
2
hours
40
minutes
Ingredients
Tangzhong
1/2

cup

water

1/4

cup

all-purpose flour
Dough
1/2

cup

non-fat milk

use any kind (whole milk, non-dairy, or warm water)

1

tablespoon

granulated sugar

1

packet

yeast

2 1/4 teaspoon

2

cup

all purpose flour

plus 1-2 tablespoons for dusting work surface

2

tablespoons

olive oil or neutral oil

plus 1/2 teaspoon for oiling a bowl

1/2

teaspoon

salt
Scallion Oil
8

stalks scallion

fine chopped (~ 1 1/2 cups)

1

tablespoon

olive oil or neutral oil

1/4

teaspoon

salt

optional
Instructions
In a small pot, combine 1/2 cup water and 1/4 cup flour. Cook on medium heat, use a whisk to stir continuously until the liquid is absorbed and the flour mixture looks like mashed potatoes (approximately 4 to 4.5 minutes). Set aside to cool.

Microwave the milk for 15-20 seconds until warm (or warm it up whatever way you typically do, the milk temperature needs to be approximately 105-115°F). Pour the milk into a mixing bowl of a stand mixer, add the yeast and sugar and use the whisk from step 1 to mix until the sugar is dissloved and the yeast is not clumpy. Check that the yeast is active by waiting 5-10 minutes to see if the yeast mixture is slightly bubbly or foamy.

Add 2 cups flour, 2 tablespoons olive oil, and salt to the mixing bowl. Use a spatula to scrape all of the tangzhong into the mixing bowl. Use a dough hook to mix at lowest speed for 1 minute. If the dough seems dry, add any extra drops of oil or milk in your measuring cups/spoons. Stop the mixer, scrape the sides of the bowl down, and continue mixing at low speed for 10 more minutes. Resist the urge to add more flour.

Oil a 4 cup (or medium sized) bowl with a few drops of olive oil. Scrape the dough off the dough hook, scrape the sides of the bowl, and transfer the dough into the oiled bowl. Use a spatula to turn the dough over a few times to coat both sides with oil and cover the dough with plastic wrap and a dry dish towel. Allow the dough to rise in a warm, draft-proof place to rise (such as in a cold oven, near the oven light turned on) for 1 hour for the yeast to double (might be ready in 45 minutes if you are in a hurry). Allow about 25 minutes total to prepare the dough to rise.

While the dough is rising, line a square baking pan (8×8) with parchment paper, set aside. Fine chop the scallions (1/4 inch or smaller) and transfer to a bowl. Add the remaining oil and salt (if using), stir to combine, and set aside.

After 1 hour, the dough should doubled in size, transfer it to a lightly floured work surface (save the plastic wrap to reuse later). Stretch or use a rolling pin to shape the dough into a 11 x 16 inch rectangle, approximately 1/4 inch thick. Spread about 3/4 of the scallion oil mixture on the dough and then roll the dough up along the long side so that you end up with a long skinny log instead of a short wide one.

Cut the log into 9 pieces, dip one end of the roll in the bowl of scallion oil, and place them dipped side up in the parchment paper lined pan in a 3×3 grid. Spread the remaining scallions and oil on top of the rolls, cover with the plastic wrap and dish towel and return to the warm, draft-proof place for a second rise for 25 minutes.

Take the proofed, unbaked rolls out of the oven, allow them to continue to proof while preheating oven at 350°F (check that a middle rack is in place). When the oven is hot, remove the towel and plastic wrap, and bake for 30-35 minutes until the bread is golden brown. Cool the bread in the pan on a cooling rack and serve when cool to touch. When cooled to room temperature, store leftover bread in an airtight covered container for freshness.
Recipe Notes
Recipe variation: if you happen to have a few pieces of cooked bacon or turkey bacon, chop them up and sprinkle them in after you add the scallion oil mixture in step 6. 
Our Favorite Chinese Bakery Recipes
It's such a joy to go to any bakery and pick out a treat, but the local mom and pop Chinese bakeries in San Francisco have a special place in my heart and my cultural food heritage. I feel a sad when the mom and pop owned Chinese bakeries close when due to retirement but it represents a cultural loss.
Adding to my unfounded feelings of mom guilt, my children don't have the same freedom and joy to enjoy bakery treats due to food allergies. Instead, I share these favorite Chinese bakery recipes so that we all can have some great recipes and enjoy the satisfaction of making them to suit our allergy and dietary needs whenever we want.
Thanks for reading, please help Nut Free Wok!
If you like this recipe, please be sure to give a 5 star rating, leave a comment, and share this post! Your support means a lot to me.
Subscribe to Nut Free Wok's email subscription (be sure to respond to the confirmation email). You will be notified by email next time I publish another post or recipe and I won't send you spam or share your email address with anyone.
Disclosure/Disclaimer:
I may mention the names of stores and/or brand names of products that I use because readers ask and I share products and sources which I use and think may be helpful to readers, all opinions are my own. Please note that manufacturing practices and ingredients can change at anytime without notice and readers are always responsible for assuring allergen safety before buying or consuming foods. NutFreeWok.com is a participant in the Amazon Services LLC Associates Program, an affiliate advertising program designed to provide a means for sites to earn advertising fees by advertising and linking to Amazon.com. Thank you for reading!