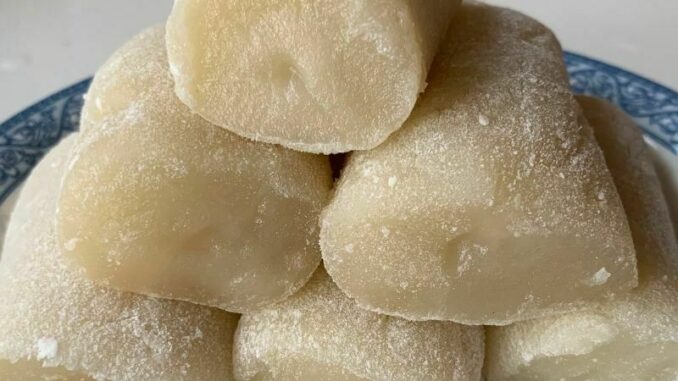 Banana rolls (or banana cake) is another Chinese bakery favorite that I think you must try making at home. Mix, steam, and shape these top 8 allergen free banana flavored sweet rice rolls for a quick and easy dessert. They are known as "herng jiu gao" in Cantonese and "xiang jiao gao" in Mandarin. This recipe is adapted from Happy Amy's recipe on YouTube.
Disclaimer: Please check that all ingredients are suitable for your allergies and be sure to ask your medical care team regarding any allergy related questions (I do not share medical advice). As an Amazon Associate I earn from qualifying purchases.
What are banana rolls and why am I making them?
Banana rolls are a sweet, soft, and squishy dessert that one can buy at a Chinese bakery. You will find them in a Chinese bakery display case, look for the uniformly shaped white rolls with a light dusting of toasted rice flour on them so they don't stick to each other. As I was making them, I noticed that they also resemble bananas before they're cut into individual rolls.
I grew up in San Francisco and back in the 1970s and 1980s there were many Chinese bakeries all over the city. Fast forward to 2022 and many of those bakeries are no longer in business and not every Chinese bakery makes banana rolls. Since I live in the suburbs and San Francisco is a 30 minute drive away, it's just not convenient to pop in to buy a small treat. It turns out that making banana rolls takes less time to make than it does to drive to San Francisco, shop, and drive home.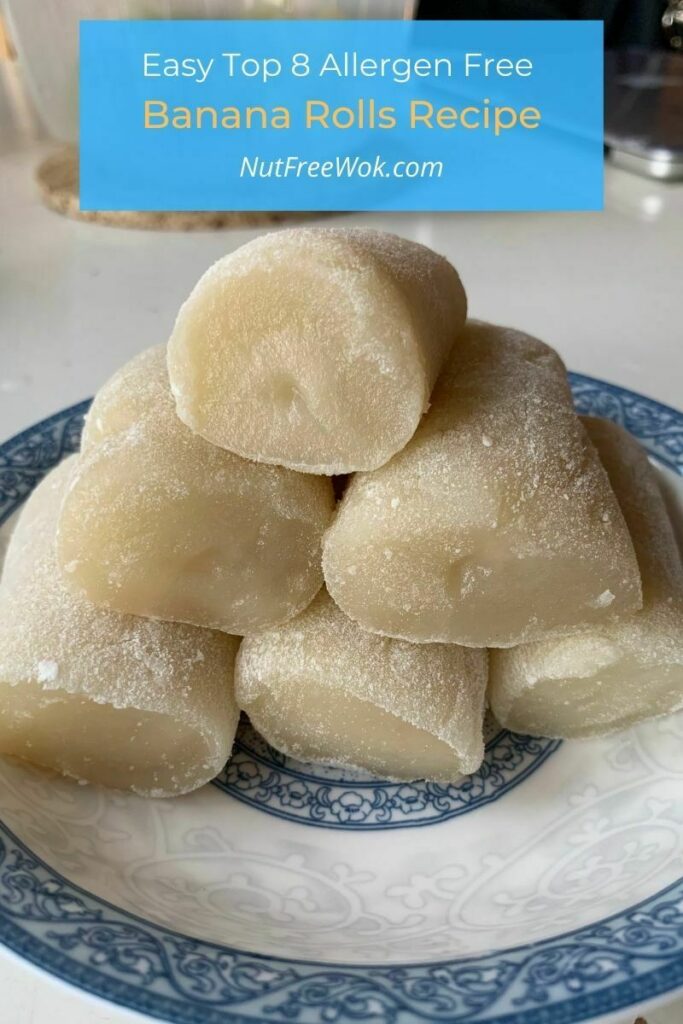 Top 8 Allergy Friendly Ingredients
The main ingredients in banana rolls are glutinous sweet rice flour, rice flour, sugar, water, banana extract, and oil.
Glutinous Rice Flour
Despite its name, glutinous rice flour does not contain gluten but is generally gluten-free and produced from sweet rice. I recommend using Koda Farm's Mochiko Sweet Rice Flour (affiliate link), they are top 8 allergen free and are an excellent product.
I use glutinous rice flour to make my Chinese New Year Nian Gao and a small amount in Auntie Karen's "Ma Lai Go" Chinese Sponge Cake.
Rice Flour
I buy rice flour from Asian markets. I shop at 99 Ranch and they carry their own store brand (Flying Horse) which I have confirmed is nut-free. Sometimes you might see the Flying Horse rice flours at other stores. Erawan is a well-known company that produces various types of rice flour made in Thailand. Look for bags of rice flour packaged in a plastic bag with red lettering. Be aware that both brands also have a glutinous rice flour in a plastic bag with green lettering. You will need the bag with red lettering, it's very common for people to mix them up.
You can also buy rice flour from other trusted brands of companies, but since I haven't cooked with them, I don't know if the banana rolls would turn out in the same way.
I like to use rice flour to make Daikon Cake and rice noodle rolls also known as cheung fun, which is my favorite food and why I have multiple recipes, rice noodles with shrimp, rice noodles in a pizza pan, etc..
Banana Extract
Buying banana extract was a little bit more challenging because I can't find them in my local stores. Amazon's Happy Belly brand carries a banana extract (affiliate link) but their customer service is not helpful or transparent regarding food allergy concerns. I contacted them by phone, email, and social media without a clear answer.
However, I did learn that Happy Belly's banana extract is made in the US. I would guess that it's also co-packed by a major manufacturer. When I opened the package, I noticed that the bottle shape looks very much like McCormick's extract bottles and the ingredient list matched. I cannot confirm that McCormick manufactures Happy Belly's product but we used it without incident. One friend (thanks Jaelithe!) suggested that I order McCormick's banana extract from Walmart, which I did when I had enough in my cart to qualify for free shipping.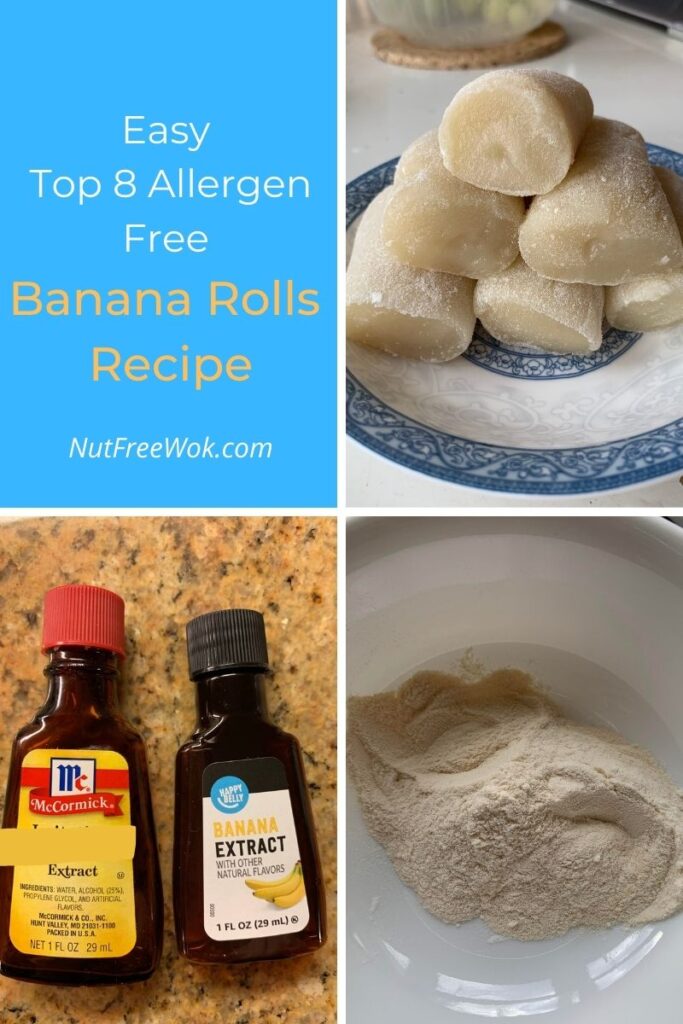 How to make Banana Rolls
The basic idea is to set up your steamer and while the water comes to a rolling boil, combine the ingredients into a thick batter and then steam until the batter is steamed. While the banana batter is steaming, toast some glutinous rice flour to use for rolling and shaping the banana rolls. When they're done steaming, then put on some food safe gloves (affiliate link) and shape and roll them into banana like shapes and cut into 3-inch rolls.
Use Fresh Bananas vs Banana Extract?
Sometimes we don't have enough bananas in the house and sometimes we have a backlog of several super-ripe bananas. I wondered if it would be possible to make banana rolls using fresh bananas instead of banana extract?
I found a recipe online that involves making a homemade banana jam and then using a small portion of it to make banana extract. And another recipe extracted banana juice from the pulp. I did not like working with fresh bananas because it was difficult to have consistent results due to the variablity of the bananas' ripeness. One time banana rolls made from fresh bananas was great, another time they were sour possibly because the bananas were probably fermenting.
Use your ripe bananas for Triple Chocolate Banana Bread, Nut Free or Nut Free, Egg Free Banana Chocolate Chip Muffins Recipe.
How to shape the banana rolls?
I vaguely remember eating banana rolls with a pink swirl or a pink spot in the center. The way to make them is to roll the steamed banana roll rice dough flat, brush it with some red food coloring and then roll it up. One could skip the red food coloring and roll it flat and then roll it up for a pretty and uniform presentation. I think rolling it out flat and then rolling the rice dough into a rope adds a lot more toasted rice flour and affects the texture.
The other way to shape the steamed banana rice dough is to shape it into a large log, cut it in half and then roll and shape it into a 1-inch thick rope and cut them into 3-inch long rolls. I made it both ways and had my children try them. One son liked the banana rolls shaped this way because it is softer and I like it because it's easier.
One last advantage of making your own banana rolls at home is that you can enjoy them when they're still warm and fresh. It's so good.
Allergy Aware Banana Rolls
This banana rolls recipe is free of the top 8 allergens and sesame free. I know that some readers are allergic to rice and it would be very difficult to substitute with different ingredients because steamed glutinous rice flour has its very own unique texture.
More Nut-Free Dessert Recipes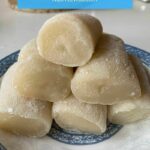 Easy Top 8 Allergen Free Banana Rolls Recipe
Another Chinese bakery favorite are banana rolls (or banana cake), a steamed glutinous rice roll that is flavored with banana extract. This easy dessert also happens to also be free of the top 8 allergens. They are called "herng jiu gao" in Cantonese and "xiang jiao gao" in Mandarin.
Ingredients
1/2

cup

plus 2 tablespoons glutinous rice flour

divided

1/4

cup

rice flour

1/4

cup

granulated sugar

(3 tablespoons for a lower sugar option)

3

ounces

plus 1 tablespoon water

room temperature

2

teaspoons

banana extract

1

teaspoon

oil

plus more to oil a pie plate
Instructions
Set up a steamer, bring to a boil on medium heat. Brush some oil on a pie plate and a rounded dough scraper, set aside.

In a medium sized mixing bowl, combine 1/2 cup glutinous rice flour, rice flour, granulated sugar, water, banana extract and oil. Stir until smooth.

Transfer the batter to the oiled pie plate and steam for 15 minutes on medium heat.

In the meantime, heat up a small sauce pan or a small frying pan on medium heat and add two tablespoons of rice flour to the cold pan. Stir occaisionally until the rice flour is toasted, ready in 4 minutes (more or less).

Lightly dust a cutting board or work surface with the toasted rice flour. Use the oiled dough scraper to transfer the cooked rice flour onto the floured work surface.

Wear food safe gloves (rinse your gloved hands and wipe dry with a paper towel) and sprinkle some rice flour on the gloves and on top of the cooked rice dough. Shape it into a large roll, cut in half and roll each half into a 1-inch thick rope. Cut each rope into 3-inch logs and serve on a dish with some toasted rice flour or on parchment paper. Serve immediately or cover and serve within a day.
Recipe Notes
This recipe makes 4 rolls. I've doubled the recipe to make 8 rolls. I can also triple the recipe to make 12 rolls but I steam the batter for 20 minutes to be sure it's cooked though (poke with a fork and it should come out clean).
Thanks for reading, please help Nut Free Wok!
The best way to see every post or recipe is to subscribe to Nut Free Wok's email subscription (be sure to respond to the confirmation email). You will be notified by email next time I publish another post or recipe and I won't send you spam or share your email address with anyone.
If you enjoyed this post, please use the social media buttons below to share with others. I am on Facebook, Twitter, Pinterest, and Instagram as @nutfreewok and it's great to chat and interact on social media too.
Disclosure/Disclaimer:
I may mention the names of stores and/or brand names of products that I use because readers ask and I share products and sources which I use and think may be helpful to readers, all opinions are my own. Please note that manufacturing practices and ingredients can change at anytime without notice and readers are always responsible for assuring allergen safety before buying or consuming foods. NutFreeWok.com is a participant in the Amazon Services LLC Associates Program, an affiliate advertising program designed to provide a means for sites to earn advertising fees by advertising and linking to Amazon.com. Thank you for reading!