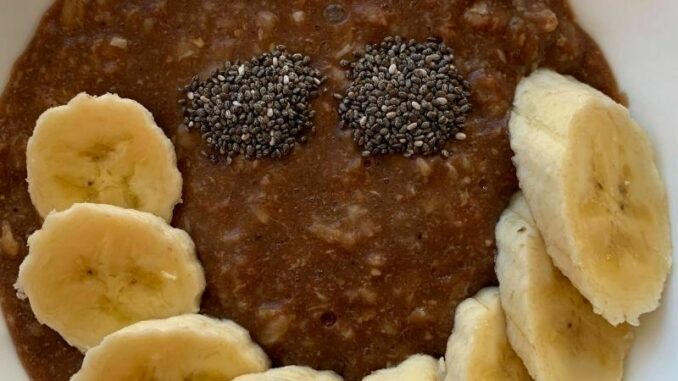 My chocolate oatmeal recipe is a delicious way to enjoy a healthy bowl of oatmeal with just one tablespoon of Rodelle's Hot Cocoa Mix. This recipe is delicious and filling, and you can customize it with your favorite toppings, fruit, seeds, and nut-free butters. Making chocolate oatmeal is actually inspired by champorado, a Filipino chocolate rice porridge, which is delicious breakfast treat. Please note that Rodelle has updated their allergen advisory for their cocoa products (see below).
Disclaimer: I am a brand ambassador for Rodelle and receive products to use and review. Please check that all ingredients are suitable for your allergies and be sure to ask your medical care team regarding any allergy related questions (I do not share medical advice). As an Amazon Associate I earn from qualifying purchases.
Jump to Recipe
Love Oatmeal Even More
Happy new year! Eating healthy is always part of my life but there's not better time than now when we might have similar goals.
Oats are so good for us. We know that eating some oatmeal on a regular basis is good for us. They're a heart healthy ingredient and has a lot of soluable fiber. A hot bowl of oatmeal is a comforting breakfast on cold mornings.
Make new habits. However, it's not so easy to adopt new habits. I actually like eggs or leftovers or something savory for breakfast so it hasn't been my habit to make oatmeal. Except for making Chocolate Chip Cookies aka $250 Cookies Recipe, my container of oatmeal can go untouched for months.
Use a see-through container as a visual reminder. I accidentally bought an OXO POP storage container (affiliate link) that was larger than expected. I decided to use it for storing my oatmeal. The see through container is a visual reminder and great for "see-food" diet people like me. I found myself making oatmeal more.
Increase satiety. But I also noticed that on the mornings I ate oatmeal for breakfast, I was super hungry and a tiny bit hangry by mid-morning. My mom suggested that I add some milk and an egg to make it more filling. Mom is always right and I lasted until lunchtime without feeling ravenously hungry.
Add creative toppings. Topping my bowl of chocolate oatmeal with sliced bananas or other fruit, chopped up dried fruit, seeds, or nut-free butter are also great for variety.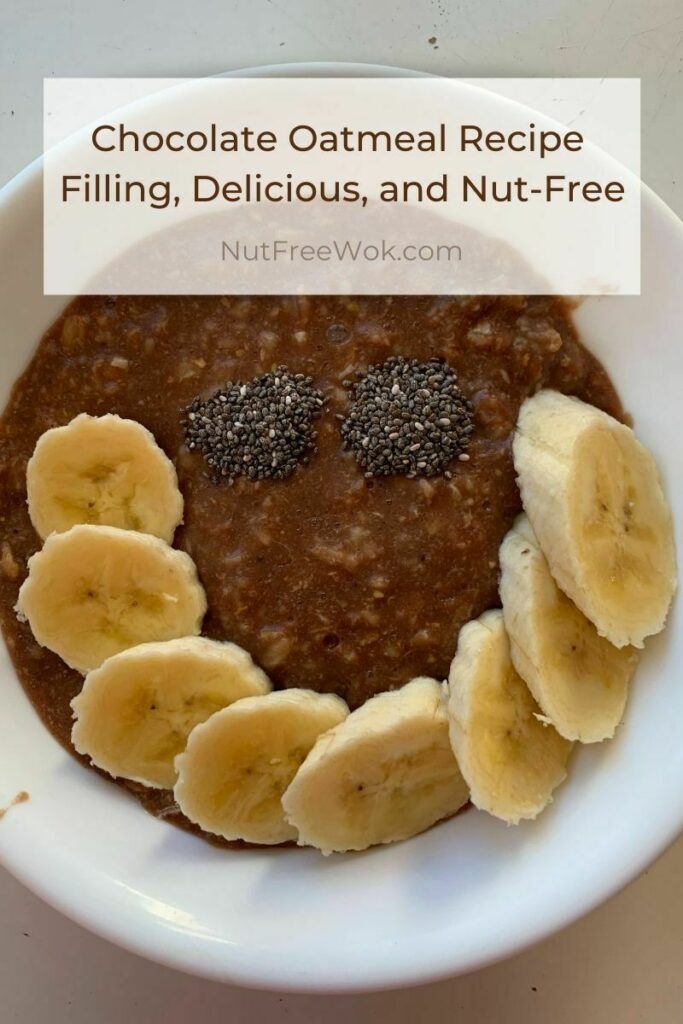 An Oatmeal Version of Champorado
I love to start my day by sharing breakfast with some mom friends. I have two friends in particular and we love to eat Filipino breakfasts. They cared that my sons felt food allergy safe and included at school and school events. I will love them forever for many reasons but they are extra special to me for being my food allergy mom allies. We all need friends like that.
One time, one of my friends asked me "Have you ever had champorado?" I didn't know the dish, so no? And she said, "We'll share" and ordered it. I learned that champorado is a rice porridge that is sweetened with a melted chocolate bar and sweetened condensed milk. Yes, it was as good that I wanted to lick my bowl. Unfortunately, that restaurant has a new owner and new menu which does not include champorado. My only option is to make it and I shared an easy recipe using my rice cooker to make champorado, try the recipe!
As I was making my usual oatmeal one day, I wished I was having champorado and bangsilog at a Filipino restaurant with my girlfriends instead. I decided to stir some Rodelle's hot cocoa mix into my oatmeal. My champorado cravings were satisfied with chocolate oatmeal!!!
Rodelle's hot cocoa mix is made with a dutch processed cocoa with a little bit of vanilla beans. It's very dark, chocolatey, with vanilla beans and I highly recommend. If their cocoa products don't work for your allergies, look for a dutch processed cocoa which will be less acidic, less bitter than regular cocoa. Adding one tablespoon of the hot cocoa mix is just enough to be lightly sweetened and have some chocolate flavor. If you want to have more chocolate flavor without any extra sugar, try using Rodelle's Baking Cocoa (affiliate link) instead.
However, I just noticed that Rodelle has an allergen advisory for their baking cocoa and hot cocoa mix. Their cocoa products are produced in a facility that processes milk, wheat, soy, eggs, sesame, almonds and coconut. Please contact them if you have questions or use your preferred brand of cocoa powder. If their cocoa products don't work for your allergies, look for a dutch processed cocoa which will be less acidic, less bitter than regular cocoa. I haven't tried Gerb's Dutch Processed Cocoa (affiliate link) but it's a trusted brand for people with food allergies.
Make a More Satisfying Bowl of Oatmeal
Measure!
One thing I learned is that I wasn't checking the serving size and measuring my dry oatmeal (1/2 cup dry oats per serving). I would just eyeball some oatmeal and made too small of a portion for myself. Also making just one serving following the package instructions helped me learn to eat a full serving.
Add protein rich ingredients and filling toppings
My mom suggested adding milk and an egg which works for me. I cook the oatmeal for about 5 minutes until it's bubbly. Then I stir in a splash of milk and add an egg and simmer until the egg is cooked through.
If you don't consume milk or eggs, omit or substitute with a non-dairy milk or some ground flax seeds. Ground flax seed is often used as an egg substitute in baking, so this is a great way to help use up ground flax seed that you might already have at home. Other nut-free, plant-based, protein rich options to consider are sunflower seed butter, chia seeds, pumpkin seeds, etc..
I love bananas and chocolate together (hello Triple Chocolate Banana Bread, Nut Free) and slice a banana to top my oatmeal. Sometimes I stir in blueberries, chopped up dried fruit or fruit bars because we can't go wrong with fruit.
Allergy Aware Chocolate Oatmeal
This recipe is free of peanuts, tree nuts, soy, fish, shellfish, wheat, and sesame as written. Feel free to omit the egg or milk, or substitute the milk with a non-dairy alternative that suits your dietary needs.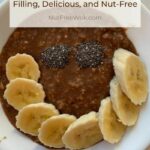 Chocolate Oatmeal Recipe – Filling, Delicious, and Nut-Free
This recipe is delicious and filling, and you can customize it with your favorite toppings, fruit, seeds, and nut-free butters. Making chocolate oatmeal is actually inspired by champorado, a Filipino chocolate rice porridge, which is delicious breakfast treat.
Ingredients
1

cup

oatmeal

2

cups

water

1/4

cup

milk

1

egg

2

tablespoons

hot cocoa mix

Rodelle preferred

toppings of choice

(banana slices, sunflower seed butter, chopped fruit, sunflower, pumpkin, or chia seeds)
Instructions
In a small saucepan, cook oatmeal and water together on medium heat until the oatmeal is boiling and bubbly (4 minutes). Stir and lower the heat to simmer.

Add milk and egg, stir until the egg is mixed in and the oatmeal looks creamy and starts to bubble again. Add hot cocoa and stir until mixed throughly. Serve immediately and add desired toppings.
Recipe Notes
This recipe easily doubles to make four servings in a 2 quart pot (4 tablespoons of hot cocoa mix is equivalent to 1/4 cup). Leftovers can be refrigerated and reheated in the microwave with a splash of milk to make the oatmeal creamy again. Actual calories may vary depending on the toppings you use. 
Thanks for reading, please help Nut Free Wok!
The best way to see every post or recipe is to subscribe to Nut Free Wok's email subscription (be sure to respond to the confirmation email). You will be notified by email next time I publish another post or recipe and I won't send you spam or share your email address with anyone.
If you enjoyed this post, please use the social media buttons below to share with others. I am on Facebook, Twitter, Pinterest, and Instagram as @nutfreewok and it's great to chat and interact on social media too.
Disclosure/Disclaimer:
I may mention the names of stores and/or brand names of products that I use because readers ask and I share products and sources which I use and think may be helpful to readers, all opinions are my own. Please note that manufacturing practices and ingredients can change at anytime without notice and readers are always responsible for assuring allergen safety before buying or consuming foods. NutFreeWok.com is a participant in the Amazon Services LLC Associates Program, an affiliate advertising program designed to provide a means for sites to earn advertising fees by advertising and linking to Amazon.com. Thank you for reading!