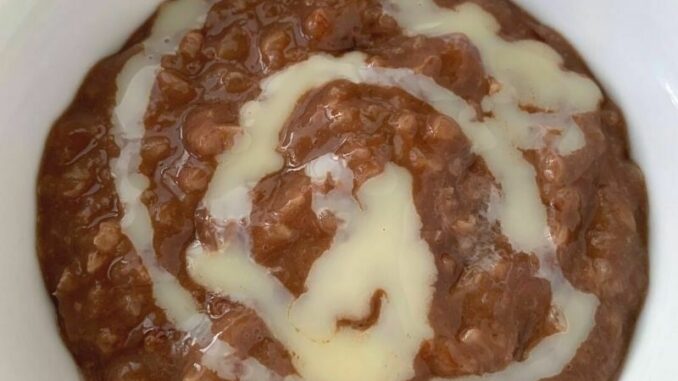 Champorado is a Filipino chocolate rice pudding that is simple to make. But I make it even easier by cooking it in a rice cooker. Enjoy this delicious treat for breakfast along with a savory breakfast such as bangsilog (fried milkfish with rice and eggs). I think it's a great dessert or snack that can be enjoyed anytime of day and using a rice cooker will save you time.
I had recently shared a Chocolate Oatmeal Recipe and my husband jokingly (but seriously) asked me how is that an Asian recipe? I told him that it's inspired by champorado, a Filipino chocolate rice pudding that people enjoy for breakfast.
Disclaimer: I am a brand ambassador for Rodelle and receive products to use and review. Please check that all ingredients are suitable for your allergies and be sure to ask your medical care team regarding any allergy related questions (I do not share medical advice). As an Amazon Associate I earn from qualifying purchases.
Jump to Recipe
How To Make Champorado?
I decided to try something new and make champorado. My champorado recipe is adapted from two recipes that seem authentic, one by Panalsang Pinoy and another one by Kawaling Pinoy. Their recipes are simple, make a porridge and add chocolate, milk, and sugar.
However, I know myself and I am not a morning person. Making champorado needs to be as easy as possible. I used my rice cooker, which has a programmable porridge function (affiliate link). I washed the rice and programmed the rice cooker to finish cooking the porridge by morning. In the morning, it's not too hard to stir in chocolate chips and cocoa powder and press the reheat button to melt the chocolate chips.
If you don't have a rice cooker, you can still make champorado on your stove top by following the instructions in the two recipes linked above.
If you have any leftovers, allow allow them to cool to room temperature, refrigerate in a sealed container, and enjoy within 3 days.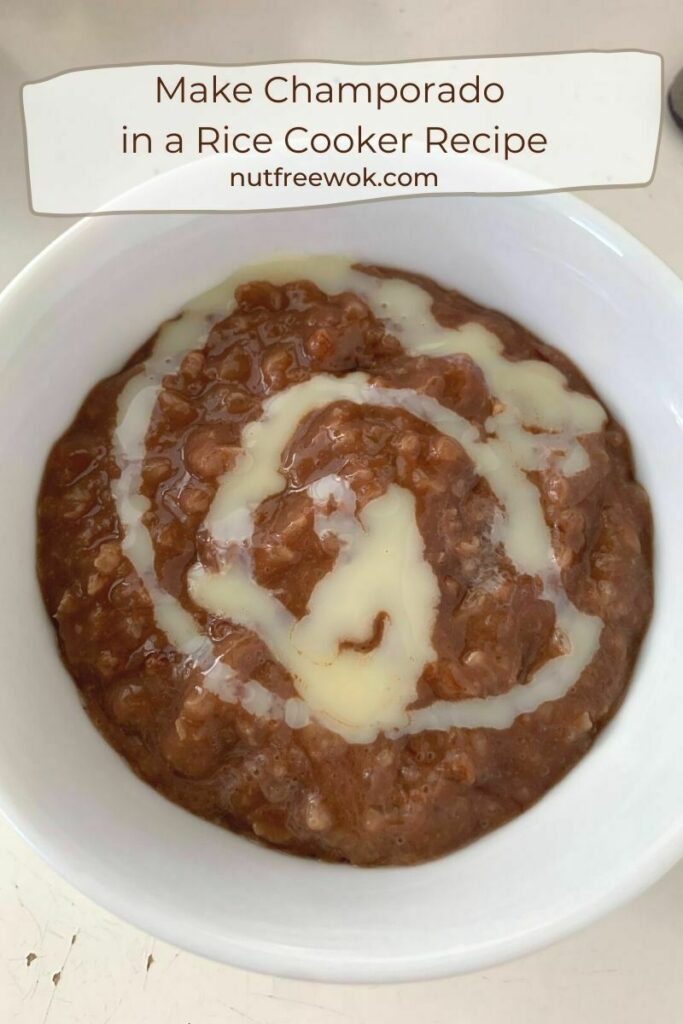 Champorado Ingredients
Tablea or Cocoa
The recipes above refer to using 4-5 pieces of tablea which is made from cacao. Cacao is processed at a lower temperature and is considered more nutritious. However, I'm not sure how to source an allergy safe version of tablea.
We learn to be resourceful when living life with food allergies ! My friend told me about adding a chocolate bar to make champorado. I decided to use chocolate chips to save time. The champorado looked good after I added chocolate chips, but it didn't have enough chocolate flavor. Adding some of Rodelle's Hot Cocoa made it perfect. There's still room for adding milk, sugar, evaporated milk, or sweetened condensed milk for more creaminess or sweetness as desired. I do have a sweet tooth for sweetened condensed milk and love a little drizzle of sweetened condense milk.
Rodelle Cocoa (Allergen Advisory)
I have used Rodelle's cocoa products in my Triple Chocolate Banana Bread, Nut Free and have used their products for years without any allergy worries. I was surprised to notice that Rodelle added an allergen advisory for their baking cocoa and hot cocoa mix on their website. Their cocoa products are "produced in a facility that processes milk, wheat, soy, eggs, sesame, almonds and coconut. Please contact them if you have questions."
I love how they are super helpful and reached out to my contact at Rodelle. They added the allergen advisories out of precaution because they have a new manufacturing facility for their US & Canadian cocoa products. They don't add any allergens to their products however, everyone has different levels of comfort regarding allergen advisories so please contact them or use your own favorite brand of allergy-safe cocoa powder.
This is an example of how manufacturers can change their manufacturing practices and why it's a good idea to double check trusted products every so often. I'm glad I still have an unopened bag of baking cocoa!
Rice
You can use sweet glutinous rice, which is does not contain gluten, or medium grain calrose rice or sushi rice. Be sure to use dry rice, not parboiled rice or cooked rice. I recommend rinsing the rice a couple of times to remove some of the starch. I use a rice washing bowl (affiliate link) that has holes on the side. I tip the bowl and the water comes out but the rice stays in the bowl.
Food Allergy Flex
Making and sharing this delicious treat is a great opportunity to flex our food allergy awareness muscle. Whenever I adapt a dish that might be iffy food allergy wise and make it food allergy safe for my sons, I tell them how is it usually made and what modifications I made to make it safe. I want them to understand that just because they can eat mom's champorado, they can't assume that all champarado is safe for them.
The other food allergy flex is to circle back on trusted products and double check the ingredients, allergen advisories, look at the manufacturer's website, call/email them to confirm that the product is still allergy safe. This is also a great way to give good feedback to food manufacturers about their allergen safety.
Allergy Aware Champarado
The recipe as written is free of peanuts, tree nuts, eggs, soy, fish, shellfish, wheat and sesame. People with a dairy allergy can use a top 8 free chocolate chip and/or hot cocoa mix. For added creaminess, use a non-dairy creamer that works for your allergies. If you can only find one allergy safe version of cocoa mix or chocolate chips, just double the amount of what you have (1/2 cup chocolate chips or 1/2 cup cocoa mix).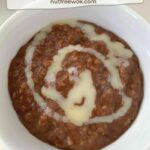 Make Champorado in a Rice Cooker Recipe
Champorado is a Filipino chocolate rice pudding that is simple to make. But I make it even easier by cooking it in a rice cooker. Enjoy this delicious treat for breakfast along with a savory breakfast such as bangsilog (fried milkfish with rice and eggs). I think it's a great dessert or snack that can be enjoyed anytime of day and using a rice cooker will save you time.
Total Time
1
hour
5
minutes
Ingredients
3/4

cup

sweet glutinous rice

(1 scoop)

3 3/4

cup

water

1/4

cup

chocolate chips

1/4

cup

cocoa

sweetened condensed milk

optional, for serving
Instructions
Rinse the sweet glutinous rice twice and then combine with water in a rice cooker with a programmable porridge function. (see note below for stovetop instructions)

When the porridge finishes cooking, add the chocolate chips and cocoa and stir until combined. Reheat the porridge as needed to melt the chocolate.

Serve warm with an optional drizzle of sweetened condensed milk. Some people like to eat champorado with evaporated milk.
Recipe Notes
Stovetop instructions: In a medium pot, bring the rice and water to a boil and lower the heat to simmer for 30 minutes until the rice is soft. Add the chocolate chips and cocoa and continue to stir and simmer until the chocolate and cocoa are melted and combined into the porridge.
Thanks for reading, please help Nut Free Wok!
The best way to see every post or recipe is to subscribe to Nut Free Wok's email subscription (be sure to respond to the confirmation email). You will be notified by email next time I publish another post or recipe and I won't send you spam or share your email address with anyone.
If you enjoyed this post, please use the social media buttons below to share with others. I am on Facebook, Twitter, Pinterest, and Instagram as @nutfreewok and it's great to chat and interact on social media too.
Disclosure/Disclaimer:
I may mention the names of stores and/or brand names of products that I use because readers ask and I share products and sources which I use and think may be helpful to readers, all opinions are my own. Please note that manufacturing practices and ingredients can change at anytime without notice and readers are always responsible for assuring allergen safety before buying or consuming foods. NutFreeWok.com is a participant in the Amazon Services LLC Associates Program, an affiliate advertising program designed to provide a means for sites to earn advertising fees by advertising and linking to Amazon.com. Thank you for reading!