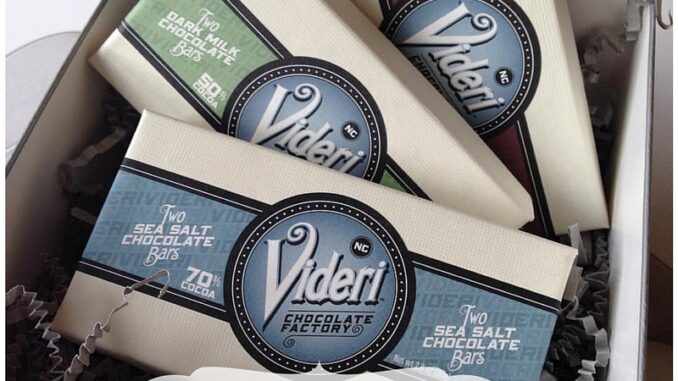 Videri Chocolate Factory Review: Nut Free Gourmet Chocolate
I was happy to learn about Videri Chocolate Factory which makes gourmet quality chocolate in a nut free facility. I was so impressed by the friendly and quick responses to my allergen questions and delicious samples that were sent to me, I thought you might want to know about them too.
When I shared my list of nut free bakeries, "We Love Nut Free Bakeries and Restaurants" I asked readers for their suggestions and opinions. A reader named Christina (thank you!!) mentioned Videri Chocolate Factory as a place where one could buy really good nut free chocolates and visit their factory and cafe too. Chocolate is one product that I'm super careful about as a source of potential nut cross contact so I emailed Videri to confirm that they are indeed nut free.
"We want everyone to enjoy our chocolate!"
Sienna from Videri emailed me back very promptly and confirmed that they are indeed nut free because "We want everyone to enjoy our chocolate!" If that's not enough, she went on to elaborate:
"To answer your questions, we do not use any ingredients in our production facility that are processed in a facility that uses nuts.  Absolutely no nuts have ever been in our production facility.  We can ensure you that everything in house is packaged and handled with gloves by our team.  No nuts means no peanuts, no tree nuts.  We also don't make anything with coconut to avoid that rabbit hole."
It seems to me they really understand food allergies and they offered to send me some samples to try. But I had a follow up question about a chocolate product containing pink peppercorns. Pink peppercorns are NOT nuts but they are botanically related to cashews and some people with cashew allergies might react to it. Before anyone throws out their pink peppercorns, not everyone allergic to cashews will react to pink peppercorn so if you have any concerns, be sure to discuss with your doctor before making any changes to your diet.
In an abundance of caution, I asked how do they handle potential cross contact with pink peppercorns? Videri demonstrated that they are aware of the risk with the following response:
"We take every precaution to eliminate cross contamination.  We only make one variety of bar at a time.  The peppercorn is added at the end of the chocolate making process to the back of each bar.  The molds for the bars are sanitized after the runs are finished.  They are hand wrapped and wrapped separately of any other variety of chocolate bar.  Gloves are consistently being changed throughout the entire process."

Perfectly Safe, Beautifully Packaged, and Absolutely Delicious
Because of Sienna's clear and specific answers, I felt happy to receive samples of their chocolates that I can serve my son without worry. Videri's commitment to be nut free and all the precautions they take are commendable. I hope that other companies that read this review will realize that communicating openly and showing concern for consumers with food allergies will realize how much allergen safety means to some consumers.
I received three boxes of chocolate, each 3 oz box contains two individually wrapped bars. My husband, older son, and I sampled the three boxes. It was a delight to see them enjoying nibbles of chocolate over the next few days.
Dark Milk Chocolate (50% cocoa): We usually prefers dark chocolate over milk chocolate because the Dark Milk Chocolate is by far our favorite. It has rich dark chocolate flavor but the smooth sweetness of milk chocolate.
Classic Dark Chocolate (70% cocoa): Exactly the way dark chocolate I like dark chocolate.
Dark Chocolate with Sea Salt (70% cocoa): Delicious and interesting. I wasn't sure what to expect, maybe it would taste like salty chocolate. Instead it tasted like dark chocolate with little bursts of saltiness, yum.
If I lived closer to North Carolina, I would love to visit their chocolate factory and it looks like they have fun events planned every third Thursday of every month. For now, I would just have to order their chocolate online. I love that they also use organic and fair trade ingredients whenever possible. The chocolates are nut free, soy free, and some are also gluten free and/or dairy free. I love that Videri Chocolate Factory is very good at making their gourmet chocolates yet happens to be very allergen friendly. We need to support these kinds of businesses that go out of their way to make safe and delicious treats. I always recommend verifying allergen safety for yourself before buying or consuming because manufacturer's ingredients and production could change. Visit their website and contact Videri Chocolate Factory directly.
Please help me out!
The best way to see every post or recipe is to subscribe to Nut Free Wok's email subscription (be sure to respond to the confirmation email). You will to be notified by email next time I publish another post or recipe and I won't send you spam or share you email with anyone.
If you enjoyed this post, please use the social media buttons below to share with others. I am on Facebook, Twitter, Pinterest, and Instagram as @nutfreewok and it's great to chat and interact on social media too.
Disclosure/Disclaimer:
I received free samples from Videri Chocolate Factory and all opinions are my own. I have not been paid nor obligated to write a review, but I like to share information which may be helpful to readers. Please note that owners, manufacturing practices, and ingredients can change at anytime without notice and readers are always responsible for assuring allergen safety before buying or consuming foods. NutFreeWok.com is a participant in the Amazon Services LLC Associates Program, an affiliate advertising program designed to provide a means for sites to earn advertising fees by advertising and linking to Amazon.com.