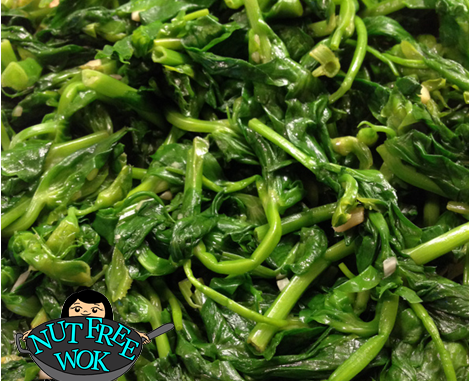 Have you ever tried pea shoots? They're baby pea plants that are super yummy and tender with a mild flavor, a delicious spring green. So good, so easy to make, but time's a ticking, the pea shoot season will be over soon. Go right now and buy some. You can find them at farmer's markets. Some Asian markets will have them pre-bagged and trimmed into bite size pieces (yes!!). Look for nice fresh leafy greens (not yellow). Touch them, they should be pliable. Little white flowers are ok, lots of tendrils are iffy.
My children love this and is the only vegetable that they will request at a restaurant. It's a great way to have them eat more vegetables if I can make it at home. 😉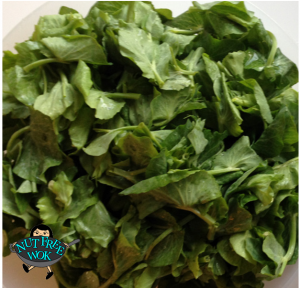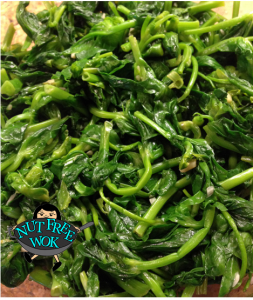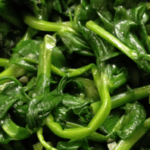 Pea Shoots with Garlic and Ginger
Ingredients
1

large bag of pea shoots

volume of a basketball, about 1 pound?

2

cloves

garlic

minced

1/2

inch

slice of ginger

peeled and minced

1-2

teaspoon

olive oil

Salt to taste
Instructions
Thoroughly wash pea shoots in cold water several times and trim them into 2-3 inch pieces.

Blanch in boiling water in batches for a minute or so, take them out when the leaves turn green.

Rinse with cold water and drain.

Heat wok or large frying pan.

Add 1 teaspoon of olive oil and sautee ginger and garlic until fragrant.

Add pea shoots and sautee for 2-3 minutes.

Season to taste with salt (optional)
Done! Easy peasy pea shoots.
Do you love this post and want an email every time I share a post or recipe? Sign up for Nut Free Wok's newsletter